Are you (Super-)charged for this weekend's Open Series in San Diego, California? As someone who has never visited the birthplace of the Golden State, I know I am!
Last weekend in Columbus, Ohio, the Open Series set all kinds of records. Hellrider also solidified its place as enemy number one in the current Standard metagame. Whether backed up by Gravecrawler or Ash Zealot, having a Devil-may-care attitude has never been a more attractive option. But it's tough to keep a good Beast down. Can Thragtusk and friends retake the top spot? You'll have to tune in or show up to find out!
Our home for the weekend will be the beautiful ideally located San Diego Convention Center.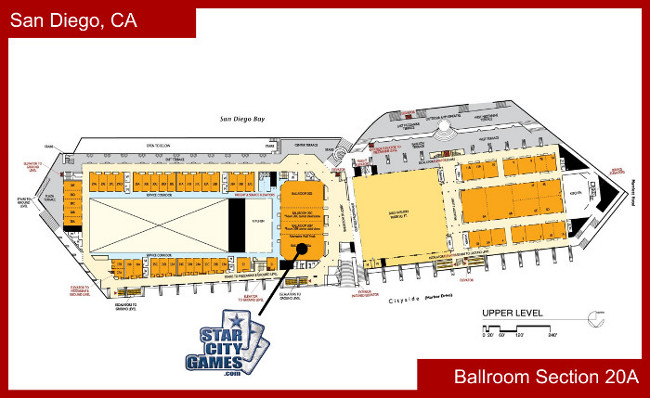 The tournament site is just a stone's throw from the USS Independence and the Gaslamp Quarter. The second item on that list is probably more relevant to your interests, as it has many more food options than a battleship.

A pair of alterists and a special guest Magic artist will be in attendance.
Lucas Graciano's work is featured on Crippling Blight, Demonlord of Ashmouth, Devout Chaplain, Grave Betrayal, Soul Seizer, Vexing Devil, Vorstclaw, Wild Guess, and more. You can find more information about Lucas and his work here.
Dan Smith and Elite Alters aims to be your one stop shop for all your alteration needs. For more information about what altered cards are and their tournament legality, see cards currently available, or to inquire about commissions, please visit Elite Alters' Facebook page or email elite@elitealters.com
All the way from Washington, Miranda Roberts brings her one-of-a-kind altered art cards to San Diego! Known for her full art cards and unique borderless alters, Miranda's cards and playmats are sure to add a unique flair to any deck. Examples and info can be found on her Facebook page and her website.
I've been looking forward to this tournament for a while now, and not just because I've never been to Tijuana…I mean San Diego. I also get to reunite with Cedric Phillips and Patrick Sullivan! Tag team, back again, and this time they're joining me to bring you all the action live from the West Coast on @SCGLive. Be sure to join in on the fun via Twitter using the hashtag #SCGSD and maybe you'll win some prizes along the way.
Good luck, have fun!
Event Coverage Coordinator