StarCityGames.com is getting ready for a big weekend of tournament Magic both near our home base and far, far away. First, we're taking a trip to the state where everything's bigger: Texas! Dallas, Texas, to be exact, and we're excited to be bringing Magic back to the Lone Star State for an SCG Open Series weekend! On Saturday, the SCG Classic Series in Virginia Beach will also be going on, just a few hours down the road from SCG's base of operations in the Commonwealth. That's a ton of Magic! So what do you have to look forward to if you're attending one of these events? Well, if you ask me, both the Standard and Legacy metagames are as wide open as the Great Plains.
Let's start with the Open Series in Dallas.
Last weekend in San Diego, the Standard and Legacy Opens were taken down by decks that aren't exactly known for being powerhouses in their respective formats. But nevertheless, Human Reanimator and Twelve Post took first prize, proving that it doesn't matter if you're playing with one of the favorites or with an underdog. What surprises does Dallas have in store for us? You'll have to tune in or show up to find out!
Our home for the weekend will be the Fort Worth Convention Center, in Ballroom B.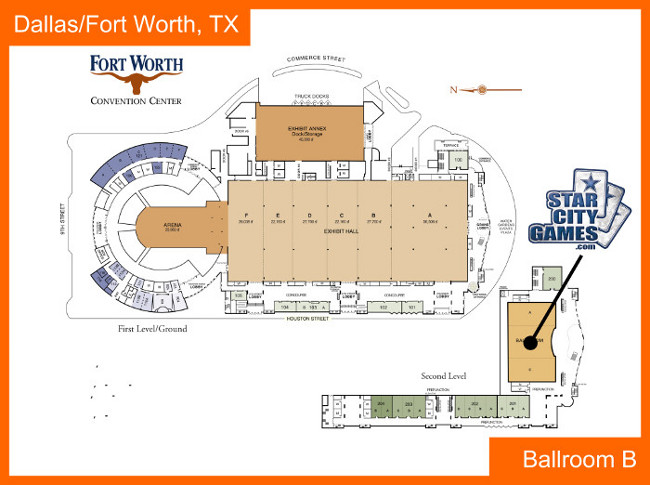 While I haven't been to this exact locale before, my coworkers that have are happy to be returning. Not only will concessions be available just outside the tournament hall, but there are several good food options nearby for both quick lunches and swanky dinners for you and your degenerate friends!

One alterist will be in attendance in Dallas, but he's a good one.
Eric Claar of Indianapolis, Indiana, brings his unique style of alters to the StarCityGames.com Open Series. Known for his minimalist 'blueprint' style as well as full art pieces, you can check out his work on Facebook and deviantART. For commissions, you can contact him through Facebook or e-mail cbalters@gmail.com.
I've got to be honest, I'm pretty jealous of Glenn Jones this weekend. Not only does he get to be in the Sideboard alongside the consummate professional and road warrior Cedric Phillips, but he also gets to welcome Pro Tour Venice 2003 champion and, according to his Twitter profile, Latin dance aficionado Osyp Lebedowicz to the booth. But luckily I get to tune in…and so do you! Join Ceddy, Osyp, Glenn, and thousands of viewers on @SCGLive for live coverage of the event, and use the hashtag #SCGDAL to stay up to date with articles, news, and highlights on social media.
But that's only one of the events we're offering this weekend. There's also a Classic on Saturday in Virginia Beach! For more information on the Virginia Beach Classic, you can visit the event page on Facebook.
In addition to a $5,000 Standard tournament on Saturday, SCG is proud to feature a talented alterist at this event, Chris King of Jacksonville, FL. You can see examples of his alters and place custom orders on his website. Stay up to date with all of the comings and goings in Virginia Beach, including round by round pairings and standings, using the hashtag #SCGVB.
There's Magic in the air. Can you feel it?
Event Coverage Coordinator