Whew, what a weekend! I hope you folks were able to get to your local shop and play in the Gatecrash Prerelease this past weekend. I'd planned, plotted, and prepared as best as I could for the introduction of the five guilds that had been waiting in the wings, and it was finally time to try my luck in Gatecrash's first Sealed event. If you didn't get a chance to participate in a Prerelease, then never fear because I've got a report for you as well as some initial waxing on about Gatecrash Limited. If you didn't catch my article last week, I took a stab at identifying ten commons and uncommons that I believed would be high-impact cards in the Prerelease. Today we'll take a look at some cards that surprised me in both directions.
I've been to dozens (probably hundreds) of Magic events in my tenure: FNMs, PTQs, GPTs, LOLs, Opens, and plenty of casual ones, too. For me, though, none are as exciting, fun, and rewarding as Prereleases. In a sense, more than any other tournament, you are on an even field with those around you. If you don't have a ton of high-value cards and you piddle through Standard week to week with a cobbled budget list, here is your chance to be on the same footing! Prereleases offer players a once-per-set opportunity to play with the cards first; your first Return to Ravnica draft was probably much different than your eighth, I'd wager. It's easy to prepare: watch the spoiler, find the best cards, and build accordingly.
I set out for my own piece of the action late last Friday night. I crossed the Kennedy Bridge from Kentucky into Indiana to meet up with my friends at a shop at which I had never played. It's cold here in Louisville, and although we'd had our veritable heat waves (it was in the 70s a couple weeks ago), last Friday was a particularly icy one. Still, my heart was pumping, my New Beetle's music was thumping, and one thing was on my mind: cracking some packs.
I got there in enough time to secure my guild pack and settle in with my friends. I'd never done a Prerelease at midnight; back when Prereleases were a one-per-city affair, hundreds of players would descend on our convention center in the predawn hours and hunker down for a daylong, GP-sized event. This one was a new experience, and it was very relaxing. Who wants to get up early anyway?
The clock struck midnight, and the modestly sized game room had swelled with dozens of players. Our names were called, and we came up to the organizer and selected our boxes. Oh, who'd I pick?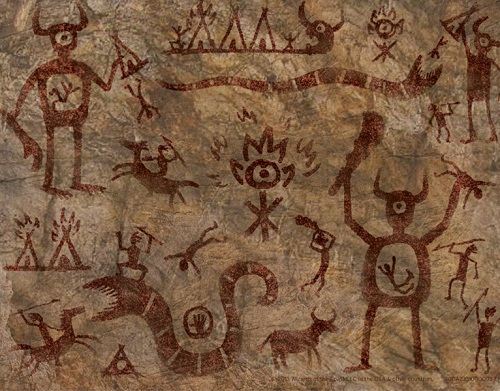 Rawr!
I sat down my red and green box, twiddling my thumbs as everyone else collected theirs. I saw a lot of Boros and Orzhov boxes change hands. Finally, after all 36 players had gotten their Prerelease boxes, we got the green light and dove in like savages.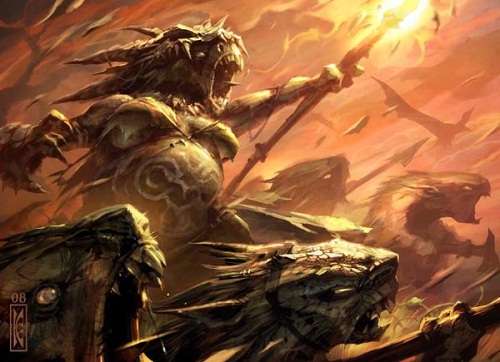 PACKS!
I peered down at a good but not exceptional pool of guild-friendly cards, and my five regular packs offered a few sympathizers. Nearly all of my rares were Gruul or allied colors, though, so with that I set about crafting red/green. I strongly considered adding blue, but none of the cards were that game changing and it would mess with the mana base to an extent, so I decided to leave it out. I stuck to my guns and built a Gruul-only stack, which presented a nice curve and a lot of big, clunky guys to beat face. It wasn't elegant, but it would do. Here's the list I played, along with a sideboard of oft-used sideboard cards.
Creatures (16)
Lands (17) Not bad, but not stellar. As deckbuilding time wound down, I threw the rest of my stuff into an Esper deck just in case and finished sleeving both decks with a minute to spare. Pairings went up and it was time to play out our six rounds!
Round 1: Andrew (Simic)
Andrew was a dad, but one intimately familiar with the ins and outs of Magic. His son was in the tournament too, battling as the Combine as well. After some pleasantries, I super-shuffled my deck, and we went to work.
It quickly became clear that he had the stone-cold nuts Simic deck; on-time Cloudfin Raptors and Elusive Krasis kept me on the backpedal. Evasion ended up killing me, and Leyline Phantom turned out to be a very strong card in his deck, continually giving him a huge brawler and synergizing well with evolve. The first game I assembled a solid force, and we had a good game. Eventually, though, he got one more good creature than I did.
In game two, he constructed an even more potent army on the back of Fathom Mage's card advantage. Although I had Cinder Elemental available to deal with it, I reasoned that my best plan was to keep pressure on him to a point where he couldn't take damage down to Blaze range. However, the draw power that card granted was immense, and I was quickly buried by a number of X/X evolving creatures.
0-1
Beaten fair and square, I resigned myself to chill with some friends until the next round. Everyone finished on time, and it was off to round 2.
Round 2: Charles (Orzhov)
I briefly considered starting play with my Esper deck, doubting that my Gruul deck would be able to put up any wins at all after getting shut out. I stuck with my Clans, though, and we went about our battling. Charles was a friendly and cheerful middle-aged player, and he was a fine opponent to play.
His deck was highly synergetic; it was chock-a-block with cheap utility creatures combined with mounds of extort designed to drain me dry. However, I got a more aggressive start in game 1. He got stuck on two lands and didn't make much besides a Dutiful Thrull and a Basilica Screecher. Game 2 saw those same tables turned. I stalled on two lands with a bunch of three-drops, and by the time I drew my third land (the Gruul Guildgate), I had fallen too far behind. His Treasury Thrull and other numerous spells extorted me to my last penny. Game 3 was much closer, and I had to play carefully. I got a fairly average start and so did he, but I started winning the extort race on the back of my pair of Zhur-Taa Swines. They hit very hard, and he ran out of blockers.
1-1
I got a bit scared against Charles, as a 0-2 record, even if I swept the next four rounds, would put me in poor placement for prizes. I playtested against my friend Drew until it was time for our next foray.
Round 3: Jessica (Boros)
Jessica was a kind and focused player who considered her plays in a precise and calculated fashion. I got an aggressive offense going in game 1, and she had mana troubles, so it was quickly decided with a consistent onslaught of Disciple of the Old Ways. Those cards were very acceptable bears, and they fit right along with Gruul's aggressive plan.
In game 2, her Skyknight Legionnaire, supported by her green splash and bloodrush activations, put me at a shaky seven. My sideboarded Ember Beast was looking pretty awkward by his onesie, but I soon had enough creatures to give him some teeth. I had a pair of Zhur-Taa Swines, and she had one of her own. After I eliminated hers in combat, she shored up a topdecked Homing Lightning for my pair. Knowing that the Swine was one of my most powerful creatures, I cast Massive Raid on the Swine she targeted, killing it and preventing my other Swine from getting zapped. This proved to be a successful strategy, as Rubblehulk and the Swine sealed up the round.
2-1
Flying creatures were a real challenge for me. I only had one evasive threat (Millennial Gargoyle) and only one other creature that could block flying (Crocanura). I was highly susceptible to evasive damage, but my card pool didn't give me much to deal with it outside of my mediocre removal suite.
Round 4: Ethan (Simic)
Ethan was about my age and a very excitable player. He had had some success with his RUG deck, and it was clear why once we started playing. Domri Rade was in his pool, and his twenty-creature deck was very complementary to the planeswalker. In game 1, however, he got stuck on two lands with just a Cloudfin Raptor, and I got my best start of the night. It was over within minutes.
Game 2 was tougher; Domri Rade appeared that time, and he was able to glean a good amount of card advantage from him. However, his creatures were small enough that he was on the defensive against my beefcakes fairly frequently. This round, Madcap Skills on Zhur-Taa Swine was nearly unbeatable, especially in his low-removal deck. The Board trundled in for a zillion all on his own, and not even Ethan's Gruul walker could save him.
3-1
Maybe it was possible; just drop the one round off the bat? Simic was a good matchup for me, it appeared (unless they had the nuts), and I'd won a match against every guild except my own. Oh, my own and...
Round 5: Austin (Dimir)
Little fuzzy on the name, but he built his deck beside me at the beginning of the tournament and I remembered that he'd opened four Dimir Guildgates. It appeared that the rest of his packs were also pretty strong. In game 1, he got to work on my library and my life total. I shed a few cards each turn, though I was able to resolve enough creatures to keep him at bay. His creatures were decided smaller, so when I was able to push back, he had trouble dealing with their considerable girth. As he sat at a precarious seven, he ripped the dream card right after I'd foolishly cast my Giant Adephage.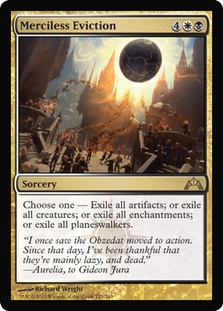 Nice Wrath.
Crushed, I was left to topdeck from a fairly skinny stack (twelve cards left) after my team got exiled. Soon, though, I drew a Slaughterhorn, who proceeded to chomp away at his life unmolested.
In game 2, he found Lazav, Dimir Mastermind but missed Cloning opportunities on my more powerful guys. On one turn, I resolved my Experiment One, and he hurriedly tapped three mana. I told him what Experiment One did, and he casually untapped his mana. Aha! Psychic Strike! Now that I knew he had it (I saw it game 1, too), I was careful to only resolve new threats when he was tapped out. He put considerably less pressure on me this game, and after casting a Deathcult Rogue, I safely cast my Rubblehulk. Without a removal spell, the hulking Elemental crashed against his creatures like an avalanche. Eventually, he ran out of blockers, and the 10/10 Hulk finished the job.
4-1
I was now in a much better position to place well. As of the end of the round, only one player was undefeated: my friend Kevin. Guess who I played?
Round 6: Kevin (Orzhov)
Kevin is a fairly recent acquaintance of mine, and we met through a mutual friend. If you watch Magic on YouTube at all, you might know who he is. I've been featured a couple times on his channel, too. After some tournament math, we decided that drawing would put me in the Top 4 and would secure him the win, so we intentionally drew. We played out our match for fun though, and the first one was a blur; he was missing black mana and might have resolved one spell, but he got shafted on color and paid for it. In game 2, I was nearly able to sneak away with it. Gift of Orzhova pulled him from the brink, and his bountiful removal of two Angelic Edict and Executioner's Swing cut down my best guys. His flyers ended up being the death of me.
Game 3 was a bit of a nail biter. I used Madcap Skills early on Disciple of the Old Ways to try to get in there ASAP. Soon, though, High Priest of Penance forced me to rethink my battle plan. After making what I thought was a profitable trade, I found myself a little slim on board presence. Luckily, he wasn't hurting me too bad, just an extort trigger here or there, so I had time. I found my Rubblehulk and resolved him, praying he didn't have a stocked hand of removal. He didn't, but I couldn't bust through his multi-creature defense. He chumped turn after turn until he resolved Wight of Precinct Six as a 6/6. The following turn, he suited up the Wight with Riot Gear and Gift of Orzhova and hit me for exactly lethal, not even bothering to extort.
Intentional Draw, 4-1-1
Yeah, 4-2 is more accurate, but we were both playing fairly loosely, so I'll call it a draw. After an error in round 5 reporting, there was another X-1, and I slid into 5th place and out of uber-prize range. I took my still generous payout and made my way home just as the eastern horizon budded with first light.
My pool was fairly suboptimal, lacking a lot of the basics that constitute a great Sealed deck, but I suppose I shouldn't complain. I never ended up playing the Esper deck in a tournament match despite some fairly reasonable cards (Assault Griffin, Merciless Execution, and a pair of Hands of Bindings to start), but it's possible that I made a mistake playing without Simic. The Hands of Binding would have been a great tool to help me force some damage through while also protecting me for several turns at a time, especially in round 1. My fixing was also pretty robust with both a Simic Guildgate and Breeding Pool
Out of my pool, my all-star was definitely Zhur-Taa Swine.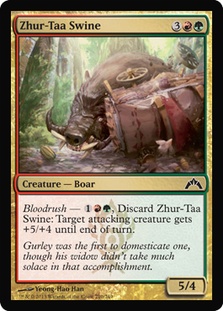 What a pig.
He was bigger than the vast majority of creatures I faced, and I had very little trouble casting him. I remember using his bloodrush only once, to protect my Madcap Skills-laden Disciple of the Old Ways in round 4, but more often than not he was much better as a dude. I would even have loved a third despite his fairly hefty cost, as he was my win condition for most games.
Speaking of which, Madcap Skills also did a lot of work. This simple enchantment was about the only evasive card I had, and it put a lot of pressure on the opponent, especially targeting the Disciple, who comes pre-equipped with combat protection. One of my least favorite cards of the night to face was Gift of Orzhova. On any sizeable creature, you needed removal or were dead before you knew it. Gruul is well matched to deal with it, but if you're even an inch behind, Gift of Orzhova will take a mile.
A lot of cards underperformed. One, sadly, was my guild's leader.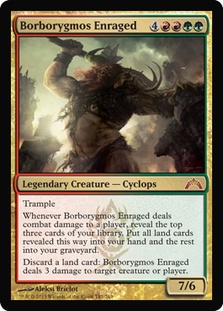 I think he's angry because he basically costs nine mana.
I did resolve him in a fair number of games (usually slower matches when I'd sided in the Frenzied Tilling), but he'd then need another land to Lightning Bolt anything. He'd usually just get gang-blocked to prevent the trigger or would meet my opponent's percolating removal spell. I shouldn't be too surprised, but he was an eight-mana dude that just didn't get there. Cinder Elemental, one of the creatures I put on my Top 10 list, was also respectable but not awesome. It was really slow and fragile, and without better stats or protection, it was just a delayed Blaze.
I can't wait to draft this set, as that will allow much deeper and dedicated strategies. It'll be a complex Limited environment, similar to Return to Ravnica, but it should be infinitely rewarding.
This Friday marks Gatecrash's release, and I've already got several wacky decks to bring you for the new Standard, so stay tuned. Until then, don't forget to untap!
-Matt
CaptainShapiro on Magic Online
untaptargetplayer.blogspot.com
| | |
| --- | --- |
| | I am Gruul. Their feral and passionate demeanor appeals to myoutlandish yet dedicateddeckbuilding style, and I admire the individualist andunbounded nature presented within their flavor.They are emotional and turbulent yet grounded with the roots of quotidian cycles and natural respect.They refuse to be followers, and their roughcast resolve is inspiring; no otherguildbetter embodies instinct, fervor, and solitary determination.Also, I love me some Cap'n Tickles. |