Modern is a breath of fresh air, giving new life to thousands of cards that were once thought of as obsolete. With that said, Modern has become a bit stagnant since Pro Tour Return to Ravnica. While there were a ton of innovative decks at that tournament, ranging from Nivmagus Elemental Combo to Eggs (which won the tournament), one thing rang true: Jund was the best deck. It wasn't close. And that brings us to the banned and restricted list, which exists for a few reasons as clearly stated by the developers during its inception:
1. Decks shouldn't be able to win on turn 3 consistently.
2. Diversity among archetypes is paramount.
3. Cards that have been overwhelmingly powerful in previous formats can't exist.
For those of you who haven't seen the news, this happened on Monday: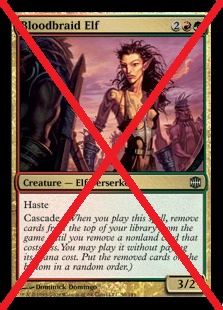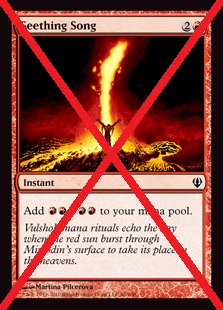 I'm much more of a fan of the former ban than the latter, but I happen to agree with both. For me, everything in Modern over the last few months has revolved around Jund and trying to make it better or beat it. Bloodbraid Elf made for frustration from both sides of the coin, which was more annoying than anything, as the person who drew more of them or cascaded better would be heavily favored. Of course, the "problem" with Jund in general is that your deck is full of various answers to threats that may or may not be present.
Regardless, getting a free spell out of a decently costed beater was never a bad thing.
There were many times when cascading into one of these spells when the board did not call for it meant that you just lost the game in the Jund mirror. When your opponent hit a Tarmogoyf, Kitchen Finks, or Lingering Souls and you just bricked, things didn't really seem fair. In all honesty, even having the chance to cascade into one of these wasn't really all that fair for everyone else.
And that was the problem.
Of course, card advantage has always been a thing in Magic. There are certain cards and strategies that abuse this concept, but Bloodbraid Elf was different. Casting said "extra card" for free, and that card being guaranteed as a spell, was a bit more than a lot of decks could handle in Modern.
While Bloodbraid Elf wasn't necessarily the best card in Jund, it did define it. With Bloodbraid Elf, it was hard to get out-carded by things like Snapcaster Mage, but now we're going to have to think a little differently. While I think that Deathrite Shaman and Liliana of the Veil are more powerful cards in Jund, the only thing keeping the black and green monstrosity pairing with red was Bloodbraid Elf (and Lightning Bolt to some extent). While Lightning Bolt is an incredibly efficient answer to a lot of the format's threats, Bloodbraid Elf gave the deck exactly what it wanted: an efficient threat combined with tempo and card advantage. Not a lot of cards in Magic's history can do all three of those things consistently, but Bloodbraid Elf made it look easy.
The reason for banning Bloodbraid Elf was twofold:
1. It was slightly overpowered.
2. It was the only card they could ban without crippling many other archetypes.
I don't think banning Deathrite Shaman would have been acceptable. Obviously, the card is good, but it is also very new and definitely not overpowered in the same way as many of the other cards on the banned list. The comparison to Wild Nacatl could be made, but that's not an argument I'm entirely ready to make. I don't think Wild Nacatl was too good, or limited design space, or whatever they think it did. Wild Nacatl was justthe most efficient threat ever printed for an aggressive strategy, but maybe that was too good.
Modern is still in its infancy, so I think it has a ton of room to grow. I would actually be much more excited to see cards get unbanned or for them to reprint older cards in Modern Masters than I would be to see anything else get banned in the near future. When you make so many sets legal for a format, crazy things are bound to happen. The banned and restricted list exists to keep formats healthy and stable. There are occasions when the best deck is just a fair deck that is too powerful and too consistent to reliably beat.
Jund was that deck, and I think it got what it deserved.
Now we'll start to see more three- and four-color decks pop up in Modern using many of the same cards as Jund, but they'll be less powerful and less consistent. Things like Doran, the Siege Tower are bound to make a comeback, and I wouldn't even be surprised to see more Zoo-style decks back in the thick of it. I'm actually excited to play Modern again for the first time in quite a while.
While Seething Song wasn't the only Ritual effect in Modern, it was the card that allowed Storm decks to win on turn 3 fairly easily. While it was a Ritual more vulnerable to cards like Spell Pierce, its explosive nature was something that Modern can't accept. Much like Rite of Flame, the speed at which it accelerated the deck into a powerhouse was apparent.
While Desperate Ritual and Pyretic Ritual (and to an extent Simian Spirit Guide) still exist and will still be widely played, I think that this ban will slow Storm down significantly. Of course, it will be slower, but that just means it will more than likely become reliant on Pyromancer Ascension again. The sheer amount of card advantage to be gained with Pyromancer Ascension can't be overlooked, and Storm will definitely need something to fill the gap left in the wake of Seething Song getting banned.
Finding the Next Big Threat
With both Bloodbraid Elf and Seething Song leaving the format, I am confident that a lot of new archetypes will emerge, but I'm also curious to see what cards get more play. With red likely falling out of favor in black and green decks, another removal spell will have to fill the role of Lightning Bolt. I fully expect to see Abrupt Decay shine, as it answers too many threats to be bad. If Pyromancer Ascension increases in popularity, I see no better answer. The disruption and removal for black and green decks is all pretty sweet, so maybe finding the best threat is the next big hurdle.
As for blue decks, without Ponder or Preordain I don't think Delver will see any more play than it is now. The card just isn't consistent enough because you need to play a reasonable number of instants and sorceries in your deck to fuel it. This inherently makes your deck threat-light, which just seems so awkward when you have to fight through Abrupt Decay, Lightning Bolt, Liliana of the Veil, Lightning Helix, and the rest.
While Delver shines in Legacy, I think we can all agree that Ponder was the reason it was so good in Standard, as it is seeing basically zero play there at the moment. Geist of Saint Traft is getting a ton of hype in Modern right now thanks to its recent success in Magic Online PTQs and Grand Prix Bilbao. I don't expect to see a change in that trend anytime soon since it is one of the best creatures in the format against heavy removal, though it's still pretty weak to Liliana of the Veil.
Unfortunately, I don't think Knight of the Reliquary is the answer green decks want. With Deathrite Shaman being the best mana accelerant printed in... Well, ever, it doesn't work well with Knight of the Reliquary. There also aren't that many interesting interactions with Knight of the Reliquary in Modern because you don't have access to sweet Tutor targets like Wasteland, but I could be eating crow someday. Naya decks love some Knight of the Reliquary, and we've already seen some versions of Blood Moon Naya playing Knight, which could rise in popularity greatly. Boom / Bust works pretty well in that deck, but I don't know how good the archetype will be without its own Bloodbraid Elves!
While Doran, the Siege Tower could be the next big threat for black and green decks, the rise of Abrupt Decay could shut it down completely. I fully expect to see more decks "going big." This means more Thundermaw Hellkites. More Sun Titans. More cards that don't fold to Abrupt Decay. Graveyard strategies aren't even out of the question, though opposing Deathrite Shamans could be a bit of an issue. The trick is having an answer to Deathrite Shaman while not being overly vulnerable to their removal suite.
What we want are resilient threats that match up well against the flurry of removal at everyone's disposal. Cards like Bloodghast, Kitchen Finks, and even Geralf's Messenger could be real issues for them, though the problem of being too reliant on the graveyard is still a bit of an issue. With Deathrite Shaman running around everywhere along with Abrupt Decay, it is going to be hard to have a resilient strategy that can fight through everything. The interaction with persist versus an active Deathrite Shaman is quite embarrassing.
Ultimately, I think that Modern will adjust nicely, but don't expect Jund (or any look-a-likes) to fall off the map completely. I don't think those decks will be nearly as consistent or powerful, which is a good thing, but they will still be around to punish decks that have a low threat density. This might even be the right time for cards like Huntmaster of the Fells and Thragtusk since both of those cards are pretty good at fighting the fair game. While those threats are quite laughable against the combo decks in the format, they could be game breaking against an opponent who is trying to one-for-one you to death.
Let's be honest with each other for a moment. I'm not going to tell you I hate U/W Control. On the contrary, it is one of the archetypes I love best in Magic. Cryptic Command is one of the all-time greats in my book, giving control players a sweeping answer to a plethora of threats, and it even draws a card. Of course, Cryptic Command is slow, which is currently the only thing keeping it from being the best card in Modern. With Bloodbraid Elf leaving the format, this could mean a few things for the control decks.
For one, counterspells are going to come back in a big way. They are no longer "dead" in the Jund matchup because the opponent isn't getting to cast two spells off of a single threat. Before the banning of Bloodbraid Elf, cards like Remand and Mana Leak were quite bad in the Jund matchup since the early spells from Jund are so cheap and the extra card off Bloodbraid Elf was free. This made building a deck featuring countermagic a risky proposition, though it was effective against many other decks in the format.
Without Bloodbraid Elf, it is going to be open season for counters once again. I fully expect Mana Leak and Remand to bring blue back to the forefront, though I could easily see some hate for them...
Oh, how I haven't missed you. You're still around in Standard, which couldn't displease me more, but I think this might be a fantastic card for Modern. As long as the decks playing it aren't going to be wrecked by it not tapping for colored mana, Cavern of Souls will be the answer to Cryptic Command that everyone is looking for. Cryptic Command does have other modes, but there is little more frustrating to me (and everyone else p) than having my spell countered while my opponent draws a card.
Obviously, Cryptic Command will still be good, even against Cavern of Souls. Negating the effect that is most bothersome is a step in the right direction and completely blanking all of their Mana Leaks and Remands will be fairly gratifying, but figuring out what decks can afford Cavern of Souls will be the biggest trick.
While Aether Vial is pretty lackluster in Modern at the moment, this might change with blue decks on the rise. You need solid creatures that generate card and board advantage for it to be effective, making Silvergill Adept the obvious all-star. Could Merfolk come back as a real deck? Without Bloodbraid Elf keeping the little fish down, I could easily see its reemergence. While there aren't a lot of Merfolk in Gatecrash like everyone expected (or any good ones), I think that having two versions of Lord of Atlantis could be problematic for blue-based control decks.
I can see Merfolk being an absolute nightmare for control decks because it has a ton of threats that are hard or impossible to counter thanks to both Aether Vial and Cavern of Souls. It also has a weapon that hasn't seen much play recently:
While Phantasmal Image isn't a card that I thought would be played much in older formats after it rotated out of Standard, I think it fits best in Merfolk. It doubles as any Lord you control, and the fact that it dies to every targeted spell in the format is irrelevant because all of your other creatures already do that.
The biggest upside to Phantasmal Image is that it is an easy answer to one of the U/W deck's biggest threats:
Without Geist of Saint Traft, a lot of the U/W/R decks can't function. Their removal becomes purely reactionary as opposed to tempo-based. All those Lightning Helix and Bolts become much less appetizing when you aren't swinging for six damage per turn. Phantasmal Image is an elegant answer that also doubles as a very reasonable threat when combined with the rest of your deck. Of course, there is always the blowout potential of having to play your Phantasmal Image on a board with a single creature and opposing threats like Grim Lavamancer are kind of a pain, but you get what you pay for.
If you want to hit them in a way they're not expecting...
Reanimator, or How I Stopped Worrying and Learned To Love Griselbrand
For those of you who read my article last week, you saw a (pretty sweet) Legacy Reanimator list I've been working on for the last few weeks. While there isn't a direct port to Modern, you do have the tools necessary for some insane blowouts. Izzet Charm gave the deck some new life because you really needed a card that is both a discard outlet and an answer to Deathrite Shaman. Along with Faithless Looting, it is reasonable to think that you can forego playing the less palatable outlets like Wild Guess and even Lightning Axe.
Gerry Thompson wrote about this deck quite some time ago before the Modern Grand Prix in Columbus last year, but I wasn't sure how good it was until I started playing with it myself. Of course, there are a lot of times where you won't draw an answer to Deathrite Shaman or your opponent will have a hand full of Thoughtseizes to ruin your day, but there are a lot of different directions you can go.
Cards like Glimpse the Unthinkable and Unburial Rites seem decent but are potentially too slow against some of the more aggressive decks in Modern. I also wouldn't be opposed to trying out Hedron Crab in that version since it was one of the original Dredge outlets back in Extended a few years ago. However, these cards don't allow you to abuse Emrakul, the Aeons Torn! Without Seething Song, it is less likely that you can cast an on-time Through the Breach, making the prospect of filling your deck with Emrakuls a risky proposition. So what's the solution?
This decklist is pretty rough, but you can't argue that it has some powerful things going on. Griselbrand along with Goryo's Vengeance is just absurd since the attack off haste gives you a free seven cards. With Zombie Infestation, we have an alternate way of attacking the opponent after drawing a bunch of dead ones along with an additional discard outlet.
Liliana of the Veil acts as an extra source of disruption, removal, and discard outlet for the deck, functioning in a pretty impressive way. While one problem I see with the deck is not having enough copies of Griselbrand to dig up, I don't think there is any other giant legendary monster that you really want. Elesh Norn, Grand Cenobite and Iona, Shield of Emeria are fine considerations against many of the decks in the format, but neither of them generate a big enough effect from Goryo's Vengeance, which is the centerpiece of the deck.
What about Soul Spike? What is that doing in there?
Well, Soul Spike is strange card in the deck, but one I think is completely necessary. It gives you the ability to draw more cards off the top of your deck, and you have the added bonus of being able to kill your opponent on turn 2! This is the nut draw of the deck of course, and you usually need to draw three copies in the top 28 cards of your deck. Each one you draw is an additional four cards that you get to dig deeper in your deck for, but Soul Spike goes further than that. One of the biggest annoyances that the deck can face is an active Deathrite Shaman. Having access to a "free" spell that kills Deathrite Shaman can be a boon, although the price you have to pay is steep.
I wouldn't recommend using your Soul Spikes too early to kill creatures, but they can do so in a pinch. And if your hand is full of them and not much else, you can always pitch extra copies to your Faithless Looting or Izzet Charm.
This deck looks a bit awkward at times, but I do think it has potential. The sideboard can be a smattering of cards that focus on dealing with your biggest problems. Pithing Needle seems like a fantastic option because it shuts down Deathrite Shaman and Relic of Progenitus, which are the two hosers seeing the most play. Grafdigger's Cage is the only other card seeing play that can give you fits, but boarding in some number of artifact destruction cards or potentially maindecking Repeal could be awesome.
I've also considered going the full five colors and playing Time of Need to have additional copies of Griselbrand. If your plan is to play Through the Breach in the sideboard, you can also play some Emrakuls to give you more gigantic monsters to dig for (along with Time of Need).
I don't have any concrete evidence to give you that this deck is actually good. I think it is pretty sweet, but it can definitely use some love. Although GerryT has been playing something similar to this off and on for the last few months, I'm hoping that a downswing in Jund will allow it to finally shine. With fewer copies of Inquisition of Kozilek and Thoughtseize in the format, it could be time for a different kind of combo deck to rise to the top, though this one might be just as inconsistent as the rest of them.
Moving Forward in Modern
The banning of Bloodbraid Elf and Seething Song are sure to shake up Modern a bit, but I wouldn't be surprised if people keep playing the same old decks they've been playing forever. Modern, much like Legacy, is full of potent strategies that have their strengths and weaknesses. Scapeshift, Splinter Twin, and other various combo decks that struggled against Jund's heavy suite of discard could make their way back to the top of the charts, especially if they get savvy! I can see a Scapeshift deck making really good use of Cavern of Souls to resolve their Primeval Titan.
While Modern has been a favorite format of mine since its debut last year, I can only wonder where it will go from here. With Jund no longer the top dog, or at least not nearly as powerful as it once was, my brewing senses are tingling again. I just wish I could brew up something that isn't so vulnerable to Deathrite Shaman for once!
Thanks for reading.
strong sad on Magic Online
@strong_sad on Twitter
I am Golgari.

Hrmm...is it dead?

Yes.

Well, can we salvage what's left?

Also yes.