StarCityGames.com is getting ready for its first ever Open Series weekend in conjunction with Moscow-based professional hockey team Atlant! Get your Snow-Covered Plains ready, because…
No, wait… Sorry, my A button stuck…
Actually, it's going to be a big weekend of Magic in the peach of the south, Atlanta, Georgia! And it will be even bigger this time around because it will be the first weekend with Gatecrash legal! Loxodon Smiter and Gravecrawler will look to beat newcomers early like Cartel Aristocrat and Truefire Paladin in the first few turns, while Aurelia's Fury will combat Sphinx's Revelation in the late game. Early picks for top contenders like Boros Charm and Obzedat, Ghost Council will be tested, as will underdogs with potential like Vizkopa Guildmage and Urban Evolution. And that's just Standard!
Atlanta is shaping up to be one of the can't-miss Open Series of the year. Located ideally for high levels of attendance in both quantity and quality, the best and brightest minds will be tested in the crucible of new Standard. Will a favorite emerge victorious, like Todd Anderson did right after Return to Ravnica came out at SCG Standard Open: Cincinnati? Come on down and find out!
Our humble abode, as is the case every time we come to Atlanta, will be the Gwinnett Center in Duluth, GA, about half an hour outside downtown Atlanta.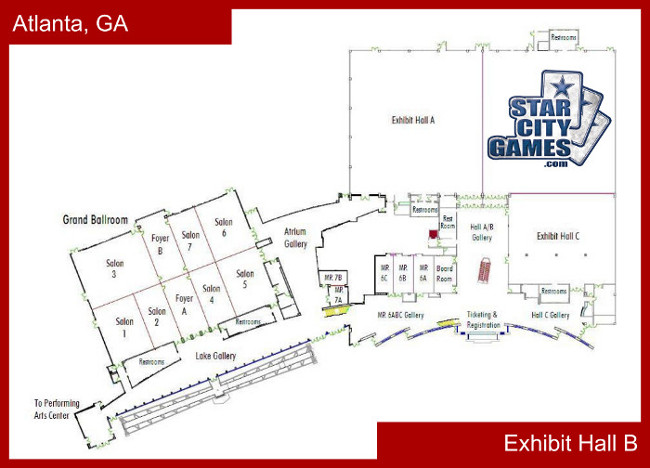 The Gwinnett Center is a fantastic venue, which is why we keep going back, but the food options are often perceived to be a bit more difficult to get to because of the building's architecture. But never fear, there are some good options within walking distance, and snacks and refreshments will also be available on-site.

And boy do we have a treat for you! Not only will we feature three spectacular alterists, but this will also be the second appearance of Clint Cearley!
Magic Artist Clint Cearley trained in traditional media and now works as a freelance digital artist with such companies as Wizards of the Coast for their game Magic: The Gathering. You can find his art featured on these popular cards: Curse of Death's Hold, Geist-Honored Monk, Intangible Virtue, Putrefy (Izzet vs. Golgari), Sever the Bloodline, Syncopate (RTR), and Vampire Outcasts. His art also appears on the following Gatecrash cards: Bane Alley Broker, Stolen Identity, Thrull Parasite, and Whispering Madness. You can find out more about his work here.
Eric Claar will bring his unique style of alters to SCG Open Series: Atlanta. Known for his minimalist 'blueprint' style as well as full art pieces, you can check out his work on Facebook and deviantART. For commissions, you can contact him through Facebook or e-mail cbalters@gmail.com.
Ron Faris will be painting custom card alterations at the event! Check out his unique alters by following him on Facebook or his blog. As always, you can e-mail him at blackwingalters@yahoo.com for commission information!
You can see examples of Chris King's alters and place custom orders on his website.
Cedric Phillips continues his whistle-stop tour of the United States, joined by his partner in crime and Skullcrack superfan Patrick Sullivan and fellow road warrior Glenn Jones. If you aren't in attendance, you'll definitely want to see what crazy concoctions our competitors think up! Join Ceddy, PSulli, Glenn, and the rest of the @SCGLive team for live coverage of the event, and use the hashtag #SCGATL to stay up to date with articles, news, and highlights on social media.
The gates are about to open. Be prepared!
Event Coverage Coordinator