"So, you just gonna switch it on 'em?" -Busta Rhymes
In just a few days, I'll be boarding a plane to New York to meet up with Jon Finkel, Zvi Mowshowitz, Sam Black, Tom Martell, Reid Duke, Gabriel Nassif, Paul Rietzl, Matt Sperling, Owen Turtenwald, Matt Costa, The Ben Seck, Gaudenis Vidugiris, Steve O'Mahoney-Schwartz, Andrew Cuneo, and David Heineman. Building decks and testing for a new format is profoundly fun in a way that I can't do to justice with words, but thankfully I don't need to. Because you know.
We've been tackling Gatecrash all week, starting with updates to existing decks Monday and then a lot of new brews Wednesday. Today, I want to close it out with a little experiment.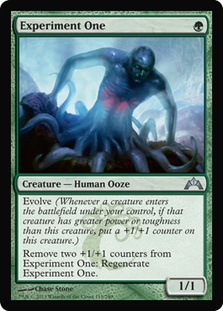 Best Gatecrash Creatures At Each Cost
1 - Experiment One
2 - Burning-Tree Emissary
3 - Boros Reckoner
4 - Ghor-Clan Rampager
5 - Obzedat, Ghost Council
6 - Prime Speaker Zegana
7 - Sylvan Primordial
8 - Skarrg Goliath
Honorable mention to Aurelia, the Warleader. There are tons of amazing one-drops, but I think Experiment One is pretty clearly, ahem, Number One. There are plenty of two-drops that all seem pretty close so far, so I just went with the most style, though maybe Vizkopa Guildmage or Simic Guildmage deserves that title.
There is so much more brewing to do, but rather than just iterating on more and more designs, it'd be nice to find a little structure. I often find looking at cards and sets from a new perspective to be valuable for gaining a three-dimensional understanding of them. Gatecrash in particular has proven a tough nut to crack.
There are a lot of very powerful support cards and a lot of possible new tools, but so many of them are so weird. There seems to be a small shortage of Huntmasters, Thundermaws, Thragtusks, Snapcasters, and tier 1 planeswalkers. It is definitely possible that there really is a shortage of top tier rares and mythics, but I suspect the more likely explanation is that the best high rarity cards have proven somewhat elusive as a result of being largely driven by context. This is particularly interesting given that it isn't the best for new set sales while actually being fantastic for the longevity of the format.
Today, I want to look at some Best-Of Lists for Gatecrash and let discussion flow from that. For instance, it's pretty peculiar to me that there is a shortage of tier 1 fatties in this set as opposed to half a dozen good one-drops. Where are the awesome sixes and sevens? Are we missing something? Aurelia, the Warleader seems pretty good. Maybe she is better than that? I know that is the one the most likely candidates by putting myself in the shoes of WotC and considering what cards would I want to make good if I were them. She is definitely a real possibility.
Remember, WotC's main goal isn't to "trick" us. They want the best cards to be sweet, to be fun, and to promote a healthy metagame. They certainly don't always get it right, and there is a systemic flaw in design that makes the best blue cards slightly too good most of the time (having a monopoly on both tier 1 card draw and permission). But in general, if we are looking to find the best cards, we should start by looking at the sorts of cards WotC would want to be the good cards.
Gatecrash: Best At Every Position
Sorcery - Whispering Madness
Instant - Boros Charm
Creature - Ghor-Clan Rampager
Planeswalker - Domri Rade
Artifact - Prophetic Prism
Enchantment - Blind Obedience
Land - Stomping Ground
Of these, the category I'd most want to put the asterisk next to is creature because I think Ghor-Clan Rampager and Experiment One are both just bonkers are both candidates for best card in the set. Experiment One is every bit as influential as Gravecrawler and will help redefine the format's aggression. Ghor-Clan Rampager is just ludicrous with power through the roof, but he will also have a distorting influence that shapes every combat against red/green players for the next two years. He singlehandedly has completely toppled the status quo regarding the value of blocking. Experiment One's upside is potentially higher, but Ghor-Clan Rampager is going to change the most how we play Magic.
The category I am surely most wrong in is that of sorcery. The cipher cards are so obviously going to take playing with them to understand their power, but I could totally see Hands of Binding taking the top spot in a set that has relatively few powerful sorceries. I guess Mugging is a thing, but you'd have to really want a Shock (and be ok with it being bad).
Another category that could easily be wrong but doesn't matter much is that of artifact. What is the real answer? Maybe Orzhov Keyrune? Maybe Glaring Spotlight? Whatever it is, it's likely not super important all things considered. If Glaring Spotlight makes it, it won't be on the back of its ability to combat hexproof (which is fine but hard to justify a full card on); it will be quietly because of the second ability. Making your team hexproof and unblockable is pretty sick if you can afford the mana.
Boros Charm for instants is easy money and will be one of the most influential cards in the set. However, we should give an honorable mention to Aurelia's Fury, Devour Flesh, Spell Rupture, Simic Charm, and Psychic Strike, all of which are quite valuable and miles above the sorceries.
Planeswalker obviously doesn't have a ton of competition, but I am not super overwhelmed by Domri Rade or Gideon, Champion of Justice. Both are fine tournament cards, no question, but I want to explore both because it seems so probable that at least one of these two was intended to be high tier 1. Then again, maybe WotC has finally adopted the (in this case) dubious doctrine of Matt Sperling and taken the high-end planeswalkers down a notch.
We talked about Blind Obedience at length on Monday. I wonder if it will turn out to be more of a one-of type of card or show up at higher frequency. I can already tell that it is going to be the type of card that some people play more than they should while others always overlook it. How popular it becomes is going to have a ripple effect on cards like Falkenrath Aristocrat, Hellrider, and Thundermaw Hellkite.
The part of it that I think people are really underestimating is how much it disrupts people's ability to block. If you play a white aggro deck and play this against someone with Augur of Bolas, Snapcaster Mage, and Restoration Angel, they will miss a lot of blocks, plus you will have a source of inevitability not commonly available to white aggro decks.
It didn't make my list, but Soul Ransom deserves an honorable mention. I can't decipher what there is to understand about Soul Ransom yet, but I kind of feel like the card might end up fringe (despite being treated as unplayable in Constructed by most).
Why Stomping Ground? It seems pretty clearly that Arbor Elf and Ranger's Path make the Forest Shocklands more important than the others, and Gruul is definitely supported with Ghor-Clan Rampager and Experiment One leading a really good bunch (Gruul not need Charm, Gruul use fist). Besides, Arbor Elf is going to untap more Stomping Grounds than Breeding Pools (but it will be close), so I give the edge that way.
Gatecrash: Best In Each Color
White - Boros Elite
Blue - Cloudfin Raptor
Black - Devour Flesh
Red - Skullcrack
Green - Experiment One
Gold - Ghor-Clan Rampager
Hybrid - Boros Reckoner
Colorless - Stomping Ground
Boros Elite has an awful lot going for him. To start with, a 3/3 for one is just a sick rate, even if he has a lot of fail cases. Compare this to Wild Nacatl in Standard (when we didn't have duals). Boros Elite is a lot easier to use, and even Nacatl was solid. What really elevates Boros Elite, however, is being Human. Decks that are in the market for his textbox are absolutely in the market for more Humans. Human tribal synergies aside, the possibility of playing four Champion of the Parish and four Boros Elite thrusts Gather the Townsfolk into the front of the conversation.
Frontline Medic has too much competition from other three-drops to rank higher but deserves an honorable mention. The X spell ability is a little goofy but has obvious uses, and the indestructible ability is sick if people are foolish enough to block. He suffers a little from the existence of Ghor-Clan Rampager since more people will try to avoid blocking. It is cute that Frontline Medic lets you make your team indestructible if you want to play a sweeper of your own, though what deck that is is anyone's guess.
Cloudfin Raptor, blue's "insane one-drop" of the set, is not the easiest creature to use, but it has a really strong high end. While Experiment One has already paid you the very first time you play anything, Cloudfin Raptor doesn't really get ahead enough to be top tier until you play your second guy. Remember, evolve works on toughness or power, so you can totally go turn 1 Raptor, turn 2 Delver + Thought Scour, turn 3 Augur of Bolas or Snapcaster in combat (boosting the Raptor and flashing Scour). Follow with a Restoration Angel and you are already up to a really big Raptor. When Geist of Saint Traft makes an Angel, your Raptor is all the way up to 4/5.
Black's Devour Flesh is certainly not for every black deck, but it is potentially huge for the decks that want it. This is mainly Esper, Grixis, BUG, U/B, and 5CC, but it has applications for midrange decks like Jund if they have a glut of threes and need a good two.
Red may seem like it got the shaft with Skullcrack as its best mono-color card, but it got Ghor-Clan Rampager and Boros Charm, so believe me, it will be ok. Skullcrack is one of the most obvious cards both in power and in functionality. Will it be good? If you need to hose life gain. It is not so sick a card that you just jam it into every deck. After all, it is a two-cost Lava Spike on its own...
Boros Reckoner is not just a totally cool combo with Blasphemous Act but is also a quality card on its own. It can be pretty tough for aggression to deal with, particularly if they aren't playing a lot of removal. The first strike ability is startlingly relevant, especially against Thragtusk, Geralf's Messenger, and Hellrider. Just watch out for Restoration Angel (though if their Angel comes into play tapped...)
Gatecrash: Best Of Each Mechanic
Evolve - Experiment One
Cipher - Whispering Madness
Extort - Blind Obedience
Battalion - Boros Elite
Bloodrush - Ghor-Clan Rampager
While we are repeating here, it's the honorable mentions that really interest me. Experiment One is shadowed by Cloudfin Raptor, forming a dynamic duo (though both are more than happy to flagship their own solo careers). While these two are the best by a lot (since you want to play evolve creatures before your other creatures), there are plenty of other evolve creatures worth experimenting with.
Whispering Madness versus Hands of Binding? Who knows? This mechanic is so weird. Whispering Madness looks the best on paper, but I would be surprised if WotC actually shipped with the Windfall being the best. This makes me looking at cards like Hands of Binding and even Shadow Slice. Last Thoughts is obviously appealing, but it could be very easily outclassed by other options. Hands of Binding and Shadow Slice at least hit from angles that don't have superior analogues.
Blind Obedience is my favorite of the extort cards, but Syndic of Tithes, Thrull Parasite, and Crypt Ghast are all really interesting. Syndic of Tithes has a solid rate but faces steep competition at the two spot. Thrull Parasite is a little unassuming on the surface because it's hard to not focus on his pay two life ability. Really, he is a 1/1 extort for one (which is already good) that happens to have a few mondo combos, most notably Geralf's Messenger. That he randomly disrupts planeswalkers and +1/+1 counters is not a big deal but worth keeping in mind. Being able to surprise(!) block with Rakdos Cackler isn't a super valuable option, but it is an option.
Finally, Crypt Ghast is probably a great card in some mediocre decks. After all, if you untap with him, that is absolutely bananas. Griselbrand? No problem! I am not sure how you build a deck that takes full advantage of him that still functions in the majority of games where you don't have him or he dies.
Boros Elite for battalion is no surprise, but Frontline Medic gets another honorable mention. Even Daring Skyjek, Wojek Halberdiers, and Legion Loyalist deserve auditions.
Ghor-Clan Rampager is as far above the other bloodrush cards as Bloodbraid Elf was over other cascades, but like the other cascades, there are still some good ones. Wasteland Viper, Slaughterhorn, and even Wrecking Ogre are fine options. In fact, it's not clear you wouldn't want Skinbrand Goblin, Zhur-Taa Swine, or Rubblehulk in the right spots. Outside of just playing the right ones for rate, I wonder if there is a way to abuse being able to make ourselves discard this many creatures.
Gatecrash: Best At Each Rarity
Common - Cloudfin Raptor
Uncommon - Ghor-Clan Rampager
Rare - Boros Reckoner
Mythic - Aurelia's Fury
Cloudfin Raptor edging out Devour Flesh seems totally reasonable. Ghor-Clan Rampager in a ridiculously tough division featuring Experiment One, Boros Elite, Charms, and so on is fine. Where things get weird for me is in the rare and mythic divisions. I think Aurelia's Fury is good, and it's not even clear who wins out of it and Prime Speaker Zegana, but where are the Thundermaws? The Griselbrands? The Angel of Serenity? The Craterhoofs? The Giselas?
I guess there is Obzedat and Aurelia, which is cool, but I can't help but wonder if one of the other fatties is secretly high tier 1 and we just don't understand the context yet. What are the candidates?
Deathpact Angel
Hellkite Tyrant
Lord of the Void
That is not a lot of options, though I guess we could stoop to Borborygmos Enraged, but that seems like a long shot. Master Biomancer and Lazav both seem like reasonable role-players (sometimes headlining decks built around them), but they aren't the kind of card I'm talking about. Of these options, Aurelia is the most likely candidate for "Big Dragon of the set," but I am cautious. I do think she'll be tier 1, but I just wonder if she will really carry the same way Thundermaw does. She definitely could, and I could also believe they'd count on her even if she doesn't. Still, I wouldn't want to overlook the others and write them off without further exploration.
What about Angelic Skirmisher? I had that one at the Prerelease, and it was completely unbeatable. It was so good that I kind of suspect it might be a Constructed sleeper. The ability to play it and then just immediately attack for a ton of lifelink damage with your other creatures is often game winning.
What about Gruul Ragebeast or one of the Primordials? Maybe the secret is that the sick fatties are at rare, not mythic?
Gatecrash: Top 10 Overall
10. Obzedat, Ghost Council
9. Aurelia, the Warleader
8. Prime Speaker Zegana
7. Aurelia's Fury
6. Boros Reckoner
5. Cloudfin Raptor
4. Boros Elite
3. Boros Charm
2. Experiment One
1. Ghor-Clan Rampager
Obviously, I didn't count lands here since they would make the list pretty boring.
This is the list that is going to be most embarrassing to look back on in six weeks. This is the set that I have had the least confidence in my top picks in years. No question, those Top 3 are in the top few of the set, but as for the rest of the list, it is very possible we are missing some major ones. Blind Obedience? Domri Rade? Gideon, Champion of Justice? Whispering Madness?
Blind Obedience, Domri Rade, Gideon Champion of Justice, Angelic Skirmisher, Devour Flesh, Spell Rupture—no question, my list is going to look silly in a few weeks. Hey, it'll be fun, though. I would love to be giving you guys a more clear glimpse, but I am just calling a spade a spade. It is more useful to be accurate about what sorts of things we have high confidence about and which we don't.
I do want to touch on Human Reanimator, BUG Control, Whispering Madness combo, and other decks, but the format is still young. Better to change it up today, get the ideas flowing, and hit the ground running Monday. Your comments are always much appreciated, and I definitely read them every article. I want a little more time to better flesh out some of the speculative brews. Still, I guess one decklist couldn't hurt...
See you Monday!
Patrick Chapin
"The Innovator"
The first rule of Dimir Guild is you do not talk about Dimir Guild.

The second rule of Dimir Guild is you do NOT talk about Dimir Guild.

My official response? Izzet and proud...