You certainly won't be accused of gatecrashing if you show up to either the StarCityGames.com Open Series in Edison, NJ or the Classic Series in Memphis, TN! In fact, you're invited! It's week two of Gatecrash Standard, and after week one was peppered by ample use of Frontline Medic, Cartel Aristocrat, and Boros Reckoner, it's going to be exciting where the format goes from here.
Let's begin with where I'll be this weekend: the Open Series in Edison.
A city named for the Wizard of Menlo Park, a man credited with over a thousand inventions, Edison is a pretty good spot to have an Open Series in the early weeks of a new format. There's so much room for innovation! StarCityGames.com rarely gets this close to the huge player base in New York City, so having a major tournament less than an hour from the city is pretty fortunate. And having never been there myself, I'm happy to get the chance to add another train stop sticker to my footlocker!
Our home for the weekend will be the New Jersey Convention and Exposition Center.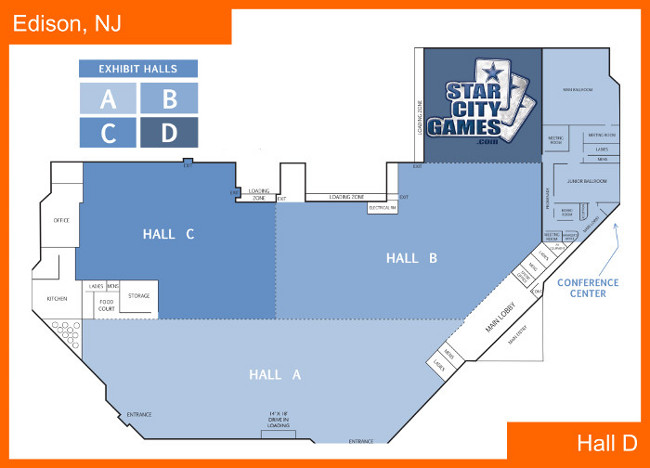 And while the Convention Center is a wonderful place for a tournament, the food options nearby are unfortunately limited. There's a Starbucks about two miles from the site, and that's about it for convenient food nearby. Inside the hall, there is a concession stand, but whether or not we will have access to it isn't clear (since it's in another hall with an event going on). My suggestion to you is to do what I usualy do: pack a lunch!

A trio of alterists and a special guest Magic artist, Steve Belledin, will be in attendance in Edison!
Painting for Magic: The Gathering since the release of Shadowmoor, Steve Belledin's work has been celebrated for its attention to gritty detail and amazing use of light and scale. His work continues to grace the top tables of tournament play. You can find his artwork on such cards as Overgrown Tomb (RTR), Gravecrawler, Mikaeus, the Lunarch, Surgical Extraction, Kiki-Jiki, Mirror Breaker (FTV), Deathmark, and Sinew Sliver.
Lindsay Burley will be selling and creating her unique brand of 3-D cards and tokens as well as custom playmats! See her work here, then stop by and check out these awesome cards! For special commissions before the event, you can contact Lindsay at 3Dalters@gmail.com. You can see an interview with her here.
Up and coming artist Jaclyn Foglia will be painting and selling her custom card alterations at this event! You can find her collection of work here and visit her Facebook page for more information. For commissions to be available for pick up at the event, please contact Jaclyn in advance at jaclyn.foglia@yahoo.com. You can also watch an interview with her here.
Based out of Baltimore, Maryland, Ashley Jordan, the artist behind Alternate Dimensions Card Alters and Designs, hand paints Magic: The Gathering partial and full art card alters. Visit her website here or take a look at her Facebook page to check out some of her custom work or to request a commission!
I am proud to be reuniting with future creature token Cedric Phillips as well as commentator extraordinaire Zach Hall for SCG Open Series: Edison. Cedric and Zach have different commentary styles that mesh very well, and I'm excited to see the results. If you can't make it to New Jersey, you should tune in! You can watch all of the action all weekend long on @SCGLive, and by using the hashtag #SCGNJ on Twitter, you'll be able to join in the conversation live and maybe even win prizes of #SCGPremium along the way!
Of course, if you're near Memphis, Tennessee (ain't no place I'd rather be!), you'll want play at the Classic Series this Saturday!
The Classic Series was started to give cities with strong player bases but smaller populations the chance to host SCG events. So while Nashville typically gets the biggest events, often Memphis is left wanting…but not this weekend! A good old-fashioned 5K means ya got trouble, my friend, right here I say, trouble right here in River City for those trying to take the top spot at the Classic Series!
The location for the event will be the Memphis Cook Convention Center.
And when you think Memphis, you think music, the Tigers, and food! The tournament center this weekend is blessed with fantastic food options aplenty:

In addition to a $5,000 Standard tournament on Saturday, SCG is proud to host Atlanta, Georgia based alterist Leif Paulson. Also known as Evil Nerd INC, Leif works as a professional freelance artist. Please visit his Facebook page to view samples of his Magic card alterations. Leif is currently accepting commissions and specializes in card extensions (borderless cards).
So if you aren't playing Magic or watching Magic on @SCGLive this weekend…what are you doing?
Good luck, have fun, and crash gates!
Event Coverage Coordinator