Dear Azami,

I started working on this deck when Sakashima's Student was first previewed last June. I started by tracking down every creature that could Clone other creatures and then found other spells that could do the same thing. But I needed to find a commander to run everything. My first thought was to use Sakashima the Imposter, but that would cut out the entertaining options in black. I really needed to locate a good blue/black commander, but none of the options really fit the theme of Clones that well. I settled on using Vela the Night Clad.

Everything changed when Lazav, Dimir Mastermind was previewed. I'd found the perfect commander in the correct colors that fit right into the soul of the deck. Another preview made the cut in Stolen Identity. I'm hoping that there are more Clone effects in Gatecrash, but the deck has reached the point where it's hard for me to find what should be cut in order to make room for other stuff. There are a few cards that I know I want to put in, like Chromatic Lantern and Duplicant. I'd like to see what can be done to make it better and what other stuff from Gatecrash can be worked in. I really want to keep the Clones, but all the support stuff I'm more than willing to make changes to.

Here's the list:

General

Creatures

Augury Owl
Avatar of Woe
Baleful Strix
Body Double
Cemetery Puca
Clone
Cryptoplasm
Dark Impostor
Deadeye Navigator
Dimir Doppelganger
Echo Mage
Evil Twin
Galvanic Alchemist
Glen Elendra Liege
Havengul Lich
Ink-Eyes, Servant of Oni
Kiku, Night's Flower
Myr Propagator
Necrotic Ooze
Nephalia Smuggler
Pack Rat
Palinchron
Phantasmal Image
Phyrexian Metamorph
Quicksilver Elemental
Quicksilver Gargantuan
Sakashima the Impostor
Sakashima's Student
Shapesharer
Silent-Blade Oni
Vesuvan Doppelganger
Vesuvan Shapeshifter
Visara the Dreadful

Artifacts

Conjurer's Closet
Darksteel Ingot
Erratic Portal
Everflowing Chalice
Sculpting Steel
Sol Ring
Soul Foundry

Enchantment

Spells

Bribery
Cackling Counterpart
Capsize
Counterspell
Cryptic Command
Demonic Tutor
Doom Blade
Fact or Fiction
Foresee
Go for the Throat
Hinder
Last Word
Mana Leak
Memory Plunder
Ponder
Preordain
Rethink
Rite of Replication
Spell Crumple
Stolen Identity
Twincast
Undermine

Lands

Creeping Tar Pit
Darkslick Shores
Dimir Aqueduct
Dimir Guildgate
Drowned Catacomb
Esper Panorama
Evolving Wilds
Grixis Panorama
13x Island
Jwar Isle Refuge
Minamo, School at Water's Edge
Rogue's Passage
Secluded Glen
Sunken Ruins
5x Swamp
Terramorphic Expanse
Vivid Creek
Vivid Marsh
Watery Grave

Thanks,
Brian Olsen
I'm glad you submitted this list, Brian. Lazav was on my short "To Do" list once the dust from the Gatecrash Prerelease and release events settled, so I'm really happy I'm getting a chance to take a shot at Dimir this week. From what I experienced, Dimir didn't exactly pan out on average as far as Sealed decks went over the last two weeks, but I have a feeling it'll be a different ballgame as far as Commander goes.
Let's take a look back at the roots of what you're going for here before we apply the ol' Dear Azami medicine to the list.
In the beginning, there was "CCS."
By "beginning," I literally mean twenty years ago. When I was learning the ropes of this incredible game, Revised booster packs and starter decks were still on the shelves. This was before U/W control, Delver, Faeries, Fish, or Keeper. Before Decree of Justice and Morphling were the preferred win conditions for blue decks. Before "the stack" was a thing and before Wizards of the Coast decided to roll interrupts into instants. People gave honest consideration to playing Lord of the Pit, Serra Angel was rare and incredible, and Shivan Dragon was worth two Underground Sea in a trade…maybe even three.
Back then, there was a certain balance to the game that is markedly different from now. Creatures were fairly terrible across the board. Force of Nature represented the top of the totem pole as far as big beaters went, leading green to be the color of giant creatures and owner of one of the only ways that you could reliably play multiple colors in one deck: Birds of Paradise. Red came in a close second on the creature front, with a touch of direct damage and land destruction thrown in to make up for any perceived short-comings.
White and black were largely identical as the go-to colors of removal and Reanimation, the only difference being that the lighter side of things got life gain and ways to deal with artifacts and enchantments and the dark side got Demonic Tutor. Kind of a push.
And then, there was blue and "Copy, Counter, Steal."
Back then, blue flat-out sucked at drawing cards. The available options were essentially Braingeyser and…well, just Braingeyser. The card advantage blue provided was done through attrition; wait for your opponent to tap out for Serra Angel and Control Magic it. Power Sink the red player who points a Fireball at your head. Clone the best thing in play. Let your opponent do the heavy lifting and reap the rewards.
If anyone wonders about when people started hating on blue, look no further than when Magic debuted at Gen Con '93.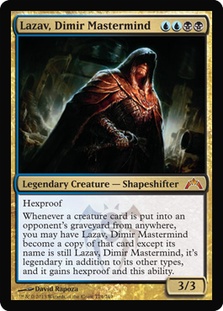 Fast-forward twenty years and we have Lazav, the heir apparent to Vesuvan Doppelganger. I love the angle on the deck here—it's kind of tribal, kind of thematic, and should provide all the same benefits that Clone did back in the day. It's even better now since the average creature quality has increased about 9,000 percent in the last two decades. Lazav himself also deserves a closer look before we get into the changes; on the surface, he's a good fit, but a deeper look shows he's even better than that.
Brian, your list contains a decent chunk of counterspells, which obviously fits with the theme. In this case, they also serve to enable Lazav's ability, which reads, "Whenever a creature card is put into an opponent's graveyard from anywhere…" Your opponent goes for Avacyn, Angel of Hope, you fire off Undermine, and congratulations—your permanents are indestructible.
Lazav enables a pseudo-toolbox approach as a result, which is also why spot removal is better in this list than it might be normally. You won't benefit from enters-the-battlefield effects with him, but find a creature with a good static ability and Go for the Throat for maximum value.
Finally, there's discard. I'm not advocating a mill/dredge strategy here since both are off-theme, but it does mean that symmetrical draw effects can be leveraged in this deck to much better effect than is usually the case. Typically, I'm not crazy about Howling Mine style effects that fuel opponents as much as they fuel you, but in this case, the quality of your creatures will be in direct relation to the quality and quantity of their cards as a whole.
This also opens up a bit of a political angle as well; why attack the guy giving you extra cards each turn when you could be leveraging them against players who aren't being any help to your cause? It's not a central feature, but it does figure in.
On to the list!
I think all that really needs to happen here is a little guidance. I love the Clone concept, but there are some copy effects (Pack Rat, I'm looking at you!) that are a little weak in comparison. This will leave some room for some other Clone effects that do belong here and some of the up-rated synergies in the draw and removal areas that I discussed before as well.
Overall, this list is a pretty good as it stands. It looks solid, stays pretty true to theme, and has the tools to be a consistent contender, so I'm not going to do much other than a gentle nudge in the right direction.
The Changes
We'll start with the lands. The changes are minimalist, but are either on-theme or in the interest of easing color requirements for the deck as a whole.
OUT: Vivid Creek, Vivid Marsh
I'm just not crazy about Vivid lands. I can see them in a five-color build, but in two colors, the focus becomes less about the mana production and more about the enters-the-battlefield-tapped part of the rules text.
IN: Vesuva, Thespian's Stage
The real estate can and should also get in on the Clone game. Vesuva is the gold standard here (yeah…I know it comes in tapped, but theme rules the day here), and the new Gatecrash offering Thespian's Stage provides the flexibility and utility that is a hallmark of the format.
OUT: 3x Island
I don't like the color balance here.
IN: Darkwater Catacombs, Shizo, Death's Storehouse, 2 x Swamp
The Swamps come in to help swing the balance back toward center, and I think we're down a slot to begin with, so this shores things up. Shizo adds another black source and will serve to enable another strategic angle that (spoiler alert) benefits from dealing damage directly to an opponent later on.
Darkwater Catacombs rounds out the land count to 36 and provides a filter effect that will make playing a commander with such a steep color requirement a little easier in the long run.
Artifacts are next.
OUT: Everflowing Chalice
Another consistently underwhelming card in my book. The scalability is nice and all, and this deck does need acceleration. However…
… It needs mana-fixing more, and Lantern takes the Darkwater Catacomb filter effect and turns it up to eleven. Besides, this was on your list of things to add, Brian, and I aim to please.
Let's look at creature slots.
OUT: Baleful Strix, Augury Owl
I'd rather see this deck go to cards that provide real draw over a quick cantrip or a minor filter effect. I like the rattlesnake effect the Strix brings to the table, but I just don't see it being enough of a threat to matter in the long run.
And neither of these two are Clone effects!
IN: Escaped Shapeshifter, Mimic Vat
Escaped Shapeshifter continues on with the theme of "Cloning" opponent's creatures in spirit if not in actuality. It is important to note that this card gets a whole lot better in multiplayer games.
Mimic Vat is obvious and low hanging, but it fits. It's not quite as friendly as other options since it really walks the line between "copy" and 'steal'. It's also getting destroyed faster than almost any other permanent you can play in a Commander game if we're being totally honest. Still, it is on theme, and you get to enjoy some serious shenanigans when you start tossing clone creatures under it.
OUT: Galvanic Alchemist, Glen Elendra Liege
These seem fairly straightforward. Glen Elendra does help solve the problem of having a set of creatures that are at perfect parity with your opponent's creatures at best. However, there are a decent amount of clones in your deck that will take on color properties when they go active, and may easily end up outside of the realm of benefits the Liege provides.
Galvanic Alchemist seems...really misplaced. There isn't a heck of a lot of creatures you have that can benefit from untapping. I suppose that Visara the Dreadful and Avatar of Woe like the effect, and again, the spot removal is what makes Lazav come alive. Still, you're only taking advantage of what he can do one creature at a time, so the benefit Alchemist brings is largely wasted.
IN: Diluvian Primordial, Sepulchral Primordial
Slight rant time. I've said it before regarding this cycle, but I'll say it again here—I'm a little nervous about these guys. They seem so perfectly designed and positioned for Commander play that I suspect they may already have reached critical mass in the format. The problem is that can lead to stale environments, and part of the joy of Commander is in the variety that is possible. I'm nervous that design might go down this path a bit too strongly and a bit too often moving forward and more and more decks will start looking similar as time goes by and new "plant cards" like this appear.
Still, I can't deny the utility here. Both Primordials are on theme, borrowing heartily from other players in both creature and spell capacities. For now, I'm going to slot these in and bask in my obvious hypocrisy. (They are pretty cool, after all!)
OUT: Kiku, Night's Flower, Myr Propagator
What's an Assassin doing in here? That just won't work for me.
The Propagator is cute and I see the angle, but cards like this tend to get people carried away for no good reason and to no real end. You forget you're playing a game and try to see how many Myr tokens you can pump out, and the next thing you know, the fun-wrecker to your left draws thirty cards from Decree of Pain. That doesn't work for me either.
IN: Thada Adel, Acquisitor, Aura Thief
I tried to match legendary creature for legendary creature here, so you get a pair of thieves that do some solid on-theme footwork for you. Thada is realistically going to find you an early Sol Ring or Darksteel Ingot much of the time, and that's just what this deck wants in order to get going.
Aura Thief fills a huge, gaping hole in the black/blue game plan by giving you a way to deal with enchantments. And really, in this deck the best way to do that is to just take them all. Bring on the Rhystic Studies and Debtors' Knells and Survival of the Fittests!
OUT: Nephalia Smuggler, Pack Rat
I told you the Rat was gone already. He suffers from Myr Propagator syndrome, and I need the slot for an old school and oft-forgotten copy effect.
I do like the Smuggler. It allows you to do some really interesting and creative things with your clones, ensuring that you always get value from ETB effects and you always have the best creature possible. Still, frail creature with summoning sickness is…well, you get the point. I'd rather have something here that has an immediate effect on the board.
IN: Duplicant, Dance of Many
Duplicant is another familiar face. This is a pure nod to utility; sometimes, you need to give yourself a solid clone target, and it might as well be the one that clears out key threats permanently. A little bit egregious good stuff and it doesn't play nice with Lazav, but sometimes you need an answer to Avacyn or Ulamog, the Infinite Gyre. Plus, Duplicant is another card you mentioned as a possible include, so I'm once again happy to oblige.
And then there's Dance of Many. One of the cheapest copy effects out there, it's on par with Phantasmal Image for upfront cost without the drawback. Sure, it's old, clunky in the rules text area, requires an upkeep, and has some weak art, but hey…Clone effects!
OUT: Palinchron
This is easy. You've got Deadeye Navigator in here, and I don't like to let infinite combos stick around. Plus, the only real outlet for taking advantage of all that mana in this deck is Capsize with buyback, and I don't want to feel responsible when your playgroup decides to force-feed you your own deck.
This is the best of both worlds. You get the extra symmetrical card draw I was referring to in the beginning and you don't have to wait for people to have to discard excess cards. (And what happens when people start sporting those spiffy new FNM promo Reliquary Towers anyway?) This is inevitability at its finest; it's not an if someone discards a creature for Lazav to copy, it's now a when.
Lastly, we'll clean up the spells before we call it a day.
OUT: Capsize, Doom Blade
All that talk about Palinchron just made me uncomfortable, so I'm pulling Capsize too. There's something better for this slot anyway.
Ditto for Doom Blade. I think we can do better than having to look the other way when black creatures come around.
IN: Cyclonic Rift, Murder
Rift is too good to not include. I'm unsure that it dodges inducing irritation any better than Capsize does, but it's simply the best at what it does. It answers tons of things this deck might otherwise have trouble dealing with, and it definitively answers the "how do I make my clones better than the creatures they copy?" question, hands-down.
Murder costs one more black mana than Doom Blade, but doesn't care what color the creature is. Worth every penny.
OUT: Hinder, Mana Leak, Spell Crumple
Mana Leak is the easiest to cut for me here. Sure, it's solid early on, but once the game takes off? It's only stopping the tap-out haymakers, and otherwise, it's sitting in your hand making you wish it was anything other than what it is.
Hinder and Spell Crumple get the axe not in spite of the fact that they can tuck a commander but because they tuck a commander. As I said before, for counters to be effective in this deck, they really need to end with something going to the graveyard so Lazav can take advantage of the creatures that show up in this fashion. Ending up instead on the bottom of your opponent's library is nothing but just delaying the inevitable.
IN: Plague Wind, Arcane Denial, Blatant Thievery
Arcane Denial is an improvement over Mana Leak. It has the easiest casting cost of any hard counter out there, and since it hits early and also provides card draw, it can enable discards to trigger Lazav if you get a greedy opponent. It also includes a little something extra for you as well.
Plague Wind goes hand in hand with Cyclonic Rift as a card that can break the natural parity your deck creates as a consequence of design. Expensive, but it gets the job done.
Finally, there's the spiritual predecessor to the Primordials in spell form. Sometimes, you deserve a little something from everyone, and you should never find yourself with too many ways to deal with enchantments in this color combination. Blatant thievery is a pet card of mine, and it's a perfect thematic fit to what we're going for here.
OUT: Foresee, Ponder, Preordain
Again with the negligible one-time draw… I'm just not feeling any of these options here. They all feel like they're too little to make a real contribution to your deck. I want to see some real card-drawing horsepower.
IN: Mind's Eye, Font of Mythos, Whispering Madness
This is more like it!
Mind's Eye continues with our theme of borrowing from your friends. In this case, it's nothing more than benefiting from their fortunes, but the card draw is palpable and doesn't cause you to say, "How much are you paying for that?" in the same way Rhystic Study does. That's worth something for sure…
Font is the big daddy of symmetrical draw. I figure you may as well go big or go home if you're going to go here, so Font gets the nod over Howling Mine. This is a quicker means to an end and a quicker chance for you to find the lands and threats you need.
Rounding out the pack is another Gatecrash newcomer in Whispering Madness. Draw 7sare very good in this deck for the same reasons that the other symmetrical draw is, so a single Windfall with Lazav in play will net you tons of options.
A Windfall every single time you can connect with combat damage, though? That's the stuff that will break your commander wide open. This is why Shizo is in as a backup for Rogue's Passage. Get in there!
The Finished List
Creatures (30)
Lands (36) Like I said before, Brian, your list wasn't really hurting to begin with. Still, I think I found some space to better unify your Clone theme with some extra options while also bolstering your card draw and removal to make sure you have what you need and can protect your team every step of the way.
We're talking a grand total of roughly $60 for everything, and for participating in today's Dear Azami, we'll be tossing you a $20 store credit to StarCityGames.com to get started on the changes I suggested.
Speaking of those changes, here's the card-by-card price breakdown:
| | |
| --- | --- |
| CARD: | PRICE: |
| Escaped Shapeshifter | $0.49 |
| Thada Adel, Acquisitor | $0.49 |
| Murder | $0.49 |
| Diluvian Primordial | $0.75 |
| Sepulchral Primordial | $0.75 |
| Dance of Many | $0.75 |
| Arcane Denial | $0.99 |
| Whispering Madness | $0.99 |
| Mimic Vat | $1.49 |
| Aura Thief | $1.99 |
| Cyclonic Rift | $1.99 |
| Plague Wind | $2.49 |
| Chromatic Lantern | $2.99 |
| Font of Mythos | $2.99 |
| Darkwater Catacombs | $2.99 |
| Blatant Thievery | $3.99 |
| Shizo, Death's Storehouse | $3.99 |
| Thespian's Stage | $3.99 |
| Duplicant | $4.99 |
| Anvil of Bogardan | $4.99 |
| Mind's Eye | $6.99 |
| Vesuva | $7.99 |
I'm pretty happy with the outcome here. I wanted to take a crack at the new Dimir guild leader, and I'm excited that I could do so while helping out a reader in the process. This deck looks like it has the tools to both present a cool theme and also hang in there with whatever decks show up for any given game. That's the sweet spot for Commander as far as I'm concerned.
Thanks again, Brian. Enjoy!
I'll see you all next time.
-Cass
Want to submit a deck for consideration to Dear Azami? We're always accepting deck submissions to consider for use in a future article, like Kris's Karona, False God deck or Andrew's Lovisa Coldeyes deck. Only one deck submission will be chosen per article, but being selected for the next edition of Dear Azamiincludes not just deck advice but also a $20 coupon to StarCityGames.com!
Email us a deck submission using this link here!
Like what you've seen? Feel free to explore more of "Dear Azami" here!Feel free to follow Sean on Facebook...sometimes there are extra surprises and bonus content to be found over on his Facebook Fan Page, as well as previews of the next week's column at the end of the week! Follow Cassidy on his Facebook page here, or check out his Commander blog!