I didn't win Pro Tour Gatecrash, but you knew that already. I had an altogether unimpressive but unembarrassing performance in Montreal, finishing in 80th place with an overall record of 9-7. The story of a Pro Tour isn't all found in the wins and losses, but rather the path ones takes to get to that point.
My preparation for the Pro Tour began two weeks before it, when I went out to Las Vegas for the weekend to stay at Eric Froehlich's house with much of the rest of the team. Our initial testing was comprised mostly of decks that were performing well at SCG Standard Opens since that was the only real source of lists we had available—that and Saito's Twitter account.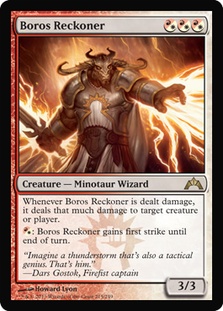 The first thing we discovered in our testing was just how powerful Boros Reckoner is. Initially, I tried a bunch of green aggressive decks built around Strangleroot Geist, Flinthoof Boar, and the like, but they all matched up incredibly poorly against a Reckoner on the opposite side of the table. I spent a reasonable amount of time trying to update my Ooze deck, but even with Abrupt Decays to deal with opposing Reckoners, it still didn't feel nearly as strong as it used to be.
Red decks getting access to both Reckoner and Rancor (and Ghor-Clan Rampager in some cases) made Ooze and Lotleth Troll far less effective as defensive measures. The Ooze deck relied heavily on its superior creatures to win matchups against aggro decks, and frequently I found they just weren't getting the job done anymore. Rancor and Rampager let opposing small creatures trample right over the Ooze, and Reckoner made trying to actually defend myself with creatures and dominate the board with fight effects much less attractive.
While Reckoner wasn't an attractive creature to try to pick a fight against, he certainly was a creature I wanted to try using in a fight myself. One of my early posts on our team forum was this: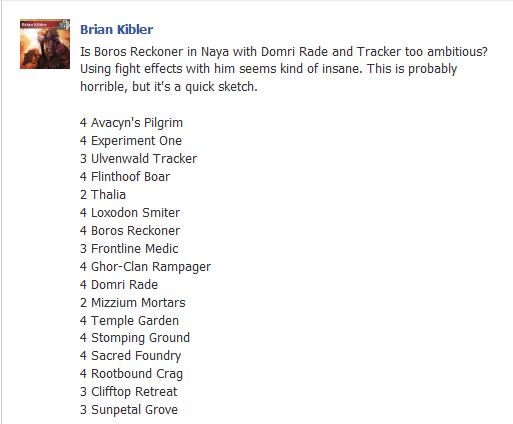 I was right—it was horrible. Experiment One was particularly unimpressive with only eight untapped green sources on turn 1 and a significant number of creatures that couldn't evolve him, and the mana in general was too bad for the deck to operate as aggressively as its creature base would suggest. But some of the cards in the deck were awesome, like Loxodon Smiter, Domri Rade, and Reckoner, so despite the failings of the rest of the deck, I kept looking down that direction.
This is an important lesson for aspiring deckbuilders. Sometimes, you'll build a deck, and it will suck. In fact, most of the time you build a deck, it's probably going to suck. But even a failed deck can have core elements that are powerful, and being able to identify those will allow you to try to find a better home for them. Here, I realized that the best things going on were the powerful three-cost creatures and Domri and decided to work on finding a better shell in which to utilize them.
Given that all of the cards I was looking to play cost three mana, I decided the logical step would be to try to fit them into a deck with mana creatures. Three is the magical casting cost to maximize the acceleration from Elves (or Birds or Pilgrims) since you can ramp into them on the second turn. That may sound like something of a trivial distinction, but the ability to use a mana creature to play a substantial threat on the second turn means that your opponent can frequently only use one-cost removal to stop you, significantly cutting down on the likelihood that your mana creature dies before you can use it. Additionally, using mana creatures to play three-drops (rather than more expensive spells) means your deck is also more likely to be able to function in situations when your Elves do die since you only need one more mana source to play them.
In any case, I wanted to build a deck that ramped into Smiters, Domris, and Reckoners. This is what one of my early drafts looked like:
Creatures (30)
Planeswalkers (4)
Lands (23)
Spells (3)
This deck was okay but not great. Some of my earlier versions had fewer mana creatures—specifically Arbor Elf since it isn't at its best in a deck with only eleven actual Forests—but my draws with a mana creature were so much better than the draws without that I kept adding more. The problem eventually actually became not having enough to do with my mana creatures. With a curve topping out at four, I couldn't take any advantage of draws with multiple accelerants. The deck also didn't feel sufficiently aggressive to maximize the power of Ghor-Clan Rampager, so I wanted to shave some of them at least.
My next build looked something like this:
Creatures (31)
Planeswalkers (4)
Lands (23)
Spells (3)
Adding Thragtusks to the deck definitely gave it a lot more power because I could leverage both my mana creatures and Restoration Angels better. I found that I was beating the aggressive red decks very consistently since they had a lot of trouble dealing with either of my three-drops and would eventually get overwhelmed by Huntmasters and Thragtusks. The deck wasn't performing quite as well against opposing midrange or control decks with Reckoner, though, as Thragtusk isn't really a great threat against a 3/3 first striker on the ground. I decided to try going a bit more aggressive and calling in some old friends—Dragons—which led me to the deck that I ultimately played at the Pro Tour.
Creatures (29)
Planeswalkers (4)
Lands (24)
Spells (3)
I ended up going with a mix of two Thragtusk and three Thundermaw Hellkite in the maindeck to hedge a bit between the aggro and midrange/control matchups. Thragtusk is much better against opponents who are trying to kill you quickly and is still a reasonable threat against removal-heavy decks. The single Ghor-Clan Rampager was to ensure that my opponents always had to respect it. One of the costs of playing a Domri Rade deck is that you have to play with a ton of creatures to get him to work, which makes your deck predictable and largely sorcery speed. I decided to play the full complement of Restoration Angels and a single Rampager to give the deck as much play as I could get without sacrificing card quality or weakening my Domris.
The Gavony Township in the maindeck was a Kessig Wolf Run for a long time, but I realized that +1/+1 counters are a lot better in a world in which everyone has their own Boros Reckoners. Wolf Run is much better against decks that you need to be able to beat with a single threat (like Esper, Jund, or Bant Control), so there's a copy in the sideboard to bring in, but against other midrange or aggro decks, I prefer Township.
The sideboard gave a lot of respect to aggro decks that may not have been warranted. We anticipated R/g Aggro would make up a significant percentage of the field thanks to Saito posting about it on Twitter and the attention it got in the weeks leading up to the Pro Tour. Pacifism is the best possible card against anyone who's trying to beat you with Rancor and Volcanic Strength on cheap creatures and happens to be an excellent answer to Boros Reckoner against anyone who doesn't have Restoration Angel as well. Nearheath Pilgrim outperforms other life gain like Centaur Healer in part because of his place on the mana curve and in part because of how powerful he is with Boros Reckoner and Domri Rade.
The day before the event, I debated between playing this deck or a version very similar to that with which Eric Froehlich posted a Top 4 finish. I felt like the version with mana creatures was more powerful but higher variance—while the Burning-Tree Shaman draws his version could get were certainly explosive, they still weren't as powerful as the best mana creature draws. That said, I felt like the two-drop version was more consistent. My deck had a shakier mana base and could get worse draws, like Arbor Elf with no Forests or three Forests and four Boros Reckoners.
Ultimately, I ended up playing the mana creature version because I was more familiar with how it played out and I'd been posting excellent results with it in testing. I ultimately went 6-4 in Standard, beating R/G Aggro, Saito Naya, Reanimator, two U/W/R decks, and a Bant Control deck and losing to Esper, Naya Humans, and two copies of The Aristocrats. My draws felt subpar throughout much of the event, even in some of my wins, though I did manage to kill one of my opponents on turn 4 with double mana creature / Thundermaw / Boros Charm.
In retrospect, I'm not sure if I would have done better with the two-drop version against the field as a whole, but it certainly seems better against The Aristocrats deck since Flinthoof Boar and Gyre Sage are relevant bodies to block while you try to win with Domri and Dragons. I'm going to be doing some brewing for SCG Open Series: Vegas coming up next weekend, and EFro's deck is probably going to be where I start.
My Limited record was a disappointing 3-3 after drafting two pretty solid decks. I went 2-1 in the first draft with a blisteringly fast Gruul deck. I actually lost my first match of the Pro Tour within nine minutes, keeping a hand with two land and a few one- and two-drops in game 1 and never drawing a third and then flooding out in the second. I won my next two matches handily, including one in which my opponent conceded on my fourth and fifth turns because my deck came out so quickly.
In my second draft, I was Simic and put together about eighteen cards of an awesome deck, including double Cloudfin Raptor and double Experiment One. The problem was that the draft was extremely light on cheap creatures, and despite being in an awesome seat for Simic, I ended up with just seven two- and three-drops, zero four-drops, and had to play four five-drops. I always seemed to draw the slow part of my deck and ended up being just a bit too slow to compete in two of my matches. In the other, I lost game 1 to a Mind Grind for ten against an opponent who had Boros Reckoner and Ruination Wurm in play but thankfully won the match. Suffice it to say it was a rather strange draft.
My 9-7 record left me in 80th place, good for an extra Pro Point but no prizes. That leaves me with 40 points on the season, in good position to make Platinum but in need of a really strong finish to compete for a spot in the World Championship. I only have three Grand Prix left this season that I'll be attending—Charlotte, San Diego, and Portland—so I'm certainly going to have to do better at the next Pro Tour if I want a shot to go to Amsterdam.
Despite my personally disappointing performance, Montreal was still a great event. I was happy to see Gerry Thompson and Owen Turtenwald finally make Top 8 after doing well in Grand Prix for so long and was thrilled that Melissa DeTora made history as the first female player to make Top 8 at a Pro Tour, not to mention my good friends Ben Stark, EFro, and Tom Martell putting up awesome finishes of their own.
It was also great to hear they're bringing back a fourth Pro Tour next season. While they obviously must have made the decision prior to my article on pro play and I take no credit for influencing the decision, I'm happy that WotC recognizes the issues and is working to correct them. I'm still somewhat concerned about the role of Grand Prix in pro play—even with the additional Pro Tour, Grand Prix are very likely to remain a too-important part of reaching or maintaining pro status, but I'm hopeful that things may change. If nothing else, the additional Pro Tour at least increases the value of Gold and Platinum levels, so the value calculations shift somewhat. I'm still likely to dramatically reduce my GP participation next season, but I may end up going to a few events rather than none.
But this season still isn't over yet. This weekend I'll be at Grand Prix Charlotte, hosted by StarCityGames.com Unfortunately, my travel arrangements won't allow me to make it in time for the Meet and Greet on Friday evening, but I'll be around throughout the event for anyone who's interested in getting tokens or other cards signed or just wants to say hello. I always like meeting fans, so don't hesitate to introduce yourself! See you there!
Until next time,
bmk