Another Friday is upon us, and I can finally show my brewing bug off to you guys. Gatecrash gave me so many awesome cards that I can't wait to work with over the coming weeks. While everyone is focused on the last five shocklands and Boros Reckoner, I'm looking at Biovisionary and Immortal Servitude. This week, I have a pretty sweet list for you that I found floating around on the Internet. It originally started as a joke, but it turned into a big hit, even making the front page of Daily MTG. I spent a lot of time debating what deck I would start with after my writing hiatus, and this is by far one of my favorites.
The Elf tribe has been running around the Multiverse for some time now, but lately they have been getting weaker. We got Arbor Elf back in M13 (one of the first clear signs that the shocklands were coming back), but we lost our old favorite in Llanowar Elves. While I wouldn't necessarily call the list I'm about to show you an "Elf" deck, I like to anyway for the nostalgia it provides. Here is the list I'm referring to:
Creatures (30)
Lands (23)
Spells (7) This is one of my favorite Standard decks in a long time. Regular readers know of my love for combo decks, but it is often tough to get my fix in Standard. One of the major issues with playing combo decks is that you often do the same thing every single time you play the deck. Splinter Twin has one game plan: play a Deceiver Exarch and enchant a Splinter Twin on it.
My combo deck of choice in Legacy is The Epic Storm. It is by far my favorite because you aren't winning through the same path every game. I love dissecting lines of play, figuring out which one is most optimal for the situation, and then acting on it. Do I want to fetch an Ad Nauseam, try to chain Infernal Tutors, or Burning Wish for Past in Flames and cast every spell twice?
This deck is on the verge of what I would call a combo deck. While you play small creatures and attack with them to win the game a lot of the time, you often use the creatures to work up to a big spell or turn. So far, I have found three major ways of winning with this deck, though other ones are definitely possible.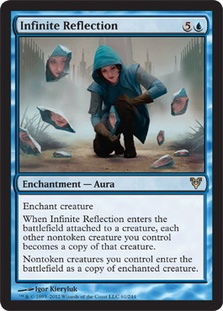 One way to win is by casting Infinite Reflection on any number of your creatures. Making a bunch of Elvish Archdruids gives you near infinite mana and some pretty big creatures. In fact, just four Elvish Archdruids gives you sixteen mana and four 5/5s. Putting Infinite Reflection on a Master Biomancer gives you unspeakable amounts of damage, and putting it on a Biovisionary will typically win the game on your end step. I even encountered a game where I put it on an Elvish Visionary, drew a bunch of cards, cast Primal Surge, drew some more cards, and then used the lands I hit to cast a lethal Akroma's Memorial.
Another way to win the game is by ramping up, usually to Primal Surge. Turn 5 Primal Surge is not that unreasonable in this deck, and the only card you can miss on is the second Primal Surge. While it is possible to hit it right away and waste ten mana, you will usually get much more than that. A Primal Surge will typically win the game upon resolving in this deck. I would put ramping up into Craterhoof Behemoth in the same category.
The third major way to win is by playing creatures and attacking. Master Biomancer supplements this strategy well, but it is not uncommon to have at least five power on the board by turn 3 with much more coming. As I said, there are certainly other ways to win the game; these are just the ones I win with most often.
I ran the deck through some games, and I must say that it works surprisingly well for being sort of a glass cannon. I don't have a sideboard for the deck yet, though you probably just want some utility cards like Acidic Slime and answers to cards that are problems for the deck. I even considered splashing white for Rootborn Defenses.
Round 1: Legacy Specialist Will Nehlsen with R/G Aggro
After running some practice games to get a feel for the deck, I was ready to play some games for this article. I was pretty sure Will had R/G Aggro built online, so I challenged him, and we were off. In the first game we played, I kept this hand:
He started with a tapped Stomping Ground and used his second turn to Pillar of Flame my Arbor Elf. He started to get aggressive with a Flinthoof Boar and Ash Zealot, but luckily he had no answer to the Elvish Archdruid I had. I was able to then put an Infinite Reflection on it and made four Archdruids. I had only lands in hand, but a playset of 5/5s were enough to brick wall his offense. I drew and played a Gyre Sage (aka Archdruid #5) and then started getting a bit aggressive. Eventually, he succumbed to my five 6/6s.
In the second game, I kept a hand of:
I started with an Arbor Elf, and he got pretty aggressive, flying out of the gates with Stromkirk Noble into Ash Zealot into Boros Reckoner. I reached a key turn were I could Infinite Reflection his Boros Reckoner, but he would have lethal with any burn spell because I'd only have one creature up. The other option was to play Biovisionary and hope to hit a one-drop to kill him with Infinite Reflection on the next turn. The way it worked out, I didn't hit a one-drop, but I was able to survive his attack, play a two-drop, and win on the next turn with exactly four Biovisionary at one life.
Round 2: Brandon Pascal with U/W/R
These games weren't too exciting but were long for sure. I just wanted to note this matchup to show what the deck can struggle with. You rely on creating a quick mass of small creatures, so any deck with some sweepers and a lot of spot removal can set you pretty far behind. In one game, I won by putting an Infinite Reflection on his Boros Reckoner so he couldn't Wrath me with Blasphemous Act, but that didn't work the second time because he was able to gain infinite life with Boros Charm and Azorius Charm.
If you want to play this deck at FNM, I wouldn't play it if your local meta is full of decks like this. I'm all for losing as long as you're having fun. FNM is meant to be fun, not super competitive, but against a deck like U/W/R, losing isn't fun with this deck. If your meta is heavy with R/G Aggro and Jund decks, you are in a better position for trying out this deck.
Round 3: Saito Naya
I wanted to play one more quick game with the deck. I played a couple games where I got clunky hands and did nothing, but before setting it aside, I wanted to see if I could get it to work one more time. Lo and behold, it was awesome. I curved out pretty perfectly with a turn 1 Arbor Elf, turn 2 Elvish Archdruid, turn 3 Biovisionary and some more Elves, and turn 4 Infinite Reflection.
While it is pretty fun to do that, I don't think the deck is consistent enough in its current form. It could probably be made better by just cutting Biovisionary, though I actually still like Infinite Reflection. It was a very good card for me to have in most of my hands. Craterhoof Behemoth was also very mediocre and could probably be cut for another Gyre Sage, which performed better than expected.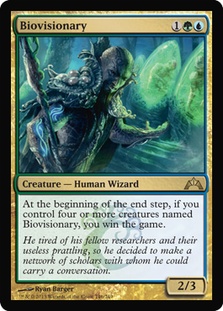 Anyway, that's the deck for this week. It is definitely really fun to play when it works, but unfortunately, it only works about half the time. That is good enough for FNM, but it certainly needs some changes if you want to bring it to a big event. As usual, I'd love for you to continue submitting all the cool deck ideas you have. I do my best to respond to all of them, though it can be tough sometimes. Feel free to post decks in the comments or email them to me. Even if you don't have a decklist to submit, I just love to talk Magic. You can find me on Magic Online as BattleofJace as well.
Good luck tonight if you are playing in FNM, and I recommend you give some variation of this deck a try. Adios everyone!
@AJKerrigan55 on Twitter
deadlyporcupine@gmail.com