Another Friday is upon us, and a storm is approaching. I've been closely watching the weather, mostly hoping for some days off of school (to play Magic of course). I myself have been a bit under the weather lately with some health issues. While this has stopped me from playing very many games in the past few days, I was still able to work a little bit on a cool idea. This article will be a bit different than the usual FNM article. Instead of building a deck and playing some games, I'm going to show you the process of how I got from the first list to the current one along with some ideas for the future of the deck.
Boros Reckoner has been tearing up the Standard scene ever since the release of Gatecrash. Most people are using it as a creature with a good body that crushes other aggro decks, but I see it a little bit differently. When I look at Boros Reckoner, all I can think about is Stuffy Doll...and that leads my mind to Blasphemous Act. This is an idea that's been sitting in my head for a few weeks now, and it's finally time for it to come out. This is a known idea (known to be not a very good one), but it is pretty fun. I've stressed in the past that I hate winning with the exact same combo every game, but this one is so fun that I can't resist.
I knew going into deckbuilding that the basic plan was to use the "big damage" spells like Blasphemous Act, Harvest Pyre, and Into the Maw of Hell to deal damage to my own creatures. More specifically, it would be damaging my own Boros Reckoners and Stuffy Dolls. When damaged, those creatures would in turn deal a lethal dose of damage to my disgusted but hopefully intrigued opponent. I started throwing cards into the deck and quickly found myself at 91 cards...without lands! I started shaving where I could and miraculously got myself down to a measly 37 cards. 23 lands seemed about right with all the card draw I was playing. Here's the first list:
Creatures (12)
Planeswalkers (2)
Lands (23)
Spells (23)
I played a few casual games with the deck, and while it had some holes, it worked decently. Oddly enough, some of the cards I expected a lot out of needed to be cut. Perhaps the most difficult realization was that Boros Reckoner is not Stuffy Doll. I knew it wasn't indestructible, but I thought being able to attack, block well, and costing only three would put it at the same level or better in the deck. Turns out that not having indestructible is pretty important. A lot of my deckbuilding was under the assumption that I'd usually have two of the creatures in play, but that didn't happen often. With all the Looting and defensive measures I needed to set up, I was typically left with only one living creature and two of the burn spells.
Unfortunately, Boros Reckoner does not work with two burn spells. He will die immediately after the first one. This also made Chandra and the other Copy effects I had pretty bad. Even with the Copy effects gone, though, I found that I usually needed Stuffy Doll. Attacking when your only creature is Boros Reckoner is not really feasible in most matchups, and most of the burn spells can only deal thirteen. I dabbled with Delver of Secrets to get some early beats; while it flipped on turn 1 a good percentage of the time, it wasn't really what I was looking for.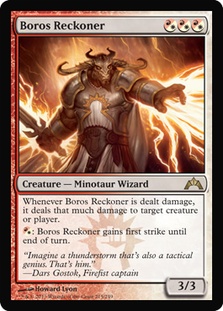 I tried cutting the Boros Reckoners, but I experienced a weird turmoil. While it was usually disappointing, I found myself still needing them. The deck just wasn't consistent without them. I found a solution when I jammed in more draw spells that don't also make me discard, so I was setting up my hand without going down to one or two cards in hand. Snapcaster also joined the team, and he gave the deck a lot more power. While he isn't exactly a Copy effect, he can do that some of the time while also having the added versatility of drawing cards, countering spells with Izzet Charm, and just attacking and blocking when necessary.
Augur of Bolas overperformed in most of the matchups. He was a sturdy blocker versus aggro, helpful attacker versus control, and good draw spell everywhere. His ability to make Blasphemous Act cost one less in future turns is also not to be underestimated. After a few more games, here is the list I came to find the most consistent and powerful:
Creatures (16)
Lands (23)
Spells (21)
While I ended up going back up on the Looting spells and down on the pure draw spells, the addition of Snapcaster Mage really shored up the issue there because it was always super versatile. The fact that Boros Reckoner isn't indestructible is still an issue, but it slowly became less of a problem as the list improved. Ideally, you still want to have a Stuffy Doll in most matchups though. Here is a breakdown of each card's role in the list:
Draw Spells
Faithless Looting - Just a simple Looting spell. It creates negative card advantage, but when combined with the flashback, it can fix your hand very well. You really only want to draw one early in the game, though, as it can run you out of cards quickly in a deck that is using all of its cards.
Thought Scour - Originally I had a 3/3 split of Faithless Lootings and Thought Scours, but as I said, the negative card advantage can bite you. They both fill your graveyard well for Harvest Pyre, but Thought Scour gained more of a benefit when Snapcaster Mage joined the team.
Izzet Charm - I only put it in this section because I don't have a category for the spell that does it all and the Looting is the most common mode you use. This card does everything in this deck; I used every mode of it pretty often. Shocking a creature helps a lot versus aggro to slow them down, and the Spell Pierce mode is good in a lot of matchups since it can save your important creatures from removal spells when necessary or save you from a dangerous Rakdos's Return. The Looting plays a similar role to Faithless Looting, but the extra versatility more than makes up for the lack of flashback and more expensive cost.
Creatures
Stuffy Doll / Boros Reckoner - I said a lot about the differences between these two creatures earlier, so I'm just going to sum them up here. They are the key creatures, and while you can win with one, it typically needs to be Stuffy Doll. Getting double Slaughter Gamesed is an actual concern, but even the best of decks can sometimes have trouble with that.
Snapcaster Mage - Overall just a very versatile creature, similar to Augur of Bolas. It doesn't directly draw cards, but it can be used to flashback a milled or already used burn spell to win the game, which comes up somewhat often. It also gives Cavern of Souls more reason to be in the deck because it's the third Wizard creature.
Augur of Bolas - After adding Snapcaster Mage, the deck lost its high spell count, but 21 is still not bad. As I said earlier, this is a very versatile creature that also happens to do some work at finding you a spell you may need.
Damage Spells
Blasphemous Act / Rolling Temblor - While very similar in text, they are actually polar opposites in this deck. Blasphemous Act is a win condition that sometimes acts as a Wrath versus aggro. Rolling Temblor is a Wrath against aggro that will occasionally assist in winning the game. While Rolling Temblor doesn't seem like it can win the game, it does come up. I had two games where my opponent was at fifteen and Rolling Temblor allowed me to two my Boros Reckoner without killing it, which in turn made my Blasphemous Act lethal.
Harvest Pyre - This card plays the protection and win condition role evenly. Harvest Pyre also has the upside of the ability to make a single Boros Reckoner legal. While it can be hard to get 20 cards in the graveyard, it isn't unreasonable after a long game of Looting and Thought Scours.
Increasing Vengeance - A one-of I'm still testing, it may not be good enough. Again, you need a Stuffy Doll or two Boros Reckoners for it to do much, but it is good at what it does. While not as versatile as Snapcaster Mage, it plays a similar role, and I think it deserves a try-out. The fact that Chandra was pulling her weight makes me worried for the potential of this card though.
Into the Maw of Hell - While it is no longer in the deck, I want to mention why I cut it. It was not pulling its weight very well. I found eight damage spells and four Snapcasters to be enough, and this card was just too expensive for no additional upside. Killing a land never really mattered for me, and six mana to kill a creature doesn't exactly constitute a removal spell in my eyes.
The mana base is mostly just a grouping of lands I wanted to try. Desolate Lighthouse was pretty good for me, but four colorless lands and two Cavern of Souls may be too many. I haven't gotten a chance to use the Haunted Fengraf yet, but with the addition of Snapcaster Mage, there may be too many creatures to whiff on now. Again, it is a card worth a try. By the way, the first Cavern of Souls should name Wizard in most games. I don't have a sideboard yet, but it may include some counterspells, Pillar of Flames, more Rolling Temblors, and maybe even some Mizzium Skins.
That's my deck for today. An idea for a change to the deck is a minor white splash. Boros Charm can give Boros Reckoner the ability to be a better combo piece, though needing a Boros Charm and the two extra mana makes me want to add more draw spells and dig for Stuffy Doll harder instead.
You could also add Azorius Charm, though, randomly giving you the ability to gain infinite life. For those who don't know the combo, if your Boros Reckoner would take damage, you can give it indestructible with Boros Charm and lifelink with Azorius Charm in response. Then, when it takes damage, you use its trigger to target itself. It will then deal itself three, you'll gain three life, and it will get another trigger. Rinse and repeat until you are at an arbitrarily large life total, and then to close it out you get to poke your opponent for three.
I hope you give this deck or some variant of it a try. It is certainly a lot of fun, and I'm looking forward to figuring out what to try for next week. As per usual, I'd love to see your lists. Feel free to email them to me, Facebook them to me, or just leave them in the comments. I've been a little slow at responding to comments at the bottom of my articles lately, but rest assured that I read all of them at the very least. Until next week, thank god it's FNM!
@AJKerrigan55 on Twitter
deadlyporcupine@gmail.com