Customization is one of the most appealing characteristics of Magic: The Gathering. The ability of a player to selectively modify their experience is a contributing factor that has made the game so popular and successful over the years. One of the ways we as players tailor our experience is by deciding which format to play. Magic has a wide variety of tournament formats, and each has distinct characteristics, rules, and decks. Every format is unique and offers something special.
With Modern season having drawn to a close, now is an opportune time to reflect upon what I have learned about the format over the past six months. Including Pro Tour Return to Ravnica, I played in four large-scale Modern events over the winter and had zero cash finishes (I finished 65th on tiebreakers at Grand Prix Toronto). Despite not finishing in the money this season, I had a .500 or better record (in games played not including byes) in every Modern event I played in. It is really telling that despite disappointing finishes I still enjoyed playing the format and look forward to more Modern next year.
I consider Modern to be my favorite Constructed format, but I also believe there are areas where the format could be improved.
The Good, The Bad, and The Broken
First and foremost, in Modern it feels like there are fewer "bad losses." What do I mean by bad losses? Well, Modern decks are built around highly efficient, flexible cards, so even if a player misses a land drop or mulliganed they are at least still in the majority of contests. Games between the most popular decks tend to be competitive, interactive, and interesting, which is refreshing.
At Grand Prix San Diego, I played a G/W/B deck to a 6-3 finish, narrowly missing Day 2. I lost two matches to players who were in the last Pro Tour Top 8 (Owen Turtenwald and Ben Stark) and the third match to some strong draws by a Goryo's Vengeance combo deck that I had never even seen before. Here is what I played:
Creatures (16)
Planeswalkers (3)
Lands (24)
Spells (17) I liked this deck and really enjoyed playing it. All of my matches ended up being very close and could easily have fallen either way; the margin between ending 9-0 and 6-3 was razor thin.
The importance of making good decisions is compounded by the fact that most of the overpowered cards people routinely played in old Extended, Standard, and Legacy are thankfully banned in Modern. The format lacks ubiquitous "bail me out" cards that take over games by virtue of being super powerful and nigh insurmountable: Bitterblossom; Jace, the Mind Sculptor; Bloodbraid Elf; Ancestral Vision; etc. In most matchups, it feels like my decisions and tactics—not my cards or my opponent's cards—are what decide the outcome of my matches.
Are there exceptions to the rule? Sure, but it's still possible that better sideboards and metagame shifts could solve many problems moving forward. It is also encouraging that the DCI has been hands on with keeping oppressive decks, cards, and strategies in check right from day one so that if things do get out of control intervention is possible.
The most obvious offenders in Modern (at least in the post-Bloodbraid era) are the combo decks. The problem with combo in general is that if it isn't unfair, it usually isn't good enough to be competitive!
Currently, the worst combo offender is the Eggs deck that recently won Grand Prix San Diego. Most of the popular and frequently played Modern decks have very few ways to interact with Eggs, which leads to uninteresting and frustrating games of Magic. The problem with Eggs is that it is a very consistent turn 4 combo deck that is capable of going off on turn 3 that is only vulnerable to very specific types of interaction from opposing decks. Most of the kinds of cards that interact with this combo deck (aside from permission) are effects not very likely to be found in the maindeck of any popular deck.
Eggs is a lot like Dredge from old Extended in that most of the creature decks people play automatically lose the first game because they have no way to interact and then the post-sideboard games become a desperate gamble to draw one of the few sideboard cards that actually matter before it is too late.
Perhaps even worse than one-sided games is the fact that the actual gameplay is quite miserable and often leads to twenty minute stretches of one player watching the other play solitaire.
In multiple feature matches at Grand Prix San Diego, Brian Kibler excused himself from a game in progress to take a bathroom break while a judge watched his opponent execute the time consuming combo loop. The bothersome thought process at work here being that Brian's presence wasn't actually necessary for fifteen-minute intervals of matches he was supposedly playing in.
Eggs seems like the kind of deck previous bannings sought to eliminate from Modern as it breaks the same speed, consistency, and interactivity rules as Storm yet has the added unpleasant bonus of being even more miserable to play against because of the solitaire factor.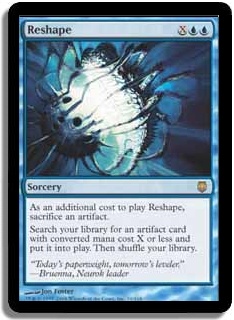 "Is Tinker for Black Lotus too good for Modern?"
I wouldn't be surprised to see something from the Eggs deck get the axe, and if the choice were up to me, I wouldn't mind it being Reshape.
The other card that breaks the consistent turn 3 kill rule is: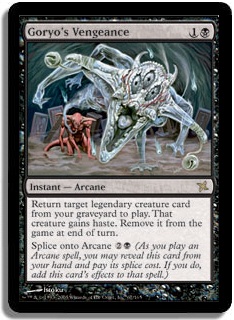 "Shallow Grave is at the edge of acceptable in Legacy, and Modern has no Force of Will."
Turn 1: Faithless Looting, discard Griselbrand.
Turn 2: Goryo's Vengeance the Griselbrand, draw fourteen cards, Fury of the Horde twice, win.
My conclusion is that the format produces really interesting games of Magic but that it is possible that there are still some strategies that are too fast or too difficult to interact with.
What Is Modern?
The biggest problem that Modern faces is that it lacks a clear, defined identity. Vintage has the Power Nine and the restricted list, Legacy has Brainstorm, dual lands, Force of Will, and Wasteland, and Standard has been king since I was ten years old. Modern, on the other hand, is essentially the format that replaced Extended—a format that most people hated. To be the new version of the old thing that was despised is a problematic identity indeed...
Modern isn't Extended.
In my opinion, the two things that made Extended suck were both addressed in the creation and maintenance of Modern. First, Extended was a small format (basically Standard + another Standard), whereas Modern is a decade of cards and will never shrink—only grow. Extended also didn't feature the banning of any of the obnoxious cards that ultimately dominated and oppressed the format (i.e., Jace, the Mind Sculptor; Bitterblossom; Bloodbraid Elf). In Modern, these cards were taken off the table.
"No thanks!"
One can also consider Modern to be the Eternal format that will take over after Legacy cards become too expensive and difficult for players to obtain (the way that Legacy carried the torch when the same thing happened to Vintage).
I see a lot of similarities between Modern and Legacy, with a few major distinctions separating the two. Modern is basically Legacy with all of the broken cards banned, just like Legacy is a version of Vintage with the most powerful cards banned.
The thing that I like about Modern not having broken cards is that without decks capable of winning on the first or second turn there isn't a necessity for Force of Will and Brainstorm decks. In a format with degenerate combo and Force of Will, a relatively small piece of the pie is left for the rest of the decks to fight over. Modern could eventually become the anti-Legacy, where instead of being defined by broken combo decks and equally broken Brainstorm-Force decks it might instead be defined by possibilities spanning every color combination and archetype.
For a long time, people thought of Legacy as the format where people could play whatever they wanted, but as the metagame has become better defined as a result of the SCG Open Series, it has become clear that there are pretty stringent limitations to what is actually capable of winning. Since the Modern banned list is governed by the forethought of crushing out unacceptably fast combo and nigh unbeatable Jace caliber cards, it is reasonable to assume there are more viable types of decks available to be played.
The Top 8 of the last Modern GP contained Eggs, Jund, B/W/G, Naya, U/W/R Control, and Scapeshift. The Top 16 had more archetypes: Pod, Twin, Burn, R/G Aggro, and B/W Tokens. Modern is really aspiring to be the format where players can play whatever they want.
"No thanks!"
It is precisely because awesomely powerful cards like these and others are intentionally banned in Modern that more types of decks are potentially playable in the format.
On the other hand...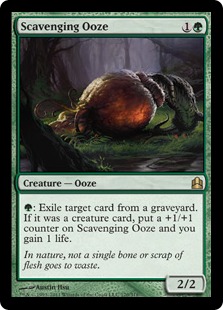 "C'mon, it even has the new card face..."
Scavenging Ooze is exactly the kind of card that needs to somehow find its way into Modern. If Slime Time were in Modern, it would solve a lot of problems by allowing decks to play with decent graveyard hate in the maindeck. The Ooze certainly takes Eggs down a notch and also helps keep Living End, Deathrite Shaman, Lingering Souls, Goryo's Vengeance, and countless other graveyard strategies in check.
Modern Masters II? Please...?
We need to start a petition to get the other green guy into Modern. C'mon, ooze with me?
Thanks for reading.
Cheers,
Brian DeMars