In today's article, I'm going to write about the evolution of Eggs and its current position in the Modern metagame.
The History Behind The Deck
Eggs premiered in Extended at Worlds in 2006. The deck performed well, and it was one of the biggest surprises of the tournament.
This was the "beta version":
Lands (20)
Spells (40) The idea of the deck is to cast a bunch of artifacts, cycle them, sacrifice Archaeological Digs / Ghost Quarters, getting as much mana as possible with Lotus Bloom, and bring everything back with Second Sunrise. After repeating this process several times, you can draw your whole library and deal infinite damage with Pyrite Spellbomb since you can get your Sunrise back with Conjurer's Bauble.
When the actual Eggs rotated out, the deck lost most of its power, and despite many attempts, it almost fell into oblivion until Faith's Reward was printed in M13. It was exactly what the deck needed, and "Eggs" became playable again.
The deck became well known in Modern when I won Pro Tour Return to Ravnica with it. The loss of the actual Eggs was more than compensated by the gain of another Second Sunrise effect. I played more library manipulation in order to make the deck a lot more stable, and it also made the sideboard cards slightly more effective. The deck was really well positioned at the tournament since public enemy number one, Jund, had real problem dealing with Leyline of Sanctity after board.
After the Pro Tour, Eggs became more popular, so people started to play more hate cards. Storm was a very powerful deck at the time as well, and most of the hate cards against Storm are also good against Eggs, so Eggs wasn't the ideal deck choice at the end of 2012.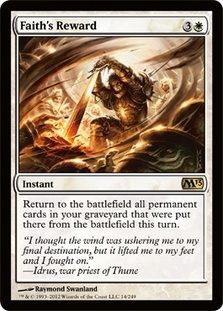 This has changed with the new banned list since banning Bloodbraid Elf caused the field to diversify, which is always good news for combo decks. The banning of Seething Song made Egg players really happy since the virtual death of Storm has made hate cards like Ethersworn Canonist, Rule of Law, and Thalia, Guardian of Thraben much less effective.
It didn't take long after the bannings for Eggs to win another big event, this time GP San Diego. I have to say I'm kind afraid of the next banning in Modern since Eggs is one of the most dangerous combo decks currently in the format.
Here's the list that won GP San Diego in the hands of Nathan Holiday:
Spells (43) Nathan's version is very similar to the one I played at the PT; the only changes he made were switching two maindeck Silence for two Twincasts and one Sleight of Hand for one Gitaxian Probe. Nathan also cut one Pithing Needle in the sideboard for Rapid Hybridization and switched the alternative kill condition from Grapeshot to Blind Obedience. Let's take closer look at these changes.
It's a negligible difference whether you run three Sleight of Hand + one Gitaxian Probe or two + two. Sleight seemed slightly better for me against decks without disruption, and the main reason for playing Gitaxian Probe at the PT was the possibility of Probing the opponent during the combo in order having better information for the next game.
Cutting Silence for Twincast, on the other hand, is a much bigger deal. Twincast is a very powerful card in the deck, and the possibility of copying Sunrise is extremely sweet. It's definitely the better card against decks without disruption where Silence isn't very good. However, if you want to fight against counterspells, it's hard to imagine a better card than Silence since countering is kind of problematic for blue mages in the current Modern format (opponents can pay for Mana Leak / Spell Pierce and Spell Snare simply doesn't work here). Right now, the only matchups where I'm not completely satisfied with Eggs' game 1 are against Infect and decks with counterspells like U/W/R Control. I would need to be very sure that aren't many blue mages in mine area before I would make this change.
I like Rapid Hybridization in the sideboard because it's a very elegant way to deal with opponents' hate bears, mostly Thalia, Guardian of Thraben and Aven Mindcensor. Aven Mindcensor is surprisingly good against Eggs since it's extremely difficult to combo out without Reshape and Ghost Quarters. We tried to run Slaughter Pact against these creatures, but it wasn't flexible at all, so I think Rapid Hybridization is the right way to go.
Switching the alternative kill condition is a slightly bigger deal than it seems. The main reason to have another win condition in the sideboard is to keep your opponent guessing and not lose to Slaughter Games on a spot. The biggest upside of Blight Obedience is that it provides you some defense against aggressive decks, especially if they are playing haste creatures. The main draw of Grapeshot is that it can kill a creature like Dark Confidant; Thalia, Guardian of Thraben; or Aven Mindcensor, and you can also combo out through Pithing Needle naming Conjurer's Bauble, which stops you from playing Pyrite Spellbomb or Blight Obedience.
Cards That Deserve Attention
A very interesting option for the deck is Wargate. Getting Lotus Bloom into play is crucial for this deck so having another way to get it would be extremely good, especially in matchups against aggro decks like Infect or Zoo where you often don't have enough time to get your Lotus through suspend. It costing green mana is slightly problematic because you shouldn't lower your count of basic lands in the deck since you need them for your Ghost Quarters. You also don't want to play any additional land, as you would fizzle more often, so I think you shouldn't play any Breeding Pool, which would make Wargate slightly worse. The right place for this card is probably in the sideboard to be brought in against aggressive decks.
Cool sideboard options are Leave No Trace and possibly even Erase. These instants deal with your nightmare cards: Stony Silence; Rule of Law; and Rest in Peace. The first mentioned is the most problematic because it stops you from cycling artifacts in order to find an answer. Leave No Trace can deal with multiple enchantments, but Erase costs one mana, which gets around Spell Snare and makes paying for Spell Pierce / Mana Leak easier.
Laboratory Maniac and Noxious Revival are other options. Laboratory Maniac is the clear Magic Online choice since it's the fastest kill condition, but you should pick a better option for "real" Magic. Noxious Revival is tempting for a lot of people because it can bring your Sunrise back and also works well against Surgical Extraction. I think this is a typical win more card which makes things a lot of easier when you go off but doesn't help you to get to this stage of the game; this is not what you should be looking for.
My Current List
If there were a major Modern event tomorrow, I would play the following list: It's very similar to my PT deck since it has the same maindeck and shares eleven sideboard cards, which I find kind of surprising, but there are very few cards you can change. Also, the structure of decks you are facing isn't that different from what it was in Seattle.
I think four Echoing Truth is simply too many at moment; rather, you want mix them with another answer like Rapid Hybridization / Erase.
I cut Grafdigger's Cage from the sideboard because Birthing Pod decks don't seem to be very popular at moment and I needed to make room for Wargates.
Cutting one Needle was also kind of an easy choice since Relic of Progenitus has dropped in popularity.
Sideboarding
In most matchups, you exactly know which cards you want but have a really hard time choosing what to side out.
Silence is the first thing to side out against decks without counterspells while bringing in some Echoing Truths for hate cards.
If your opponent is playing a lot of discard, you should bring in Leyline of Sanctity in order to stop it. Leyline of Sanctity is perfect in that it also stops Slaughter Games, Nihil Spellbomb, and Rakdos Charm. Against this kind of deck, you should first side out Silence, then Gitaxian Probe, then Sleight of Hand. Theoretically, you can side out some Serum Visions, but you should keep some library manipulation in the deck.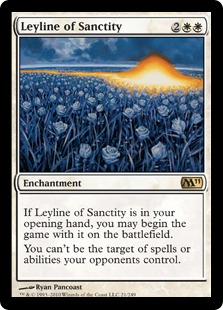 If you side in Grapeshot, you are usually simply switching it for Pyrite Spellbomb in order to make choosing for the opponent after casting Slaughter Games harder or to avoid losing to Pithing Needle / Slaughter Games on Conjurer's Bauble.
If you bring in Wargates, you can side out one Lotus since it's probably a matchup where it's too slow, especially on the draw.
The hardest matchup to sideboard for is U/W/x Control. You need to side in all the Silences in order to avoid countermagic, and you also need to side in Echoing Truths, Rapid Hybridization, and Erase to fight their hate cards. I side out three Sleight of Hand, four Elsewhere Flask, and one Faith's Reward since the information from Gitaxian Probe seems extremely valuable in this kind of matchups. Also, card manipulation in the form of Serum Visions is necessary because you often need to find answers against hate cards.
The problem with Elsewhere Flask is that it's virtually your only target for Spell Snare since you usually start your "big turn" with Silence or you can pay extra mana for Reshape in order to play around Spell Snare. Finally, you side out Faith's Reward because you want to play a long waiting game where you will be waiting for any window to expand, even at the end of your turn, and drawing multiple Sunrise Effects without Silence backup isn't what you want since you can't afford sacrifice everything and run into counterspell.
A Few Tips If You Want To Beat Eggs
If you are playing deck with discard, choose hate cards for your sideboard that are not stopped by Leyline of Sanctity. The best would be Extirpate since it goes through another Sunrise or Conjurer's Bauble, but Leyline of the Void; Relic of Progenitus; or even Surgical Extraction works really well.
If you are playing a U/W/x deck with counterspells, pick hate cards which your opponent can't go through. The best would be Stony Silence, but Rest in Piece does the job as well and you can save your countermagic for a spell that can deal with this card. Cards like Surgical Extraction aren't that good because the Egg player usually has Silence, making it useless.
If you are playing a fast aggro deck, pick hate cards which can play against Echoing Truth. The best would be Surgical Extraction since you don't need to keep mana open; the Eggs player is forced to go off quickly because aggro has a fast clock, so one Surgical Extraction is usually enough to stop the combo.
If you've resolved Slaughter Games, naming Lotus Bloom is usually correct unless it's suspended. Eggs can kill without Lotus Bloom, but it needs at least three Ghost Quarter, which even for it isn't easy. If Lotus is suspended, name Conjurer's Bauble unless it is in play. It will win you the game on the spot if they have Pyrite Spellbomb as the win condition—the Eggs player would need to be extremely lucky to win with Blight Obedience. Even if they run Grapeshot, every Second Sunrise can be played only once, so it does at least something.
If Conjurer's Bauble is already in play, simply name Second Sunrise since there are at least three popular win conditions at the moment and if you don't choose the correct one or if your opponent has two in their deck, it's like you did nothing.
That's it for today. I hope Eggs will be a popular meal on your Modern menu for a long time…
Until next time,
Stanislav