"Trying to get money out of the Orzhov for the cursed Cobber Tablet didn't go so well for me a few years ago, and I didn't expect this to be a cake walk either. But I certainly wasn't expecting to be chased down by a gang of Belfry Spirits just for walking through the door. Must've recognized my wanted poster…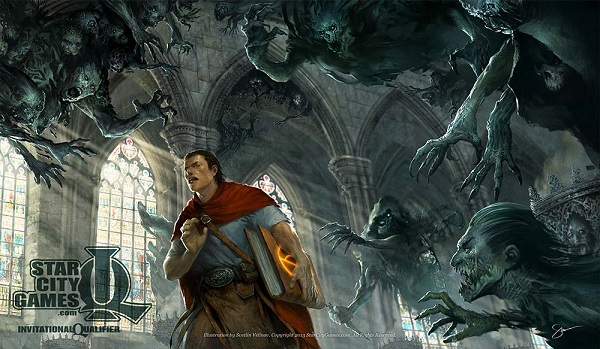 I hate dealing with the Orzhov. Their deals are never fair, and when they look like they are, they always renege. They use every trick in the book to swindle, deceive, cheat, and lie their way into an advantageous deal. And what's worse is that they're difficult to steal from. Damn Orzhov Charms.
Good thing I brought the Spellbook; it stopped those Skulking Ghosts right in their tracks and allowed me to snatch the Mystic Compass no problem. I probably shouldn't have unleashed the power of the book yet, but I was cornered and in trouble. And it's not like they're going to tell anyone. They're stuck in the Ghost Quarter. Who are they gonna talk to? The nearest Cartel Aristocrat isn't for miles, and they can't leave their Deserted Temple. No harm, no foul I say.
After all, dead men tell no tales."
--research notes, journal XXXVIII, page 412
---
Greetings, followers. Welcome to the Church of 140 Characters. Everyone is invited to share in hearing the word of Twitter and experiencing the loving embrace of the Orzhov Syndicate. Incidentally, there is a collection plate going around, so if you could find it in your hearts (and your pockets) to donate generously it would be much appreciated. Please note that donations are mandatory.
This week we're getting all Ghost Dad up in here, and extort, haunt, exalted, Deadguy Ale, tokens, and more get the focus. So get your tax forms in order and submit to a higher power as we check in on Orzhov on Twitter:
Employee #MTGGTC prerelease time! #orzhov #mtg twitter.com/ElaineChase/st…

— Elaine Chase (@ElaineChase) January 24, 2013
It'd be pretty flavorful if Orzhov cost twice as much to play at the #MTGGTC prerelease.

— Michael Radzwilla (@ThePolkaMan) January 25, 2013
That's a nice life total you got there. It'd be a shame if anything... happened to it. #Extort #MtGGTC

— Ethan Fleischer (@EthanFleischer) January 27, 2013
(Orzhov) We also offer refreshments to the weary travellers. For a modest fee, of course. twitter.com/MagicJudges/st…

— Magic Judges (@MagicJudges) January 25, 2013
@walktheplanes @mtgworth @mtgaaron Orzhov pie is decent but they're best known for their scrumptious vanilla wafers: bit.ly/14bcSEy

— Inkwell Looter (@inkwell_looter) January 24, 2013
(Chris) Who else is cosplaying for the prere? I... might be... going as someone... . ... .. #mtggtc #mtg #firsttimer twitter.com/MTGOAcademy/st…

— MTGO Academy (@MTGOAcademy) January 25, 2013
The Church of #Orzhov decided to cut defense spending. The Boros Legion attempted a coup, but our Syndics put down the rebellion. 1-0. #mtg

— Justin D-Z (@justin_dz) February 2, 2013
Swung scoop-enducing double Plague at my prefecture (Japan)'s 1st ever midnight prerelease#MTGGTC @wizards_magic twitpic.com/by9urq

— Reuxben (@Reuxben) January 26, 2013
Bribery should be allowed in Orzhov mirror matches.

— Chris Ingersoll (@Vyolynce) January 27, 2013
Best (looking) foil ever. #MTG twitter.com/ContrastBand/s…

— Craig Sybert (@ContrastBand) January 27, 2013
Dropped to 0-1 in the employee Gatecrash prerelease against @samstod. Let's just say I was extorted.

— Sam Heckman (@SamHeckman) January 24, 2013
Think I'm in love with Extort. After playing with it in the PreRe it is just as strong as I thought it would be.

— D Mantel (@Writer1007) January 27, 2013
Also extort is every bit as powerful as I thought it would be. Hopefully it'll be tough for Orzhov drafters to get the density they need.

— Nick Hayes (@BadAtThisGame) February 3, 2013
We have a plan. #Orzhov #MTGGTC twitter.com/lsv/status/295…

— Luis Scott-Vargas (@lsv) January 26, 2013
2nd place and 18 packs! I extorted so hard.

— Greg (@uselessend) January 27, 2013
Picked #Orzhov for my final prerelease and actually got to play the guild! (4-0)

— Jules Robins (@JulesRobins) January 28, 2013
I can't get Orzhov Charm + Doran out of my head. #mtg #modern

— Ben Lindquist (@false0start) February 3, 2013
@redarmy1917 Building a Religion. Do the Orzhov call you Dude?

— Bill Boulden (@Spruke) February 2, 2013
Stealing your life and tricking death #mgt #orzhov

— Ronja Trulsdotter (@vixentale) February 5, 2013
A little donation to our humble cause? #extort #orzhov #mtg #mtggtc

— Pimp My Deck (@Deckpimps) February 5, 2013
I belong with you, you belong with me my sweetheart! I belong with you, you belong with me my Tweet!
Event Coverage Coordinator and Twitter Admiral for StarCityGames.com
Listen to the @InContention podcast! It's the official podcast of the StarCityGames.com Open Series with @kstube, @affinityforblue, and myself. Listen in at InContentionMagic.com. Our most recent episode, Land of Enchantment, can be found here.