This fall's large expansion set, Theros, has been announced, and it seems pretty clear that it has a Greek mythology theme to it. Everyone is real excited, which is cool, but Dragon's Maze is quietly approaching. One of the many reasons I am pumped for Dragon's Maze is the filling out of Return to Ravnica Block Constructed.
It's always interesting to play a Block format when you only know two of the sets. Yes, there are fewer bombs to define the format, but you get to play with and against some cards you would normally never get to in Constructed. The puzzle can be more solved, eventually, but until it is, there is often a wild new world to explore.
Last year's Block Constructed format, Innistrad / Dark Ascension, left much to be desired. The Block format was so narrow with so few reasonable strategies that Wizards of the Coast actually banned two cards (Lingering Souls and Intangible Virtue) before the Block Pro Tour. They made this move primarily based on the data from Magic Online events, as no one was really playing Block IRL.
Both Zendikar and Alara Block Constructed formats, however, offered major rewards to players that were experienced in the formats before the third set was released. Pro Tour Dragon's Maze in San Diego is still a ways off, but I can't wait to dive into the format and get a feel for what sort of a world we're talking about. One of the hidden benefits of exploring a Block format early is discovering ideas that can work in Standard that no one has built yet. Additionally, this is the perfect time in a set's life to work on our deckbuilding skills a little.
What kinds of decks do people play?
Is the format diverse?
Does it look fun?
Will anything be banned before the Pro Tour?
I started by compiling data from the results of Block Constructed events on Magic Online this past week. The following is a winner's circle metagame breakdown to give us the best idea of what sort of field we need to beat to win an event: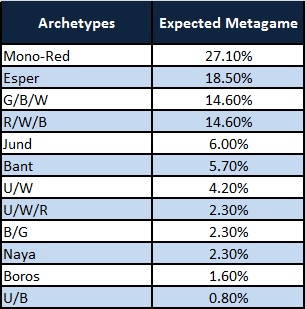 To begin with, that is actually a pretty diverse field for a Block format, particularly one with only two sets. We certainly didn't see anything like this last year, with token decks and Jund (as an anti-token deck) occupying a significantly greater percentage of the field than the top decks this time around. However, Zendikar Block and Alara Block were generally not this diverse either. Lorwyn Block certainly wasn't.
This is, of course, at least partially due to the format not being "solved yet," but that is actually an argument in favor of the format. Last year's Block format was "solved" pretty early on. An initial glance suggests Return to Ravnica Block has a fair bit of depth.
What should we make of Mono-Red being the most played archetype, with 27.1% of the field at the top? That is definitely a lot, no question, but I would think back to years past as well as look at the sort of deck in question.
First, here is the deck we're talking about:
Creatures (32)
Lands (19) This breed of Mono-Red uses nineteen to twenty Mountains, plus a boatload of one- and two-drops, with Boros Reckoner at the top of the curve. You round it out with a little burn (primarily Dynacharge and Mizzium Mortars) and call it a day.
So why this deck?
There are a couple things going on here. First of all, Burning-Tree Emissary is one of the absolute best cards in the format (and one of the best cards in Standard). One way or another, there is going to some Burning-Tree Emissary decks in the Block format to come. The card is too strong to not have at least one deck built around it (probably more).
Next, notice how inexpensive this deck is. Block can be a lot of fun, especially as a change of pace. There are a lot of people who primarily draft or play Standard on Magic Online that enjoy a little Block to mix it up. This is not an expensive deck to put together, particularly if you already own Boros Reckoner and possibly Mizzium Mortars because of Standard.
This strategy is fast and consistent. That is a big deal early in a Block format that contains so many dual lands. You can be sure that most of your opponents are going to be playing three-color mana bases, so having a fast, streamlined, reliable mana base is going to win some games.
It's strong. This deck is not a gimmick and needs to be respected. This might be obvious, but not all decks that succeed early in small formats can say the same.
Finally, it is the most obvious week 1 strategy. People are going to overestimate it, even when the Pro Tour eventually rolls around. Just as people spent too much time and energy trying to beat Boros in Innistrad Block, Boros and Mono-Red in Zendikar Block, Naya in Shards Block, and White Weenie in Time Spiral Block, so too are people going to not fully appreciate that other people have the same starting info as them and will be walking the same path. Of course, Tempered Steel in Scars Block was a known issue, and people actually underestimated it, so we do have to be careful we don't take anything for granted.
Wait, then why is a control deck the second most popular deck?
It's not that control is inherently harder to build. A good beatdown deck (or the best beatdown deck) can be harder to find in a format than control. Not a lot of people had White Weenie in the Extended Pro Tour Paul Rietzl won. Mark Herberholz was the only person in Hawaii to make a bunch of the choices for R/G Aggro that he did. The Aristocrats was a pretty exotic White Weenie deck to win a Pro Tour, and Puresteel Paladin (also a Mark Herberholz original) was a pretty unusual form of beatdown deck in Mirrodin Block.
Esper Control when Esper Control is tier 1 in Standard? Not a big surprise, particularly when you have Sphinx's Revelation, Supreme Verdict, and plenty of dual lands. As a matter of fact, those three pieces of information are enough to hypothesize that all of the control decks will be U/W/x (at least at surface level). Looking further down the list, sure enough, Bant, U/W, and U/W/R all make appearances. There is a lone U/B deck making a minor blip on the radar.
The point, however, is that Esper, Bant, and U/W/R are the three forms of control in Standard. U/W is the lone "brew," and even that is not exactly a big departure from existing strategies. My guess is that Four- or Five-Color Control is more likely to succeed than Grixis, BUG, or RUG, but you never known. Sphinx's Revelation and Supreme Verdict are so good that we don't want to get too fancy.
Here's an example of the sort of Esper deck that is popular:
Creatures (9)
Planeswalkers (3)
Lands (27)
Spells (21) There is actually a great deal of diversity among the Esper decks (unlike the Mono-Red decks). The most common features are Supreme Verdict and Sphinx's Revelation at the core, with Angel of Serenity and Obzedat, Ghost Council as the primary kill cards. Jace, Architect of Thought; Azorius Charm; Devour Flesh; and Detention Sphere are all regular fixtures.
Lyev Skyknight may be a bit of a surprise, but it is actually fairly popular across Esper decks. I can't be sure of where this popularity comes from, but it is a decent card if you are in the market for such an aggressive flier. That it has a nice comes into play ability does help against removal, but it sure is fragile.
The mix of permission people use varies, but both Syncopate and Psychic Strike are popular, with Dispel popular in the sideboard. What's interesting is that this list looks like it's about eight to ten cards short of being a really great deck. Checking Dragon's Maze for Esper cards is going to be an important early step for exploring the full Block Constructed format.
It looks like there is a clear initial tier 1 made up of four decks—Mono-Red and Esper, of course, and rounded out by two W/B/x decks, G/B/W and R/W/B. This is particularly interesting when you consider that Esper is also a W/B/x deck. What is it about W/B/x that accounts for it making up nearly 50% of the field?
First, let's take a look at G/B/W, a wedge that has acquired the unfortunate name of "Junk" for two reasons:
"Necra" as a wedge is just not going to fly, as it is too reminiscent of "Necro."
The first really popular and iconic W/B/G deck that felt like all three colors had this name.
I can't wait for Wedges of Alara, if only to finally get some better names for the five wedges:
Raka
Bug
Rug
Junk
Dark Boros (ok, Dega)
Creatures (20)
Planeswalkers (2)
Lands (24)
Spells (14) The G/B/W decks in Return to Ravnica Block Constructed, at least so far, look very much like archetypal "good stuff" decks, with very little cohesive theme beyond some good creatures, some good removal, and some acceleration. Beyond the synergy between Deathrite Shaman and Grisly Salvage, there really isn't a lot going on past throwing powerful cards at your opponent.
Two big features that stand out are Angel of Serenity and Obzedat to end games, just like Esper. They don't have Jace as a planeswalker, but they do have Vraska the Unseen, who wins the head-to-head. Who needs Supreme Verdict when you have Centaur Healer and Loxodon Smiter to buy you time?
The lack of Sphinx's Revelation suggests a weakness to the control decks, but Underworld Connections and Vizkopa Confessor provide some very relevant counter play.
Of all of the early tier 1 decks, this is the strategy that seems most likely to not exist in its current form in the future. The color combination, sure, but why these cards instead of any of the others? It seems that to justify this strategy you have to really want Vraska and believe that the white fatties are better than red removal (which is certainly a reasonable position). When you go down this road, however, there is no reason you have to end up with a deck that looks anything like this (and to be fair, there is actually quite a bit of diversity among G/B/W decks in RTR Block Constructed).
Next, we come to the most original of the tier 1 decks (a statement made about nearly 100% of good R/W/B decks, as it is historically the least popular/successful three-color combination). Interestingly, this strategy is probably this format's version of "Jund," in function if not form.
Creatures (11)
Lands (27) Rakdos's Return, acceleration, a bunch of removal, and some of the format's best creatures? The comparison to Standard Jund is actually quite apt. The biggest difference I see is the lack of planeswalkers, with nothing in the vein of Liliana of the Veil or Garruk, Primal Hunter. How much does this matter? It's hard to say.
One thing that is clear is how reliant this list is on X spells. With 27 land and six Keyrunes, we are talking a truckload of mana with zero card draw. We are almost completely reliant on Aurelia's Fury and Rakdos's Return to make up for having 67% more cards dedicated to mana than some of the beatdown decks. Mizzium Mortars can get us ahead as well, plus our creatures are so good that they are often worth more than one card, but this is definitely an unusual position to put ourselves in.
What can really punish us, though? With eight sweepers and plenty of early interaction, like Boros Reckoner and Dreadbore, we aren't short on ways to fight the red aggro decks. With four Rakdos's Returns and four sideboarded Slaughter Games, we certainly have a plan against Sphinx's Revelation decks.
While R/W/B is yet another Obzedat deck, I wonder if it isn't supposed to be yet another Angel of Serenity deck as well. Perhaps the most curious element of the deck is the use of Spark Trooper as its primary life gain! No question, this is a nice card against the red decks, assuming you can dodge Electrickery, but it definitely makes you do a double take.
I have to imagine this is a deck that could potentially improve a lot with the right eight to ten cards in Dragon's Maze. I also wonder about this deck transitioning to Standard.
Creatures (11)
Planeswalkers (2)
Lands (26)
Spells (21) Ok, now we're talking! It's not so much that I'd want to play this exact list. It's that it's always awesome when people take a strategy that has been working in Block and ask "I wonder what would happen if I played this in Standard?" That is the point, exactly!
I'm out for this week, but let me leave you with another snapshot of the enemy in Standard. Despite weeks of dominance, Reanimator has taken yet another title, this time winning the Magic Online Championship.
Creatures (25)
Lands (23)
Spells (12) This is the enemy, and beating it is not a matter of picking the right sideboard cards. However, we are going to see the metagame begin to evolve to largely feature decks that are disproportionately well positioned against it (plus at least a single deck that plans to lose to it but beat the rest, likely Jund).
Just as everyone knowing Faeries was good didn't stop people from losing to it, I am not suggesting that Reanimator is suddenly going to start losing. When Faeries was good in Standard, it bred an environment where all of the top decks were at least "decent" against Faeries (and that people often believed beat it). What did you want to play in that format? A strategy that was good against the sorts of decks people played in an anti-Faerie world (Boat Brew, B/W Tokens, Doran, WW, etc.). Even if the answer was to play Faeries because it beat the anti-Faeries decks with tuning, it was still the game you were really playing.
Reanimator is certainly no Faeries deck, but it is strong enough to start causing warps in the format. Most decks that are set up wrong to fight Reanimator are going to dip, and decks that can be tuned to be well positioned are going to rise. It's the easiest thing in the world to understand how a format evolved in retrospect. Figuring it out before it happens...well, that's the heart of the leveling game.
The Next Level is figuring out how to beat what the format will become.
Patrick Chapin
"The Innovator"