Ever made up a Magic card while immersed in the most mundane of circumstances? Maybe you're just chilling with your pals or zoning out on the bus and suddenly...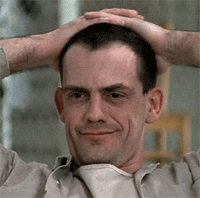 Magic is inherently a creative game. Unlike many video games, which by design only provide a select number of options, or in sports, where rules and abstract concepts dominate the way you play the game, Magic offers every player who picks up a deck the opportunity to invent. That's why I write this weekly article, you know: I want to foster the creative, spontaneous side of Magic so it might influence the way you play it casually, semi-competitively, or even on a tournament level.
Even if you like to borrow ideas from other players, it is always important to keep an open mind and be ready to play off the cuff. Even careful study of a metagame, especially nowadays, will still let a few well-crafted rogue decks through the cracks. It's important to understand each aspect of the game so that you can respond with as many options as possible. One of the best ways to hone your ability to approach Magic from all angles is to make up cards yourself.
Wizards of the Coast recently announced (and is currently narrowing down) its "You Make the Card" campaign where we, the players, get to create a card from a given list of card types, abilities, and colors. Events like this can really get the creative juices flowing!
It's safe to say that nearly all Magic players have made up cards over the course of their Magic career. When I was starting out, our college playgroup made a few "friends-only" cards. These were just for funsies, often having glaring balance/playability issues but embodying the personal spirit of the playgroup or perhaps one specific member of the group (usually represented as some wacky legendary creature).
Others like to reinvent cards, tweaking and editing legitimately released Magic cards into more tuned, fun, and honed machines. "If only it had one more toughness" or "if its ability cost one less" are frequent utterances from these card editors' mouths.
Some players have made whole clades of cards. For example, Justin Parnell and Ali Aintrazi built a cube solely out of manufactured cards, and I applaud them for it. This kind of creativity excites the brewer in me; creating your own environment is at the heart of cubing.
As soon as I saw the "You Make the Card" announcement on my Facebook feed, I brought up a Word doc and started jotting down ideas for cards I want to see. Although the actual contest had been narrowed down to enchantments by the time I wrote today's article, I had already written down new ideas of every card type, and I wanted to share some of my crafting with you and have a brainstorm. As a disclaimer, I tried my best to get the rules templating right but may have goofed in some places, and the pictures I've used are either from other Magic cards to maintain consistency or from other sourced artists where possible.
I'll highlight several cards of each card type, paying special attention to enchantments.
Creatures
Creatures are a lot of fun to brew up; as the bread and butter of Magic, there is a lot of room to make them fun, unique, and interesting. For creatures, I brought one of each color.
White – Ardent Detainer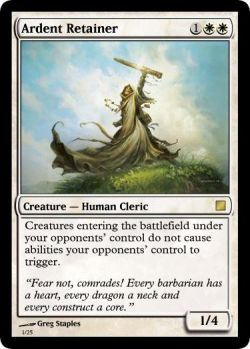 Ardent Detainer mirrors a card that I think a format like ours needs. A play on Torpor Orb, this sideboard staple has a relevant size and keeps creature-based shenanigan decks honest without hurting your own plans. Its combat stats make it a reasonable defender, too. In my opinion, creatures that serve this kind of function have been useless previously as 1/1s or even 2/1s. It needs to have one impressive stat to make sure it's well rounded.
Blue – Banished Academic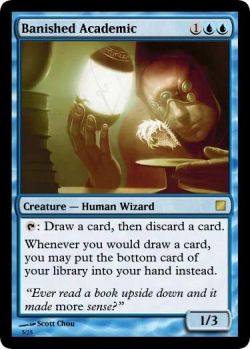 Banished Academic explores a design space I wish Wizards would have used by now. It's a simple Looter with a unique replacement effect allows combo-happy decks to utilize library order and Commander decks to retrieve tucked generals. I will admit it might get annoying to have to pick up your deck and draw from the bottom each turn, but maybe you'd get used to it. Also, as you'll see below, I'm not opposed to emphasizing physical states and actions in a game.
Black – Corrupted Miredragon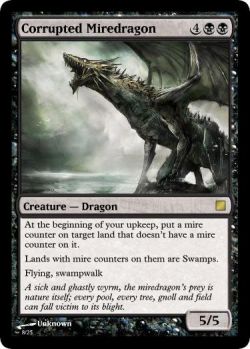 Corrupted Miredragon explores the seeping, pervasive nature of blight and rot. Each turn, blanking your opponent's lands or transforming some of your own seems like a fun way to maintain black's greedy flavor. Swampwalk was a flavorful addition, while flying couldn't be denied it as a Dragon. It could possibly be something else, like a Horror or even a Zombie, and not have flying. I love non-red Dragons, though, so there's that.
Red – Goblin Seeker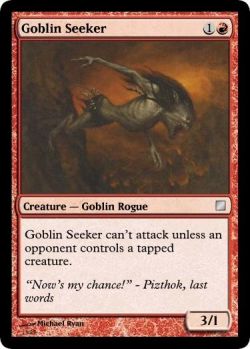 The Seeker is a powerful Goblin with a moderately challenging condition that (hopefully) makes flavor sense, too—the Goblin will only attack if it thinks the coast is clear regardless of whether it is or not. In the Goblin world, we have to be careful that we don't give them too much power; they are fast little boogers, so one power more than Goblin Piker can mean the world when a Goblin Chieftain or a Goblin King shows up.
Green – Uncouth Mastodon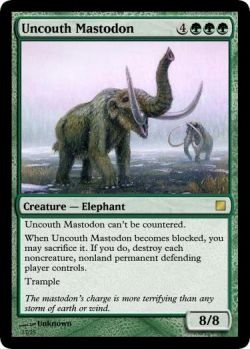 This Elephant touches on an effect that I believe bigger formats, like Commander, need. On one hand, it's a huge beat stick when that's what you want, but on the other hand, it can sweep nuisance enchantments, artifacts, and planeswalkers, too. It does require an attack and a special condition, but its sizeable body should make up for it. Fracturing Gust is a sweet card, and I feel like it needs to see a reinvention.
Creatures are lots of fun, but let's look at some spells next!
Instants and Sorceries
I've grouped these card types together and brought you just those I thought were worth discussing.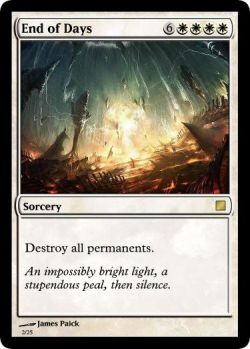 End of Days was a card that, frankly, I thought already existed in some form. Worldfire exists, so that's something I guess, but careful use of this end-all sweeper can reward the white mage's efforts. Avacyn, Angel of Hope and Faith's Reward both come to mind, but that is a lot of mana. Either way, do you think a card like this should exist? This is a Planar Cleansing stapled to an Armageddon, and both see play (the former in Standard even.)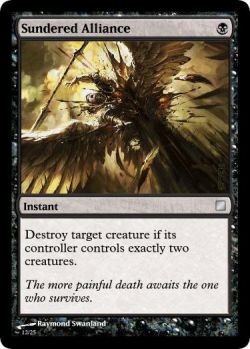 Sundered Alliance makes for a unique condition to meet in order to get a very powerful removal spell, and people don't mind conditions if the price is right. People play Tragic Slip, which is still conditional removal if you think about it. In a Limited environment, this would be the kind of spell you'd do well to play around, and those are cards I like to play.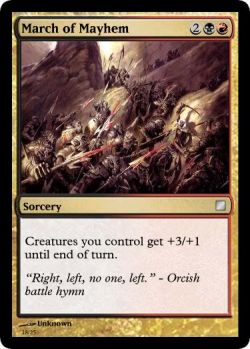 March of Mayhem is a card I feel like this color combination needs. A couple cards lately have tried to give red Overrun like effects, but each has fallen a bit short in my opinion. This combines two colors that like to play together and gives them a good effect in creature-based decks. Perhaps a Goblin deck would like this?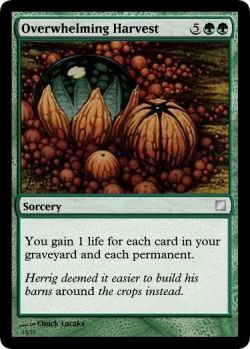 Finally, here's Overwhelming Harvest, which I want to spend a second on. Life gain is bad, right? Well, sort of. Life gain (generally) does not win you the game outright and is often a waste of a deck slot, tempo, and a draw step. However, if you gain enough life off one card, it starts to become more appealing. Would you play a white instant for W that gains you an unconditional ten life? How about twenty life? 50 life? 100? You'd sure think about it! That's a ton of life, and it completely shuts down most every damage-based deck ever. Martyr of Sands, a strictly life-gain-only card, saw some play in older formats because people would gain eighteen life off it for two mana on turn 2. So, for life gain to be good, it just needs to be much more powerful.
Don't hear me wrong. I don't believe we should make "gain 100 life" cards, but I do believe such spells are a bit closer to where these spells want to be—namely, giving a lot more life but at a higher price point. Bountiful Harvest? Gains you five-to-ten life for five mana, so not good. Overwhelming Harvest giving you 20-30 life or more if you build around it? That seems more reasonable. In a close game or in a midrange match, that can give you a lot of time to make whatever you need to have happen, happen. Maybe it's still bad; full disclosure, I seriously considered playing Heroes' Reunion in an early RTR Bant tempo list I was tweaking to combat the predicted prevalence of mono-red/aggro lists, so I may be pushing it.
Next, let's hit enchantments!
Enchantments
First, here's a cycle I brewed up that I'd love to see made in some form.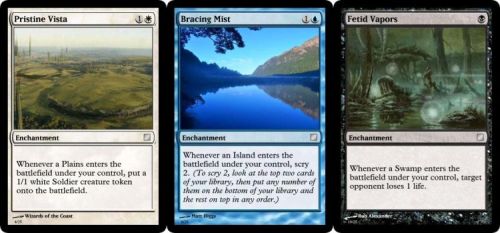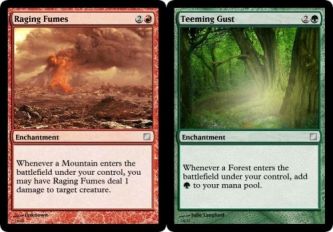 In this round of YMTC, I was Team Land. I love lands; their art, flavor and utility are a big draw for me, and I admit I was a little disappointed when I found out the new card was going to be an enchantment. No matter! I'll get the land theme in there anyway!
Regarding this cycle, this is an effect I could see having a lot of impact on both Limited and Constructed play if made. The Zendikar-like feel of this kind of card is very appealing. Knowing when and why to play your lands is a fun gameplay element that I loved in that block. It incentivizes mono-colored decks by offering a handy, repeatable effect. Wouldn't you want to play something like this? Give your late lands relevance! Sure, they're not very flashy, but that's ok. They would comprise the utilitarian stock that Magic sets need to be fun, interesting, and consistent.
Here's a few more.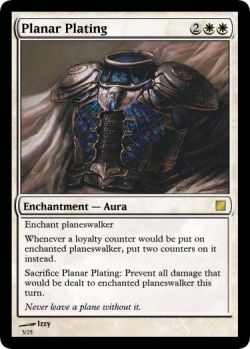 Planar Plating is pretty niche, but it's something I feel like design could explore. The balancing is probably way off, but something like this makes playing planeswalkers a lot more dynamic. In matchups where planeswalkers are less relevant because of sluggishness or vulnerability, this enchantment can fix both problems. It's possible that each color could get some kind of planeswalker-boosting effect, but white seems the most natural. Late game, this helps power up your 'walker much more quickly while preventing destruction with its totem armor effect (maybe it should just be totem armor, but the rules with planeswalkers and damage are weird).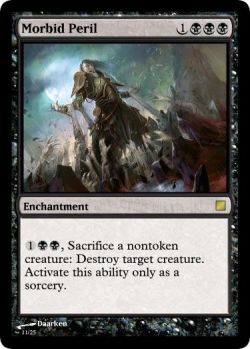 Morbid Peril is a card in the vein of Grave Pact, a super-fun casual card and a favorite among veteran Magic players. This gives you the choice and allows you a lot of control over the board in MBC, an archetype I will plug forever regardless of actual viability. I like simply phrased cards with game-altering effects; frankly, a lot of Magic players do from my experience.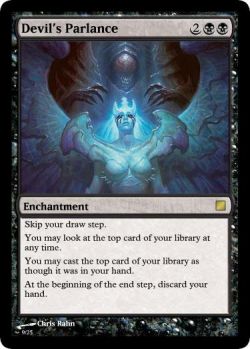 Devil's Parlance satisfies this need while being a deceptively powerful card. A modern combination of Necropotence and Future Sight and Null Profusion / Recycle, this card seems to offer a whole new playstyle built into just one card—a possibly infinite hand with a steep, non-refundable cost. Shuffling effects effectively draw you a new card. Also, I like the physical manifestation of this card. Although you would not be physically holding any cards, your library would become your true hand. I love the tactile feeling of hellbent (I always clap twice when I'm hellbent), and this gives me you that fun while still maintaining access to spells. The balance is probably wrong on this one, too; I toyed with a bunch of different costs. However, this article is more about design, not development.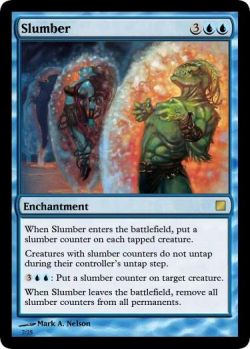 Slumber is Sleep in enchantment form, and it gives blue a permanent-based control option that, while slow, could prove to be a lot of fun. Sleep is one of my favorite blue spells in Limited, and Slumber translates it into a new design space. I tried to keep it impartial; tapping all creatures was intentional.
Planeswalkers
Ahh, planeswalkers! There's so much you can do to make fun, unique planeswalkers brimming with personality. I'll do three 'walkers, describing each separately for effect, and they're bigger since the text got kind of small.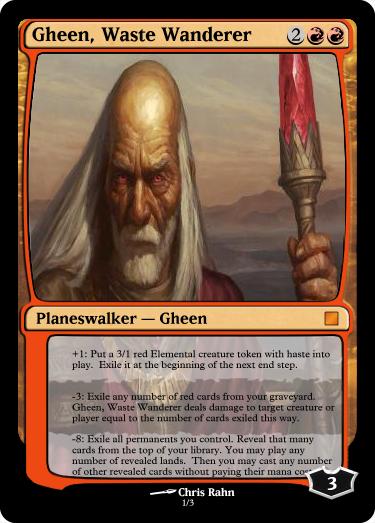 Gheen got his planeswalker spark at a young age, but instead of using it to further any magical ambitions or exert power, he used it to escape his war-torn, turbulent home of Immerstrum. He has found solitude in the distant corners of the Multiverse, commanding the basic forces of each world to emulate the raw power of the energetic plane of his birth. Over the centuries, the wastes he seeks lend him a blank canvas to focus his mind and meditate on the vast emptiness he encounters.
From a planeswalker perspective, I love the idea of a lightning-based planeswalker utilizing simple resources to create powerful effects. His first ability makes a Spark Elemental to exert pressure, while his second ability channels past endeavors into mighty commands. Finally, his Warp World ultimate moves the earth beneath him to accommodate his wanderings, not knowing where the path he carves will take him.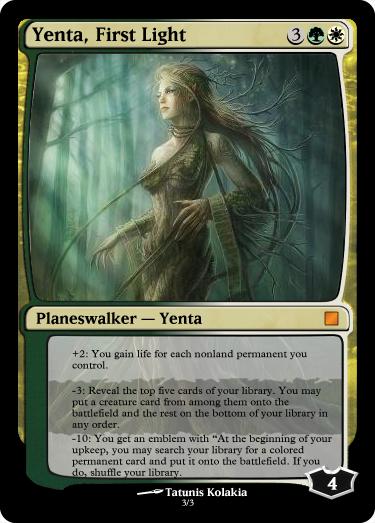 Yenta, a Ravnican dryad, seeks daily to attune herself with the humors of the wild and the beings that live and breathe around her. A relatively new planeswalker, Yenta's Selesnya roots are undeniable, as her desire for unity and teamwork pervade her every thought. Although she has traveled to primal and advanced worlds alike, she believes Ravnica is the most vigorous and dynamic. A humble, reserved planeswalker, she prefers to assist others, knowing that her efforts will better the Conclave and society as a whole.
Yenta is a very permanent-centric planeswalker. Her first "Wellwisher" ability will help pick you back up from a beating and put Yenta at a healthy loyalty level, and it scales very well based on the game's progress. Her second ability allows her to pull able-bodied soldiers from the ranks of her allies to support her. Her final ability was intended to be carefully worded, allowing you to search for aligned permanents only (artifacts and lands were specifically precluded, as well as Eldrazi, I suppose,) but it will still prove very powerful and can be relevant in every game you play.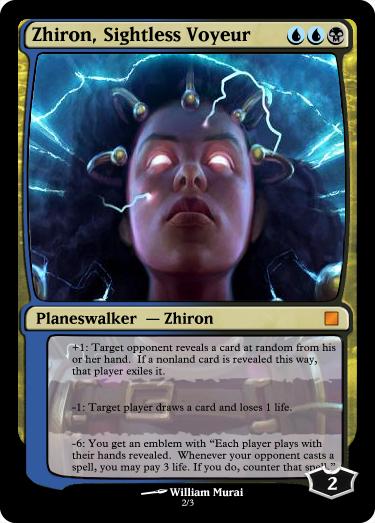 Born into an influential family in a magically focused society, Zhiron grew up an avid reader, devouring each book, tome, and scroll she could get her hands on. She created her first spell before she was a teenager and was several classes above her peers. An eloquent speaker, her parents pressured her into political office, where she naturally excelled, but it gave her little joy.
One of her political rivals, an accomplished mage himself, challenged her to a mage's duel—a legal contest to usurp power between seasoned mages. Zhiron reluctantly accepted, and in the duel, the opposing mage utilized a powerful lightning spell not normally permitted for such duels. Zhiron was struck blind and was forced to relinquish her political power. However, the spell literally gave her the spark she needed. She developed her divining skills, and soon she was able to use an arcane form of vision as effectively as natural vision. She scoped out world after world, seeking out whatever hidden secrets she could find.
Mechanic-wise, Zhiron was a tricky one, as blue planeswalkers have a reputation for being oppressive. Her first ability was meant to be a fairly random Coercion that could hit as often as it would miss. Against control decks, it has a chance to offer the protection that planeswalkers often offer in their first or second abilities. Zhiron's second ability is fairly straightforward and will most often be used when you're behind, hoping to draw you into an answer without tying up other resources you might need for that answer. Her emblem probably needs some work, offering an exceptionally powerful permission element to her repertoire while maintaining flavor.
Artifacts
Artifacts offer a lot of potential and can be effective targets for top-down design. Let's take a look at these colorless creations.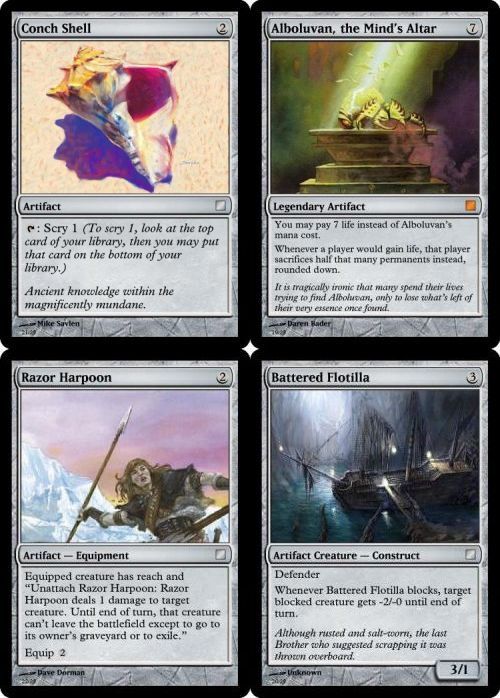 It might become clear that I sort of drifted towards a water-based theme while making some of these up. I don't know—it was probably raining outside that day.
The Conch Shell is a simplified Crystal Ball that can come down earlier and, while being less powerful, is free to activate. I think tons of casual and Limited decks could find a use for this card. Alboluvan was bottom-up design. I really wanted an effect like this with a unique permanent and casting cost attributed to it. I've always enjoyed cards like Rain of Gore, Everlasting Torment, and Havoc Festival (maybe this should have just been a B/R enchantment), but this gives the effect to any color, though some of them will pay a higher price for it (namely, colors that can't easily pad their life total first).
Razor Harpoon was another top-down design, but it's not quite there yet. I basically want to prevent them from bouncing or Blinking a creature, but the templating proved tricky. Do you all see where I'm heading with it? Is it too narrow? How would you change it? Lastly, Battered Floatilla was a bit of a wild card. It seems like an effective wall that can help other blockers (or perhaps itself) survive day-to-day combat. It's not as exciting, sure, but I like combat-oriented triggers. This kind of thing might have a home if refined or spiced up.
Lands
My favorite! This discourse is already long-winded, so let's just get in there.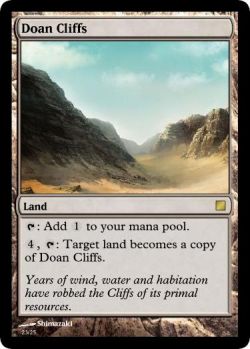 An anti-Thespian's Stage, if you will, this land acts like a Ghost Quarter that can multiply without denying you a land. As lands succumb to desertification, they can, in turn, spread the "wealth," perhaps even back to you. I like this as a soft Wasteland or Tectonic Edge.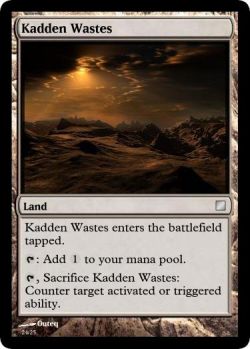 I feel like this card should exist. True, it offers every color Stifle, but is that such a big deal? This is a powerful land, make no mistake, but Stifle, Voidslime, and Voidmage Husher rarely merit a card slot. Would a land like this make it? Alternatively, it could read, "Counter target activated or triggered ability from a nonland source" and come into play untapped, but that's a narrow angle on an already slender concept.
In my opinion, this is a simple, subtle way to offer a prismatic land without breaking it. Potentially broken artifacts (see Mox Opal) and lands have been kept in check with a "legendary" tag, and it seems to fit the flavor of a "center-of-the-earth" card. It also keeps decks from being hesitant to include an auto-playset. Does this offer enough to be interesting? I mean, I love stuff like this, but what do you think?
More than any other article I've written, I want us to have a discussion this time around. Tell us about cards you've thought up over the course of your Magic tenure. I believe that you can tell a lot about a Magic player by the kinds of cards he or she creates. Do you have fun cards that you've printed up and played with friends? Do you have an awesome idea for a new enchantment, planeswalker, or sorcery? Let us know about them and join in!
I promised a decklist this week, but this is already a pretty lengthy article, so instead of just "tacking it on," I'll reserve this week's deck for another time. I've been trying a variety of fun, synergetic decks and have found a couple that have some sticking power, so you'll be sure to hear about them! This weekend brings SCG Open Series: Atlanta featuring the Invitational, so I hope you all can attend or tune in. I'm hoping to drive down there this weekend, so I hope to see you all there, and until next week, don't forget to untap!
- Matt
CaptainShapiro on Magic Online