For the last few weeks, the question that has been on everyone's mind is "how do I beat G/W/B Reanimator?"
Well, it has continued to dominate, both on Magic Online and the StarCityGames.com Open Series circuit. If you're thinking about playing G/W/B Reanimator this weekend at the SCG Invitational or Standard Open in Atlanta, you would likely be making a good choice. The deck is resilient to hate, as it can naturally cast all of its spells quite easily, and it is one of the most consistent Standard decks I've ever seen. Cards like Mulch and Grisly Salvage help you dig through your deck for resources while also filling your graveyard with value cards like Lingering Souls, Sever the Bloodline, and the obvious Unburial Rites.
With such powerful enablers, as well as a healthy amount of mana acceleration in both Arbor Elf and Avacyn's Pilgrim, it's not hard to see what makes the deck appealing. You get to do big things like return Angel of Serenity from your graveyard to obliterate your opponent's side of the board or use Craterhoof Behemoth to deal a large amount of damage to your opponent. There are some cards that can slow you down and the occasional nut draw from an aggro deck can make your Thragtusks look very slow, but you have all the tools at your disposal to win virtually any matchup.
One of the things I like most about G/W/B Reanimator is its flexibility. There are many different ways you can build it, from Deathrite Shaman; Obzedat, Ghost Council; or Acidic Slime in the maindeck to varying the numbers of large monsters to Unburial Rites. The shell remains mostly the same, but the fact that you can build the deck in so many different ways and still have success is a testament to how powerful the engine is.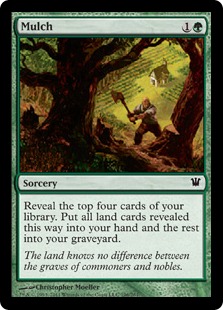 Mulch is a card that many people have cut down to three copies, but I just don't understand why. Along with Grisly Salvage, Mulch is one of the cards makes your deck run smoothly. It digs for special lands like Gavony Township, Vault of the Archangel, and Cavern of Souls in the matchups where you need them and is invaluable when you've mulliganed to start the game. The fact that it is half of the engine that begins the chain of Unburial Rites means you shouldn't be playing fewer than the full four.
There are a lot of cards you can play in the maindeck to help fight against the mirror, but they are all pretty miserable against the rest of the field.
While Deathrite Shaman is something I would love to have in my Modern or Legacy deck, the lack of fetchlands in Standard means he can't do much. You can stop your opponents' Snapcaster Mages from being as effective and punish those playing Unburial Rites, but it has such a low impact on so many matchups that I don't think you can justify playing it maindeck. Its utility decreases when you don't have the time to activate it. Against hyperaggressive strategies like R/G Aggro and Naya Blitz, it can act as a speed bump against one of their early threats but little more. If you're all-in on beating the mirror, then Deathrite Shaman is probably the way to go, but be wary of cutting too many cards to make room for narrow answers.
If you think the mirror is going to be big, you can even go a step further. Though we talked about this on Above the Curve last week, I think it is worth mentioning again that Brad Nelson's favorite card ever is likely very good right now.
Somberwald Sage may not be able to do that much without a huge threat to go with it, but playing Grisly Salvage to dig for your big threats definitely helps. The versions of "Hoof" that Brad championed a few months ago all played Tracker's Instincts as a way to continually dig for large monsters. Alongside Deathrite Shaman, you are able to put lands into the graveyard quite easily, turning him into an actual asset where he is normally mediocre. I quite like this idea for fighting the mirror, though you are probably a bit slower than normal G/W/B Reanimator, making some of the aggressive matchups a little more difficult. I am willing to bet that this combination of cards will easily push you ahead in the mirror.
But as interesting as it seems, the G/W/B Reanimator mirror isn't something I'm really looking forward to playing.
In fact, G/W/B Reanimator isn't really what I plan on playing in the Invitational at all. I'm still not sure what I'm playing just yet, but I've been trying my best to figure it out. For weeks, I've been wracking my brain for something to break out of this mire I've been trudging through. Unburial Rites can create some really swampy board states and is incredible difficult to fight on any normal axis. If you're an aggressive deck, you're probably going to lose to an early Angel of Serenity or Thragtusk. There are draws that can race these cards, but the fact remains that you are usually in big trouble if either of these comes into play. As an aggressive player, you can usually beat a single Thragtusk, but it tends to buy them enough time to find more or to put an Angel of Serenity into play in one way or another.
Unburial Rites is also hell for control decks since it causes cards like Supreme Verdict to look downright embarrassing. Alongside Thragtusk, it just takes so much removal to kill everything, and there are times when that isn't even a possibility. If you're playing creatures in your deck, then G/W/B Reanimator is probably good against you. Even if you aren't playing creatures, it's still going to be tough, as Angel of Serenity creates a lot of raw card advantage as well.
One strategy that many people have adopted is playing more planeswalkers and fewer creatures. This lowers the overall impact of Angel of Serenity and gives you some breathing room against Thragtusk since you probably aren't trying to kill them with damage. Jace, Memory Adept and Tamiyo, the Moon Sage both seem pretty strong right now against a variety of decks, though Jace tends to have a difficult time protecting himself. Whatever could we do about that?
Really? Fog? Is that the best you've got?
Yes, actually. This longstanding reprint tends to pop its head up from time to time. But seriously, think about it. Basically every deck in Standard kills you by attacking with creatures. Aside from the Nephalia Drownyard decks, Fog seems like a pretty well positioned card right now. Along with Sphinx's Revelation and Snapcaster Mage to keep the juice flowing, drawing enough Fog effects to keep your planeswalkers alive shouldn't be too difficult.
And that's just the ticket. Planeswalkers are very good against Angel of Serenity, and very few draws out of G/W/B Reanimator can properly pressure an early planeswalker. Casting a Jace or Tamiyo followed by a few Fog effects should pretty easily end in an ultimate or decking them with Memory Adept.
For starters:
I ended up in eighteenth place in the same tournament with a different version of Turbo Fog, losing in the last round playing for Top 8 by making a series of blunders at 3 AM. I could blame it on the deck, lack of sleep, or something else, but the truth is I punted and died because of it. I am glad to see that there are others coming up with awesome ways to fight G/W/B Reanimator, as I don't think there is any way they can win this kind of fight.
There are a lot of things I like about the above list, but there are also a lot of things I don't. For one, 24 land seems like far too few in a Sphinx's Revelation deck. You want to make a land drop basically every turn for the entirety of the game. Failing to do so in the first five or so turns will almost always result in a loss because it will be very difficult to "get big" with Sphinx's Revelation and keep the juice flowing. If you're forced to dig for lands via Think Twice or Azorius Charm and miss, the game is basically over. Playing more lands also makes Urban Evolution much better.
Speaking of Urban Evolution, there is a bit of natural synergy between this card and Fog. While your early turns will almost always be comprised of Farseek, Think Twice, and possibly Fog or Clinging Mists, there will be many situations where you need to cast Urban Evolution and have a follow-up land so you can cast Fog. Against aggressive decks, this is true almost every time since you will likely be using Urban Evolution to dig for planeswalkers, Supreme Verdict, or more Fog effects. If you fail to protect yourself after casting Urban Evolution, the likelihood of death against a deck packing Hellrider is pretty high.
Urban Evolution also keeps your momentum going when you're in a matchup where you're forced to constantly burn Fogs. You're always going to be digging for answers to the threats they play or ways to win the game, so drawing those dig spells is key. This is one reason why I think the deck needs the full four copies of Sphinx's Revelation. If you don't draw Revelation at all, it is pretty unlikely that you're going to win. Either you're going to run out of gas or your opponent is going to be playing Revelations of their own and eventually out-card you. Of course, there are the occasional Jace "nut draws" where you have multiple Fogs and you're able to just deck them before they can get started, but those are pretty rare.
While Fog is pretty obvious, Clinging Mists is the card I've had the most trouble getting completely behind. There are a few other Fog type cards in Standard, including one that costs a full mana less than Clinging Mists! Unfortunately, Druid's Deliverance doesn't protect your planeswalkers from attacks, but what about Feeling of Dread? The flashback has to have some merit since you can virtually Fog twice, right?
Wrong.
You're almost always using Fog when your opponent's board is at its scariest. This buys you enough time to find Supreme Verdict and reset things or take some damage in the early turns so that you can protect your planeswalker. Unfortunately, Feeling of Dread doesn't really help all that much in either situation. Clinging Mists might be a little costly, but it is the best thing we have access to because it does exactly what we need it to!
Clinging Mists may be a bit slow and require an excess of mana to protect Jace or Tamiyo with it, but the upside of being able to "Time Walk" an opponent when you're at five life or less should not be underestimated. This breathing room is exactly what you need when you're trying to find the right turn to cast Sphinx's Revelation and can be invaluable when your opponent has no follow-up threat. While Clinging Mists isn't nearly on the same level as Fog in the deck, it has its place and is still very good.
My current list, which does things a little bit differently, is pretty close to the one I played in that PTQ:
The biggest change:
Much like Reid Duke's Bant deck from pre-Gatecrash Standard, this deck uses Nephalia Drownyard as an alternate win condition. We're splashing black just for a Drownyard in the maindeck as well as a second copy in the sideboard that comes in against slow control decks. It also gives us access to a 27th land in matchups where we can't ever afford to miss a land drop.
Nephalia Drownyard is nothing new, but I thought it prudent to discuss since the other version didn't have it. While Alchemist's Refuge is neat, the only spells in the deck that aren't already instant speed are Supreme Verdict and planeswalkers. I admit that having the ability to cast Supreme Verdict in their attack step is nice, but I'm not sure exactly how important it is. Playing planeswalkers at instant speed isn't really something you want to be doing either since it isn't like you can activate their abilities on your opponent's turn!
Nephalia Drownyard may not be the best route to victory in a lot of matchups, but there are times when it is your only route. Other blue decks play Jace, and you won't always have a Dissipate handy to stop it. You will also get hit by opposing Drownyards on occasion, so having access to your own can be invaluable. While I'm not exactly sold on the prospect of splashing just for this card, it is pretty easy to do and gives you a way to actually win the game if you're not be able to find your Jaces quickly. After all, you only have so many Fogs.
One interaction I am absolutely in love with is Fog with a Tamiyo ultimate. At that point, it is impossible for many decks to win. While you don't have Thought Scour or Pillar of Flame to end the game on the spot, the ability to Fog every turn for the rest of the game gives you ample time to dig for Jace or Nephalia Drownyard.
Tamiyo also has an uncanny knack for forcing your opponents to overextend. They will keep adding more threats to the board while you tap down their biggest one. When the time comes to Fog, you usually get to draw two-to-four cards with Tamiyo's second ability, digging for more Fogs and eventually locking out the game. Against certain decks, keeping their lands tapped can be very handy, like when you're facing Cavern of Souls, Gavony Township, or a three-color deck that only has one source of a particular color.
Tamiyo is also great at dealing with Thragtusk. While you will almost always eventually have to kill it, you can still tap down the Beast token right after!
Now that we've talked about how the maindeck works, let's go over my sideboard.
This is to help against decks with plenty of haste creatures. It allows for your Supreme Verdicts to contain their threats and takes a bit of the pressure off of your Fogs. It also can buy you the turn or two you need to cast Sphinx's Revelation when you are clawing back into the game. There are times when a post-Verdict Hellrider is just game over, but having Blind Obedience in play can save you in two different ways, as the life gain can be very relevant.
There are a lot of cards that take away your options. Rakdos's Return and Slaughter Games are incredibly annoying, so having three Witchbane Orbs to protect yourself is necessary. I've even considered the fourth, but I think that's a bit much since you still have to draw and cast it before they cast their Slaughter Games. Witchbane Orb also protects you from opposing Jaces and keeps their Nephalia Drownyards in check.
This one is all Gerry Thompson. We needed a solid answer to Obzedat, Ghost Council, and it is another way to kill Oblivion Ring or Detention Sphere. While there isn't a lot to discuss about this one, I do like that it is a bit more flexible than it looks.
Dispel is nothing new to blue decks, but it plays a very important role in many matchups for Turbo Fog. Against control decks, its applications are obvious. You can counter their Dissipate, Sphinx's Revelation, or whatever else ails you. However…
The best part about Dispel is that it counters Skullcrack.
Oh, the humanity! Skullcrack does a real number on this deck. Stopping Sphinx's Revelation from gaining life or countering a Fog while also dealing three damage? That is not my idea of a good time. You absolutely need to have Dispel when they have Skullcrack or you're just going to get obliterated. I recommend siding in the full three against every aggressive red deck as well as every control deck. The card does one job, but it does that job very well.
Skullcrack may be a bit of a problem in some situations, but you do have an uncanny ability to dig yourself out of a lot of holes. They have no way to search for Skullcrack, and you have plenty of Fogs and Sphinx's Revelations to keep them busy. Add to this the fact that Supreme Verdict is insane against all of these hyperaggressive decks and you've got a real shot. Their nut draws are still troublesome and will almost always require you to have a good draw to keep up, but your goal should always be to make it to the long game. Once you're there, all you need is a Sphinx's Revelation and you're golden.
The general rule for this deck is that when you're playing against a deck that can deal you a reasonable amount of direct damage, you should use your Fogs more aggressively (aka early) to protect your life total. This doesn't mean casting Fog on turn 2 to prevent a few points of damage. This means casting Fog on turns 3-6 so that you have enough time to find Supreme Verdict and cast Sphinx's Revelation to refuel. If you give them an opportunity to kill you with Skullcrack, then you're probably going to get punished.
The other side of that coin is that you want to wait as long as possible to Fog against decks that can't deal you damage directly. But be careful! Most decks have something like Obzedat or Deathrite Shaman to potentially deal you the last few points of damage, and you won't always have time to sit around and wait. Just make sure you're using your Fogs on the turns where they will be most effective and you still have enough mana to function otherwise. Even though it might seem counterintuitive due to fateful hour, you should almost always use your Clinging Mists first so that you can use Fog on the same turn as Sphinx's Revelation to free up your mana a bit. You always want to have a Fog on turn 6 after you cast Jace, Memory Adept. Having Clinging Mists could result in losing your planeswalker!
This deck can be pretty difficult to play at times. It isn't always just "Fog. Verdict. Fog. Jace. Snapcaster-Fog. Win." There are a lot of lines that may seem a bit odd, and you will sometimes have to gamble on your Revelation hitting a Fog or your Urban Evolution hitting a land that taps for green. Making sure that you're hitting land drops and progressing your board is just as important as making sure you don't die, as the two are virtually synonymous. You don't always have to take unnecessary risks, but you'll find that taking them will result in more wins whereas playing it safe will usually end in strangling yourself on resources.
...
While I think Turbo Fog has a chance to become a really good deck, it will only remain so as long as G/W/B Reanimator is incredibly popular. It has a very good matchup against it as long as they don't Acidic Slime you multiple times before turn 4. Urban Evolution and Farseek can help in this regard, but it can still be a problem if you're not careful.
Turbo Fog can lose to itself on occasion, but the deck feels well positioned at the moment. There aren't a lot of decks that win other than by attacking, making Fog and its variants quite potent. If people start to focus more on planeswalkers and Nephalia Drownyard, this deck might get much worse in a hurry.
I'm still not sure what I'm playing in the Invitational this weekend, but Turbo Fog is definitely up there on the list. I think that a reasonable amount of players will be trying to beat me with Angel of Serenity, and I'll have my Fogs on me just in case.
Thanks for reading.
strong sad on Magic Online
@strong_sad on Twitter