The Monday Night Gamers watching the season premiere of Game of Thrones on HBO has become a tradition here at The Estate. It's a great excuse for a day full of gaming along with great food and wine. I've already blogged about the food, but you're more interested in the gaming anyway.
In the previous two years, we had lunch, RPGed all day, had dinner, and then watched the show. I wanted a little change this year. I wanted to hit as many gaming angles as possible. I wanted to play a Facebook game, a computer game, and a console game all before the guys showed up at noon for lunch and then play a card game and a board game before hitting our normal RPG.
I started the day by playing a game of "You Don't Know Jack" on Facebook while I was having my coffee. I'm pretty good at trivia, but I'll admit that MNGer Keith Bogart owns me most of the time. After a quick breakfast, I started playing Heroes of Might and Magic III, a classic from the ancient days which I still play with some frequency. It's usually my go-to game when our kitten, Vixen, wants to take a nap in my lap. I use a wireless keyboard, so it's a little difficult to type with her there. Anyway, I got involved in a game and didn't have time to play the hour of Skyrim I wanted to get to before lunch.
Music for the day was my D&D Playlist:
The Wizard, Uriah Heep
In the Hall of the Mountain King, Electric Light Orchestra
Magic Man, Heart
Flight Of Icarus, Iron Maiden
Tomb 19, Kansas
Sun And Steel, Iron Maiden
Rising Force, Yngwie J. Malmsteen's Rising Force
Misty Mountain Hop, Led Zeppelin
Wondrous Stories, Yes
Wagner: Die Walkure - Ride Of The Valkyries, San Diego Symphony Orchestra
Princes Of The Universe, Queen
Queen Of The Ryche, Queensryche
King In Crimson, Bruce Dickinson
Kings And Queens, Aerosmith
Lords of the Ring, Styx
Rivendell, Rush
The Call Of Ktulu, Metallica
Seventh Son Of A Seventh Son, Iron Maiden
God Of Thunder, Kiss
The Necromancer: Into Darkness/Under the Shadow/Return of the Prince, Rush
Children of the Damned, Iron Maiden
The White Rider, London Philharmonic Orchestra & London Voices
Crystal Ball, Styx
Orff: Carmina Burana - Fortuna Imperatrix Mundi: O Fortuna, Eugene Ormandy: Philadelphia Orchestra
Holy Diver, Dio
Mister Kingdom, Electric Light Orchestra
Excerpts from The Six Wives Of Henry VIII, Yes
The Battle Of Evermore, Led Zeppelin
The Trees, Rush
Keeper of the Seven Keys, Helloween
Castle Walls, Styx
Tears of the Dragon, Bruce Dickinson
After that came Blind Guardian's "Nightfall on Middle Earth," and we finished with "Metal Kings" from Man o' War before putting on more dinner-appropriate music.
The EDH
After lunch, we dived straight into a game of poolside EDH because the weather was spectacular. I knew that I had to do a play-by-play for it so that I could share it with you. The guys were really good about announcing what they played and life total changes to make it easy for me to record.
Keith was playing Aurelia, the Warleader; Michael Fortino asked to play my Ruhan "You Did This to Yourself" deck; Todd Palmer was running Rith, the Awakener; and I was playing Animar, Soul of Elements. Our fifth member, Justin Widlak, was having Easter brunch with his family and would be along later.
Ruhan had a few changes from that list, with Aurelia's Fury, Molten Primordial, Blind Obedience, and Boros Reckoner coming in with Treachery, Alpha Brawl, Tormod's Crypt, and Courtly Provocateur going out. The Animar list had a few changes as well, putting in Acidic Slime, Ghostly Flicker, Lurking Predators, Oracle of Mul Daya, and Artisan of Kozilek and taking out Uktabi Orangutan, Steady Progress, Llanowar Empath, Asceticism, and It That Betrays.
Keith won the roll, and we were off. I was going to say, "…to the races," but the first few turns were actually kind of durdly.
Turn 1
Keith: Vivid Meadow.
Michael: Mountain.
Me: Forest.
Todd: Eiganjo Castle.
Turn 2
Keith: Mountain.
Michael: Island.
Me: Island.
Todd: Windbrisk Heights. Carps about his choices. Gets no sympathy from me, the absolute worst Hideawayer ever.
Turn 3
Keith: Plains.
Michael: Island, Rhystic Study off the top.
Me: I also come off the top with Command Tower, using it to cast Animar.
Todd: Mosswort Bridge. Also less than happy about what he sees here. There should be a card called Dyspepsia.
Turn 4
Keith: Plains, Droning Bureaucrat. As is often the case with cards that Keith plays, we all have to read it.
Michael: Plains, Solemn Simulacrum, gets another Plains.
Me: Forest, Civic Wayfinder, pay for Rhystic Study.
Todd: Selesnya Sanctuary, bouncing Eiganjo Castle. Discards Titanic Ultimatum. I think he's trying to lure us into some sense that he won't be later creating a bunch of guys and killing us with them. No one is buying it.
Turn 5
Keith: Mountain.
Michael: Mountain, Briberys Todd for Dragon Broodmother. He passes up the less fun but probably strategically stronger choices of both Sylvan Primordial and Elesh Norn. I would have probably avoided the former as well but would have taken the latter. Him taking the fun play probably makes the game way more interesting.
Me: Michael gets a Dragon. Steam Vents myself to (38), attack Todd (38).
Todd: Michael gets a Dragon, devours Solemn Simulacrum, drawing a card. Todd casts Mirari's Wake. At EOT, Keith casts Allay with buyback, knocking out Rhystic Study.
Turn 6
Keith: Michael gets a Dragon. Plains, Rockslide Elemental. Another one we have to read.
Michael: Gets a Dragon, doesn't devour because he doesn't want to buff up Keith's Elemental. Clone, copying Dragon Broodmother. Attacks Todd with Broodmother (34) and ships five more damage from Dragons at Keith (35). Drops Boros Garrison and must discard. At EOT, I flash in Venser, bouncing Todd's original Broodmother. I don't think letting Michael get that far out of hand, with two guys a turn, is a good idea.
Me: Michael gets a Dragon. Forest, pass. I have stuff.
Todd: Michael gets a Dragon. Land, Austere Command on all bros. Casts Eternal Witness, getting back the Austere Command. Balance has been restored. Well, except for the fact that Todd has twice as much mana as the rest of us. Although, as it turns out…
Turn 7
Keith: On his own turn, Keith casts Allay with buyback on Mirari's Wake.
Michael: Ruhan then Aether Flash. Annoying, because I can't cast Animar now. I've worked the deck a bit so that it doesn't completely roll over if I don't have Animar, but he's still the linchpin. At EOT, I flash in Teferi. A discussion ensues about how I might replace Teferi with Yeva but just haven't gotten around to it. Yeva's cheaper, 25 of my guys are green anyway, and it doesn't lock people out of interaction. Teferi is stronger, no doubt about it, although the UUU requirement can sometimes be awkward.
Me: Island, Crystal Shard. I don't remember what bad pun Todd makes, but there's a note that says "-1xp for Todd," so that's what must have happened.
Todd: Trostani, Selesnya's Voice.
Turn 8
Keith: Aurelia, the Warleader. Battles Michael twice (34). At EOT, I see that Michael is tapped out, so I bounce Ruhan.
Michael: Ruhan. Says something like, "Aww, geez," and casts Boros Reckoner. Domes Keith after the Aether Flash trigger (33). Mistveil Plains. We all agree it's a pretty decent card even without a Sunforger package.
Me: Forest. Aether Flash still keeping a brother down.
Todd: Plateau, Fires of Yavimaya, Dauntless Escort. Trostani triggers him to (37).
Turn 9
Keith: Plains, Chronomantic Escape. I Mystic Snake and with the Aether Flash trigger on the stack bounce it to my hand with Crystal Shard. It might seem like a mediocre card to want to counter, but having played it before I know the Escape is really strong. Suspecting the kinds of things that might be in Keith's deck (which I turn out to be right about), not being able to attack him isn't just a defensive move. He battles me twice with Aurelia (32). Fair.
Michael: War's Toll. Academy Ruins. Gilded Drake, stealing Aurelia. Attacks and gets me with Ruhan (25) and Keith with Aurelia (30). Rolls for the second combat. Ruhan attacks Keith (23), and Aurelia swings at Todd (34).
Me: Got nothing.
Todd: Swings the team into Michael. He blocks Dauntless Escort with the Reckoner. Todd sacrifices the Escort to make his dudes Indestructible. Michael goes to (28). Todd casts Austere Command again saying, "Eff this War's Toll," choosing big dudes and enchantments.
Turn 10
Keith: Mind's Eye, off of which he'll end up drawing a pile of cards.
Michael: During upkeep puts Solemn Simulacrum back with Academy Ruins. He casts it, but I Mystic Snake (I'm not doing much else, and since that mostly taps him out, I feel safe). He attacks me, but I block with Mystic Snake and then bounce it with Crystal Shard.
Me: Bloodbraid Elf into Lotus Cobra. I can either Crystal Shard the BBE and run it again or cast Masked Admirers. I choose the latter and get a Forest, which I drop. I start questioning the Lotus Cobra choice in the deck. I don't have any landfall, and my turn 3 play always wants to be Animar, so four mana on turn 3 doesn't help me much. It'd be better if it had deathtouch. It is a Cobra, after all.
Todd: Kamahl, Fist of Krosa; Trostani to (37). We all know Todd's deck gets dangerous with Kamahl in play. Overruns happen.
Turn 11
Keith: Safeguard. We all read it. Justin shows up at about this point and provides appropriately snarky commentary for the remainder of the action.
Michael: Repeats his Regrow and casting of Solemn Simulacrum.
Me: Island (making red with Lotus Cobra), cast Animar.
Todd: Kessig Wolf Run. Mulls over activating Kamahl simply to be able to activate his Mosswort Bridge, but chooses not to.
Turn 12
Keith: Stonehorn Dignitary, makes Todd skip his next attack. Keith then puts the Flickerform that I just traded to him onto the Dignitary. I demand it back, and he ignores me.
Michael: Fellwar Stone. Attacks Todd with Solemn Simulacrum. Todd blocks with Trostani and then Flashes in Restoration Angel. He considers targeting Trostani to keep the Solemn from taking damage but instead targets Eternal Witness. Trostani takes him to (42). He gets back Austere Command. At EOT, I Crystal Shard the BBE.
Me: Bloodbraid Elf into the not-particularly-good-at-the-moment Ghostly Flicker. I consider some shenanigans with Crystal Shard, but everyone else is full of mana. I end up targeting Masked Admirers and an Island. My draw is Vorrac Battlehorns, which I don't play because I want to keep mana up for bouncing stuff. At EOT, Todd activates Mosswort Bridge, casting Solemn Simulacrum, getting a Mountain.
Todd: Can't attack, so he passes.
Turn 13
Keith: Angel's Trumpet, which I think is pretty funny with his deck and validation that I did the right thing by countering Chronomantic Escape. Todd facepalms. He attacks Michael with Gilded Drake (23). When the Dignitary Flickers back, he again locks down Todd.
Michael: Reckoner attacks Todd, who blocks with Solemn Simulacrum. A conspiratorial look passes between them, and then Todd activates Wolf Run on his Solemn. Keith senses that he might be the target of the Reckoner damage, so he casts Holy Day. Michael casts Aura Thief and at EOT taps his two guys that didn't attack (21).
Me: Bloodbraid Elf into Man-o'-War, which targets the Dignitary. The team attacks Keith. He blocks with the Drake and takes ten (13). I cast Djinn of Wishes for UU. Animar is so good since that leaves me mana up to activate the Djinn. At EOT, I tap my two non-attackers and go to (23).
Todd: Land, and still can't attack, so he taps his five guys (37). He's in the position to not be hurt too badly by Angel's Trumpet since he can mitigate the damage with his Trostani life gain, but his deck needs to battle in order to win.
Turn 14
Keith: Recasts the Dignitary, locking down my next attack. Attacks Michael with Drake (18). EOT taps his Dignitary (12).
Michael: Attacks Keith with Solemn Simulacrum, Boros Reckoner, and Aura Thief. Keith blocks Solemn with Dignitary and prevents the damage from Reckoner with Safeguard. Michael casts Martial Law. At EOT, I cast Chaos Warp on Angel's Trumpet, only to have him flip up Gisela, Blade of Goldnight. Ouch.
Me: Mountain, bounce and recast Man-o'-War, targeting Gisela. For RG, cast Apocalypse Hydra for five, making a 10/10. Animar is completely sexy. At EOT, Todd cycles Decree of Justice for three.
Todd: Considers trying to kill someone, and then just passes. He rightfully fears Ruhan's retributive strike capabilities. I think he also does the math and realizes that he might be able to kill two of us, but it would leave him open for the crack back.
Turn 15
Keith: Homeward Path. Recasts Aurelia. Attacks Michael, who blocks with Aura Thief. Keith says, "That thing has flying???" He attacks Michael again, but Michael can activate the Safeguard now that it's his. At EOT, Michael puts Aether Flash back on the bottom with Mistveil Plains. He then Oblations his own Fellwar Stone. Keith discards Boros Guildgate and World at War.
Michael: Martial Law detains Apocalypse Hydra. Casts Sun Titan to get back Rhystic Study. Shocks himself with Steam Vents (16). At EOT, I can spin the Djinn once—and I get Forest.
Me: Yavimaya Coast, and I keep mana up for the Djinn. I have it arranged neatly in three piles of four, with two blue in each.
Todd: Rith's Grove, bouncing Mosswort Bridge. Can finally make the RRR to cast Broodmother. At EOT, Keith casts Allay with no buyback on Safeguard.
Turn 16
Keith: Todd gets a Dragon and uses it to devour Solemn Simulacrum. Keith casts True Conviction. Attacks Michael with Aurelia. Michael says, "You know, Keith, you did this to yourself," and casts Turn the Tables. Aurelia kills herself due to the double strike. Keith casts Mirran Crusader.
Michael: Todd gets another Dragon and is now at (51). Battles Keith with Reckoner and me with Sun Titan, getting back a Mountain. I shrug and block with Animar, assuming he has some kind of trick, but he doesn't (although I know there's nothing like Flaring Pain in there). Animar murders that Sun Titan. Casts Angel's Trumpet of his own and then Phyrexian Metamorph to copy Broodmother. At EOT, I spin the Djinn twice, and it gets ugly. The first one is Darksteel Colossus, which is good enough. The second is Warstorm Surge, which I'm pretty sure will kill some folks. I try to not be greedy by wishing they would have been in the opposite order. I then bounce the Djinn back to my hand. Michael takes one from Angel's Trumpet (15).
Me: Todd gets a Dragon and goes to (52). I cast Djinn again and dome the Broodmother and then realize that I should be pointing damage to peoples' heads. I cast Rubblehulk for thirteen, taking Michael to (2), meaning the Mystic Snake can kill him as an instant. I then attack Todd with Darksteel Colossus just to work on that life total a bit and Keith with the rest of the team, killing him. Michael casts Boros Charm on the Colossus, giving it double strike (with the added bonus of thoroughly annoying Todd). Todd goes to (28), and now he's in range.
After combat, I bounce Man-o'-War and recast it, killing Michael. I use the trigger to bounce Apocalypse Hydra, which I can cast for fifteen due to Animar's nine counters plus the land I have untapped (making it a 30/30), killing Todd. Nearly 100 damage in that turn (with some help from Michael), mostly courtesy of Warstorm Surge plus Animar hijinks (and mostly tapped-out opponents).
What I enjoyed most about the game was that the four of us don't get to EDH together that often. Michael is running the League on Thursdays, and Todd only occasionally plays because Thursdays are one of the few days in his week that he gets to do stuff not related to the shop (like hang out with his other friends). Keith's work keeps him away sometimes, so even though we see each other weekly as a group it was fun to sling the 100-card decks together because our opportunities to do so are so rare.
It was also a pretty good exemplar game of EDH. It was swingy, wild stuff happened, there were laughs, and eventually someone did some murdering.
The Board Game
The board game we chose is a group favorite, Catacombs. It's relatively simple to play and not strategically deep. It's a classic dungeon crawl of heroes versus monsters, with a boss fight at the end. The difference with this game is that there's manual dexterity involved. Everything is represented by discs of varying size, and you have to flick them to move/attack. This leads to both epic success and epic failure. There ends up being much more shouting (the good kind) than you'd expect. Every time the game gets played at the shop, copies get sold. It's very much beer-and-pretzels board gaming, which is just what we wanted since we were on a schedule. If you haven't played it, I heartily recommend picking up a copy from your local retailer.
Keith volunteered to DM, and we randomly passed out the characters. Michael got the Witch Hunter, Justin the Sorcerer, Todd the Elf, and I the Paladin—a pretty classic party. We had a great time in the early rooms, though we flubbed a few shots and ended up eating more damage than we should have. It meant we had to spend our money at the healer instead of using it buy magic items later.
In the middle of the dungeon, we took a break for coffee and the delicious coconut cream cake that Keith made. The refreshment didn't help us much, as our shooting wasn't as good as Keith's. By the time we got to the boss room, Michael was dead, and Todd was hanging on by a string. We were nearly an hour behind schedule at this point, so we decided to forego the boss fight and dive right into the RPGing. We may go back to that fight at a later date, but I think it's a foregone conclusion that that Orc Warlord would have had his way with us. It didn't occur to me until just now that I could have been putting shots of Sambuca Romana in Keith's coffee to dampen his eye-hand coordination. I'll remember the idea for the next time.
The RPG
You can follow the exploits of our game via the Facebook group and sooner or later a website. It's set in a world that I began creating in 1987 and is still a work in progress. Our game has a heavy story/roleplaying element to it, but for Day of Thrones, we like to pull out the minis and dungeon tiles. This session was very much a classic "solve riddles and overcome foes in a tomb" adventure.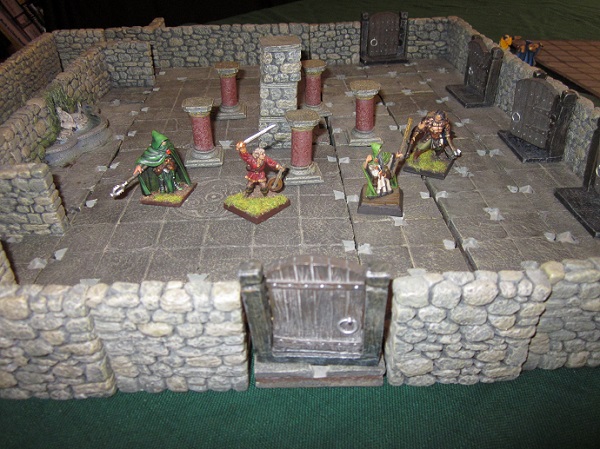 Having overcome the guardian of the tomb, our heroes were faced with five doors. Each was inscribed with a different insignia: Serpent, Hawk, Warrior, Giant, and Owl. The challenges beyond each door reflected some attribute of the insignia. Defeating the challenge earned them one of five crystals, which when placed on their stands would open the vault to the treasure. Like I said, really classic stuff.
Instead of going right-to-left, they discussed the order in which they'd face the challenges, deciding to leave what they thought would be the biggest battles until last. They took on the Serpent first (overcoming a room full of snakes), the Hawk next (needing to work their way through a room in which no light source would work), and then solved the riddle of the Owl. I'll share with you the riddle:
There are two owls, each perched in front of identical doors. A plaque between reads: "One door leads to Paradise, one leads to Damnation. You may ask a single question of one of the guards. One only lies, one only tells truth."
They discussed the riddle as I left the room to open the bottles of wine for dinner. By the time I came back, they'd worked it out and answered correctly. If no one solves the riddle in the forums this week, I'll give you the answer in my next article.
They went after the Giant room fourth, believing that Giants are more easily overcome with trickery and mind games. They successfully got past the Giant without anyone (including the Giant) getting killed. Unfortunately, that's all the time we had. There were steaks to cook and a meal to enjoy. We wanted to be ready by 9 PM to watch the show. They'll have to face the Warrior room next week.
As I said earlier, you can read the details of the meal on my blog. Suffice it to say that it was delicious and just what the doctor ordered after a long day of gaming. We settled in just in time for the show to start and watched the exciting first episode of what promises to be an awesome season.
Day of Thrones 3 was a rousing success. A huge thanks goes to Gretchyn, my wife, who took up the challenge of doing most of the prep and cooking while we were playing games. I look forward to what we might be able to accomplish and the fun we might have next year.