This weekend it's time to put your noses back to the Grindstone as the StarCityGames.com Open Series travels to Wisconsin, the home of many Magic luminaries like Adrian Sullivan, Brian Kowal, and Creature Collection creator Liz Nugent! It's our very first trip to Milwaukee, and we are very excited. We are happy to be making our Classic Series debut in Hagerstown, Maryland this Saturday as well! Hooray!
This past weekend StarCityGames.com crowned an Invitational champion in Atlanta, and for the third straight time it was a man from our stable of Premium content producers: Gerry Thompson! The Pro Tour Gatecrash Top 8 competitor and frequent Above the Curve guest took his trusty U/W/R Flash and Shardless BUG decks to the mountaintop, further solidifying his place atop Magic's first class.
But that isn't to say that G/B/W Reanimator has fallen off completely, as Korey McDuffie showed off his prowess with the deck in the Standard Open in Atlanta. The home of the Braves also signaled a revival for Goblins, as former Invitational champion Max Tietze proved by taking Sunday's Legacy Open with the grotesque and mischievous tribe. As it has been for the last few months, it's anybody's format!
Our home away from home in Milwaukee this Saturday and Sunday will be the Delta Center in ballrooms A and B: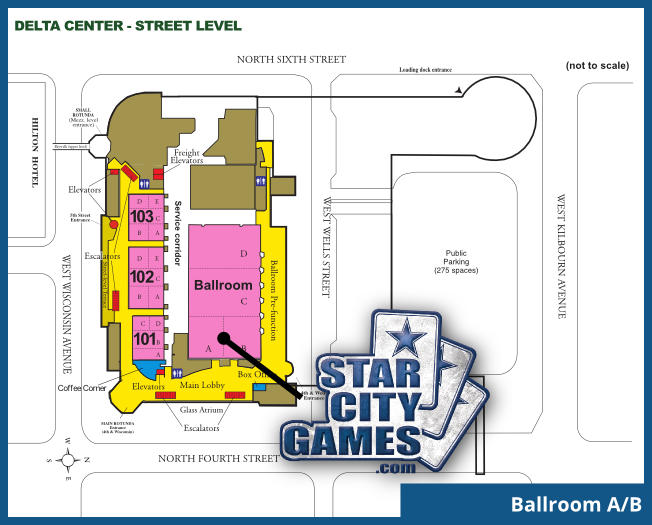 As you can see on the guide below, there are provisions located mere feet from the tournament site, so if you go hungry it's not for lack of options within walking distance. Even players whose rounds end with a few minutes left on the clock should be able to fit in a quick run to one of the many local eateries nearby.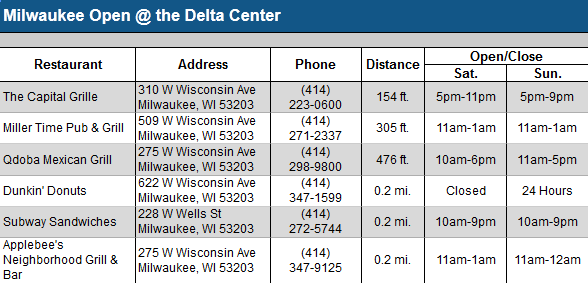 A triad of talented alterists will head to Miltown with our traveling troupe of troubadours this weekend:
Amber Musick will be at this event offering her custom full art playmats and tokens as well as creating new works of art and customizing your playmat with original art. Pricing and her current offering of playmats can be found on her deviantART page.
Eric Claar brings his unique style of alters to the StarCityGames.com Open Series. Known for his minimalist "blueprint" style as well as full art pieces, you can check out his work on Facebook and deviantART.
Specializing in extending art using oil and acrylic paints, Svita Young has been creating altered art Magic cards for over two years. With low prices and excellent art, you have to check out her Facebook page for examples of her work.
The home of the NBA's Bucks will be a good spot for our commentary squad of Cedric Phillips, Patrick Sullivan, and Glenn Jones to catch up on all of their professional basketball needs once the festivities die down, but Brew Town, USA will need them in front of the camera first as our trusty play-by-play and color team this weekend! The hashtag for this event is the locals-approved #SCGMKE, so be sure to tune in for all of the action on @SCGLive. Also, for those at the event and for those who wish to have a more in-depth understanding of pairings and standings in real time, @SCGOpenPairings will have up-to-the-minute notes for anyone who needs them.
Perhaps the Hub City is more to your (and your gas tank's) liking? Then you're in luck because Hagerstown, Maryland welcomes the Classic Series this weekend!
StarCityGames.com will call the Best Western Grand Venice Hotel Magic HQ this weekend:
Once again, mere feet separates you from Sustenance at this location, though for non-fast food options nearby you'll have to walk a bit further than across the street. Hagerstown isn't huge, though, and traffic will almost certainly be manageable. Having grown up with an uncle living in Hagerstown, I know the city well, and I suggest Barefoot Bernie's about a half mile down the highway for Tiki-themed food and drinks (assuming you can get into the place once the bar is open, you young'uns).
Two well-traveled alterists will be in attendance in Hagerstown this weekend as well!
Based out of nearby Baltimore, Maryland, Ashley Jordan, the artist behind Alternate Dimensions Card Alters and Designs, features handpainted Magic: The Gathering partial and full art card alters. Visit her website or her Facebook page to find out more.
Lindsay Burley will be selling and creating her unique brand of 3-D cards and tokens as well as custom playmats! Check out her work here, then stop by and check out these awesome cards! For special commissions before the event, you can contact Lindsay at 3Dalters@gmail.com.
While we don't have coverage for this event, the hashtag for news and notes is #SCGMD, and you can get up-to-date pairings and standings by following @SCGClassic.
We've just dipped our toes into Dragon's Maze spoiler season, Standard PTQ season, and the first WMCQs of the year! The Open Series in Milwaukee and the Classic Series in Hagerstown are great places to prove your mettle, so come on out for big prizes, big competition, and big fun!
Good luck, have fun, and get brewing!
Event Coverage Coordinator