Part I: What's Happening Here?
You go Polluted Delta and pass.
He goes Watery Grave tapped.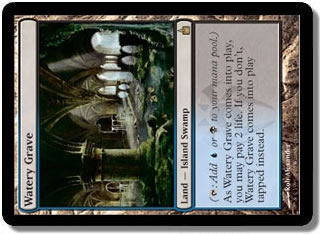 You break your Polluted Delta for your own tapped Watery Grave, untap it, draw, and play your second land.
He untaps, plays an Island, and taps the Watery Grave to show you a Duress.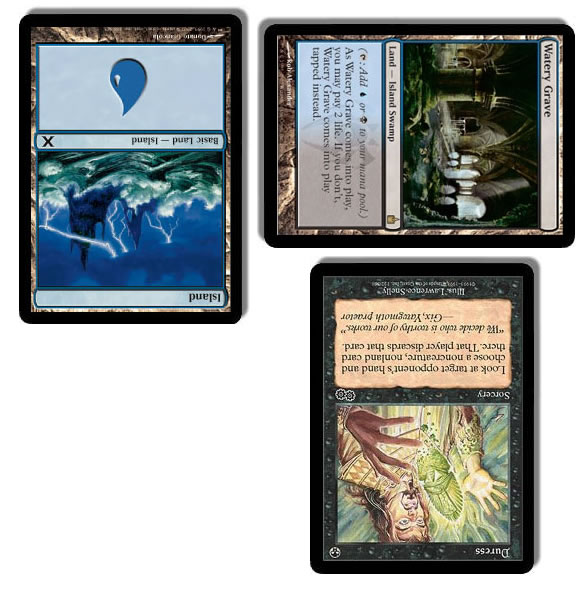 You tap both your lands and answer with a Mana Leak, leaving the board like so: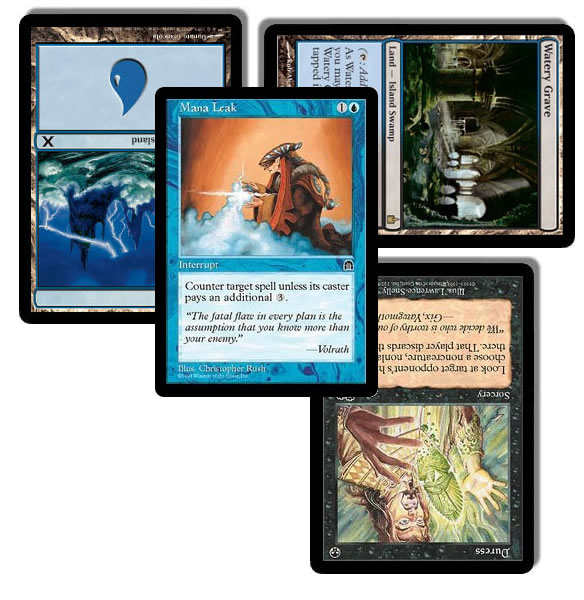 (Notice the untapped Island!)
So you untap, play your third land, and drop the ol' Hammer of Hephaestus...Psychatog!
Remember that untapped Island?
You're screwed.
And that was that.
The game went on for some time after "that." In case you didn't recognize it, the above describes the first three turns of Hall of Famer Kenji Tsumura against Hall of Famer Antoine Ruel in game 2 of their Pro Tour Los Angeles Extended Psychatog mirror match epic. Sadly, in this case "you" were Kenji—and you walked into maybe the greatest bluff in the history of Pro Magic.
From his side, Ruel actually ended up stuck on three and missing a bunch of land drops—but it didn't matter. The most important battle had been won on Kenji's third turn with that successful Spike. Ruel, of course, went on to win the match and win the Pro Tour.
The question is what makes this bluff / battle / bloodshed so g-d memorable (and what can we learn from it)?
Antoine made relatively few decisions; if he said anything, I don't remember hearing any of it. However, each of his few decisions spoke volumes and in fact created an entire universe of imaginative deception. Kenji, probably the best then-active player in the world, famous in fact for being the Japanese player with the strongest mental game at the time (it was not a big deal for a Japanese pro to play tightly or have a great deck, but mental game was Tsumura's particular gold star) bought into Antoine's alternate reality—a world of rainbow unicorns, horns of plenty, and beneficent rulers. You know, one that did not and does not exist.
And got his Psychatog Force Spiked.
Part II: What Antoine (Silently) Said
Antoine Ruel plays a tapped Watery Grave.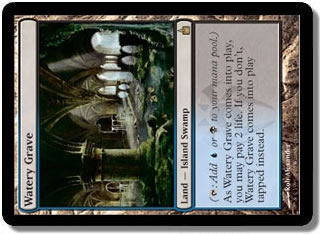 Your baseline expectation playing against a control deck on the draw is that the opponent on seven kept a hand with more than one land or at least reasonable access to more land (say via cantrips); this is especially true in a control mirror. It follows that he could have played another land but chose to play a Watery Grave. More than that, he chose to play a tapped Watery Grave.
Consider the alternative: paying two life to play the Watery Grave untapped.
Playing the Watery Grave untapped—paying two life to play the Watery Grave untapped!—screams something else entirely. Something from "I don't have any other lands, but I have to do something right now" to "my other land is also a Watery Grave," but at the very least a burning necessity to use that first mana. In a control mirror, this might be seen most commonly with a first turn Duress or some kind of Brainstorm / cantrip digging for land.
Conversely, Antoine's playing the Watery Grave tapped says "I don't have anything to do with my mana" and kind of nudges that he is not at all in a rush.
Antoine Ruel plays Duress.
Kenji Tsumura Mana Leaks Duress.
Antoine Ruel neglects to Force Spike Mana Leak.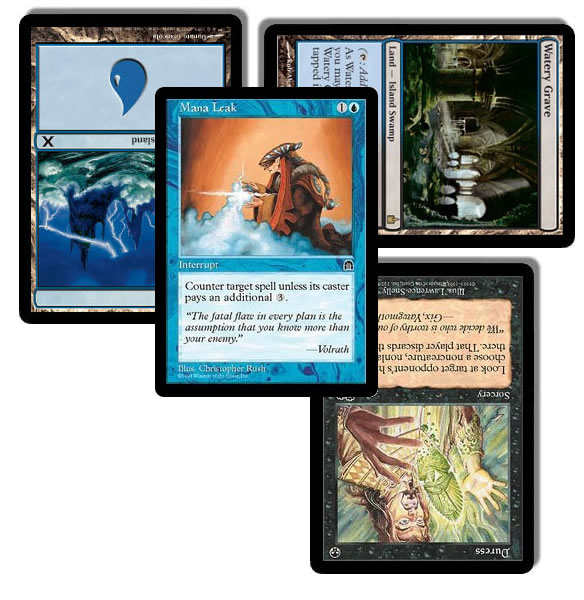 We all know that Antoine actually had the Force Spike but didn't use it.
Kenji, though, did not know for a certainty if he had it or not. What he did know from Antoine's first two turns is that he 1) signaled he had nothing to do with his mana and 2) when given the option to trade [substantially!] up (Force Spike for Mana Leak + resolving the Duress), he declined.
It is perfectly understandable from my perspective to have gotten caught by Antoine given these two—tiny n—turns worth of nonverbal communication. Even reviewing the tape some eight years later, I don't think Kenji made a mistake—just that Antoine played masterfully.
Though we might ask ourselves if there might have been some better model of thinking...
Part III: Why Not "Why?"
A common question for a thinking player is to ask why a player does whatever he does. Let's look at Antoine's plays with that lens:
Antoine Ruel plays a tapped Watery Grave.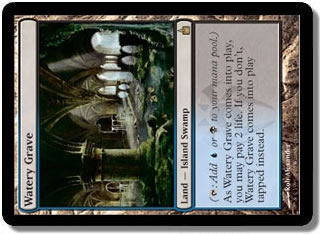 Q: Why did Antoine play a tapped Watery Grave?
A: I dunno. He doesn't have anything to do with B or U?
(We know, of course, he had both Duress and Force Spike.)
Antoine Ruel plays Duress.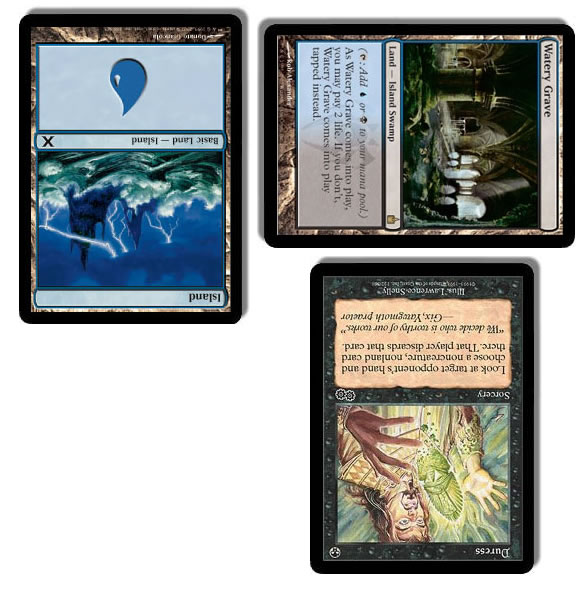 Q: Why did Antoine play Duress?
A: He had the mana available and probably doesn't have a real Counterspell. If he had a real Counterspell, he would probably hold back to stop our 'Tog. After all, "risking" a 'Tog with the Duress and then not being able to Counterspell it is some bad. Either of these might be mitigated by Antoine just being able to kill the 'Tog while we're tapped.
I was super impressed by Antoine's play and actually ran up to him after this match to try to draft off some of his wisdom. What was he thinking while he ran game on the best player on the Pro Tour? The irony is Antoine didn't have a legitimate answer to Psychatog; he was pretty sure he was going to lose if Kenji untapped with a 'Tog in play. Antoine's line was based on Psychatog prevention—without a legitimate way to stop a Psychatog—making the answer to this "why" question all the more misleading. He needed to stop 'Tog with an illegitimate answer.
Lemons to lemonade!
Antoine Ruel neglects to Force Spike Mana Leak.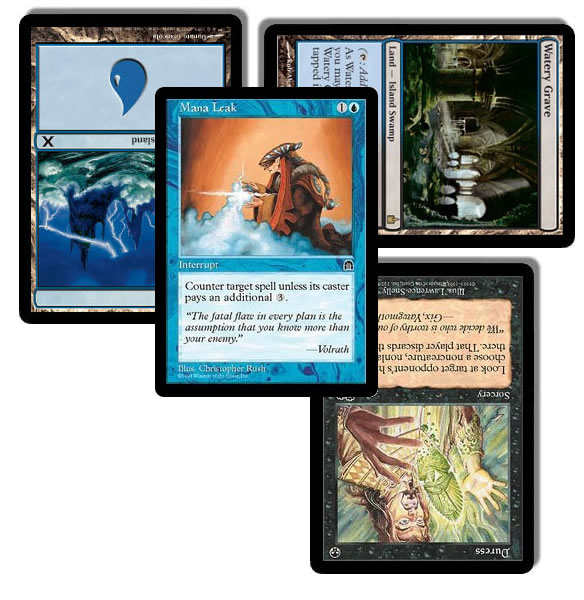 Q: Why didn't he just Force Spike my Mana Leak?
A: He doesn't have a Force Spike.
Perhaps this Q&A is a little unfair or at least a bit dramatically narrow. I do think that most players will in most circumstances look to trade a one for a two (a conditional Force Spike here for a less conditional Mana Leak), especially if they are getting something extra out of it. That is a pretty conventionally understandable baseline model. Some might even call it "tempo."
While the 'Tog (whether considered the massive strategic linchpin it was or "just" a three for a trade-up) was ultimately the bigger prize, it is understandable that Kenji might see the resolution of his Mana Leak as a clear path.
As you probably know from multiple articles, I am not the biggest fan of "why" and would argue that Antoine was playing a deeply skilled Level III-IV game.
Part IV: Asking Better Questions
I think the outcome of this game—Kenji going first, Kenji having Psychatog, and Antoine ending up stuck on three lands for multiple turns—could very well have gone the other way and that it went in Antoine's direction due to a combination of questions.
We can't know what Kenji was thinking, but his play seems to follow a "why" model.
I actually asked Antoine, and his answer seems to indicate a more sophisticated set of questions, namely:
Does he have Psychatog? [because I lose to Psychatog], and
If he does in fact have Psychatog, how do I play to not lose to it?
Antoine really only made two-and-a-half decisions before the big play of Force Spiking Kenji's turn 3 'Tog.
1. Played Watery Grave tapped.
2. Played land + Duress.
Plays 1 and 2a—as I have essentially screamed this article—were designed to give Kenji the sense that the coast was clear or at least clear of the Force Spike heard 'round the world. The second play—the Duress that didn't even resolve—actually feeds into the important task of information gathering.
When I play Magic—or at least when I am fully engaged and am playing Magic against the man (rather than against the cards)—I try to answer one simple question: what does my opponent have?
Not what do I think he has, what is he trying to get me to believe he has, but actually to figure out what he has. If you know what your opponent has (and he doesn't necessarily know what you have), you can often beat an opponent with much more powerful cards by being able to drive better decisions.
Magic has loads of examples of this, but probably none better than a 2000 Jon Finkel making his first "comeback" to qualify for the proto-Masters event with a 6-0 draft run at US Nationals. In the qualifying round, Jon faced an opponent with Mageta the Lion! Mageta the Lion was the most powerful card in the Constructed Block format! One Wrath of God is typically very difficult to beat in Limited—this was any number of Wraths on a body.
Jon, though, had Wandering Eye.
Let me tell you, if you want a chance to beat Jon Finkel in a game he isn't mana screwed? Giving him perfect information is about the worst way you can go about that. Jon and his 1/3 flyer beat the Mageta fairly effortlessly.
Five years later Antoine took advantage of this better model and used it to produce one of the most impressive wins in Pro Tour memory.
Part V: Much Ado About Psychatog
Especially younger readers, that is readers who are part of the growing wave of Magic Acquisitions the past two or three years, might be scratching their heads at ol' Doctor Teeth. Psychatog? What's so great about Psychatog, and why are you making such a big deal over it?
Why, in fact, did you make such a big deal about it then?
Part of my motivation in dialing it back so many years—even given the opportunity to talk about what many consider the greatest, most exciting bluff ever (myself included of course)—is that the young folk simply don't respect Doctor Teeth enough.
Last week I wrote an article on the mothership where I laid out some boogeymen and R&D-driven answers. The thesis of the article was that Boros Reckoner was in some ways an answer to Thragtusk, but there were some others:
Kataki, War's Wage taxing Arcbound Ravager and Thundermaw Hellkite murdering many a Lingering Souls token people got—but Sudden Shock versus Psychatog? Many readers were unconvinced.
The young folk simply don't respect Doctor Teeth enough!
For a long time, Psychatog was considered the best creature of all time. It was the pinnacle of the "narrow threat that does it all" model that control players have in brief moments had the chance to abuse the rest of the world with. It was a Masticore that didn't make you discard for five turns and faster. Psychatog laughed off red removal, completely invalidating two damage-packet cards.
With Upheaval, it was a combo kill with suspend 1; with Wonder (easily discarded while giving it +1/+1), it was a Fireball. Psychatog was the alt kill of the first Golgari Grave-Troll and Stinkweed Imp decks, showcasing the power of the Dredge mechanic. And all the time, from its very first Top 8 appearance, it has always been a kind of Black Lotus with legs, making counterspell cost U along with many other savage applications.
If you didn't deal with a Psychatog quickly, it could either kill you immediately or generate a massive amount of value and kill you in a turn or two. Antoine's respect for the card—and the appreciation Randy and I had for his ability to deal with it given limited tools and a limited window—were not controversial at the time. Really, it was consider the Best. Creature. Ever.
So yes, one of the main value adds of Sudden Shock (besides the ultimate slow roll) was being able to just flat-out kill the most fearsome and feared three-drop ever.
And for us? A great opportunity to look at the greatest bluff against one of the greatest players—successful despite being so very spare.
LOVE
MIKE