There are 37 distinct Magic sets legal in Modern. Since the format's inception, five new expansions and one new core set have been released, but none of them have had the impact that Dragon's Maze will have.
With a flurry of recent bannings, the Modern field has had no time to stabilize, and Modern players have had no time to decide which decks are best. With the format in such a fragile state, the release of a powerful new set has the potential to revolutionize things—and Dragon's Maze is certainly a powerful set. It packs a number of flagship cards that are poised to dominate Standard and could potentially make waves in Modern as well. Beyond that, it has cards which will scale in power when paired with cards from older formats—like Varolz, the Scar-Striped and Blood Scrivener—cards that ruthlessly attack certain strategies—like Blood Baron of Vizkopa and Voice of Resurgence—and cards that may suddenly enable new and exciting combos.
So I may as well begin with the single card that will have the most immediate and immeasurable impact on Modern: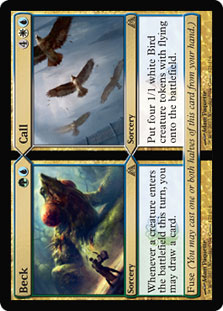 Elves would have undoubtedly been one of the defining archetypes of Modern if not for the preemptive banning of Glimpse of Nature. Even so, Elves remained a viable strategy using Cloudstone Curio and Regal Force as engines until the banning of Green Sun's Zenith finally put the nail in its coffin.
Now, with the printing of Beck, a top Legacy strategy (granted, a little toned down) will exist in Modern without its natural enemies—fast combo, Counterbalance, Punishing Fire—to keep things in check.
The deck offered above is very basic and is only one of many possible ways to build Modern Elves. I've always been a big fan of Summoner's Pact—although risky, playing four copies means you'll have a very high chance to win the turn that you resolve a Beck. Two copies of Regal Force, along with Summoner's Pact and Chord of Calling to search for them, serve as a back-up card drawing engine for the games where you're not fortunate enough to draw Beck // Call. This is the main reason why Elvish Archdruid earns his slot; he's fragile and not great to draw the turn you're going off, but in the games you manage to untap with him, you'll have a wealth of mana and likely be able to win in any way available to you.
There are a number of official "win conditions" available to Elves players, but that's all but an afterthought. Something as simple as Grapeshot or Banefire would be fine, but with Birchlore Rangers not legal in Modern, that would require including Manamorphose in the deck. In the days of relatively low-powered Elves decks (Standard and Extended), I would either loop two Primal Commands (repeatedly reshuffle my graveyard into my library and put all of their permanents on top of their library) or would assemble Ezuri, Renegade Leader with three Devoted Druids (infinite mana and infinite Overruns).
These win conditions have the benefit of not taking up extra cards slots. That is, however, only if you consider Primal Command, Ezuri, and Devoted Druid to be cards you want to be playing with in Modern Elves, which is a point that's certainly up for debate.
Given the four copies of Summoner's Pact, I felt that a singleton Craterhoof Behemoth would be the most effective win condition. There will be some games where you reach enough mana to cast it without fully comboing off, and in those cases you'll be happy to have it! Plus, having Regal Force and Craterhoof Behemoth as integral parts of the deck offers a nice excuse to play Cavern of Souls, which is a powerful tool against anyone leaning on permission to try to slow you down.
The first list I tried had more Chord of Callings, and consequently I decided to try out one copy of Dryad Arbor. Even though I've since trimmed the number of Chords, I very much valued being able to draw a card off of an extra fetchland on any turn that I cast Beck (note that unlike Glimpse of Nature, it triggers any time a creature enters the battlefield from anywhere). Plus, when you need to scrape out a win via anemic beatdown, one extra 1/1 body from a fetchland can sometimes make the difference.
Along the same lines, Forbidden Orchard works in an interesting and not very intuitive way with Beck: technically speaking, I'm the one putting a token into play under your control, and I will be allowed to draw a card. However, playing Forbidden Orchard would basically remove any chance to win games by attacking normally, which would be a bit of a hit to the Elves strategy.
As I mentioned, this is only one possible build of Elves, and I'm sure that once the Luis Scott-Vargases and Matt Nasses of the world sink their teeth into the project, we'll have an even more tuned and brutal killing machine. Other cards to consider are Cloudstone Curio; Coiling Oracle; Manamorphose; Gitaxian Probe; Joraga Treespeaker; Ranger of Eos; Soul of the Harvest; Emrakul, the Aeons Torn; Mirror Entity; and Predator Dragon.
While Elves is now a playable strategy, it's my belief that the sky is not yet falling. The fact that Beck costs a mana more than Glimpse of Nature will sometimes mean comboing off a turn later or not at all. Moreover, it was a huge strength of the old Elves decks that they could operate entirely off of green mana, so having a key card cost blue mana does weaken the deck.
The natural enemies of Elves will be decks with Snapcaster Mage and Lightning Bolt and decks like Splinter Twin that have a similarly fast combo plus the ability to disrupt. Beyond that, single cards like Grim Lavamancer, Olivia Voldaren, and Pyroclasm have the potential to cause problems. Note also that Torpor Orb will prevent the card draw from Beck where it would have done nothing to hinder Glimpse of Nature.
The potential for Beck // Call is not necessarily limited to just Elves. One could also build a faster combo deck using free creatures—Ornithopter and Memnite—as an engine. Such a deck would have the benefit of making great use of Forbidden Orchard and potentially Mox Opal for fast mana. Depending on the lengths you're willing to go to, Spoils of the Vault could serve as a tutor for Beck // Call.
The point is that Beck // Call is an extremely unique and powerful card, and I think we'll be seeing it pop up in any number combo strategies for years to come.
You can count on split cards to bring up a number of interesting rules questions. For example, what happens when you cascade into a split card? Well, anyone who has ever hit a Boom / Bust off of a Bloodbraid Elf can tell you that you're allowed to cast either half as long as one of them is cheap enough to meet the cascade requirements.
The "Entering" half of Breaking // Entering screams to be abused in such a way, as it could be used to reanimate anything from Iona, Shield of Emeria to Griselbrand and with haste to boot! One pretty simple build would play a large number of cascade spells and set up back to back turns of first Breaking and then Entering, putting into play whatever giant creature your heart desires.
Beyond the split cards, two other cards from Dragon's Maze caught my eye as having the potential to create new combo decks.
It's natural for Obzedat's Aid to "catch the eye;" it's similar to cards we're familiar with—Unburial Rites, Reanimate, Zombify—with one minor difference. The minor difference, which is the key to the card, is that it's not restricted to targeting only creatures. Obzedat's Aid allows you to reanimate a Nicol Bolas, Planeswalker, or you could think even bigger and go for an immediate win via Omniscience!
In discussing Obzedat's Aid with Owen Turtenwald, I asked my friend what we might do after putting an Omniscience into play on turn 4 or 5. He astutely answered, "Anything."
And he's right! You could cast an Emrakul, the Aeons Torn, you could go wild with an Enter the Infinite, or you could devise your own combo that nobody's ever seen before! In a format with powerful ways to sculpt a graveyard—Thirst for Knowledge, Gifts Ungiven, Faithless Looting—Obzedat's Aid is a card to keep an eye on.
Truly a mad scientist's card! It's only fitting that Magic luminary William Jensen was the one to turn me on to it. Like Obzedat's Aid, there are a number of ways you could abuse Possibility Storm (the possibilities are endless, if you will). However, after talking it over, we determined that the best plan is to use your turn 3 to transmute Tolaria West for your one copy of Ornithopter, then play Possibility Storm, and immediately cast it. In the chaos of limitless possibilities, wouldn't you know that your Ornithopter turns into Emrakul, the Aeons Torn! Since you're casting it, you get to take an extra turn, and the rest is history.
From some limited testing, this deck felt fast and reliable when undisrupted but was more vulnerable than past Modern combo decks. In particular, discard spells posed a problem, but Leyline of Sanctity out of the sideboard was a powerful defensive measure.
An appeal of this type of deck is that it can make use of one of Modern's forgotten cards: Empty the Warrens. The ban of Seething Song was devastating to the Past in Flames angle of Storm, but it didn't neuter Empty the Warrens or Pyromancer Ascension in the same way. These cards are still lurking, waiting for someone to find a use for them.
At this point, I'll move into the wide collection of Dragon's Maze cards which while not necessarily spawning new archetypes on their own, may push existing fringe strategies into the limelight.
Blast of Genius looks awesome to me! Draft, Sealed, Standard, Modern, everywhere! Particularly in a format where Emrakul, the Aeons Torn is already a playable card, Blast of Genius seems to have some real potential. What comes to mind is a U/R Tron strategy.
Such a deck would reach six mana as a matter of course between the Urza lands, Izzet Signets, and whatever other acceleration you might decide to play. Such a deck would need more card drawing to compliment Thirst for Knowledge, and such a deck would have the capability to cast Emrakul anyway. If you decided to take the approach of Through the Breach + Emrakul and if you had a few Lightning Bolts in your deck for removal anyway, Blast of Genius would be a great addition.
In my mind, Deputy of Acquittals is a little brother to Restoration Angel. Though it has some different and interesting applications, you would basically play it in a deck where you want more copies of an instant speed blink effect. I almost breezed past this card when planning my Modern set review for Dragon's Maze, but then I had a revelation. A White Weenie strategy had an absolutely dominant performance at the Legacy Grand Prix in Strasbourg and might be worth a try in Modern!
This deck can play as a normal White Weenie deck, employing many of the best and most aggressive cards in the archetype—Steppe Lynx, Geist of Saint Traft, and Path to Exile. However, it can also set up a number of midgame combos centered around "blinking" Mangara of Corondor with his ability on the stack. Your target will end up exiled, but Mangara himself will be safe back in play.
Icatian Javelineers represents an answer to Dark Confidant, Grim Lavamancer, Delver of Secrets, mana elves, and any number of other problem creatures in the early game. It also happens to be excellent with so many creatures capable of resetting the counter, and it's a surprising and relevant one-drop to play off of Aether Vial.
Unflinching Courage is very close to a functional reprint of Armadillo Cloak. Long ago, Armadillo Cloak was the centerpiece of a deck called "Spirit Stompy," which was quite good in old Extended. Spirit Stompy used Tallowisp and Spirit creatures like Phantom Centaur and Chameleon Colossus to suit up giant, trampling, lifelinking monsters. It trounced opposing creature decks like Zoo and represented a resilient strategy that had game against anything if you could find the right sideboard cards.
Nowadays we have some stronger Spirits available to use. Geist of Saint Traft is one of Modern's strongest cards and has natural synergies with the Aura theme. In a deck packing both Deathrite Shaman and Noble Hierarch, it'll provide a huge number of easy wins! Its partner Geist, Strangleroot Geist, is an underappreciated card that's a fast, heavy hitter and is strong against Jund, which remains one of Modern's top decks. Conveniently, one of the only cards that Geist of Saint Traft fears is Liliana of the Veil, and Strangleroot Geist makes her completely ineffective.
Just two copies of Unflinching Courage to go with the Tallowisp engine provides a powerful angle of attack and giant chunks of life gain, which will be the key to winning many matchups. Beyond that, Rancor is a cheap and efficient Aura that you can never really have too many of. Temporal Isolation is a searchable answer to an opposing Tarmogoyf and in a pinch could be used to make Geist of Saint Traft unblockable. Finally, a singleton copy of Spirit Mantle can help you push through a board that's become stalled with a bunch of random Lingering Souls tokens, Kitchen Finks, and Tarmogoyfs.
Now, one might ask what advantages Spirits has over a Hexproof strategy. To put it frankly, I would consider them two separate decks. Spirits is a well-balanced deck in which every card is respectable in its own right. You don't need to mulligan to particular cards, and you don't need to have an excessive fear of a Liliana of the Veil.
If Deputy of Acquittals is the little brother of Restoration Angel, then Blood Scrivener is the little sister of Dark Confidant. Not just any deck would want to play a full eight copies of such a creature, but I could imagine some that would...
The prerequisites would be a low mana curve and the ability to empty your hand quickly. Liliana of the Veil has natural synergies with Blood Scrivener, as does Faithless Looting. Looting helps to smooth things out and dump your hand quickly, and in the late game when you find yourself playing off the top, flashing back a Looting offers respectable card advantage with a Blood Scrivener in play.
Alternatively, Blood Scrivener might push a R/B Burn strategy over the top. With a multitude of cheap burn spells, Dark Confidant and Blood Scrivener can stay at home and shovel coal into the furnace for you. Against such a deck, no amount of blockers or permission spells would really be able to save you from an inevitable fiery death. Plus, as long as you're not trying to make creature removal dead, you could look to another Dragon's Maze card, Spike Jester, as a way to get in six quick points of damage.
On a personal note, Varolz, the Scar-Striped is my favorite card from Dragon's Maze. It seems like a perfect fit for the Jund strategies that I love so much.
Note that Tarmogoyf, as a */*+1, holds its power and toughness even while it's in your graveyard. By the point in the game that you're ready to scavenge, Tarmogoyf will represent four or more +1/+1 counters for a bargain of a price! Scavenge onto an evasion creature like a Birds of Paradise or Lingering Souls token or onto a trample creature like Treetop Village (the counters will remain on even after it turns back into a land) and you're talking about a brutal beatdown! I think Varolz will be an excellent one- or two-of in existing B/G Tarmogoyf decks.
While you don't need any combos for Varolz to be an excellent card, you can always take things to the next level! Scavenging a Death's Shadow for one mana might be simply too good to pass up.
Such a deck could maintain the B/G shell that is so powerful in Modern but gain a power boost from Varolz and his combo with Death's Shadow. Ranger of Eos to search for two Deathrite Shamans is already a powerful play in a grindy mirror match, but when the circumstances are right to search for Death's Shadow, all hell can break loose!
Death's Shadow combos well with Thoughtseize, Dismember, and Dark Confidant and is a playable card in its own right.
Also worth noting is the way Varolz, the Scar-Striped pairs with one of my pet cards, Abyssal Persecutor. It represents a sacrifice outlet to get rid of your own Persecutor, while Persecutor represents a giant, undercosted creature to be scavenged. Also, a creature with bothflying and trample is truly the perfect target for a change purse full of +1/+1 counters.
Finally, let's get into the "role-player" cards of Dragon's Maze. These cards will not necessarily revolutionize Modern but should be remembered because they're powerful enough to see play at any time they're needed.
Four mana for a 4/4 first striker with haste is already at the level of Modern playability. Competition is steep at the four mana slot in Jund, but none of the available options clearly outclass Exava. If one had any interest in a card like Oran-Rief, the Vastwood—playable in its own right—Exava might make the cut.
While we're on the topic of powerful four mana cards...
I feel that Ral Zarek is at his best in an aggressive or a midrange deck where you can take advantage of shooting the opponent for a quick six damage or use his tap ability to force your way past blockers. Eric Froehlich made the Top 8 of Grand Prix San Diego using a Jund deck that splashed for Ajani Vengeant, and I feel that Ral could be even better! Perhaps the Jund decks of the Dragon's Maze era will wind up splashing blue and topping their curve with Ral Zarek and Snapcaster Mage.
Alternatively, Ral seems like a perfect fit for an aggressive U/W/R Delver of Secrets strategy. As a follow up to Steppe Lynx or Geist of Saint Traft, he could help clear the way for your heavy hitters and add his presence to the board at a time when the opponent has no business doing anything besides leaving their creatures on defense!
Talk about your scary creatures! Blood Baron is nearly impossible to kill and has the potential to take over a game of Magic in nearly record time. The only way a Jund or B/G/W deck has to answer Blood Baron is Liliana of the Veil, so it seems convenient that he was printed in the same colors as Lingering Souls. Its only weakness is that it'll sometimes lose a straight up fight against Tarmogoyf, but in a deck with the right removal suite, it's a card to pay attention to.
Powerful one-ofs in U/W/R decks that are packing Restoration Angel / Snapcaster Mage and looking to race.
If I was playing a U/W deck and found myself particularly weak to Geist of Saint Traft, I would look to Renounce the Guilds as an extra answer. Its strength against Deathrite Shaman makes it applicable against a reasonable number of decks.
A little expensive, but would be a consideration for a R/G deck that features Lotus Cobra. It's nice to have a threat that incidentally corrects the softness to combo, which is typically the weakness of such a deck.
What is there to say about Voice of Resurgence except that it's an amazing card? For a deck like B/G/W, Tarmogoyf simply hits so much harder that Voice would be a downgrade in the matchups where you need to race. However, if I was playing a W/G creature deck that focused a little bit more on controlling the board and winning with disruptive creatures, I would consider Voice to be a great tool against opposing creatures and control decks.
One window for this card to see play in Modern may already be closed, but this would have been a nightmare for me when I was playing Storm. My plan against permission decks was often to wait until I could combo off with a back-up ritual in reserve in case one got countered. However, if I started playing out my hand and suddenly got Render Silented, I'd be completely shut off! Depending on what combo decks pop up in the months and years to come, Render Silent may become a powerful sideboard card in Modern.
The speed of Modern continues to push mana curves down further and further to the point that Gaze of Granite becomes a powerful and efficient tool. To cast it for simply X=0 to kill four Lingering Souls tokens would often be a game-winning play. However, the card would really shine in a deck that wants to sweep the board while keeping its own more expensive permanents intact. A B/G Death Cloud strategy comes to mind.
I hope I've been able to offer at least a tiny taste of what Dragon's Maze might mean for Modern. New combos, new strategies, new threats, and new answers! In what was already a format of wild possibility, we now have even more directions to explore. Where will you begin?
I am Rakdos.

I'm extreme and uncompromising. I want power for the sake of power, and no amount will ever be enough. I refuse to be shackled by rules, and I have no interest in acting the way people think I should act or playing MTG the way people think I should play MTG. In game, my goal is to put my opponent's back against the wall and give them no room to breathe. I deprive them of resources, wait for them to stumble, and finish them quickly.