Sadly, it looks like my next Standard tournament might be Grand Prix Miami. That said, I've spent the last couple weeks brewing Standard with Dragon's Maze for the Versus video series. Overall, there have been some clear winners and some giant stinkers.
U/W/R Flash
As I've said before, this deck is going to change based on the metagame around it. I stand firm that Boros Reckoner, Thought Scour, and probably Augur of Bolas need to be in the deck in order for it to function at its highest capacity.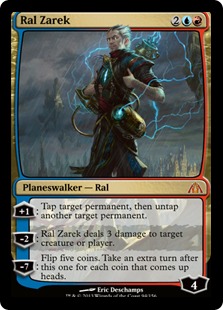 Ral Zarek has been a controversial card, and it's one that I'm still not sure about. Its upside is so huge that it will likely win you the game if left unchecked. That's probably true of any planeswalker though, including the already legal and still potent Jace, Architect of Thought. Jace, Memory Adept is no slouch either.
Still, Ral-Z is in the business of killing things, not drawing cards and hoping those cards kill things. Its impact is immediately felt, unlike its Jace cousins.
Of course, it doesn't interact well with Augur of Bolas or Snapcaster Mage, plus it's a sorcery speed spell in a deck that loves to function on its opponent's turn. Then again, if Voice of Resurgence is going to be as big as I think it is, operating at sorcery speed might become a necessity.
Other than Ral Zarek, the only other things up for consideration are what removal and counterspells to play and how many of each. As I said earlier, Voice is Resurgence is likely a thing, so you're going to want Pillar of Flame. That's also helpful against Naya Blitz, which gains little, if anything, but still remains a powerful deck.
Sire of Insanity is the card that I'm the most scared of, especially in conjunction with Cavern of Souls. Rapid Hybridization is probably going to see significant sideboard play. With Advent of the Wurm, Unsummon doesn't seem too terrible either. Renounce the Guilds would be fine, but it's not a perfect solution in a world of multicolored spells. The fact that it kills your own Boros Reckoners certainly doesn't help its cause.
Warleader's Helix is a very, very good card and another life gaining value card that I will happily play. One or two is probably the right number depending on how many red decks you expect to have to fight through. There's a lot of competition for the four-drop slot, so we can't play too many.
The one card I do think is overrated is Turn // Burn. In theory, you can generate a two-for-one, but that's more difficult to set up than you probably think it is. You could use it to trade one-for-one with Thragtusk, which is honestly pretty impressive but not something we're really in the market for. It also kills Sire of Insanity, but that will probably be a sideboard card that we can fight with our own sideboard cards.
I don't mind playing a one-of Turn // Burn, but I'm guessing it will soon become zero copies.
Aetherling is the last card that people might try to play. While certainly a powerful creature if you get to untap with it, it might be worse than other options like Assemble the Legion.
All in all, U/W/R got a lot of potential playables, which should add to the customizable nature of the deck.
Bant Hexproof
Not much has been said about this deck despite it getting some solid upgrades.
Unfortunately, we didn't think a Versus video involving this deck would be fun or interesting, so we didn't get to play with it. However, you don't have to play many games with the deck to figure out what sorts of metagames it might be good in. For reference, Bant Hexproof was at its best when G/B/W Reanimator and other midrange decks were kings of the format.
Supreme Verdict and various edict effects are the typical bane of the Hexproof deck, but those are easily worked around with maindeck and sideboard choices such as Voice of Resurgence and Strangleroot Geist. However, the deck is far from unbeatable. The opponent can be faster than you, or you can stumble or mulligan into oblivion rather easily. That said, it's a powerful, resilient choice.
The sideboard and mana base are rough, but I'm confident about the 38 spells.
For the sideboard, I wanted some stuff to help against aggressive decks, although I suspect Unflinching Courage is quite good there. A couple Fogs to win the races should help a lot. Rootborn Defenses and Strangleroot Geist are for control decks, as are the Garruk, Primal Hunters.
Negates and Ground Seals round out the sideboard, with Ground Seals obviously for Reanimator. Negates don't serve a real purpose except to protect yourself from randomness. That's basically the worst reason ever, but like I said a couple weeks ago, the weakest part of the Bant Hexproof deck is the fact that no one has ever come up with a great sideboard.
I am finding myself appreciating Varolz, the Scar-Striped more and more. Perhaps I should try to do Varolz things, but I'm no Bard Narson or Blam Sack, so I'll leave the sacrificing creatures to them. I will say that Varolz alongside Vexing Devil looks very appealing, as does anything involving Blood Artist (and maybe Unflinching Courage).
Bant Flash
For now, I'll stick to what I know. At first, I was skeptical of green instead of red, but it played out way better than I ever could have expected.
Advent of the Wurm is the real deal, and I gained a lot of respect for the card after playing with it in a control shell. Snapcaster Mage into Advent of the Wurm provides a lot of damage very quickly, allowing Bant Flash to "steal" games just like U/W/R Flash does with Harvest Pyre. The only difference is that Advent of the Wurm and Snapcaster Mage are going be three- or four-ofs, whereas Harvest Pyre will almost always be a one-of. At that point, you are no longer stealing games—you're winning them consistently.
Despite my initial distaste for the Bant Flash lists, I've grown to like the deck quite a bit. It has the tools to fight both aggressive decks and control decks in unique ways that I'm not used to. Advent of the Wurm is a large part of that.
Green might actually be better than red. Spot removal only does so much. What you typically need against aggressive decks is a single card that shuts down multiple cards of theirs, which Advent of the Wurm provides.
Esper Control
Warped Physique and Renounce the Guilds are two fantastic removal spells for Esper Control, which always had a tough time with things like Falkenrath Aristocrat and Assemble the Legion. That said, Zvi Mowshowitz broke down Esper Control elegantly in his article earlier this week, so you should definitely read it, even if only for that section.
This is what I would play:
I'm not playing Augur of Bolas because I think Terminus is very important right now, and Augur is very bad with Terminus—you want to be miracling Terminus whenever you draw it, not just putting it into your hand. Without Augur of Bolas and with a slew of new answers, you don't need Restoration Angel anymore.
You might think that Terminus is similarly bad with Sphinx's Revelation, but either Terminus gives you the turns you need in order to cast a meaningful Revelation or you're casting it for four and get to untap and sweep the board. Of course, you'd rather be Revelationing into cheaper spells so you can unload them all at once, but that isn't entirely necessary if you've got a lot of board sweepers.
Nearly every deck has creatures in them, and you can't lean on just four copies of Supreme Verdict to clear them all away. To top it off, there are cards like Boros Charm and Voice of Resurgence out there that make Supreme Verdict a little embarrassing to cast.
Warped Physique is obviously very good against Falkenrath Aristocrat, but it's also good against Obzedat, Ghost Council and Boros Reckoner. Together with Renounce the Guilds, there are very few troublesome permanents for Esper Control. If you're truly worried about monocolored planeswalkers, you could always sideboard some Detention Spheres.
Some of you may notice that I'm playing a lot more Syncopates than I used to. Obviously, Dissipate is a better card in the later game, but as more sets are released, the mana curves start tightening up. Having a counterspell on turn 2 can mean all the difference now. Late game, it usually doesn't matter if your hard counter costs UU1 or U5. You just want to be able to say "no," and that's usually worth as much mana as you have.
Blastphemous Act of Genius
Blast of Genius looked pretty powerful at first glance. After some Versus action, I got to see that it truly was powerful.
This is what I played against Brad:
I'd like to point out the fact that I missed all my creatures were Wizards. Instead of playing a bunch of white duals in order to cast Boros Reckoner off my "Islands," I should have probably been playing some Cavern of Souls. There are always those times where you could keep a hand but not when your Island is a Cavern or when you need multiple blue mana in a single turn, but I think playing Cavern of Souls is worth it.
The goal of the deck is similar to that of The Aristocrats: apply some early pressure, stop them from killing you, and then deal them a huge chunk of direct damage. Instead of Blood Artist to combo with Blasphemous Act, you have Blast of Genius that can deal nine damage with a Blasphemous Act or Catch // Release.
Catch//Release is also very interesting on its own because it allows you to steal their Boros Reckoner or Blood Artist before you cast Blasphemous Act.
Overall, the deck had the potential blowouts of The Aristocrats but lacked consistency. Some ways to filter my draws would be perfect, but I'm not sure if I want to play Thoughtflare. AJ Sacher played a similar deck and noted how mediocre Delver of Secrets was, and I'm inclined to believe him. Despite winning with incremental damage, Augur of Bolas is likely better.
U/B Aggro-Mill
The mill deck was mostly for fun but ended up feeling like it could be real. The threats are undercosted, and the colors are well suited for a tempo shell. Thanks to some helpful people in our comments section, I've arrived at this list:
The Notion Thief package didn't work out. Duskmantle Seer gives you more bang at the same mana cost and is better against more decks. A Nephalia Drownyard maindeck combined with Breaking or Mind Sculpt is another thing that turns on Jace's Phantasm. Plus, control decks will have a difficult time stopping the aggression on their life total and library.
Rest in Peace is still clearly an issue, but Duskmantle Seer doesn't care. Duress helps against Rest in Peace as well, but there's no good way to remove it that I can think of.
If you liked the look of the deck initially, you should try this list. I assure you it's much better.
Jund
Sire of Insanity is a good Magic card. Even though you might think it's worse than card X or card Y, you have to realize that Sire is still very playable.
I posted this last week:
Strangleroot Geist is awful!
Where are your planeswalkers?
Why are you playing cards that aren't $30 instead of Bonfire of the Damned?
Sire of Insanity is mean! Try beating me by playing a fair game of Magic!
Those are all valid reactions to my list. Magic is a unique game with unique players and unique card choices. You don't have to play what I recommend, but I will gladly lay out my thought process for y'all.
Strangleroot Geist is good against aggressive and control decks. Is it worse than Pillar of Flame? Sometimes, but sometimes it isn't.
Planeswalkers are getting worse. Lots of people suggested Pillar of Flame to handle Voice of Resurgence yet wondered why I cut Liliana of the Veil. Curious...
Of course, Garruk, Primal Hunter is still awesome against control and midrange, but that doesn't seem to be what the format is about or at least isn't what I'm super worried about at the moment. If your metagame is different, feel free to include more of it.
Bonfire of the Damned has a lot of modes, most of which are very good. Mizzium Mortars has two modes, both of which are very good. Whichever you choose to play is fine by me. If they have little guys, Bonfire might be more efficient, but I can probably stall until I have 3RRR. If they have medium guys, I'm going to want Mortars. If they have a Flinthoof Boar, I'm going to want Mortars. Obviously, any miracled Bonfire of the Damned is going to be fantastic, but I know what I'm getting out of Mortars every time and I like that.
***
This weekend, I'll be heading to Las Vegas to test Pro Tour Dragon's Maze, but I'll certainly be keeping my eye on the @SCGLive coverage of the StarCityGames.com Open Series in Somerset, New Jersey. The Northeast typically has large tournaments with a plethora of quality players, so I'm excited to see what happens in that tournament. I'd recommend Bant Flash for this weekend, but you can name literally any deck in the format and I wouldn't be shocked if it won the tournament.
Thanks to everyone for commenting last week. It's always nice to see what other people are working on, so I appreciate that. It's even nicer to see there's a lot of fellow blue mages out there!
GerryT
@G3RRYT on Twitter
'What guild am I?' Leave me alone, I'm not done with my research.

*goes back to notebook*