A new set is upon us control mages, and we go through the same process each time. We sift through the list of cards finding those that will either enhance our current control decks or shift us to a different strategy altogether. At this point, I'm not as excited and optimistic about this set as I was for Return to Ravnica or prior expansions since Dragon's Maze has provided a lot of flavor with legends but a ton of wasted slots full of overcosted mana ramp and lands that no one needs. It truly has the feel of a base set when it comes to usefulness, and if you are looking at the amount of impact the set will have on formats besides Limited and Block, I believe it will be very minimal.
This is not only a control problem—even aggro and midrange decks will gain very little momentum from Dragon's Maze. The beauty of Magic is that after this set is printed and distributed very soon we will get another set and then another. I understand we can't have Jace, the Mind Sculptors in every expansion; however, the amount of space used for awful Cluestones and a long list of overcosted cards leaves a bad taste in any deckbuilder's mouth. Today, I will provide a new Esper Control list for Dragon's Maze Standard toward the end of the article after a discussion of the Dragon's Maze cards that will be tested at some point. But before I get into all that, I want to briefly talk about my StarCityGames.com Invitational experience.
Lessons from the Invitational
My fourth Top 8 at the StarCityGames.com Invitational in Atlanta brought upon a surreal feeling. I piloted Esper in both Legacy and Standard, producing similar results as the past few tournaments, but this tournament was almost the one. I've never been a huge fan of tournament reports, so I don't do them. However, I think that I could help you all with a few tips I've picked up through these last four Invitationals.
Tip #1: Plan for a Control / Midrange Metagame in Standard
In any high-level event like a Pro Tour or an Invitational, players will pack a deck that has more decisions and a higher chance for strong play leading to strong results. This doesn't mean there won't be a few aggro players here and there, but you aren't trying to get 54th—your goal is to make Top 8 and even win. You know you'll have to beat Gerry Thompson playing control or Brian Braun-Duin playing midrange at some point in the tournament. If you sit across from me, it's likely you know exactly what needs to be done to defeat me, and this holds true for the majority of the crowd.
People that play in these events do not want to leave their fate up to the draws of Naya Blitz or on the back of G/R Aggro; they would rather Unburial Rites in Angel of Serenity or win a fight over an incredibly large Sphinx's Revelation. This isn't a debate on whether a control deck or an aggressive one is better. Rather, it's a simple observation I have noticed at these tournaments. In the last Invitational, I played against Naya Blitz once. My other Standard rounds were against control decks or high-end midrange decks. This doesn't mean choosing an aggressive deck is a bad choice, but it does mean your aggressive deck must be able to take down the higher-level players that are piloting their preferred archetype.
Tip #2: Don't Forfeit a Match
If you have to run maindeck Ground Seal or dedicate multiple sideboard slots to give yourself a chance to defeat G/B/W Reanimator, it must be done. Many times players will "concede" certain matchups or accept them as borderline unwinnable, but the beauty of sideboards and playtesting is you can make any matchup winnable. How many people counted Ross Merriam playing Elves out against Adam Prosak piloting Storm in the Top 4? [Editor's Note: This is awkward…] Even I had huge doubts, but Merriam had the full four Cabal Therapys and it was enough to defeat Prosak in their four-game match. Knowing your deck and its weaknesses is a huge advantage when deckbuilding.
In order to conquer a tournament like the SCG Invitational, you have to have game against decks that top-end players will be using. Not only do you have to be prepared for the best players, but you also have to have game against random decks piloted by newer players.
In the quarterfinals, I got paired against a valiant wizard by the name of Michael Hetrick. I dedicated only one sideboard slot to the Esper Stoneblade mirror because I knew that with some tight play and a little luck I could come out ahead most of the time. I was nervous to play against Hetrick with his multiple copies of Geist of Saint Traft in his sideboard, but using my sideboard hate for combo against him I was able to Cabal Therapy, Thoughtseize, and Inquisition of Kozilek my way past him to a 3-1 victory, with all of my wins coming in the sideboarded games.
Magic players like to speak in absolutes on a regular basis. I'm also guilty of this, and I try not to say "unwinnable" or "unlosable" as often as possible because these phrases will give you false sense of security and put you on major tilt when you lose the "unlosable." If Magic were truly a rock paper scissors game, then it would be all luck. On the other hand, if Magic were all skill, there would be no purpose to the game and we should just hand all of our trophies to Luis Scott-Vargas!
We have the power to craft decks in ways to give us the best chance of victory, and that should ultimately be the goal. Often, my readers come up to me and say, "I built this deck to destroy G/B/W Reanimator, but I didn't play it once," and my answer to them is that they should build a deck that can beat G/B/W Reanimator as well as the other decks in the format unless you are looking to Top 32 tournaments forever.
Tip #3: People Play the Same Legacy Decks
Earlier, I pointed out that most professional players tend to lean towards control decks in SCG Invitationals and other high-level tournaments. However, Legacy has a special clause that is attached: it's quite expensive. Because Legacy is such an expensive format, very rarely will players scrap their old deck for something completely new. Gerry Thompson ran with Shardless BUG again and Brian Braun-Duin added Deathrite Shaman to his Esper Stoneblade deck, but hundreds of players who have pieced together their pimped out Dredge deck or bought Jace, the Mind Sculptor for $150 each will stick with their deck selection for the long term.
This isn't a fact of life but is a tip I've picked up through these high-level Legacy events. I also follow the same rule because even if I wanted to jam Tarmagoyfs (hah!), I'm unwilling to pay the price to switch to Tropical Islands, Tarmogoyfs, and the other necessary staples. I know Esper Stoneblade is powerful—as do the other thousand owners of the deck—so even if my results weren't optimal in my last tournament, a savvy Magic player understands that variance exists and the next tournament could yield better results for the known powerhouse.
Tip #4: Mulligan Better
I have lost thousands and thousands of dollars due to poor mulligans. In the Top 8 of my second SCG Invitational, I refused to ship any of my openers and blew a 2-1 lead. Some players simply mulligan better than others, and I finally have figured out baby steps to get me to that level. I started doing it in two-man queues on Magic Online. It was easy to do there because it's $2 on the line instead of hundreds or even thousands. There I didn't care if I mulliganed into oblivion, and it was a great way to ease myself into the realm of common sense.
Arrogance is a key enemy in the world of effective mulligans because you feel as if you can draw out of every sticky situation and that's definitely not the case. Another enemy is a lack of caring, but that isn't reparable if your goal in Magic is not to hoist whatever trophy or prize is at the end. I've known for years that mulligans are one of the few elements that separate professionals from the average player and I still couldn't do it at a high level, but you can avoid the trouble I've gone through and do it the right way starting now.
An example of a hand I would keep prior to my rehabilitation is the all M13 land draw (Drowned Catacombs, Glacial Fortress, and Isolated Chapel) with Esper Control in Standard. You're effectively two full turns behind while piloting Esper, and your only hope is that your opponent is playing the mirror. If not, then almost any six you keep would be superior in every way.
Another hand is the two land + Forbidden Alchemy hand on the play. I've been shipping this hand back as of late, and it has been rewarding me in kind. I often keep this hand on the draw due to the three draw steps I have to hit any land, but even then my nerves are on edge as the fate of the game rests in a topdecked land. In Legacy, the infamous Brainstorm one lander is an auto-mulligan now for me. I see many players keep those hands, Brainstorm-lock themselves out of land, and then proceed to get crushed. Magic is at its skill pinnacle right now, and our biggest enemy is ourselves and the hands we keep.
Tip #5: Play Your Best Deck and Your Best Magic
This tip comes with the bonus tip of "see last article." In my last article, I went into great detail about why playing the deck you are the most comfortable with will give you the results you deserve. A SCG Invitational is a 16-round tournament, and with that amount of Magic comes fatigue, confusion, and mistakes. The best way to fight this nemesis is to use a deck that you're incredibly familiar with and that you know can bring game to any opponent.
I'm not saying you should play Esper in both formats like I do each time, but if you're a midrange player, make sure your Jund deck is polished and you've practiced nonstop prior. If you're less than 50/50 against the mirror match, then either you need some bullets to prepare you for the high-caliber player you will play against or more practice in the dojo needs to happen before you embark to the SCG Invitational in Somerset, NJ.
The most obvious tip is to play your best Magic. This cannot be stressed enough, and I have battled many local players over Facebook in arguments related to this topic. A lot of players that lose refer to luck a very high percentage of the time. "I got mana screwed then mana flooded" are terms that saturate the Magic community because variance is what makes Magic random and great.
The minute we stop blaming luck for every major defeat is the minute we start to pick up on our small mistakes. "Oh, I should have done line A over B" will pop up in our heads. Then we learn from said mistakes, and magically the variance gets cut by a line of reason and logic. It's not witchcraft that Paulo Vitor Damo da Rosa and Brian Kibler win all the time. It's not voodoo that leads professional players to the finish line more often than others. It's their tight play with powerful decks.
This is something that I want you all to comment on at the bottom if you have time. It is the age-old question: how much luck do you think is involved in Magic? I can't give exact percentages, but my best estimation is that there is just enough luck to make this game as great as it is and not a percentage more. Play well against good players at these high-level tournaments and learn from your mistakes. I guarantee this will help your game in the long run.
Dragon's Maze Additions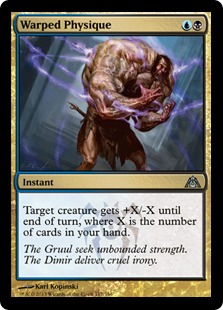 I begged the R&D Gods to give us a two mana removal spell that can actually kill scary things, and they delivered. This card is no Agony Warp; however, it deals with all the problem creatures of the early game that we used to have to waste precious Supreme Verdicts on. Cards like Huntmaster of the Fells, Olivia Voldaren, and Falkenrath Aristocrat were nightmares for Esper and now can be dispatched with ease.
A lot of players are concerned with the "topdeck" stipulation of the card, and if that's the case, then yes, it does suck. But when control is in a topdeck war, it's usually against other control decks that have one for oned you in the resource battle. Against those decks, it's obviously weak, but even if drawn in an earlier spot, Warped Physique isn't very effective there. Against the midrange decks, spells like Ultimate Price and Tragic Slip are pretty crappy, and I'm willing to risk a topdecked weak card when I have support from Forbidden Alchemy and Sphinx's Revelation. Don't worry, Esper players. Warped Physique is just fine.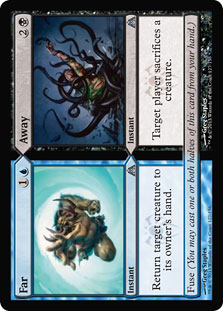 This is one of those versatile cards that still costs a bit too much to be more than a one-of. I like the fact that it can kill Obzedat, Ghost Council and other problem creatures later in the game. It also can fight off early Naya Blitz attacks by bouncing a countered up Champion of the Parish. This card has some reach and will be given a golden singleton slot, but I don't see it being more involved than that at the beginning or until the format slows down.
Aaaaand that's it! There are some cool cards that can be used in specific circumstances or in the future if you want to pick them up, so here are those cards that may be added in someday.
He's a big body with lifelink that is extremely tough to kill. So like Baneslayer Angel, right? Wrong! Without first strike and flying, this guy doesn't have the ability to defeat creatures he isn't protected against like that one green creature everyone is playing that gains five life—I forgot his name. Anyway, I'd pick up a few of these because against non-green decks I can see Blood Baron of Vizkopa being a nightmare to deal with. The only other negative about the him is that he shares the same mana slot as Obzedat, and I'm not giving up on the Ghost Council anytime soon for maindeck supremacy.
I honestly don't care when my opponent resolves a large Sphinx's Revelation later in the game because they usually are Drowning, but if you prefer to "icy grip" them all the way to the loser bracket, then this guy might be for you. Naming cards like Rakdos's Return is a losing battle because Esper and other control decks rely on mass removal to clear dangerous board states away. Since Council of the Absolute is a creature, it doesn't interact well with our ideal board state: an empty one. I can only see Council being boarded in against decks that we drop all of our sweepers against, but in that scenario I'd rather have another Negate than a four mana creature. Be that as it may, pick up a couple in case you want to Meddling Mage someone at your local tournament scene.
The best stat on this creature is protection from red. Her ability to put Huntmaster of the Fells in its place is almost enough to spike one of these in the sideboard. She might find a better home with Restoration Angels and other shenanigans, but in my control build I can see Lavinia being a one-of against Jund due to the amount of spells she is immune to since cards like Mizzium Mortars, Bonfire of the Damned, Olivia Voldaren, and Huntmaster of the Fells are all weakened. The key problem goes back to the four-of Thragtusk (oh, that's his name!) that everyone seems to be playing nowadays. Even with Thragtusk around, I can see Lavinia being a silver bullet against decks that have a few red cards in them.
A Couple Others
Dragon's Maze has a few cards like Sin Collector and Plasm Capture that I hope no one ends up playing because of how effective they are against my build of Esper. Sin Collector is on color and may be great against the control mirror, but I see people using him to try to combat G/B/W Reanimator and Jund Midrange. Those decks have very scary spells like Rakdos's Return and Unburial Rites, but the amount of creatures in them (including planeswalkers) makes it almost a guaranteed miss, especially later in the game. Against Esper or U/W/R Flash, Sin Collector paired with Restoration Angel can destroy an opponent in seconds. This is one of the cards I may not play much of but will hate seeing on the other side of the table.
Plasm Capture seems like a harmless, overcosted Mana Drain, but it is still a Mana Drain. I dread having Tamiyo, the Moon Sage countered and then my opponent untapping and playing a Sphinx's Revelation or multiple threats in one turn. I'm not sure how much play Plasm Capture will see, but my other control friends and I will appreciate it if none of you ever sleeve the card up and give it a try Thanks!
For those of you looking for an update, below is my most recent version of Esper Control. The sideboard doesn't have any Dragon's Maze cards yet because, as you all know, the metagame takes a bit to settle before we fix areas of weakness.
I hope you all enjoyed the article and plan on grinding an Invitational Qualifier or two to get an invite to a SCG Invitational. I guarantee you'll have a great time and meet great people. For those who have played in one before, you can be a testament to the amount of high-level play that goes on in the Invitational arena. The tips in the article were all part of the learning experience for me, and I bet many of you already have some of those pointers down to a science. I challenge you to come test your skill, and with a little bit of luck, you could leave with your face on a token for a bit of nerd immortality. Thanks for reading guys, and I'll see you around!
Creatures (5)
Planeswalkers (7)
Lands (26)
Spells (22) Shaheen
@Shaheenmtg - Twitter
Soorani.mtg@gmail.com - Email
Shaheen Soorani is a renowned deckbuilder and Pro Tour competitor. His finishes include 9th at Worlds 2006, Top 8 U.S. Nationals 2008, Top 32 Pro Tour Amsterdam as well as participating in 11 PTs over the last few years. He's made Top 8 of four SCG Invitationals.