Dear Azami,

I recently read that you and Cassidy want to tackle the same decklist, and I quickly wrote up one I was working on loosely for a legend I didn't think you had used. I submitted it immediately because I didn't want to miss getting one in. I realized right after I sent it that the deck and my intentions for seeking advice about it were nothing special. I just wanted to get out a lot of creature tokens and swarm my opponents with them. Realistically, I don't even touch this deck. Sure, I sat a bunch of cards aside for it, but I've never finished it. It's because it doesn't resonate with me.

You mentioned that you were wondering what classic commanders you haven't worked on yet for Dear Azami, and I got to thinking. What about Scion of the Ur-Dragon? I'm not sure if you have ever taken a look at building one, but Scion was the first ever EDH deck that I built. Dragons are my favorite creature type besides Squirrels (I used to have a Squirrel token generating deck that transformed them all with Day of the Dragons).

As I learned more about deckbuilding for 100-card singleton decks, I branched out to other decks and would reach back to the Scion deck from time to time to ration cards for other decks and occasionally add a card in that I thought might be good if I ever returned to it. But I haven't until now. I really want to bring this deck out of hiding and into the forefront of my decks where it belongs. I want to raise the phoenix (well, Dragon) from the ashes.

Dragons

Scion of the Ur-Dragon
Vorosh, the Hunter
Skithiryx, the Blight Dragon
Utvara Hellkite
Hoard-Smelter Dragon
Teneb, the Harvester
Flameblast Dragon
Mana-Charged Dragon
Moonveil Dragon
Steel Hellkite
Scourge of Kher Ridges
Dromar, the Banisher
Broodmate Dragon
Bladewing the Risen
Bogardan Hellkite
Moltensteel Dragon
Balefire Dragon
Mordant Dragon
Karrthus, Tyrant of Jund
Hellkite Overlord
Numot, the Devastator
Dragon Tyrant
Dragon Broodmother
Draco

Non-Dragons

Joiner Adept
Maelstrom Archangel
Balthor the Defiled
Elvish Piper
Shifty Doppelganger
Bringer of the Black Dawn
Doomed Necromancer
Dragonmaster Outcast

Planeswalkers

Enchantments

Crucible of Fire
Braid of Fire
Maelstrom Nexus
Mirari's Wake
Wild Pair
Animate Dead

Artifacts

Chromatic Lantern
Aether Vial
Fist of Suns
Darksteel Ingot
Fellwar Stone
Quicksilver Amulet
Armillary Sphere
Journeyer's Kite
Belbe's Portal
Kaleidostone

Instants/Sorceries

Breath of Darigaaz
Seething Song
Cultivate
Kodama's Reach
Crop Rotation
Harrow
Cauldron Dance
Living Death
Patriarch's Bidding
Twilight's Call
Dragonstorm
Tainted Strike

Lands

Command Tower
Rupture Spire
Exotic Orchard
Meteor Crater
Mistveil Plains
Sunhome, Fortress of the Legion
Temple of the False God
Homeward Path
Krosan Verge
Bant Panorama
Evolving Wilds
Terramorphic Expanse
Kessig Wolf Run
Spinerock Knoll
Akoum Refuge
Battlefield Forge
Scabland
Fungal Reaches
Shivan Oasis
Gruul Turf
Mossfire Valley
Forgotten Cave
4x Forest
4x Mountain
3x Swamp
3x Island
2x Plains

As you can see, the mana base is a mess. It favors red and green and has some underperformers like Fungal Reaches and Forgotten Cave. Several cards like Seething Song and Braid of Fire are great for Firebreathing, and there are a lot of red cards. I don't know if Braid of Fire is really pulling its weight even if I can stack Scion's effect.

Moltensteel Dragon is a card that everyone thinks is great because of commander damage. I added it in for the Firebreathing potential that it has, but I don't really like it—why have a card in that you don't like?

I've been thinking about adding Teeka's Dragon and maybe taking Draco out. I had a Crystal Quarry in, but it went to a different deck. Tainted Strike can clear out an opponent that is getting out of hand, but it feels too out of place. I don't want cheap ways to win with this deck; I just want to have an imposing force, a glorious Dragon that I enjoy playing with, and a good time.

-Kristjan
You are correct, Kristjan, that Scion of the Ur-Dragon is a card I have never covered. This has in fact been an intentional oversight, not an accidental one—Scion decks lend very easily to a combo kill finish, and I have never met a Scion deck I didn't believe I needed to kill on sight before it killed me. Even before the addition of Skithiryx, the Blight Dragon, I felt it was pretty clear that with just a transformation or two you could anticipate a lethal swing from a Scion, and the ability to gain haste on top of the rest of the tricks you can expect made them far, far too dangerous to leave alive.
When I take a submission for Dear Azami, I am trying to bring it into a sweet spot within the range of what I consider "acceptable"—to try to bring the envelope that is being pushed into the shared play space of Commander's social contract. And I suppose you could say I have been hesitant at best to take this particular challenge in the past because it is exactly that pushing of the envelope that attracts us to Scion of the Ur-Dragon in the first place. It can be fair or it can be good, but can it be both?
Scion of the Ur-Dragon and Sliver Overlord are the two five-color commanders I feel automatically rise to the top of my "kill on sight" list because with a fairly minimal investment of cards (all of which the Commander tutors up), it gets out of hand far, far too readily. While I could believe you when you say it's just there for the colors, I tend instead to not—I'm nowhere near as afraid of a Progenitus deck or a Child of Alara deck, and those are the same colors and potentially very strong commanders as well. I'm not afraid because they can't easily combo-kill me using a commander they automatically have access to and your commander can.
I've halfheartedly built a Sliver Queen Commander deck that was all about the Queen's ability to generate blockers for my heavy-planeswalker deck, and some of the goofiest fun I've ever had was with my five-color mono-brown Reaper King deck because I let it focus on the strange space Sunburst and five-color-matters artifacts take you, so I know you can play five colors in Commander without being naturally broken. But those two Commanders break without trying hard, and in a way I tend to not find interesting.
So I wanted to make this a Dragon beatdown deck, not a combo deck, though to some degree the combo will still be present. After all, the "combo" really is just "Dragon Tyrant is in my deck," letting you use double strike and Firebreathing to hit the magic number of 21 commander damage to knock an opponent out. While that is a thing you can do, I wanted to be sure it was only a thing you could do once—and poison damage is right out, sorry Skithiryx, because this is going to be a Dragon-based beatdown deck, not a combo deck, even though it does have the ability to knock one person out basically right away if that needs to happen.
With great power comes great responsibility, after all, and the best way to earn the ire of your playgroup is to just use your tutor-based combo killing Commander in a boring, repetitive fashion with that as the effective Plan A. Here it's barely Plan B—sure, you can do it, but doing so costs you the potential later, so are you really sure you need to now and that's an option worth closing off in case of future emergencies?
You can't take the Dragon out of the combo, but you can take the combo out of the Dragon.
We begin with the mana base, which needs a good pulling apart as you well noted. We're going to put it back together on the fairly cheap, however. Your big-spender five-color decks may run off of twenty dual lands and ten fetches, but you're nowhere near the beginnings of that, so we won't attempt to get anywhere close to that end result. We're just going to try to have enough mana of the right colors at a low enough cost to operate smoothly.
You're going to see more lands coming into play tapped than I usually like to have, but since you're not playing solely for aggressive speed, that's going to wind up being an acceptable cost to get the mana where we need it to be. You have a fair number of effects you're using to put your Dragons into play without having to cast them, and not one of them is going to survive the purge, so we need to be sure you can actually cast your spells consistently and effectively.
OUT:
Mistveil Plains, Rupture Spire, Meteor Crater, Bant Panorama, Akoum Refuge, Battlefield Forge, Scablands, Shivan Oasis, Mossfire Valley, Forgotten Cave, Swamp, Island
UPGRADE:
4x Forest, 4x Mountain, 2x Island, 2x Swamp, 2x Plains all becomes Snow-Covered Lands. While we are only adding one card that needs Snow mana to operate, that card is worth digging out your basics and finding Snow basics for instead.
IN:
Team Vivid: Vivid Crag, Vivid Creek, Vivid Grove, Vivid Marsh, Vivid Meadow. You need high-functioning five-color fixing on the reasonably cheap, and the Vivid lands are an ideal way to get the mana you need without having to completely redesign how your mana works or make too many search-for-X decisions that can end up biting you in the butt later if you pick based on needing the mana for one Dragon and draw a few of another minor color instead. If it's not red and green, it's not your strongest suit, so this lets you add enough white, blue, and black mana to your mana base without having to lose access to your main colors or wind up on the wrong side of a decision that was correct in the moment.
Savage Lands – Your third color is clearly black if it's anything since you do dip into that color fairly considerably for Living Death and its cousins to reanimate your Dragons en masse. That means Savage Lands is worth including, while its cousin Jungle Shrine doesn't seem nearly as worth it.
Rakdos Carnarium – Cycle completion of a sort. Gruul Turf was good enough to include since your primary color is red and green is your next most plentiful color to need access to on time. Black is also a color you use plentifully, so Rakdos Carnarium suggested itself for inclusion.
Molten Slagheap – Likewise, I agreed that Fungal Reaches was potentially doing good work, giving you the ability to store mana cheaply for later Firebreathing use when you go for one big turn of Dragon shenanigans. This gives you the ability to play a near second copy since this is the other one that lets you store red mana and is just as valuable an inclusion to set up for shenanigans with.
Crystal Quarry – You don't want to run into problems where you can't cast your commander or any other Dragon just because it's hard to access the one of a particular mana you might be missing of your lesser colors. Crystal Quarry helps hit Scion of the Ur-Dragon close enough to on-time to not matter and can even potentially help turn colorless mana into colored mana if you find you have too much colorless to really work with effectively.
Bojuka Bog – You have a plethora of Living Death style effects and no way to remove a graveyard from the equation save by killing the person who stocked theirs before you do it. That option won't usually be available, but Bojuka Bog can help counter some of the painful symmetry that is involved in the use of those spells.
Reflecting Pool – Reflecting Pool provides an ease of access to the colors you need without coming into play tapped. Sit it next to a Vivid or your Command Tower and it is just as good as the Command Tower itself (i.e., the best land in your deck).
City of Brass – No pain, no gain, right? You start at a plentiful life total and presumably will not have to tap this too excessively over your average game, and you'll be glad when it helps you fix your mana without asking you to jump through any hoops first. While it's true Gemstone Mine is better up until you need the fourth use of that mana and would rather have lost the four life than lose because your land is gone, I do think it's considerable that you'll use this four or five times without minding the pain and being glad it's still there. And since you need to hit your higher land drops, Undiscovered Paradise is just right out.
Moving on to the artifacts, we mostly have cuts—five out and only two back in. Three are, as mentioned, things you were using to put Dragons into play without casting them: Aether Vial, Belbe's Portal, and Quicksilver Amulet. The other two cuts are Kaleidostone and Fist of Suns because frankly you need help fixing your mana in a meaningful way, not playing a random artifact that will maybe let you pretend you have a Crystal Quarry in play or let you cheat on the mana of a heavy drop by paying five instead of nine. We want to focus on paying the actual casting costs of your actual spells and making sure the mana base is stable enough to do so without there being any games where you're stuck there not doing anything.
Three slots move over to the spells side of things to give you more action, and the two replacements are pretty clear no-brainer staples—the kind that are obviously good and some purists may yell at me over because How Dare I Just Add A Staple Card And Call It Innovation. While I don't think "add Sol Ring and Coalition Relic" is the kind of advice people send me their decks to receive or people read to see given out, that's nonetheless exactly correct in this regard, and we shall simply say "do that" and move on to the interesting parts of the deck.
I struggled somewhat with what you were trying to accomplish here, trying to get interesting and techy and find a way to use Scion's ability with some kind of a put-stuff-in-the-graveyard-matters theme. I liked that this was being used mostly as a repeating, mass Buried Alive to fuel a whole host of Dragons flying into play from the graveyard seemingly out of nowhere, but in trying to pursue that further I ran up against the fact that this would be a neat way to set up reanimation effects but that the effects in and of themselves would not be that interesting or even that special, limited as it is to picking up Dragons.
I did try tofind a way to use the top of the library and the top of your graveyard in more interesting ways as part of the deck's planning, but that was mostly to make up for the fact that you're largely limited to drawing one card a turn—you have access to all five colors of card advantage if you want them and for the most part are eschewing any ways to get up on cards at all, leaving you chained to "just" the draw step.
I did, however, start to notice something of a "casting cost matters" theme developing and thought this might be an excellent time to start debuting some of the Dragon's Maze cards that could potentially fit in with that theme and take advantage of your ability to play spells of all five colors while we had it. I'm more interested in some of the spells from Dragon's Maze than any of the commanders, to be perfectly honest, and this is an ideal opportunity to put some of them to work.
OUT:
Breath of Darigaaz – Clearly included more for its Dragon theme than any effective utility, this just doesn't really add much of anything to your gameplan.
Seething Song – If we wanted a ritual effect, the first one would be Mana Geyser for its ability to generate an absolutely absurd amount of mana if you try to. I'm not convinced we want a ritual effect—sure, you have Dragonstorm, but as something quirky to do for profit in the late-game, it looks like you're adding it as a more interesting version of Tooth and Nail, not to ritual out an entire flying horde with and finish everyone off with Karrthus sending them over the top. Just as a way to pump for Firebreathing is not a good enough reason to include a ritual.
Braid of Fire – Again, this is just here to pay for Firebreathing on your choicest Dragons. I know it can provide a lot of mana to do so if you keep it around a while, but you don't have any way to really capitalize it in order to play spells—just use Firebreathing pumps—and that's not enough to warrant the card.
Harrow – We've already swapped in my replacement of choice here when we added Coalition Relic to your mana rock lineup. Maybe it's just me, but some people like countering this just to chuckle and that cost is surprisingly real. Maybe I'm overreacting to a six-month-past Memory Lapse still, but I need to see a lot more justifying this particular card when I see it because it's not as low risk as it's assumed. Cultivate and Kodama's Reach are quite solid, and if you need more on top of those, Recross the Paths is better than we usually give it credit for—you can't pick which land you find, sure, but it also can find nonbasics instead of just a basic land.
Crop Rotation – No land you're playing is worth going two-for-one to find it. For a bit more mana, you could use Expedition Map, and at least the Harrow actually accelerated your mana. The best you could do is try to break even off a bounceland, and I doubt that was the intended first use of this card when you added it.
Animate Dead – I don't really like half-measures with reanimation effects, so adding just the one made this a conspicuous addition. They're better when you play multiples and enablers instead of just playing them as solid draws later in the game because they're very efficient for the cost, and while you do have a wee bit extra reanimation in the creature section too, you won't by the time I'm done with this. They don't justify each other. They seem like also-rans in your mass-reanimation theme, and sticking to that major theme is better than adding this minor branch to it.
Tainted Strike – No, it shouldn't be this easy for you to kill someone, and brownie points do not go to the person who manages an unsatisfying combo kill out of nowhere enabled by a Tainted Strike. Your commander is already potentially overpowered as it is—adding this and using it will do you no favors overall as the things you bring to the table as your weapons of choice will be treated as exactly that—an intentional choice—and thus one it is entirely valid to reciprocate against you for.
We've made seven cuts and will make eleven additions. We've cut three additional artifacts, and in the last part of the deck we'll end up shaving one total creature from the count as well, all of which moves over to here.
IN: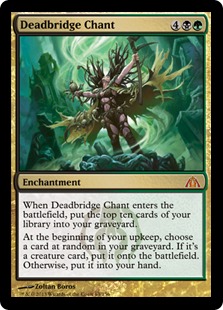 Deadbridge Chant – Our inclusion of Dragon's Maze cards to your Dragon-themed deck begins here, which I imagine is sufficiently pleasing to forgive me for replacing Darigaaz's mini Earthquake. Deadbridge Chant is part recursion and part reanimation and brings food to the party as well—the top ten cards as potential fuel for reuse. This will probably—and deservedly—draw the graveyard responses your way, so you shouldn't have a chock-full graveyard even if you try, meaning with your Commander online this is actually just an opportunity to reanimate the creature of your choice each turn as the worst-case scenario.
The best-case scenario of being left alone is an uncontrollable but entirely awesome bonus resource each turn, while the worst-case scenario of forcing a Relic of Progenitus or Bojuka Bog to be fired off works synergistically with your commander.
Catch // Release – Catch by itself is a sorcery speed, non-split second Word of Seizing. As those are two dirty words against "instant speed" and "split second is AWESOME!" it needs something to pay you back, and that something is two mana saved. Release by itself handles pesky planeswalkers, artifacts, enchantments, and creatures by offing one of each from everyone, and you barely have artifacts, enchantments, or planeswalkers to call your own, so this is going to cost you a land and a creature to hit considerably more permanents of your opponents'. But, of course, neither come "by itself" thanks to the fuse mechanic—you can isolate the thing which most needs to die, kill it beneficially, and get a whole lot more value for your card while you're at it.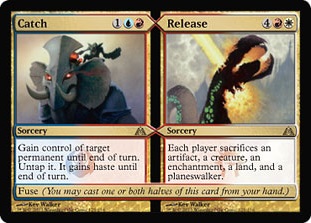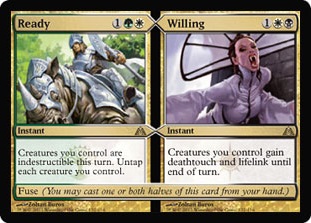 Ready // Willing – This, paying both sides, is about the gnarliest combat trick imaginable. Your stuff can't die, kills whatever it hits 100%, gains you a pile of life, and doesn't even have to start by being untapped as blockers in order to come to your defense? Whether you're using this as a defensive trick or on the offensive, it's the kind of trick Commander as a format lives for, and you have a lot of trampling creatures that combine interestingly with the deathtouch this gives out like candy, so it will be better in your deck on the offensive than in most.
Flesh // Blood – You put huge things in the graveyard as a matter of course and like killing people with commander damage. Flesh by itself pops a whole lot of power onto the creature of your choice, and as yours start Dragon-sized that turns a big flier into a ginormous flier instead. Blood by itself will be surprisingly useful as a removal spell. Add the two together and you crank up your damage capacity out of nowhere, adding +6 to your next attack and probably doming someone for twelve right now, potentially striking someone dead from what they thought was a comfortable life total. Isn't that way more interesting than Tainted Strike?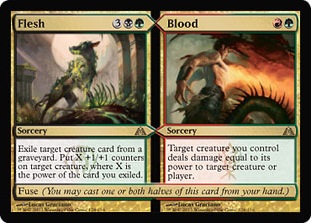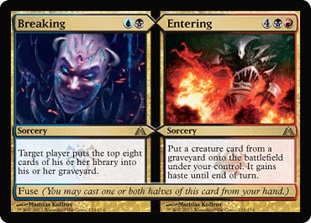 Breaking // Entering – Let's just get the obvious eighth-grader joke out of our systems and agree it sounds pretty awesome to be Entering all over someone. Put the two together and you get a sweet reanimation spell that can even be quite powerful off an empty graveyard. Entering is much more like Cauldron Dance than it is like Animate Dead—it doesn't just reanimate a threat that you probably set up with Scion of the Ur-Dragon, but it gives it haste directly, letting you swing. I'm not really interested in reanimation without haste in this deck and made my cuts and additions with that in mind.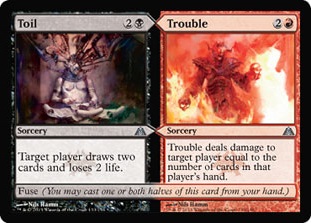 Toil // Trouble – This one is more of a griefer card to add to your arsenal. It's a minor card drawing effect, letting you get a slightly overcosted Night's Whisper in a deck lacking plentiful card advantage sources. The addition of this card is clearly meant to fuse both sides and kill someone for overstocking their hand with Reliquary Tower on the board. You know who that guy is—he does it all the time, has a grip frankly overflowing with cardboard, and is either going to be impossible to kill or is just asking for it. That you can kill them and draw two cards as you do it, well, that's just style points really, if they're so rich that you don't need to use both halves because those last four possible points aren't needed.
I think at least in the near term any Commander deck that can play this should; I really like the small but useful card drawing effects and am happy to play Night's Whisper generally, so overcharging me for that but stapling "kill target smug bastard" onto the card as well absolutely delights me.
The thing most worth noting with all five of these is that your Maelstrom Nexus just got a whole lot more hardworking. It was just a neat sort of freeroll since you have all five colors and cascading is a good way to get a free profit on each spell, but now you can cast Kodama's Reach and cascade into Breaking // Entering because Breaking costs two—and Enter a Dragon for free. Adding them hit the sweet spot of "Dragon's Maze cards are totally Dragon-themed," a bit of "casting cost matters" theme as you'll see in a bit, and the shenanigans with cascade on top of just how absurd all of them can be if you fuse them.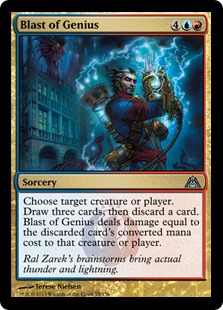 Blast of Genius – I wanted a dash more card advantage and figured you'd approve of picking one that happens to dome your opponent while you're at it. Discarding a Dragon will be a typical event and is in keeping with your original plan of action—you have plenty of them, so that one can likely be declared as "the spare Dragon." It happens to deal a whole lot of damage if you discard a wayward split card to it too—and we've just added five.
Survival of the Fittest – Finding the right Dragon for the moment can be a hard thing to do, and sometimes Scion won't be able to fill the role entirely by himself. Hinder and Oblation happen, after all, or some other shenanigans getting in the way—and with one other addition in the creature section, this can not just fill your graveyard for your Living Death effects but put one of those cards in your hand as well, assembling all of the combo right out of the box and letting you pile on a whole mess of Dragons. But it's Survival—good card is good, you don't need a lecture.
Lurking Predators – I liked the cut of your Wild Pair and thought you might appreciate having another enchantment that adds free resources and potential bonus Dragons on a fairly regular basis. You don't have a lot of ways to get bonus resources for free, so this happily replaces more traditional card draw effects while helping make up for the fact that I cut all of your Quicksilver Amulet effects.
Impromptu Raid – Even temporarily making use of a Dragon seems like you consider it to be profitable, as Cauldron Dance suggested, so I think this is something you can sort of get behind. This lets you spend your mana each turn on potentially getting extra Dragons ready for the attack, and while it's true that this would be better if I also made you add a Sensei's Divining Top or we went overboard on Scroll Rack too, even just going blindly you're playing a deck with 30 creatures, many of whom are Dragons, this will hit something meaningful enough of the time and can get really out of hand if you have a ton of mana and a little bit of time to sink into it.
Dragon Breath – I imagine there's sort of a running gag out there where depending on which author answers your submission decides which half of the Winding Canyons / In The Web of War split card you get added to your deck. We're both trying to impart the same basic lesson, just using our preferred card for the job in the telling of it: that playing things at sorcery speed on your own turn and waiting through everyone else's turns before getting to attack with it will tend towards your animal dying in a disappointing fashion without accomplishing everything.
In this week's particular case, the large bulk of your creatures return Dragon Breath to play (though ironically, your commander does not, but he has plenty of ways to get haste of his own accord), and this Dragon-gift grants the haste often needed to make your creature worth the investment, as well as Firebreathing to those like Dromar and Numot that might otherwise lack it.
This brings us to the last section that requires our attention: your creature base. We owe one slot to the spells section, and I have eight total cuts to make and seven additions.
OUT:
Joiner Adept – Fixing your mana base upfront is better than playing a fragile creature with the intentions of using it to fix your mana. Cutting the Joiner Adept and adding the Vivid lands seemed the obvious choice it itself was suggesting, and I simply listened to it and followed its advice.
Elvish Piper – One of the main reasons I might be interested in the Quicksilver Amulet crowd would be the ability to play creatures at instant speed at the end of other players' turns, so I can make sure I get at least one attack before the next sweeper spell wipes the board. These cards are effective mostly at changing the tempo at which your cards play on the table, and the risk that your creatures may get caught in a sweeper that wasn't necessarily intended for your monsters. Elvish Piper gets caught up in every possible sweeper spell, depriving you of access to this effect, so the vulnerability of the card undermines the potential benefits that could be reaped.
Shifty Doppelganger – So very, very much has to go right in order for this to be worthwhile, and 'be worthwhile' in this regard means an expensive attempt at replicating Sneak Attack. Yes, the seemingly-ridiculous price tag Sneak Attack carries now that it is a Legacy staple puts it out of your effective reach, but your Doppelganger stays dead if the creature bites a removal spell or even if it trades in combat, so my innately anti-Panglossian pessimism tells me that we do not live in the best of all possible worlds which this card thinks it occupies.
Doomed Necromancer – Reanimation effects you're either on the bus or you're off the bus, and besides mass reanimation via Living Death effects, you're not really on the bus. To make reanimating critters a plan rather than a minor flavor capitalizing on the effectiveness of low-mana cost cards getting random big things from the pool of dead creatures, you need a sufficient density of support spells that set up creatures to be reanimated. As an afterthought rather than a plan, and one that has to have a 2/2 live through your untap step, this really is just asking to be cut as we streamline for effectiveness.
Skithiryx, the Blight Dragon – Being "that guy" is verboten. Yes, you could quite easily get the haste and +6 power from shifting through a variety of other Dragons to make this a one-shot kill with minimal fuss, but the answer to should you? is a resounding no. It's at least vaguely sort-of cool to get hastily double striked to death via Scion of the Ur-Dragon if it has taken some work to do; poisoned to death by Skithiryx after a brief time as Moltensteel Dragon for the free pumps is just not satisfying to anyone.
Mana-Charged Dragon – Triggered effect Firebreathing rather than actual Firebreathing is not very helpful to your Scion shifting around, and frankly I doubt that anyone is ever going to help pay to kick the crap out of an opponent. The join forces mechanic in this case is a hindrance, not a real option others may politically elect to partake of, which means there are still better Dragons to add if we try and we need this slot back.
Broodmate Dragon – For Dragon token making, we're going bigger and goofier, so this just happens to be a very efficient eight power for six mana Double Dragon style. I had no problem cutting this from my Jund deck back when everyone still thought it was the best card in the mirror, instead of the last card discarded to Blightning, and I have no problem cutting this from your deck either to aim for better monsters.
Draco – Just an expensive monster and perhaps an amusingly expensive monster if we wanted to aim to discard it to Blast of Genius. The Blast will still be able to deal somewhere in the neighborhood of eight damage surprisingly reliably, so we don't need to keep in a weak Dragon just for the giggles of getting to sixteen someone. (If you want to keep it in until you do and examine that sensation for yourself, that's your prerogative—you may be more prone to giggle fits than I am.)
IN:
Netherborn Phalanx – In addition to sometimes being able to just kill someone after they play an Avenger of Zendikar, this is part of your Survival chain thanks to its transmute ability. Survival plus one creature in hand can pull out as many Dragons as you have the mana for, ending on Netherborn Phalanx and then Transmuting for Twilight's Call. While the Transmute plan is really why it interests me, this is a format full of people generating ridiculous levels of resource access, so like how Trouble was worth including just because it would one-shot the fantastically wealthy, the Phalanx is here to punish those who get too far out of line and overreach.
Volrath's Shapeshifter – I was looking for some "top of the graveyard matters" cards as companions to Scion's ability to manipulate the top card as part of his shapeshifting power. Volrath's Shapeshifter alongside Scion lets you attack with two copies of whatever things you want as long as you never hit a legendary creature and thus legend rule yourself, potentially amping up your damage-dealing capacity off of a surprisingly cheap card that no one will respect til it kills them out of nowhere Full English Breakfast-style. And just like the original Full English Breakfast combo deck, you can set this up with Survival of the Fittest, not just your commander, because we're going for the style points here.
Zirilan of the Claw – My counter-argument to your Shifty Doppelganger, Zirilan serves much the same purpose without potentially killing itself or putting you down a card in hand and tutors for the right dragon of the moment as well while it's at it. Dragon summoning the right tool for smashing face is a satisfying feeling, and this particular Viashino legend is one I have been quietly wanting to put to use for some time now.
Rimescale Dragon – The reason for your Snow mana, Rimescale Dragon helps lock down problem creatures, tapping them to get them out of the way and then keeping them tapped in order to nullify them entirely. I consider this the companion Dragon to your Scourge of Kher Ridges, as I tend to find if I'm reaching for the Scourge as a board control element that I would be happy to have more things doing a similar job. Unfortunately, since it doesn't outright kill things, your opponents can get access to their stuff back by killing the Dragon, but even with that being true you can use this very effectively as a political tool rather than just a club and keep it around for a lot longer than you'd think, keeping hassles off your back and the Dragons connecting for damage.
Nicol Bolas – Is it a little mean to wipe someone's hand instead of one-shotting them? Which is meaner, killing someone for being too dangerous to let stay in the game or neutering them without killing them and letting them potentially get back into the game at some later point? This isn't intended to be a mean tool but instead is a primary means of breaking up a combo deck short of actually pulling the trigger on your one-shot combo kill technique. And besides, it's Nicol Bolas, who is generally accepted to be the most badass Dragon there is. If anyone says that was you being mean, just remind them that the other option was in fact painful, fiery death, and you're going to lay off them for a while and let them try to redeem themselves now that they aren't as threatening anymore.
Spellbound Dragon – Another part of the "casting cost matters" theme, this is a Dragon you can shift through in order to provide a significant attack bonus without having to spend the mana on Firebreathing and can even improve your hand if you're just using it on the fair rather than as part of a turn your Scion shifts forms multiple times during the attack. You can pretty routinely get +6/+0 out of the bonus, but it's important to note that you need to be the Spellbound Dragon when you declare attacks, so you can't shift into something with haste, attack with it, and then shift into this to get the free bonus on your way to shifting into something else—Scion needs to be able to attack without haste in order for this particular trick to work.
Hellkite Charger – This, alongside your plentiful Living Death effects, strongly suggests to me that your opponents will tend to die when you hit your critical mass. That's not a bad thing because frankly a bunch of undead Dragons coming out of nowhere to attack for a ton is the kind of swingy, fun, interesting (and preventable) combo that people can lose to with grace and a smile. Your plan of action involves dealing damage by the boatload once you have enough mana, and in this case Hellkite Charger is on the team to make sure that a kill is in fact a kill.
And as the creature with haste for Scion to shift into, if you have enough mana you can do the shift-through-Moltensteel-into-Tyrant chain and kill not one but two people with commander damage out of what appears to be nowhere, which is far more interesting and cool than doing it to one person. This way is flashier and allows two people to commiserate about how they should have seen that awesome kill coming but they just didn't, turning this into a story rather than boring repetition of how Scion of the Ur-Dragon just does that to someone sometimes.
Putting it all together, we get the following decklist:
Creatures (31)
Planeswalkers (2)
Lands (38) As always, for participating in this week's Dear Azami, Kristjan will receive a $20 coupon to StarCityGames.com to lighten the blow of some of the expensive cards I've gone and added. This one's not exactly cheap—that coupon could go to buy one card, just the Survival of the Fittest—but as the median price of all the cards is $0.79 and the total price is around $80, I felt I could get away with making an expensive addition or two because the rest of the suggestions tended towards the very affordable. Pricing it out, more than half the cards were under a dollar, and there is also the additional joy of getting to put so many new cards from Dragon's Maze right to immediate use.
| | |
| --- | --- |
| CARD: | PRICE: |
| Bojuka Bog | $0.25 |
| Dragon Breath | $0.25 |
| Netherborn Phalanx | $0.25 |
| Molten Slagheap | $0.39 |
| Hellkite Charger | $0.49 |
| Impromptu Raid | $0.49 |
| Rakdos Carnarium | $0.49 |
| Toil // Trouble | $0.49 |
| Spellbound Dragon | $0.75 |
| Vivid Grove | $0.75 |
| Volrath's Shapeshifter | $0.75 |
| Nicol Bolas | $0.79 |
| Vivid Crag | $0.79 |
| Vivid Creek | $0.79 |
| Vivid Marsh | $0.79 |
| Vivid Meadow | $0.79 |
| Catch // Release | $0.99 |
| Rimescale Dragon | $1.25 |
| Savage Lands | $1.39 |
| Flesh // Blood | $1.49 |
| Ready // Willing | $1.49 |
| Breaking // Entering | $1.99 |
| Zirilan of the Claw | $1.99 |
| Lurking Predators | $2.49 |
| Crystal Quarry | $2.99 |
| City of Brass | $3.99 |
| Coalition Relic | $4.49 |
| Deadbridge Chant | $7.99 |
| Reflecting Pool | $7.99 |
| Sol Ring | $9.99 |
| Survival of the Fittest | $19.99 |
We are coming up very soon on Article #100 of Dear Azami; I had thought this was #97 while I was keeping track of things, and in preparation for the upcoming milestone I put together a list of every article and commander covered—only to discover my count was off and this is #98, not 97. That means that Cassidy gets to cover the ninety-ninth problem here next week, and I'll be back in two weeks with #100 as we continue our recent theme of kicking it old-school style, closing out this first hundred editions with some of the best and most beloved commanders in the format.
So if you see a favorite commander you don't think we've covered yet, feel free to send in your submissions using the link below—we're going to try to cover some of the more obvious gaps in the next few weeks, but we can't cover a submission that has never been submitted to us. This is a collaboration between multiple authors and potentially every reader that sends us a deck—by intentional design, we can't do this without you.
-- Sean McKeown
Want to submit a deck for consideration to Dear Azami? We're always accepting deck submissions to consider for use in a future article, like Imshan's Melek, Izzet Paragon deck or Matt's Teysa, Orzhov Scion deck. Only one deck submission will be chosen per article, but being selected for the next edition of Dear Azami includes not just deck advice but also a $20 coupon to StarCityGames.com!
Email us a deck submission using this link here!
Like what you've seen? Feel free to explore more of "Dear Azami" here! Feel free to follow Sean on Facebook...sometimes there are extra surprises and bonus content to be found over on his Facebook Fan Page, as well as previews of the next week's column at the end of the week! Follow Cassidy on his Facebook page here or check out his Commander blog!