Dragon's Maze is finally here and finally legal. This weekend's SCG Open Series in Somerset, New Jersey gave us our first taste of the new set in Standard. As can be expected when a set is less than a day old, the field was predominantly existing archetypes, though almost everyone had Dragon's Maze updates. Not every set has such an immediate wide reach, but it has become pretty clear to the competitive scene that Dragon's Maze features a lot of tournament cards.
So, G/B/W Reanimator won.
Wait, wasn't G/B/W Reanimator the deck to beat at the end of the last season? Did Dragon's Maze change nothing?
Well, we knew G/B/W Reanimator was going to be good week 1. It was the existing best deck, and it did gain some tools in Dragon's Maze, like Sin Collector and Voice of Resurgence. However, sometimes it is not just about which deck gets the best new cards or if some hate card gets printed...
First, let's take a look at the winner's circle metagame from this past weekend based on the Top 32, weighted by finish.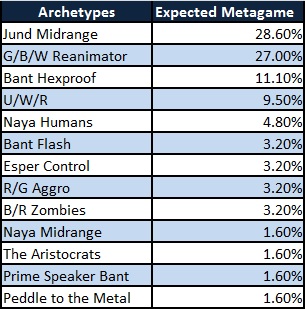 What's this? Despite G/B/W Reanimator winning the event, putting three into the Top 8 and seven into the Top 32, Jund Midrange still came out on top? Interesting. And this is despite Jund Midrange historically having a soft G/B/W Reanimator matchup.
Wait a minute. Is it possible that Jund Midrange was just the best deck week 1 and G/B/W Reanimator did so well because it is a good deck with a good Jund Midrange matchup?
This is a pretty diverse cross-section of decks and there are a few other interesting developments, but let's start by looking at the big two.
Up first, the champ is here!
Creatures (26)
Lands (23)
Spells (11) Chris VanMeter's G/B/W Reanimator is definitely the same breed as pre-Dragon's Maze with just a couple additions, though they are important ones. To begin with, Sin Collector has not disappointed. Its ability to rip a Supreme Verdict or Sphinx's Revelation is out of hand and is going to make it more difficult to collect wins with control. This isn't some groundbreaking shocker or anything; it's just if you are playing a mid-speed creature deck with black and white mana, you probably want some of these guys. Restoration Angel in particular can make even a single copy destroy all counter play.
As if this wasn't enough, Voice of Resurgence makes life even tougher for control decks (and is one of the biggest reasons Bant Flash underperformed this weekend). It's pretty strange for such an effective hate card to be a mythic rare and it's pretty clear the card is for real good, but $40...?
Anyway, Voice of Resurgence is good and some number is probably mandatory somewhere in the 75 for all G/W decks for the next two years. I know I would keep an eye out for when it's possible to trade for a couple of these.
The use of three Fiend Hunters is my favorite part of VanMeter's list. Obviously, you can do some cool tricks with Restoration Angel (either moving around exiles at instant speed or flashing an Angel in response to the trigger to exile one for good and one for now). However, it is the influence Dragon's Maze is having on Standard that makes the Fiend Hunters so smart.
Advent of the Wurm is one of the most talked about cards and has singlehandedly catapulted Bant Flash into the conversation. Fiend Hunter is exceptional against the Wurm, exiling it without risk of it return, plus you can blink your Hunter later to hit another target.
Another interesting deckbuilding decision is the complete abandonment of Lingering Souls. While certainly a powerful card, Lingering Souls is at its best in attrition type battles, which VanMeter did not expect (and rightfully so, as it turned out). Additionally, the removal of Lingering Souls and no Deathrite Shamans maindeck means just four Unburial Rites as dedicated graveyard cards, with Angel of Serenity also caring. For a deck named "Reanimator," this list sure doesn't care all that much about graveyard hate.
Four Acidic Slimes and three Sin Collectors is lot of disruption, particularly when ten of our creatures can potentially retrigger enters the battlefield triggers. On top of this, Voice of Resurgence and Deathrite Shaman provide even more creature-based disruption. How can we use this information to our advantage? Beating metagames involves a major component of looking for patterns. There is a pattern to the creatures G/B/W Reanimator uses. How can we exploit it? For instance, Torpor Orb sure would own G/B/W Reanimator...
One such pattern in the format is the popularity of decks with flashback. While G/B/W Reanimator is nowhere near as graveyard-reliant as it could be, it still features Unburial Rites and Angel of Serenity, so Ground Seal still does work. Meanwhile, it also neuters Snapcaster Mage and makes random flashback cards like Think Twice worse. The flipside is that Augur of Bolas has mostly been better than Snapcaster Mage for a while and Think Twice still cycles.
Let's take a look at the other pillar of the format, Jund Midrange:
Creatures (13)
Planeswalkers (3)
Lands (25)
Spells (19) As predicted, Jund has immediately taken to Sire of Insanity (which has brought with it an increased need for Cavern of Souls). Owen Turtenwald trimmed a Garruk, Primal Hunter and a Rakdos's Return to make room for two copies of Sire of Insanity, which makes sense.
As mentioned above, Owen (and his twisted cohorts, Reid Duke and William Jensen) moved away from Arbor Elf but didn't actually need to add land since the two Ground Seals they are playing contribute to the mana base about as reliably as Arbor Elf.
Owen and company certainly slanted towards Tragic Slip over Pillar of Flame. It will be interesting to see if this continues or if Pillar of Flame's influence is too strong. How much do we need the instant speed and the ability to kill larger creatures in the right spots? How much do we need to exile creatures, hit two toughness creatures, or go to the face?
We discussed Deadbridge Chant as an option in Jund Midrange during the Dragon's Maze set review, and here we see it coming to fruition. While Deadbridge Chant is just a niche role-player here, it is well used and this is not the last we have seen of the card. A minor note when using it in Jund Midrange, whatever creature you target randomly hit has to be played, so it is possible to accidentally legend rule your own Olivia Voldaren. Fortunately, this is only a temporary setback, but it's still worth considering.
Another important change is the complete removal of Slaughter Games. These guys predicted Sphinx's Revelation decks would take a hit, and they were right. Besides, Cavern of Souls forcing down Sire of Insanity accomplishes the same thing Slaughter Games was trying to. This leaves room in the sideboard for cards like Vraska the Unseen, which can be a great way to solve problems or help make up for the decrease in maindeck planeswalkers against creature-light decks.
Without question, G/B/W Reanimator and Jund Midrange should be decks #1 and #2 in the gauntlet and will continue to be players in the metagame. What's deserving of special focus this week is the rise of Bant Hexproof, the third most successful deck of the weekend.
Creatures (20)
Lands (22) The printing of Unflinching Courage has given Bant Hexproof a powerful new dimension, allowing it to win a lot of races through sheer brute force. Perhaps more importantly, however, Bant Hexproof's worst matchup, control, has been knocked down a peg. Obviously, good control decks don't always build themselves day 1; however, there really are a lot of loud anti-control cards.
Voice of Resurgence gives Bant Hexproof some durability, which is particularly important if facing edict effects. Frankly, though, sometimes it's just nice to have some blockers. Here we see a full package of Fencing Aces, which is probably going to be more common now that we have the sick turn 3 of Unflinching the Ace, an opening that a lot of decks are just not going to be able to beat.
The only other new Dragon's Maze card in Alex Mitchell's deck is Render Silent, but it is not much more than a glorified Dissipate for our purposes. Still, even a minor upgrade is an upgrade.
On the Bant Hexproof topic, there were a couple of really cool ideas in the list Michael Flores used to put up another good finish.
Creatures (20)
Lands (22) Loxodon Smiter with Unflinching Courage does just as much damage as a Courageous Fencing Ace; however, it hits a lot harder on its own. Additionally, it has a real big body that can actually give us a much-appreciated ability to block once in a while.
It is only a minor point, but the ability to discard Loxodon Smiter to an opponent's Sire of Insanity and then attack immediately is a potentially game-winning surprise to drop on somebody.
Additionally, while not strictly new, Strangleroot Geist out of the sideboard actually has some nice overlap with Voice of Resurgence when it comes to making life tough for all removal decks.
While I definitely don't think Bant Hexproof will stay top tier throughout the format's life cycle, it's not just a gimmick deck and will continue to show up in some quantity. I think control will make a comeback once it sheds its old skin and takes on a new look, but it isn't even clear that whatever control deck will actually work in this format will be as strong against Bant Hexproof as the previous.
Speaking of control...
Creatures (14)
Planeswalkers (3)
Lands (23) What's this? U/W/R made Top 4 of the Open? I thought Sphinx's Revelation decks were supposed to have taken a hit.
Look again.
That's right, zero copies of Sphinx's Revelation in the 75!
While I can't fully endorse such a move, I certainly respect it and where it's coming from. Eads' list is actually a very aggressive tempo deck with some pretty hard hitting, durable threats and a freak-ton of burn.
Searing Spear? To be expected.
Pillar of Flame? That's a lot of removal, but Voice of Resurgence is a real issue.
Boros Charm? Ok, that is a lot of burn, but a few of these is not unheard of. After all, you can combine it with Azorius Charm and Boros Reckoner to gain infinite life. Wait, there's four copies?
Turn // Burn? Yeah, it's good against Thragtusk, and it's nice to have actual removal; I'm just saying thirteen burn spells maindeck is a lot.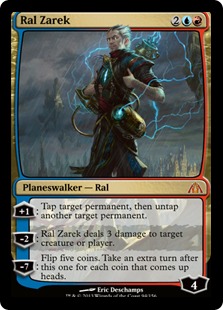 Oh hi Ral!
Ral Zarek certainly didn't waste any time before putting up big numbers. While a fair number of people hated on Ral Zarek for not conforming to their expectations, as we have discussed numerous times over the past few weeks, Ral Zarek is at his best in an aggressive deck.
Here, he can remove blockers in the way of Geist of Saint Traft, gives a big edge in planeswalker battles, can removal creatures with value, is a powerful threat against control, and can just be two Lightning Bolts when we need them, which is an awful lot of direct damage. It even helps cast Assemble the Legion out of the board and when paired with Izzet Staticaster is a killer combo.
I know people still doubt Ral Zarek, but he's good and is going to continue to produce results. He is nowhere near Ajani Vengeant, let alone Jace, the Mind Sculptor or Elspeth, but he is in a league with Garruk, Primal Hunter, which is pretty good.
Reanimator, Jund, Bant Hexproof, and U/W/R were the four best performing decks of the weekend, but the format is in flux and I think there will be more than one surprise this upcoming weekend. In preparation, let's take a look at a couple other Dragon's Maze cards that made appearances.
Creatures (37)
Lands (19) Certainly one of the most important decks in helping define the format, Naya Humans didn't gain a ton, but it did get two important things.
First, Viashino Firstblade hits freaking fast and hard. In many ways, he is like a four point burn spell for three mana, but then you are left with a 2/2 body. Haste creatures are particularly valuable for triggering battalion, so expect to see more of this guy even though there is a lot of competition at the three spot.
The other big improvement for Naya Humans is the decrease in Supreme Verdicts. Supreme Verdict is a helluva card, and even the blue decks are playing less (notice just two in the U/W/R 75 above).
Of course, this is not to say that control didn't show up at all. The highest finishing real control deck was Andrew Grenz with his take on Esper:
Creatures (8)
Planeswalkers (1)
Lands (26) Here, we see no fear at all.
Four Sphinx's Revelations? Check!
Six sweepers? Check!
Kills with Drownyards? Check!
Of course, Grenz is not with Dragon's Maze cards. Far // Away is in as a one-of as a way to get more of the edict effect you want while reducing the impact of drawing two against a creature-light deck. This is because Far on your Augur of Bolas or Snapcaster Mage can let us turn it into a "card draw" spell. Fuse both hands together and it is often just legit card advantage. Far // Away even has added functionality in the world of Advent of the Wurm since you can kill both the Wurm and the Angel at the same time by bouncing the Wurm token.
Aetherling out of the sideboard is another important update that should be expected. It is just the most durable victory condition in the format, and post-sideboard matches often call for a diverse selection of victory conditions due to cards like Slaughter Games, Reap Intellect, and random hate cards that can interfere with our primary Drownyard/Jace plan (like Witchbane Orb).
The "control" deck that was most talked about going into the weekend was Bant Flash, however:
Creatures (8)
Lands (25)
Spells (27) Why has Bant Flash exploded into the conversation? Advent of the Wurm. A great threat and a great card in its own right, Advent of the Wurm makes Augur of Bolas and Snapcaster Mage much stronger (as if they needed it). It's not like Bant didn't do decent, as evidenced by Matt Costa's Top 16 finish; however, many thought it would do better.
The problem?
Dragon's Maze.
It's not just Voice of Resurgence or Sire of Insanity. There are so many cards at level 1 that make life tougher for blue decks as they were built. I am confident they will return to glory; it's just that people need to let go of what used to be good and build new decks for this new world. The same old tricks are going to work for control.
Bant Flash is a new deck, of course, but in many ways, it is just a U/W Flash deck with Advent of Wurm. If it is going to really reach high tier 1, it is going to need some new technology. At the moment, the deck just looks a little too weak to Voice of Resurgence for my tastes.
Renounce the Guilds out of the sideboard is pretty hot, hitting all sorts of tough problems like Ral Zarek, Falkenrath Aristocrat, Domri Rade, and Assemble the Legion.
Creatures (27)
Lands (23)
Spells (10) Just a brief note on the once great Rakdos archetype, we did see a copy in the Top 16 complete with a new two-drop...
But not Spike Jester.
I can't say I am convinced yet, but this is a data point. It's not that I am not convinced by Blood Scrivener. I still like that guy as long as you keep your curve down. He is good, not great, but I sure would like to be able to Spike Jester people. Maybe Spike Jester is just more of a R/B card than a B/R card.
Creatures (24)
Lands (24)
Spells (12) Here we see a more traditional Naya Midrange deck. New from Dragon's Maze? Well, to start with, Advent of the Wurm. Advent of the Wurm is just a real quality card and is randomly going to show up in lots of places that are able to cast it. The biggest hurdles for it in Naya?
There is a real risk of a glut at the four spot, so finding the right balance can be tricky.
A couple more observations:
Creatures (24)
Planeswalkers (3)
Lands (25)
Spells (8) Ral Zarek has breathed new life into the Peddle to the Metal archetype thanks to his ability to untap Izzet Staticaster. Lobber Crew is pretty wild, but if it is consistently able to hold off an attacker while getting in multiple damage a turn, it doesn't sound half-bad.
Sire of Insanity is possibly even more important here than in Jund due to our lack of Liliana of the Veil and Rakdos's Return. We have a lot of mediocre creatures against control, so having a card that can win the game on its own is big. Unfortunately, we can't really support Cavern of Souls, so this is a less reliable Sire than in other decks.
Turn // Burn is also a cute addition because of its synergy with Izzet Staticaster. Turn // Burn is generally a decent card in its own right, but having the option to murder big creatures by Turning them into one toughness victims that can be Staticast is a big upgrade.
It can be tough for a small third expansion to change the landscape of Standard when there are six other sets to contend with, but Dragon's Maze has so many cards in the right spots that we're already seeing that impact. It is a little odd that such a high percentage of the strongest cards in Dragon's Maze are spread out among all the existing decks instead of promoting brand new ones, but it may be that no one has found them yet while there are many immediate and obviously quality updates to existing decks.
What would I play if I had a tournament tomorrow? Jund, but that's only because I haven't got to dive full on into the new format. Today, I am boarding a plane to Portland to meet up with the rest of Team SCG to test for the Pro Tour. GP Portland is Modern and the Pro Tour is Block, but playing with the new cards always leads back to Standard. Sphinx's Revelation seems to have taken a big hit, but maybe that just opens up strategies that struggled against Sphinx's Revelation before...
Ok, give me the scoop! What's the best deck in Modern? And what would you test for the Block Pro Tour?
See you next week!
Patrick Chapin
"The Innovator"