Boy does it feel good to be back!
This past weekend I won the StarCityGames.com Standard Open in Somerset, New Jersey. Along the way, I beat Osyp Lebedowicz in an important match in the Swiss, Max Tietze in the quarterfinals, and Owen Turtenwald in the finals—and those weren't even the best points of my weekend! I'll get into the best of it after we go over the deck I played to the top.
Ladies and gentlemen, allow me to introduce you to the star of our show: G/B/W Reanimator!
*Crickets* Applause? Anyone?
G/B/W Reanimator is here to stay. It was the best deck at the end of the previous format, and nothing's changed. We got new tools, one of our predators has begun to get pushed out of the metagame (Sphinx's Revelation), and the other popular deck's new angle of attack is useless against us (Jund Midrange with Sire of Insanity). It's a great time to be a Slime!
Here is the list Brian Braun-Duin and I settled on for #SCGNJ:
Creatures (26)
Lands (23)
Spells (11) The Missing Usual Suspects
For this iteration, we decided that Acidic Slime was where we wanted to be yet again. The Internet was full of Jund Midrange decks with Sire of Insanity and different flavors of Advent of the Wurm decks. Acidic Slime matches up very well against those strategies and still dominates the G/B/W Reanimator mirror match. What doesn't match up well here is Lingering Souls. Making 1/1s that just add to the body count of Bonfire of the Damned and chump 5/5 trampling Wurms about as well as Wiley E. Coyote catches the Roadrunner just didn't seem like an effective strategy.
Beep beep!
The only times we actually wanted Lingering Souls was against the control decks, and even then we were siding them out against U/W/R Flash. Lingering Souls had been a staple in G/B/W Reanimator for some time, but we felt the bench was the right place for them to linger this time.
As much as I love Garruk Relentless, he ended up being a bit too narrow, so we moved him back to the sideboard. With Garruk and Lingering Souls gone, Gavony Township lost most of its value. We still had all eight of our mana dorks (Avacyn's Pilgrim and Arbor Elf), but with the addition of the two new spells that we played from Dragon's Maze, Cavern of Souls gained a lot of real estate.
We still played the fourth Thragtusk in the sideboard, but we got rid of Trostani, Selesnya's Voice and went with a quicker, more proactive sideboard card against the Burning-Tree Emissary decks, Voice of Resurgence.
Unique Additions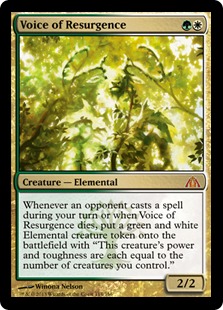 We decided that we wanted Voice of Resurgence in the sideboard as a way to combat both control strategies (U/W/R Flash and Esper) and aggressive strategies (Burning-Tree Emissary decks). While it's easy to see that Voice of Resurgence is great against decks with cards like Think Twice, Azorius Charm, and Restoration Angel, it is deceptively strong against the aggressive decks. Trading with a Burning-Tree Emissary, Rakdos Cackler, Stromkirk Noble, or Experiment One and still leaving behind a body that is able to trade with another creature (with a small bit of help) is very strong. Voice of Resurgence was good against the Supreme Verdict / Sphinx's Revelation decks, but the other new card we played was even better.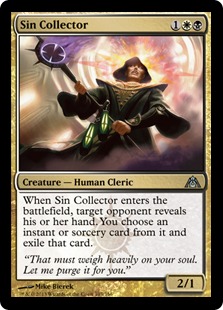 Sin Collector is the real deal. For a long time, I've wanted this effect in G/B/W Reanimator, and this Sin Collecting Human is the perfect fit. Being a 2/1 lets it actually pressure your opponent in addition to stripping them of their best instant or sorcery and allowing you to play around the non-instants and sorceries that you know they have. Sin Collector also fits perfectly on the curve, allowing for the draw of turn 1 Avacyn's Pilgrim / Arbor Elf into a turn 2 Sin Collector. On the play, this sequence is devastating because it allows you to snag a Farseek from your Jund or Bant opponent before they can cast it, and while on the draw you still get a card and all the information you need. It also curves perfectly with Grisly Salvage.
Sometimes it's correct to Grisly Salvage on turn 2 and then cast the Sin Collector you were able to Salvage from the goop on top of your deck on turn 3. Sin Collector is also a Human, which allows you to take advantage of Cavern of Souls being able to cast Avacyn's Pilgrim and Sin Collector. Turn 1 Cavern of Souls on Human casting your Avacyn's Pilgrim lets you to cast Sin Collector on turn 2 off any untapped land. It may be a little awkward, but it's still surprisingly effective, especially since you can Restoration Angel the Sin Collector off any third untapped land.
Overall, I was impressed with both Sin Collector and Voice of Resurgence, but I have to say that I was extremely impressed with Sin Collector and he more than deserved his spot in the list. In fact, he was so good that we decided to play the fourth Restoration Angel. We want to be Slimeing and Collecting as many Sins as possible, and since we're going up to four Restoration Angels anyway, we can hedge against aggro (aka our bad matchups) and play some Fiend Hunter in the maindeck.
Fiend Hunter is the type of card that's completely awesome when it's actually playing a useful role and quite "meh" when it's not. Sometimes that's just eating a Lingering Souls token so they can't quad block your Restoration Angel. We assumed that a lot of people were going to be playing Advent of the Wurm, and while we were right that were a fair number of flash Wurms, I only played against one deck with them: W/B/G Tokens. And while Fiend Hunter was awesome against that deck, it's still the one card I feel like we got the numbers wrong.
Olivia Voldaren is still a giant pain in the rear, but we had a few ways to attack her. Garruk Relentless could fight her if we got lucky and we still had some Fiend Hunters in the deck to act as a pseudo answer, but Sever the Bloodline was definitely the best. Sever the Bloodline was also good against the mirror match, Naya Blitz, The Aristocrats, and just about every other midrange deck out there. I even brought it in for my semifinal match against U/W/R Geist as an answer to Boros Reckoner and Clone. Moving forward, I definitely want access to more than one Sever the Bloodline.
Where Do We Go From Here?
What does the future hold for G/B/W Reanimator? We've already gone through transitions where we played Garruk Relentless and Lingering Souls in the maindeck to abuse Gavony Township to grind out the games, and we've continually been witness to just how effective destroying all of your opponent's lands with Acidic Slime can be. [Editor's Note: That was one heck of a display in the quarterfinals of the power of the ole Slimeball.]
I feel like we're at a point where we can make a few slight changes to try to anticipate where the metagame will go next, but innovation will come at a price. We'd have to drastically alter something and change the direction from a grindy midrange type deck to either a super aggressive resilient deck with Varolz, the Scar-Striped and Voice of Resurgence or go back to the more combo-ish builds with Lotleth Troll and Craterhoof Behemoth. Both of those seem to want Lingering Souls, but I still feel like that card just isn't where we want to be right now.
Everyone is going to be ready for G/B/W Reanimator next week. Bonfire of the Damned, Olivia Voldaren, and all of their Jund-y friends will be on a headhunt. Ground Seals will continue to reside in the maindeck, with more in the sideboard. But as long as you have a good sideboard plan for what you expect to see, G/B/W Reanimator is extremely adaptable. The best way to get an edge is to know what your sideboard plan is and execute it well [Editor's Note: Something Chris explains very well here.]
Cards I want to look at changing some numbers around are Fiend Hunter, Sin Collector, Thragtusk, and Voice of Resurgence. Deadbridge Chant might have a place somewhere in G/B/W Reanimator, but I can't quit put my finger on where.
Next week in Charlotte, you can expect to see me Slimeing my way through the opposition. Who the supporting cast will be is still TBD, but we all know who the "Slime of the Show" will be.
Standard Can't Just Be Mono G/B/W Reanimator, Can It?!
Going into last weekend, BBD and I had both been working on different decks. BBD was on a four-color Unburial Rites deck with Faithless Looting and Sire of Insanity, and I had been working on an aggressive U/W/R deck along the same lines as William Eads, who I beat in the semifinals. Rather than Ral Zarek, I was focusing on being very aggressive with Aurelia, the Warleader and Thundermaw Hellkite to go along with my Geist of Saint Trafts. I was also using Warleader's Helix instead of Turn // Burn, which was wrong. While Warleader's Helix is an awesome card, Turn // Burn just does way too much to be ignored.
You can two for one your opponent by making one of their attackers a 0/1 and killing another creature. You can remove the value from Thragtusk by stripping it of its "leaves the battlefield" ability and Burning it. You can even strip Angel of Serenity of its "leaves the battlefield" ability so that all of those awesome creatures they thought were tucked carefully behind their Angel stay gone forever.
Unfortunately, this deck just didn't fare well against anything with Huntmaster of the Fells, Thragtusk, or Sire of Insanity—all of which were in BBD's deck that I was testing against. I'd be completely insane if I thought that those cards weren't going to be played very much in New Jersey and ended up abandoning the deck, but I do like where William went with it because Ral Zarek seems sweet. He pushes through damage, Lightning Bolts anything you want him to, and can even accelerate you into multiple spells—not to mention that his ultimate will probably win you the game.
Probably win you the game; how perfectly Izzet of him!
Interesting Card Interactions & Stories From The Weekend
In round 1, I played against a chap with Unexpected Results. Unexpectedly, in game 1 he had to cast his third Unexpected Results of the game, hoping for a Supreme Verdict (had already used one) or a Terminus (had already used one as well) to stop me from killing him. He shuffled and presented, and I took my time shuffling just to make a show of it. He flipped his fourth Unexpected Results, to which I said, "Well, that was unexpected." The next shuffle and charade ended, and he flipped a Supreme Verdict and came back to kill me from three life. I ended up winning the match on the back of all my Slimey homeys, but game 1 was definitely entertaining.
In round 3, I played against a nice guy with W/B/G Tokens. After playing and flashing back three Lingering Souls to go with his Sorin, Lord of Innistrad, I fell short of killing him even with my multiple copies of Angel of Serenity! Game 2 was a very exciting game where my opening hand was three lands, two Fiend Hunters, and two Restoration Angels. The number of Fiends that were Hunted in this match was too high to count. All of his Spirits and trampling Wurms were exiled, and I attacked him to death with a motley crew of 1/3s and a couple Restoration Angels.
I kept a two land, Grisly Salvage, Mulch awesomeness hand on the play in round 4 against a U/W/R Flash player and hit four spells and five spells with my Mulch and Grisly Salvage.
I got to strip four cards from an Esper Reanimator player with the same Sin Collector—on camera even!
Lastly, I got to discard an Angel of Serenity to a Sire of Insanity with Unburial Rites in my graveyard, and it played a big role in winning game 2 in the finals against Owen Turtenwald.
At the start of the article, I touched on some of the awesome things that I got to experience this past weekend (in addition to actually winning the tournament), but those weren't even the best. Early on Saturday, a young kid came running up to me grinning from ear to ear and thanked me for my article on sideboarding. He said it helped him soooooo much and that it was the only reason he was there playing because he felt like he finally learned how to build a good sideboard. He later had me sign his playmat along with awesome human beings Cedric Phillips and Brian Braun-Duin. [Editor's Note: That kid was awesome and is the reason why I love what I do.]
I also received a bunch of Facebook messages on Sunday after I won, some of which told me about how they played my deck in some type of tournament that day and had won very easily and that they wanted to thank me for what I do and that my articles and decks help them a lot. These types of interactions are what make doing content and traveling to compete worth it. Knowing that we are helping people get better and have fun with a game that we all love so much makes doing this rewarding and fuels my drive to continue to get better as a player and as a writer.
If all else fails, just remember that you can wear pajama pants and still win a Standard Open. Nothing's holding you back.
<3 CVM
@Chris_VanMeter on Twitter