Pro Tour Dragon's Maze highlighted Block Constructed (and this iteration of the format is actually good and not as Sphinx's Revelation centric as one might imagine from a Pro Tour metagame), and while most Block ideas are usually realized in the next Standard, there are some things to consider right now. I'm not going to adapt Block strategies for Standard in this article, but there are three Dragon's Maze cards that I want to highlight for Standard. The first one is a Block Constructed powerhouse, the second one is a homeless Maze Runner, and the last one is already a Standard all-star but has even more capabilities than its current applications.
Let's start with the first one. Ladies and gentlemen, Blood Baron of Vizkopa!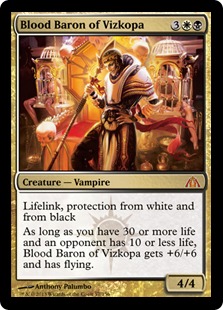 The Orzhov Vampire proved himself in Block Constructed but hasn't seen a lot of Standard play yet. The primary reason might be the smaller popularity (or simply "the lack") of decks that can utilize Baron like Esper Control and G/W/B Midrange, but there are still some fine homes for him. The Baron is still hard to kill because the Standard environment includes fewer Supreme Verdicts and Mizzium Mortars than Block Constructed. Jared Boettcher used this fact to win the SCG Classic in Springfield, Massachusetts with a very interesting deck.
Creatures (26)
Lands (24)
Spells (10) This deck combines some of the advantages of The Aristocrats with the power of Geralf's Messenger and his B/R Zombies, who have always been underrated even when they took down two Grand Prix in a row. The deck is still well positioned now, especially on Magic Online with its much more aggressive metagame (the last Daily Event I saw was overloaded with Mono-Red Aggro), so you should try it with maybe a slight tuning of the sideboard to ensure you'll always have enough early removal.
Returning to Blood Baron of Vizkopa, he has strong competition for the five-mana slot with Thundermaw Hellkite, which is better against the various Azorius Charm decks even while being vulnerable to the Charm itself. Baron has protection from pinpoint removal and is much easier to cast than Obzedat, Ghost Council, which makes him a very interesting finisher for non-red decks, especially if you want to beat creature-based decks where you must to choose if you want to hide Obzedat or to leave him on the battlefield. So there are two other homes for the Baron where he's indispensable, if only because of the lack of red. The first list was suggested by reader Stuart Hewitt, who has had some success with it at FNMs.
Creatures (26)
Planeswalkers (3)
Lands (24)
Spells (7) This is a take on B/G/W Aristocrats, which was extensively discussed by different authors recently. The notable points of this very list are three copies of Garruk Relentless, who replaces Falkenrath Aristocrat's evasion, allowing you to have enough threats, some removal, and to do important things like enabling morbid and fetching important cards like Blood Baron of Vizkopa; Varolz, the Scar-Striped; and maybe Blood Artist. Another interesting point is Thalia, Guardian of Thraben, who's very intriguing in a deck with Varolz, the Scar-Striped.
The things I'd add to this list are the full four Cavern of Souls and maybe a singleton of Vault of the Archangel, even if it's partially replaced by Ready // Willing, which Stuart mentioned as a "really cool" card. The fused effect may be a little bit too expensive, but both parts are fine in combat as is and fuse in the late game is just devastating, especially against other green decks that usually have bigger creatures that this deck.
A third possible home for Blood Baron of Vizkopa is Torren Doherty's deck from the Top 8 of the SCG Classic Series in Springfield, Massachusetts (even though Torren didn't have Baron in his list). What I love about this list is that it's very conceptual; maximizing any idea to the absolute may not be the best idea in a diverse field, but this deck may be a great metagame call for Magic Online.
Creatures (24)
Lands (25)
Spells (11) It has twenty sources of life gain, maindeck Rhox Faithmender, and Chalice of Death for anyone trying to start attrition war instead of killing you as fast as possible through Thragtusk and Rhox Faithmender. I'm afraid of the matchup against Reanimator, but the deck is still a great call for an aggressive metagame. Blood Baron of Vizkopa has to compete with Obzedat, Ghost Council and Thragtusk, but it's probably better than Obzedat against any creature-based deck, which this list is supposed to beat.
Obzedat is required somewhere in the 75, but it may be correct to maximize pre-board good matchups and try to beat control and Reanimator with a good sideboard. Other changes I'd make are the addition of Arbor Elf instead of Deathrite Shaman and some Ultimate Prices in the sideboard to make sure we live long enough to stabilize against Mono-Red Aggro.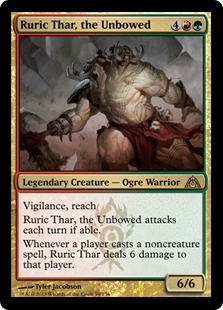 That's all about Blood Baron of Vizkopa. He's sure to see play post-rotation, but he's already underrated and may be good for you right now, so consider him. The same is true for another expensive creature from Dragon's Maze: Ruric Thar, the Unbowed. Six mana is a lot, but Ruric's effect may be truly devastating against control, just like Sire of Insanity's. Ruric is, however, very different beast because he doesn't leave the opponent hoping for a good topdeck to deal with him. Ruric maximizes profits from the early pressure you provide instead, so he is best for straight aggressive decks as opposed to Sire of Insanity, who is better in powerful and flexible midrange decks like Jund. I encountered such a deck in Magic Online played by Voron79.
Creatures (31)
Planeswalkers (3)
Lands (23) This deck is a kind of extreme for Jund Aggro, taking even more advantage of Gyre Sage than previous versions did. Initial lists with Falkenrath Aristocrat at the top of the mana curve evolved into a monster, punishing opponents hard for tapping out. This new creation is very far from the original but is much more powerful. I'm a little bit surprised by the splash for just a pair of Falkenrath Aristocrats and a few removal spells (as I definitely prefer Falkenrath Aristocrat to Hellrider in any circumstance), but black removal may be important enough to splash.
A weakness of heavier Jund Aggro builds is the lack of action at three mana, and Voron79's solution is very elegant: Domri Rade, who allows putting deadly threats into play more consistently and drawing something playable in case you drew too many fatties. However, eleven expensive creatures (not counting Ghor-Clan Rampager) may be too much for such a deck, and having more removal maindeck is better for an aggressive metagame, which I expect to face in the upcoming weeks. A deck that uses such a high count of fatties should have more mana dorks, so I adopted Ruric Thar into the Naya Ramp deck I highlighted in a previous article.
Creatures (26)
Planeswalkers (2)
Lands (25)
Spells (7) The updated version includes an adjusted mana base, a slightly different set of threats, and Garruk Relentless as a tool for utilizing excessive mana dorks and finding Aurelia, the Warleader or Ruric Thar, the Unbowed. Garruk adds some flexibility, which is important in such a straight deck, while the goal is still to simply overload the battlefield with deadly threats and see if the opponent is able to deal with them. The last few sideboard adjustments are to adapt the deck to beat aggro post-board: Rhox Faithmender and Thragtusk combined with the now maindeck Huntmaster of the Fells is better than a ton of sweepers.
The last card I'm going to highlight today is already very popular and may be overrated, but it's mostly included in existing strategies. I think it could be even better in a new deck. The card is Voice of Resurgence, and the strategy is Bant Aggro. Bant has many faces now, from all-in Bant Hexproof to Bant Flash to Bant Control, but there isn't a "normal" aggro or tempo Bant deck. Zvi Mowshowitz and Team SCG built Bant Delver for Standard at Pro Tour Gatecrash, but they eventually dismissed it due to a shaky mana base and some other reasons.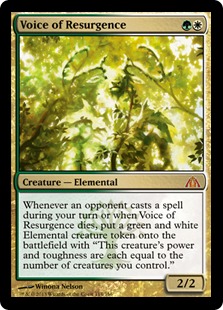 Voice of Resurgence allows us to reconsider the Bant Aggro strategy. It is outstanding against blue decks and thus helps overcome the lack of cheap countermagic. Voice of Resurgence also helps make the blue splash in the deck smaller. The blue cards we definitely need are Geist of Saint Traft and Simic Charm, while cards like Rapid Hybridization, Spell Rupture, and Unsummon depend on if we're going to have G/W with a splash or a Delver-like strategy with Snapcaster Mage. Having enough instants and sorceries for Delver of Secrets and Snapcaster Mage isn't easy and will surely disrupt our mana base, so a green-heavy deck able to utilize Rapid Hybridization with undying seems better.
Almost all the builds I've encountered play Cloudfin Raptor, but I believe it's not good here because it warps the mana base and is horrible against Azorius Charm and Supreme Verdict. So I decided to play only eight one mana creatures—all green.
Creatures (20)
Lands (21)
Spells (19) Rapid Hybridization is super-efficient with our own creatures, making our dudes bigger, saving them from removal, and dealing with our opponent's creatures if needed. Selesnya Charm gives us everything we need and a little bit more, while the other noncreature spells allow us to play either tempo or aggro, backing a single threat with countermagic or mitigating Supreme Verdict with undying and Rancor. The mana base is as straight as possible, allowing you to cast Strangleroot Geist and Geist of Saint Traft consistently without worrying about turn 1 Cloudfin Raptor.
This deck is much more flexible and versatile than Bant Hexproof and thus has all a chance to compete in Standard alongside its distant relative in hands of less risky pilots. I thought about including a transformational sideboarding to Hexproof in this deck, but while it helped against control a bit, it wasn't a panacea. However, investigations in this direction may be successful, and the ability to beat either control or fast aggro post-board is key for Bant Hexproof's further success.
The starting point is a Hexproof build with maindeck Strangleroot Geist. Ethereal Armor, Unflinching Courage, Spectral Flight, and Invisible Stalker go out in the favor of Spell Rupture, Selesnya Charm, Rapid Hybridization, and Young Wolf. This leaves you with Unflinching Courage and undying blockers as the only weapons against aggro, but it would be enough in aggro-light metagame.
That's all for today. I hope highlighting these cards and decks helps make Standard a little bit more diverse and interesting. Good luck to everyone playing this weekend!
P.S. Special thanks to Stuart Hewitt for his list and discussion. Don't hesitate to share your ideas in the comments; I usually track the feedback on my articles, and other worthy gentlemen are usually here to participate in discussion.