"Not like this. Not like this..."
[Flashback to two weeks ago.]
I arrived in Oregon the Monday before Grand Prix Portland. A number of members of Team SCG were showing up early to test for Pro Tour Dragon's Maze. The early arrivals including Zvi Mowshowitz, Reid Duke, Sam Black, Brad Nelson, Owen Turtenwald, Andrew Cuneo, Jelger Wiegersma, and William "Huey" Jensen.
Huey's early arrival was particularly impressive given that he wasn't even playing in this Pro Tour (he's just that dedicated of a teammate). Whenever all qualified players wanted to draft, Huey would watch people's drafts and offer advice after (or chime in when asked about interesting decisions), wanting to not take away a single opportunity for people playing to get practice. Whenever someone was asleep or had other things going on, Huey was always available to be our eighth. There are a lot of reasons Huey was widely regarded as the greatest team drafter in the world, and not all of them are his incredible play skill.
Huey, Reid, and Owen were in particularly good spirits, as they were fresh off their win at SCG Team Sealed Open: Somerset. Early in the tournament, the oath brothers had resolved that if they won the event, Scotch and cigars would be involved.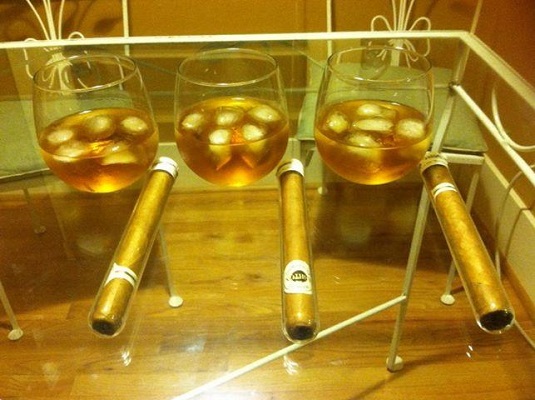 Their brief shenanigans aside, everyone got down to business exploring two formats that proved to be fairly challenging nuts to crack. The Draft format was a ton of fun, and while I thought Return to Ravnica and Gatecrash were "ok," Dragon's Maze really brought it all together into more than the sum of its parts.
I was really impressed with how the block plan worked out and can forgive a lot of the awkwardness of the two previous sets. I was also really impressed with just how many different decks you can draft when drafting the full block. It's not just color combinations but themes. Probably a few more games are decided by mana screw than I'd like, but I'm a big fan of this format.
As for Constructed, I had been initially looking at U/W Control as well as some Ral Zarek decks, Maze's End, U/B Tempo, Naya Aggro, Mono-Red Aggro, G/W Populate, B/G, Dega (B/R/W), some bad combo decks, and, of course, Esper Control. Esper was the deck I was happiest with for most of testing, but I didn't love it. It was good, but it was so well known and, I felt, exploitable.
I noticed early on in testing that I liked certain cards rather than decks. As time went on, I got the impression we just wanted to play the most best cards barring some crazy synergistic deck that almost surely didn't exist. The cards I liked:
Voice of Resurgence
Lotleth Troll
Domri Rade
Loxodon Smiter
Boros Reckoner
Sin Collector
Far // Away
Supreme Verdict
Jace, Architect of Thought
Blood Baron of Vizkopa
Aetherling
Sphinx's Revelation
This list had me leaning Esper, but I continued to experiment with concept card after concept card in the form of "What would a deck with this card look like? What would a card with that card look like?" Many of these brews didn't last many games, but each helped build an understanding of what the format was about and more than one card on that list was added as a result of such experiments.
One such concept card was Plasm Capture. I remembered how much play Mystic Snake always saw, and getting some amount of Black Lotus is a much stronger effect than a 2/2 body. The possibility of Plasm Capturing into Sphinx's Revelation seemed too good to not try. This was my initial sketch:
The idea was to play a fairly pure draw-go game and never need to tap out. Voice of Resurgence was often a glorified Safehold Elite here but would give us the edge in control mirrors and provide some much needed chump blockers. Azorius Charm, Syncopate, and Detention Sphere would all help buy time to sweep the board with Supreme Verdict. When that part of the equation was missing, Jace's +1 ability actually serves as a sweeper of sorts, being one of the best cards in the format against red aggro.
The real excitement was ever getting to a somewhat stable position with four mana untapped. Now the real game could begin!
As anyone that has ever played against Mana Drain knows, Plasm Capture is not the type of spell you want to walk into. If the game went longer, Sphinx's Revelation could punish someone for not casting spells into you, but I wanted something cheaper. Advent of the Wurm looked like a promising candidate since it could be cast with the same four mana held up for Plasm Capture. Once you have one four-mana trick, the second one makes it much harder for them to play around you. The mana base was also designed with this sequence in mind, including zero Plains to make Plasm Capture a reliable turn 4 option.
Once you successfully capture some plasm, the world is your oyster. Being able to do anything your heart desires often just translates into casting a big Sphinx's Revelation, drawing a concession, but you can also just summon an Aetherling without having to tap much mana on your own turn. Aetherling is so much stronger than people realize. This is not just a Block phenomenon. He is going to become a force in Standard, resparking blue decks. Why did R&D push this card so hard? I can only assume it was so that blue decks would actually end games instead of dragging them out with Sphinx's Revelation after Sphinx's Revelation, eventually leading to a slow, painful drowning.
Unfortunately, the deck failed the Mono-Red Aggro test (which seemed more important a week ago than it did this week), so I set it aside. A couple weeks later, when we were all in Portland testing, Brad Nelson was working on a Bant Tap-Out deck. He believed it could be tuned to be the control deck that beat other control decks (since he correctly identified that the format was actually primarily about control) while overpowering aggro with green creatures. His list was something along the lines of:
Gatecreeper Vine was intriguing. To begin with, it makes one's mana base much more reliable in a format of dubious mana bases. That it's a chump blocker is awesome, but it's also a great way to power up your Elemental token. It doesn't look like much, but Brad swore by them.
Brad noted that Bant had a real lack of removal and that Loxodon Smiter was secretly one of the best "removal" spells since it could block very well. Then, when playing against control, he could let you play an aggressive game and put pressure on them, trying to find a window to sneak an Aetherling (which would translate into game over).
Angel of Serenity was a nice touch that would just totally win the game against slower aggro decks, like G/W. Urban Evolution wasn't just card draw, also serving as an accelerator into either of the key seven-drops (Aetherling with a blue open being the other).
He was putting up good numbers against aggression but struggled mightily with control. Voice of Resurgence and card draw was nice but not enough to turn the tide. The control matchup seemed so heavily focused on Aetherling (and card draw to sculpt the game into a spot where you could stick one) that I figured counterspells might be exactly what he needed.
We merged the concepts and after some tuning ended up with the list below. This deck was very much a team effort, with everyone in the house working on and contributing from different angles, and all seventeen members of Team SCG played it. Zvi and Reid in particular did a ton of work making the deck it possibly could be. Of course, input from Tom Martell, Jon Finkel, Paul Rietzl, Bob Maher, Gabriel Nassif, David Williams, Gaudenis Vidugiris, Josh Ravitz, and Matt Costa is always valuable, plus our unqualified teammates Matt Sperling and David Heineman provided helpful contributions. Here was the list we came to:
The final product was basically a tuned version of Brad's Bant deck but with the permission package of the Plasm Capture deck. We experimented with the Advents maindeck, but there is just such a glut at the four spot. It's always interesting when you have a sideboard card that you board in against everyone, but it's not necessarily wrong.
A single Plains was needed despite the Plasm Captures so that Gatecreeper Vine could find an untapped white source for clutch turn 4 Verdicts when needed. The Simic Guildgate was not chosen as a "tutor target" for the Vine but rather was just added to meet our color requirements. We needed to reliably be able to produce double blue, double white, and double green by turn 4, but green was the most important since Gatecreeper Vine could find our blue and/or white. In order to fit sixteen green sources, fourteen blue, and fourteen white, it was clear we needed six Guildgates (unless we played a Selesnya Keyrune, which we debated for a while and some people played one of).
Simic Guildgate was definitely the weakest Guildgate, as it was much worse at casting Voice of Resurgence than the others. This is because of how many more Forests than Plains we were going to play. If we didn't really tutor for it and it was worse at casting Voice on turn 2, why not replace it with an Azorius or Selesnya Guildgate?
To make such a swap with give us one too many white and one too few of the other two colors, both of which are super important. The normal technique in this spot is to cut a basic land of the type you have one too many of and add one for the type you are short. However, we can't cut the one Plains because we actually need it as a tutor target.
Up until seconds before decklists were turned in, I had a fourth Sphinx's Revelation main with the second Angel of Serenity in the sideboard. No one else on the team wanted the fourth Revelation (and in fact no one else even sideboarded it to the best of my knowledge). This "60thslot" was split across our team between Angel of Serenity and Azorius Charm #2. I knew I wanted one more expensive card to Plasm into; if I wasn't going to get a Sphinx, an Angel sounded alright.
Still, I decided to hedge and sideboarded the Revelation so that when I came to my senses and realized I misbuilt my deck I could fix it after sideboarding. Not surprisingly, I boarded in the fourth Revelations in almost every match. If I were to play in another Block tournament, I would run the four Revelations main no question, though to be fair I don't know that any of my game 1 losses where I drew an Angel would have been wins if I had a Revelations.
Dispel was a key sideboard card, as it let us help fight permission battles while also giving us a real way to "protect" our Supreme Verdict from cards like Rootborn Defenses. Having access to ten counterspells after sideboarding gave us a much stronger ability to fight over Aetherlings than other people, which is good since we aren't beating a resolved one usually.
Being able to go up to three Angel of Serenitys was important against G/W since Aetherling doesn't take over the board the way we need. Cyclonic Rift is the other reasonable option for this role, and some of our team used one or two Rifts in addition to two or three Angels rather than rely entirely on Angel alone.
Agoraphobia is a sideboard card that I was alone in playing on our team. I had really liked it in U/W and wanted another answer to Lotleth Troll. It was great for me, though if I could do it again I think I'd look to get another Azorius Charm in the sideboard in addition to all the anti-aggro cards I already have if I can find the room. Moving the Sphinx to the maindeck doesn't help since we'd need the second Angel in the board.
This dilemma is why Zvi (the teammate that wanted the fourth Revelations the most) eventually concluded that the only way to get the sideboard slot he needed was to play the Angel or Azorius Charm main and sideboard the other (instead of the fourth Revelations). A number of teammates used Cyclonic Rift or Rapid Hybridization in this slot, and everyone seemed to be pretty happy with their respective decisions.
I began the tournament 2-1 in Draft, losing one game to mana screw and the other to Hellkite Tyrant. I couldn't really be disappointed, and I certainly didn't have as much confidence in Limited as I did in Constructed. I had first picked a Gaze of Granite and ended up Four-Color Control with Prophetic Prism, Verdant Haven, and Transguild Promenade as well as a couple Gates. Strangely, I didn't get a single Cluestone despite seeing a pack with four that looked for sure like a couple would make it back around.
My first Constructed match was very disappointing, with two consecutive non-games. In one, I kept a two-land Gatecreeper draw but didn't draw a land until after I was Reap Intellected for three. The other I kept a two-land hand on the draw and discard to hand size three times. However, despite this rocky start, I rattled off hot ones to end day 1 at 6-2.
While not an insane record, it was nice to actually be able to afford a loss in Draft. Where things started to get exciting was when I 3-0ed the draft, meaning I needed to win just three out of my next four to be able to draw into the Top 8. Not bad, not bad!
My first Constructed match was an intense one with David Sharfman and his fast Naya deck. Mana troubles plagued me in game 1, and in game 2 I kept a hand of Temple Garden; Selesnya Guildgate; Forest; Voice of Resurgence; Loxodon Smiter; Supreme Verdict; and Jace, Architect of Thought. I ended up getting there, and we moved to game 3. This time I had to keep a hand of Breeding Pool, Island, Voice, Smiter, Smiter, Detention Sphere, and Jace on the draw. Unfortunately, I didn't get there, and now my back was against the wall.
Round 13, Gabriel Nassif and I squared off in the feature match area in a mirror match. Nassif and I have faced each other in a lot of big games over the years, not all featuring a Storm count. Game 1, he mulliganed and missed a land drop. Game 2, we played a real game, but he had more permission than me and was able to stick a Revelations on turn 6. I couldn't just make the same play main phase or I'd be dead to an Aetherling. Nassif had not needed to be so careful, as I didn't have the land to protect an Aetherling even if I had one (from being on the draw).
Game 3, I had to keep a six-card hand of Breeding Pool, Island, Syncopate, Dispel, Detention Sphere, and Jace on the play. It's not good, but an awful lot of five card hands are worse. Unfortunately, I stumbled on lands once again, and in a rather anti-climactic end to my hopes of winning the Pro Tour, I sat helpless as I was beaten senseless by a Loxodon Smiter.
"Not like this. Not like this."
Usually, I find that about half of my losses each Pro Tour (or more) could have been prevented with better play on my part. This was a strange event for me in that there was very little I could have conceivably done to change my results in game. I could have drafted a different deck in the first pod, sure. I also could have registered a different 75 for Constructed. Still, I was happy with that first Draft deck and happy with our Constructed deck and wouldn't want to move away from them. This was the Pro Tour where the highest percentage of my matches involved fatal mana screw in years, with something like seven of my matches largely hinging on mana screw one way or the other.
After losing to Nassif, I dropped another against BUG Aggro, this time without mana being a large factor in the games. I should have made a slightly different play near the end of game three to give myself slightly better chances, but I don't think I was really digging myself out from the Lotleth Trolls. Agoraphobia really shined, and I could have used another Azorius Charm.
Finally, the day came to a close after I defeated Maze Runner (which I had also faced on day 1) and then drew-hey with Shuhei, putting me in 40th place. While certainly a disappointing spot to end up after making a good run at things, I had a blast both preparing for and competing in the Pro Tour.
Cavern of Souls makes porting this strategy over to Standard dicey, but if I were going to try, I might start with something along these lines:
This is basically another take on Bant Flash, but I think Aetherling is going to fundamentally change the landscape of the format. What is the best Aetherling deck going forward?
Thanks to everyone cheering for me this weekend. It was a ton of fun, and it was awesome to receive so much positive energy.
Ok, I'm out. See you next week!
Patrick Chapin
"The Innovator"