I'm sorry, Brainstorm, but I think we need to take a break. It's not you it's me. I mean, you're awesome and all, but I just don't think I'm good enough for you. You deserve better, and I just can't give you what you need. [Editor's Note: Have you told AJ about this decision?]
I know I'll be back in the welcoming arms of Brainstorm eventually, but for now I'm having the time of my life with the mysterious duo of Ancient Tomb and City of Traitors. As detailed here, I played Metalworker at the last SCG Invitational and was mildly successful with it. In addition to being a great deck, it was also extremely fun to play. Locking out half the format with Chalice of the Void (primarily X=1), generating a ton of mana with Metalworker and Grim Monolith, and then killing your opponent with giant robots ripped out of your deck with Kuldotha Forgemaster was everything I could hope for.
Unfortunately, the deck was pretty "all-in" on its opening seven (or six with a trip to Paris), and I felt it was too risky to play again since I was a little more familiar with the format. Thankfully, Chris Andersen had the answer.*
I didn't take much convincing when he shipped me the U/B Tezzeret list that we played last weekend. It has it all: disruption, speed, Tinker (yes, friggin Tinker), and the full eight planeswalkers.
Creatures (4)
Planeswalkers (8)
Lands (22) Unfortunately, I got pretty unlucky in game 3 against a RUG Delver player, drawing four lands in a row after he Krosan Griped my Ensnaring Bridge and drew a Tarmogoyf to kill me in extra turns. I was able to draw with stand-up gentleman Matt Hoey in the last round, so we both placed in the Top 32 and collected a cool hundred bucks, but I was still disappointed. I felt like we definitely had one of the best decks in the room and expected to be there right along with Andersen in the Top 8.
Let's jump right into a breakdown and figure out just why this deck is so awesome.
4 Ancient Tomb
3 City of Traitors
These "Sol Ring" lands are the main part of what makes this deck, well, a deck. With one of these lands in our opening hand, we are able to play spells like Dimir Signet, Talisman of Dominance, and Chalice of the Void on turn 1, and in combination with our Signets and Talismans, we can accelerate into our planeswalkers. They both have their drawbacks, but in this deck they are minimal.
The damage from Ancient Tomb is often offset by the life gain from the Thopter Foundry / Sword of the Meek combo, and Ensnaring Bridge stops them from attacking us. City of Traitors having to be sacrificed is negated by our Signets and Talismans. It doesn't matter that it goes away when we play our second land and a planeswalker on turn 2 because we still have the Signet/Talisman and a planeswalker!
4 Chalice of the Void
1 Ensnaring Bridge
1 Engineered Explosives
1 Ratchet Bomb
1 Nihil Spellbomb
These are our "control" artifacts. As I explained in my Atlanta Invitational report, Chalice of the Void on 1 is incredible in Legacy right now. Also, there are quite a few decks that can't actually beat an Ensnaring Bridge in game 1. RUG Delver, Sneak and Show, and Merfolk traditionally don't play any answer to this card in their maindecks. Engineered Explosives and Ratchet Bomb are both quite adept at killing Nimble Mongooses, Insectile Aberrations, Counterbalance, and Goblin tokens.
Nihil Spellbomb is kind of the odd man out since it's pretty awkward to draw once you have a Chalice of the Void set on 1; however, you can Transmute Artifact for it when you need it. It's also sweet to be able to draw a card when you Transmute Artifact it away or make a 1/1 flyer with Thopter Foundry.
Since we're relying heavily on Chalice of the Void to lock our opponents out of casting their one-mana spells, we can't afford to run cards like Brainstorm and Ponder ourselves. Thankfully, we have ol' Vintage standby Thirst for Knowledge. Since our deck is primarily artifacts anyway, this is really just an instant speed draw three, discard one. Sometimes you even get to discard a Sword of the Meek and rebuy it when you play your Baleful Strix!
3 Dimir Signet
3 Talisman of Dominance
These fit perfect as our acceleration spells since they're castable off Ancient Tomb and City of Traitors, but unlike Grim Monolith these produce colored mana, which is extremely important since we have quite the hefty colored requirement on our spells—especially the planeswalkers. They also give us artifacts to sacrifice to Transmute Artifact.
Transmute Artifact definitely takes the cake for most awesome spell cast last weekend: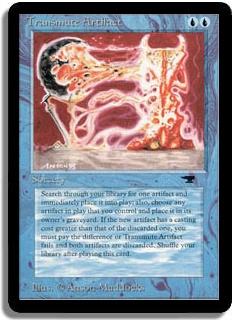 Wait…what?
As you can see, the actual card is a little convoluted, as are most antiquated Magic: The Gathering cards, so I got the pleasure of explaining it multiple times to my opponents while I used it to crush them with the Thopter Foundry / Sword of the Meek combo or tripped up their Eldrazi, Demons, and Merfolk with Ensnaring Bridge. Basically, upon resolution—not as a part of the initial cost—you sacrifice an artifact, and then you get to search your deck for an artifact card and put it into play, just like Tinker. The only difference is that you then have to pay the difference in mana if the converted mana cost of the new artifact is higher than the converted mana cost of the sacrificed artifact.
How this card is still only $15 is beyond me, although StarCityGames.com is sold out of near mint ones. Dimir Signet becomes Thopter Foundry or Sword of the Meek at no extra cost. Baleful Strix (yes, it's an artifact) turns into Ensnaring Bridge for the low price of +1 mana. You can even upgrade your Seat of the Synod into any artifact you need just by paying a little extra mana.
It's hard to believe how much this Planechase all-star does in this deck. Let's take a look:
It is an artifact, so you can Transmute Artifact it away.
It is a blue card for Force of Will that you can find with Tezzeret, Agent of Bolas' +1 ability.
It is an amazing blocker and protects your planeswalkers very well since it has flying and deathtouch.
It even replaces itself by letting you draw a card when it comes into play.
That is a lot of utility for an innocuous 1/1 flyer that only costs two mana. This is another card that I'd keep an eye out for if I were the speculating type.
4 Tezzeret, Agent of Bolas
4 Jace, the Mind Sculptor
Jace, the Mind Sculptor needs no introduction. He slices, he dices—he is the Ginsu planeswalker. Tezzeret, Agent of Bolas, on the other hand, is quietly much more powerful than he looks, and in a deck like this that is basically designed around him, he is actually better than Jace, the Mind Sculptor.
Tezzeret, Agent of Bolas does everything here. He makes 5/5s and kills opposing planeswalkers like Jace, the Mind Sculptor or your opponent. His +1 digs for all of your awesome artifacts like the Thopter Foundry / Sword of the Meek combo, one of your singleton "control artifacts," or just a Baleful Strix to block. His ultimate is extremely powerful, requiring only one activation of his +1 ability to be able to fire it off, and in a deck full of two-mana artifacts and artifact lands, it's quite feasible to just deal twenty your opponent.
Jace, the Mind Sculptor and Tezzeret, Agent of Bolas both only cost four mana, which is very important for this deck. With the seven lands that produce two colorless mana each, we can cast one of our Dimir Signets or Talisman of Dominances on turn 1, and with any land except Ancient Tomb; City of Traitors; or Urborg, Tomb of Yawgmoth, you can cast Jace or Tezzeret on turn 2. While your opponents are playing Deathrite Shamans or Stoneforge Mystics, we are casting four-mana planeswalkers on turn 2. That's Magic: The Gathering!
2 Sword of the Meek
2 Thopter Foundry
Sadly, we still have to actually kill our opponents. We'd like them to just concede when we land a Jace or Tezzeret on turn 2, but they usually don't. That's where Thopter Foundry and Sword of the Meek come in. This Extended combo that was so good it had to be banned is still legal in Legacy and is very effective.
Thopter Foundry allows you to sacrifice any nontoken artifact to gain a life and put a 1/1 blue flying Thopter token into play. Sword of the Meek is a boring equipment that gives the equipped creature +1/+2; however, like the name says, if any meekish 1/1s happen to enter the battlefield under your control, you can return Sword of the Meek from your graveyard to the battlefield. This ultimately allows you to turn every one mana you have available into a life and a 1/1 flyer. This combo is even resilient to graveyard hate like Surgical Extraction that is commonly played since you can just sacrifice one of your other artifacts in response to the Surgical Extraction targeting your Sword of the Meek and place another trigger on the stack.
The last addition we made to the deck was an Academy Ruins. Originally, we only had 21 lands and two Ratchet Bombs, but I felt like I wanted another land. We didn't really want to play 21 lands with eight colorless-producing lands, but by treating it as a spell rather than a land, we were able to go up to 22 and cut the superfluous second Ratchet Bomb.
Academy Ruins was awesome all day long. It gives the deck some resiliency against counterspells and cards like Abrupt Decay and Disenchant. Being able to put a piece of the Thopter Foundry / Sword of the Meek combo, Ensnaring Bridge, or even a Chalice of the Void back on top of your deck can be game-breaking. Academy Ruins also makes it incredible difficult to deck yourself since Thopter Foundry, Ratchet Bomb, Engineered Explosives, and Nihil Spellbomb are all able to sacrifice themselves.
Our sideboard was built with most of the popular decks in mind. When building a sideboard, I like to implement my easy four-step plan, which you can read about here; however, Legacy is a little too big for that. Instead, we wanted to hedge against the types of decks that our strategy is a little weak against.
Damnation and Perish are a nod to Elves always being popular and Maverick possibly making resurgence after GP Strasbourg. Thankfully, they are both stellar against RUG Delver as well. Meekstone is great against Merfolk and RUG Delver, and the Duresses and Vendilion Cliques are for combo decks like Storm and all the flavors of Show and Tell. We also played a Notion Thief as another way to pressure Jace, the Mind Sculptor. The extra Ensnaring Bridges are there for RUG Delver, Merfolk, Sneak and Show, Goblins, and Maverick.
Moving forward, I think this deck is in a good place. Even if people have sideboard hate for us, they still have to deal with planeswalkers on turn 2 or 3. I didn't really feel like we had any bad matchups, and no one was ready for any of our game plans. I used every single card in the maindeck and in the sideboard, so I'm not sure I would really change anything, but that can't be right. We always want to try to be at least one step ahead of the field. Notion Thief might be worth playing in the maindeck with the success of Esper Deathblade, but I feel like that match up is favorable anyway.
Hopefully, my explanations for the cards in the deck and how they interact will help anyone who wants to pick it up. You can also check out the deck tech that Chris Anderson and I did with Reuben Bresler for his perspective on the deck's thought process.
I had a blast playing it last weekend, and I definitely recommend it for any upcoming Legacy event. I won't be in #SCGDAL this weekend since I will be heading to Raleigh, North Carolina with my buddy Jesse Bradbury for Animazement. It will be my first actual "con," and I'm really looking forward to it even though I'm not dressing up. Anyone who will be there, please feel free to say hi if you see me!
<3 CVM
@Chris_VanMeter on Twitter
*Credit for the deck goes to Chris Andersen and his work with Caleb Durward. Thanks both of you guys!