Editor's Note: Today is the debut of Leaving A Legacy! A lot of players asked me if there was going to be a counterpart to The Industry Standard for when the StarCityGames.com Open Series returned back to Legacy on Sundays. Well, here it is! This column is designed to get you more in touch with Open Series players that you might not be familiar with that have a fantastic finish in a Legacy Open. Please enjoy!
I am a thief. A criminal that takes things that do not belong to me. I prey on the young and innocent (Justin Uppal), taking all that they hold dear and making it my own. I don't want your wallet. I don't want your watch or your purse. There is only one thing that I want, and nothing will stop me from taking it from you.
I want value.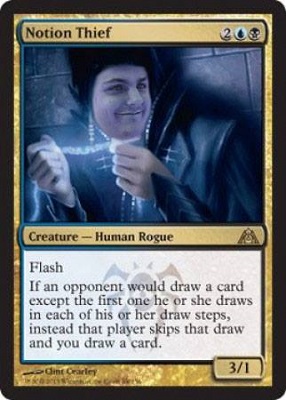 Roughly 99% of my Legacy experience comes from the StarCityGames.com Open Series. I don't own a deck myself, and there is not a huge Legacy scene in Dayton, Ohio. I played Esper Stoneblade in the last five Opens and two Invitationals. I had been doing very well with the deck, but I wanted to try Brian Braun-Duin's Deathrite Shaman version from SCG Invitational: Atlanta at #SCGNASH.
Creatures (15)
Planeswalkers (5)
Lands (23)
Spells (17) BBD's deck was made with the Invitational metagame in mind, where you can expect a higher number of blue control decks and RUG Delver. I usually encounter three or four combo decks per Open, so I opted to play maindeck Force of Wills. Liliana did not seem very impressive, so I cut her as well. After moving some cards around, I ended up on this:
Creatures (16)
Planeswalkers (3)
Lands (23)
Spells (18) You might be thinking, "Nice lands bro!" Thank you! I could not find the remaining Polluted Deltas or Karakas, so they all became different blue fetches. Obviously, Polluted Delta would be better and you should play them if you have them, but the deck still functions the same 95% of the time.
So how did I end up with a Notion Thief in my maindeck? I'm not one to pass up on an opportunity for value. I'd wanted to play with Notion Thief for weeks, and I was not about to wait for games 2 and 3. I thought that it would be worth it if it stole a game or two throughout the tournament. You can throw it back off of Brainstorm or pitch it to Force of Will if need be. It's close to impossible to lose any game in which you resolve a Notion Thief in response to a Brainstorm, and I thought that made up for the matchups where it did nothing. I only got one individual with the Notion Thief, but we'll get around to that later. [Editor's Note: Yes. Yes we will.]
My comrades for this adventure in thievery were Scott Ruggiero, Executive Producer John Douglass, and fellow 10K Champion Adam Prosak. A quick aside before we move on, I want to explain exactly what the coveted title "10K Champion" means and where it came from.
Back in 2006 during the glory days of my youth, I played a game called VS System. It was a game similar to Magic but was themed with Marvel/DC superheroes. Through VS I met Adam Prosak, who lived in Cincinnati at the time and played in a lot of the tournaments that I did. A 10K was the VS system version of a Grand Prix except only 100 people showed up. I won one of these events, and Adam won two.
Fast-forward six years, VS System is dead [Editor's Note: RIP], and Adam and I have both won a SCG Invitational. One day we somehow decided that we were going to refer to each other with a title and settled on 10K Champion. This somehow took off, and now I guess everyone refers to me as 10K champion, thinking it has something to do with winning $10,000 and/or Magic. Nope. The VS 10K paid out something like $2500 to first.
Back to my harrowing tale of theft and villainy! We arrived in Nashville on Friday evening after a six-hour drive down from Dayton. We passed some time on the way down by playing everyone else's favorite game in which they name older Magic cards and I guess what the card does based on the name. I have only been playing since M10 and don't play Modern, so there are quite a few cards that I know nothing about (like every Sliver ever printed).
I do reasonably well on some of them though. For example, I was given the name Transmute Artifact. My guess was 1UU: Sacrifice an artifact, search your deck for an artifact with the same converted mana cost as the card you sacrificed and put it into play. Not bad, right?!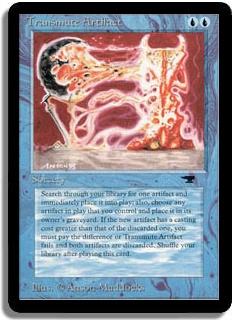 I was pretty close!
I played Jund in Standard on Saturday and came in 15th. I'd been playing The Aristocrats for the past two months, but I was not happy with its matchup against Gruul Aggro. Its best matchup, G/B/W Reanimator, has also been on the decline. Everyone from my car except for 10K Champion Adam Prosak finished in the Top 16. Adam has not yet had enough experience with writing out decklists and was so impressed with Stromkirk Noble that he saw no reason not to include five in his deck. He got to spend the evening doing non-Magic related things.
We went back to the hotel and did a Team Rochester draft with some of the guys from Georgia. I drafted a slow Grixis deck starring Notion Thief. I got to play it in response to a Cluestone activation in the deciding game of my match, and I was sold on it being a good choice for my Legacy main deck.
I went 6-1-1 in the Swiss portion of Legacy and finished in 8th place on breakers. I lost to Jacob Baugh playing Storm in the Swiss and also drew with G/B/W Midrange. At the Invitational in Los Angeles last year, I got three unintentional draws in Legacy and finished 20th—costing me several thousands of dollars in the process—so I've worked on speeding up my play this year and think I'm doing better. It's not like I'm playing slow enough to get warnings for it or anything, but you often have many lines of play available in these Legacy control/midrange mirrors, so sometimes three-game matches take an hour.
10K Champion Adam Prosak somehow managed to submit a legal decklist for Legacy and did a reasonable job of counting to ten throughout the day, earning him a spot in the Top 8 as well. Adam and I have a deal where when we play against each other in Opens, we are both going to mulligan to zero every game, which is probably why he wanted five Stromkirk Nobles in his Standard deck.
I got paired up against Jacob Baugh for the Storm rematch in the quarterfinals. I do not think this matchup is very good because I have too many dead cards in game 1 and cannot present a very fast clock to try to steal a game. This lets the Storm player build up the perfect hand in the first four turns of the game without much resistance. The sideboard games are way better after you lose all of your Swords to Plowshares for countermagic, Thoughtseize, and Meddling Mage. Jacob was on the play due to being the #1 seed, which made matters worse.
Fortunately, I run hotter than the sun at all times, and Jacob's hand for several turns was land, land, Infernal Tutor, and several ritual effects. He would play a land and be unable to go hellbent due to the other land in his hand, draw another land the next turn, and repeat until dead. In game 2, I forced Jacob to discard his Infernal Tutor early, leaving him with only rituals. I played a Meddling Mage naming Tendrils of Agony, which meant he needed both an Infernal Tutor and an answer to my Meddling Mage to win the game. He drew several more ritual effects and lost.
I was excited at this point. I didn't really think I would win the quarterfinals, and Adam had a good match against Justin Uppal's BUG deck. I thought we were going to get to play our mull to zero match on camera, but I forgot to factor in that Adam isn't very good at math and has a strong dislike for money. Adam's hand contained several Infernal Tutors and a Dark Ritual. On his last turn, he decided that he would play all of his Infernal Tutors to go get more Dark Rituals, then make twelve mana, and die. I personally would have gotten something else with my final tutor, but hey, I didn't Top 8 a recent Invitational with Storm.
My dream of a mull to zero match was shattered, but the dream of six-for-oneing someone still lived! Justin's deck was prime to get blown out, with Baleful Strix; Ancestral Vision; Brainstorm; and Jace, the Mind Sculptor. He also had no instant speed removal spells that could kill Notion Thief, so I knew I had a chance at the ultimate blowout. Justin started the game as an innocent child oblivious to the harsh realities of the world. Just happy to be in a Top 8. A boy with a dream of winning a trophy. And then this happened.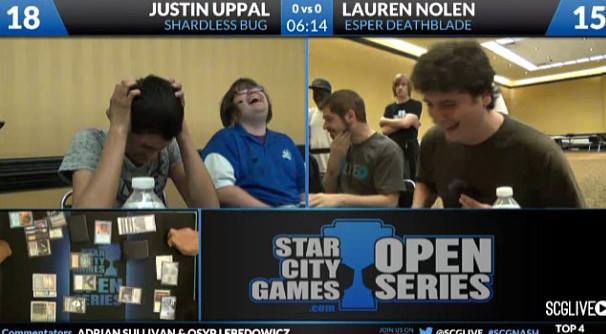 The camera captured the exact instant that Justin's childhood ended. He now knows that the world is a cruel place—that you cannot just Brainstorm with your Jace and expect there to be no consequence.
This was easily the best time I have ever had in a match of Magic; the stars aligned, and I got him again in game 2 with a Brainstorm. You can find the entire match here.
I had the following conversation before starting the finals:
Me: "Are you playing any copies of Notion Thief?"
Jack Fogle: "No, I didn't have room in my sideboard. Oh, I thought you had one, but I don't see it in your sideboard."
Me: "You're going to want to look a little closer to the top-left corner of the decklist."
Jack was playing a deck similar to mine. In game 2, we got to a board state where neither of us had anything in play and Jack had Dark Confidant in hand. At this point, I assumed that I was about a 99.7% favorite to win this game because it was obvious that I was going to draw Jace, the Mind Sculptor and win with it in a stunning display of my Magical skills.
There are some changes you can make to the deck if you're looking to try it out. Force of Will is a metagame call. [Editor's Note: Seven words I thought I would never hear.] I thought I would need it in Nashville, but it turned out that I didn't, so I would leave them in the sideboard for now. If you do want them in the maindeck, you probably need another blue card or two to reliably have a card to remove for it—probably a copy or two of Ponder.
Notion Thief is about as much fun as you can possibly have in Legacy, but if you're looking to maximize your chance to win the tournament, it's probably better left in the sideboard. It excels in matchups like Shardless BUG, but it's very hard to make it happen most of the time. If you do play maindeck Force of Will, Notion Thief is a little bit better since you can usually find something to do with it. If I had an upcoming Legacy tournament, I would play the following:
Creatures (14)
Planeswalkers (4)
Lands (23)
Spells (19) I think Esper Deathblade is very well positioned right now. It's very good against the slower grindy decks and also has solid post-board games against combo. It has a ton of play, and you usually have a lot of decisions in every match.
I've kept a Microsoft Excel spreadsheet of my Magic tournaments this year. I did very well last year and found myself wanting to know exactly how much I was making per event. I'm four Legacy Opens into this year with an average finish of 15th, so I think I'm going to branch out and drive further to them from now on.
I'm looking forward to hearing countless bad beat stories involving Notion Thief in the coming months! I'll be at the SCG Open Series in St. Louis and Columbus next month and possibly Baltimore, so come by and tell me about how you seven-for-oned someone!
Thanks for reading.