My last day in Boston was a blur. I packed up my apartment, said goodbyes to roommates and friends, and took a final exam. Each minute that passed meant I was closer to San Diego, closer to the Pro Tour. Soon thoughts of Block Constructed were all that filled my head; Sphinx's Revelations, Rakdos Cacklers, and Loxodon Smiters swirled around me as I drifted off on the plane. Little did I know of the sight that awaited me in just a few short hours.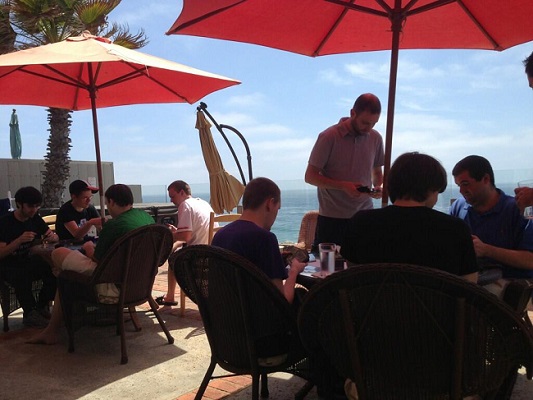 By the time I arrived in San Diego on Tuesday morning, my whole team was already playing Bant Control. An initial sketch of the deck had been suggested by Brad Nelson as early as the previous Thursday, and since then it had evolved into something very close to what we all played at the Pro Tour.
Even the most dedicated of brewers in Sam Black and Zvi Mowshowitz had all but resigned themselves to working on Bant, which was a good sign for me. I told myself that for once I'd play the "team deck."
The Bant deck had a number of inherent strengths that I was happy to capitalize on. The creatures allowed it to both attack opposing Jaces better and defend its own Jaces better than most control decks. I viewed this initially as a deal breaker because the control mirrors appeared to be very Jace-centric.
Then came Aetherling, the wrench in all plans. As we played more control mirrors, it became abundantly clear that the majority of games ended in a resolved Aetherling. A quick Gatherer search will tell you that the only true "answers" to Aetherling are counterspells, Debtor's Pulpit, New Prahv Guildmage, and Pithing Needle. All three of these are solved by Detention Sphere, and Needle is already awkward enough because it means you can't punish an opponent who is weak to Aetherling.
Aetherling certainly presented a deckbuilding problem that I've never really had to face. How do you beat an unbeatable card, especially while continuing to play that card yourself? The first lesson came from playing against Esper Control, which could typically use removal spells to "Fog" an Aetherling for a turn. Usually, an Aetherling could only be raced with another Aetherling, in which case the player with either a higher life total or more "Fogs" (or both) would win. Oftentimes, forcing through an Aetherling would present the opponent an opportunity to resolve theirs, so being ahead on cards or life when they came down was very important. The presence of Sphinx's Revelation in these Aetherling wars also meant that getting ahead on mana was very important.
There you have it. When both players have access to an unbeatable card, it's important to get as far ahead as possible on as many resources as possible before they come down. Sometimes, this means putting so much pressure on the opponent that they are forced to go for their Aetherling before they are ready (allowing you to win the counter war); other times, it means forcing them to exhaust so many resources that your Aetherling is easy to resolve and even more devastating when it hits.
This emphasis on resources led me to another conclusion. While the games may end in Aetherling, they are fought on the battlefield of Jace. Jace is the easiest way to amass resources in the control mirror while simultaneously exhausting your opponent of their own.
This is the version of the #TeamSCG Bant Control deck that I played at the Pro Tour:
Creatures (13)
Planeswalkers (4)
Lands (26)
Spells (17) About to leave our beach house, I took a step out on to the deck where Reid Duke and Andrew Cuneo already stood looking out at the ocean. "Happy Pro Tour's Eve," I said. "This is one of my favorite holidays." Reid turned around. "What did your family do for Pro Tour's Eve when you were a kid?" How cool would that be? Light the fireplace and swap stories. Tales of the Great One, the German Juggernaut, and the Legend of JFM. Maybe pop in a classic webcast and rewatch the finals of Pro Tour Paris again and again....
My Pro Tour Dragon's Maze was a tale of two very different days. I went 4-4 on day 1 and felt like I was always battling from behind. The Constructed rounds felt very difficult—even the matches I won it seemed as though as I was out of control and merely stumbling upon wins. To an extent I think this was because I was still learning how to play the control mirror.
I played a control mirror in all five rounds on day 1, after which it was abundantly clear that many other teams came to the conclusion that you should try to be aggressive in the control mirror. This led to a constant guessing game of "How many removal spells should I keep in? How many will they keep in?" There was definitely a learning curve to this type of sideboarding, and naturally it helped to have more scouting on each opponent the deeper I went into the tournament.
Day 2 went much more smoothly. I went 7-1 for a total of 11-5, which was good for 31st place. A record of 12-4 would've allowed me to hit my goal of Platinum status for the year, but I am still very happy with my finish given such an abysmal first day.
All in all, I went 7-3 in Block Constructed (2-3 on day 1 and 5-0 on day 2), playing a total of nine (!) control mirrors across the ten rounds. I lost a huge portion of my game 1s, which was probably a function of losing some die rolls, sloppy play in the early rounds, and deck design. Loxodon Smiter often felt like a dead card against control in game 1 because of the abundance of removal spells. I could rarely find an opportunity to cast the card where my opponent wasn't able to deal with it quickly and efficiently.
The last two rounds of the tournament I found myself down a game with less than 30 minutes on the clock in control mirrors. I found myself both playing and forcing my opponents to play at a breakneck pace in order to hopefully win game 2 and have time to finish game 3. I'd like to commend all of my control opponents over the course of the tournament for playing at very reasonable pace even when the clock was to their advantage. I never even had to take a turn in extra time, though I did finish many rounds with mere seconds on the clock. It was awesome to see this level of professionalism and sportsmanship out of all my opponents.
There are plenty of interesting situations to talk about from the tournament, but game 3 of my last round was particularly unique. My opponent was playing U/W/R Control and was on the play for the third game. On turn 2 with a Hallowed Fountain in play, I had the option to cast Gatecreeper Vine off of a Forest with a Loxodon Smiter, a Jace, and lands in hand. This play could be dangerous since it would allow him to play a Boros Reckoner followed by a Jace, thus blanking my Smiter's ability to attack his Jace.
Instead, I played a Breeding Pool untapped and passed, representing Syncopate as hard as I could. My greatest hope was that my opponent would pass with countermagic of his own, allowing me to "Time Walk" him with Smiter and lay down both protection of my own future Jace and a threat against his. The game played out as I hoped—I was able to attack my turn 3 Smiter into his turn 4 Reckoner, trade, and resolve Jace. My opponent even had Ral Zarek to kill off the Jace, but by that time I had drawn Advent of the Wurm and Dispel to take care of his planeswalker and his life total. I can only wonder how the game would have played out if I had cast the Vine or played Forest instead of Breeding Pool on turn 2.
The Draft portion of the PT was very smooth across the board for me, and I have William "Huey" Jensen to thank for that. When I arrived at the house, Huey and Owen Turtenwald were strongly in favor of drafting two-color decks and focusing on setting up for Return to Ravnica. I was able to do this effectively in both my PT drafts, where I drafted strong Azorius and Rakdos decks and went 2-1 with each.
My Azorius draft brought up a tough spot that I'd like to talk about. I started the draft with Armed // Dangerous followed by Fluxcharger and picked up a couple Nivix Cyclops and a Gruul Guildgate. I was excited to be in position to draft an aggressive Izzet deck with one of the best uncommons (Armed // Dangerous) as a splash card. As pack 1 went on, it became clear to me that while the Izzet gold cards were open, red was not. I picked up a Haazda Snare Squad in the middle of the pack and a couple Wind Drakes as well. A late Deputy of Aquittals (that I regrettably passed for a late Cyclops) indicated to me that Azorius may be much more open in Return to Ravnica than Izzet.
Pack 2 put my belief to the test when I opened Angelic Skirmisher and Firefist Striker. I decide at this point to switch into Azorius, which paid off greatly in pack 3 with a third pick Angel of Serenity and a fifth pick Skymark Roc. The only red card of note was an Explosive Impact that I was able to splash anyway along with the Fluxcharger.
This draft illustrates an important aspect of the DGR Draft format, which is tracking both monocolored and guild-based signals. In this case, the "Izzet guild" was open, but the aggressive mono-red cards that lead to a strong Izzet deck were nowhere to be seen. Luckily, I was able to get out in time and position myself for a huge payoff in pack 3.
Overall, Pro Tour Dragon's Maze was both a disappointing and rewarding experience. It was heartbreaking to come so close to earning Platinum again, only to miss it by a single match win. However, I was ecstatic at my performance on day 2 and my ability to play from behind in so many matches.
One of the highlights of the tournament was a 9th place finish by my friend and teammate Reid Duke. Not only was this his best finish yet at a Pro Tour, but it propelled him to both Platinum and another shot at the World Championship. Congrats to Reid on an awesome season.
I'd like to thank #TeamSCG for another awesome Pro Tour experience. I've been blessed with an opportunity to play with a truly amazing team of both players and people.
My last takeaway from the Pro Tour was my 100th lifetime Pro Point. In a few months, I'll be able to submit my ballot for this year's Hall of Fame class. I feel honored with the ability to have a lasting impact on the history of the game that has been part of my life for so long. I look forward to voting for my very deserving friends and peers and to hopefully enshrine them in hallowed halls of Magic history. I can only hope that when my name appears on the ballot for the first time in 2020, it will be with half of the respect that I have for players like Luis Scott-Vargas, Ben Stark, William Jensen, and all of the current members of the Hall of Fame.
Thanks for reading,