Stage One: Denial
"I'm not really going to lose to that pile, am I?"
-Everyone ever
One of the things that caught my eye after Pro Tour Dragon's Maze was the viability of a Gates strategy in Block. As you might know, one of the things that I find really interesting in trying new decks is alternate ways to win.
I think that Battle of Wits deserves more respect as a strategy (though I can understand being apprehensive about it in a world of Burning-Tree Emissarys in the current Standard), and I was screwing around with Door before Travis Woo made it cool (though I am pretty sure Travis did a much better job of it ultimately).
Gates is more of the same and is quite interesting.
The card Maze's End is like a super-specialized Thawing Glaciers that can actually win the game Battle or Door style.
For those of you who are not super-versed in the history of Thawing Glaciers, it was a little slow, sure, but Pro Tour Top 8 competitor (and current Magic Online boss) Worth Wollpert always used to say that he would "play eight" if they let him.
Maze's End is even slower than Thawing Glaciers but has the up side of being a victory condition as well as a source of card advantage and color fixing. I have often been okay with having a deck that is in some ways slower than everyone else's—as long as I have other aspects that are defensively fast enough to keep opposing beatdown decks off of their fundamental turns.
Plus, it would be fun to win with Gates.
Stage Two: Anger
Him: Do you really think that is a viable strategy? I think you're wasting people's time in here.
YT: Can't really imagine losing this game—or this match.
So here's the thing about Gates:
You kind of have to play 28 lands.
At least I assume you have to play 28 lands because that's about how many the performing decks from Pro Tour Dragon's Maze played.
Now which 28 lands was a matter of art and science and took quite a bit of tinkering on my part. I spent the entirety of at least my first three Gates builds in the Tournament Practice Room trying to get a bearing on how to make the deck flow viably.
This part might be boring. If you want to skip ahead to the conclusions, just ctrl+f "Hundroog" and that will take you to right above Stage Three.
Still here? Great!
I started with this deck, which was a top performer in Block:
Creatures (4)
Lands (28)
Spells (28) Again, you'll note that there are 28 lands, twenty of which are Gates (two of each) and four of which are the necessary Maze's Ends that are kind of the point of the deck.
My first exploration in Gates used about the same structure.
Creatures (1)
Lands (28)
Spells (31) I also played twenty Gates. Though the deck can make all five colors, it wasn't actually hard to make any. Plasm Capture can make lots of mana. I was fusing Far // Away left and right.
As with all my Gates decks in this article, there are lots of Warleader's Helixes. It deals four and is an instant. Those are important because Sire of Insanity is a legitimate threat and you need a way to handle one that has already resolved.
Bafflingly, I won my first three or four matches in the Tournament Practice Room—all against real decks!
It was during this term that I realized a couple of things, the most important of which is that Gates has inevitability in Standard. If you don't kill Gates, Gates. Will. Win. It is a strategy that has a nigh-infinite card drawing engine; if you allow it to play one-for-one / attrition and give it a little time, it will essentially never miss a land drop, making Gates a kind of ur-Draw-Go in Standard. Obviously it has some leaks, but if you don't exploit them (or simply don't know what they are to attack there) Gates. Will. Win.
Now I wanted to make my Gates deck a bit proactively faster. I went through a couple of iterations there but decided—as I think would be logical for an Urban Evolution deck that tries to win by getting ten-plus lands into play—that Farseek would be the surest route to what I was trying to do.
Creatures (6)
Lands (28)
Spells (26) This kind of exacerbated the bad part of Gates (being flooded) but opened up an important line of deck construction—I still played a ton of lands but pared down my Gates counts to make the deck defensively faster.
Gates actually live on a continuum. The more Gates you play, the faster you can win a game naturally. Playing a low number of Gates (say as few as one of each) forces you to find most of your Gates with Maze's End; ergo, you might become defensively faster (your fourth land comes into play untapped) but "offensively" slower.
The star of our program, though, is the Flash Gates deck I eventually got to.
I cut most of the other colors and essentially built a Raka Flash deck that happens to have a slow combo kill.
Creatures (5)
Lands (27)
Spells (27) I tested a couple of different counterspells, but I think Counterflux is the best. It gives you a nice fallback with Psychic Spiral against Nephalia Drownyard decks. Drownyard is the rare kind of control deck that can give Gates problems. You play an Elixir of Immortality and some creatures as defense, but the wrong Drownyard tap will cancel the combo; you only have one copy of most Gates and therefore need to protect the Elixir as well.
However, it doesn't matter if your Psychic Spiral gets milled; Snapcaster Mage + Counterflux (or multiple Counterfluxes) is like an actual superhero.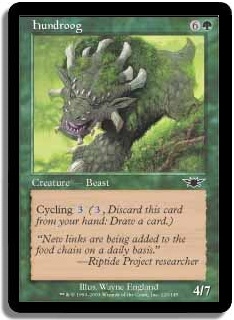 This. Is. Hundroog!
Stage Three: Bargaining
Gates is a tough strategy to break because there is nothing to disrupt. I tried to make a deck that would make Wafo-Tapa blush (or at least nod his head approvingly) for all the card drawing, but in a sense Maze's End is the only card drawing you need. I have mulled to four and never missed a land drop. You can't really counterspell a Maze's End. You can't Duress a Maze's End.
So here's a tip for playing against Gates:
In one of my tournament matches, I was up against a control deck with maindeck Ghost Quarter. He let me go deep before eventually blowing his Ghost Quarter on my Maze's End. I would recommend trying to figure out which kind of Gate your opponent is thin on (say Golgari Guildgate in this deck) and hit that. The Gates opponent might have an Elixir of Immortality or Psychic Spiral to get back the lost Gate, but that will take substantial time. In the meantime, he won't just win.
Now speaking of mana, there are an awful lot of off-color lands in this deck, but I singled out Golgari Guildgate for a reason. All the other Gates—Gruul Guildgate, Orzhov Guildgate, and so on—can be productive; bad Mountains or bad Plains if not so glorious as four-of Azorius Guildgate.
Stage Four: Depression
[XXX] has become disconnected from the game.
It's not all rosy beating up on control decks. Gates is quite challenged by pure aggro. I have found that if you can get your game going, you can win with card advantage assuming you draw some fast response cards and maybe a Snapcaster Mage.
The particularly challenging draws are going to be the ones with one or more Burning-Tree Emissarys on the other side of the table. To be fair, the same might be said for any control deck, but there is no question that my Gates explorations have improved since adding more non-Gates lands.
Stage Five: Acceptance
GG.
Back when it was regular Ravnica in Standard, I made a deck that ended up being nicknamed "Budget" Boros. It eventually became important because Boros Garrison in a beatdown deck was awesome—kind of like card drawing, but compressed so the deck only had to play twenty lands.
Budget Boros went on to win a bunch of Team PTQs for various people, and I and my then-protege Julian Levin played it at Regionals. (Julian made Top 8 but lost to one of Ben Lundquist's protege's in the round of 8. Julian would eventually just win a grinder at Nationals.)
Budget Boros was a super fun deck to play and scored some Canadian Nationals Top 8 action. Red deck master Patrick Sullivan adopted it as his Weapon of Choice in Standard (though he took out Shock or Volcanic Hammer for Leonin Skyhunter). He would gleefully IM me late at night to tell me how he had caught some haughty blue mage with Hidetsugu's Last Rite.
Burn spell or Leonin Skyhunter, though?
Which was right?
At the Team Pro Tour, we set out to find out.
Tsuyoshi Fujita, maybe the greatest beatdown deck designer of all time, was there. We found him and made our respective cases. Earlier that year, in a California hotel, Fujita had convinced me to play Umezawa's Jitte instead of Manriki Gusari. Originally designed for Unified Standard (where your Jittes might be spoken for in other decks), Manriki Gusari won in Team PTQs and was good to me in Magic Online queues.
"Paladin en-Vec plus Umezawa's Jitte is the best combo in the format."
I couldn't argue with him there! Plus the man was the greatest beatdown deck designer of all time (probably still is).
So... Back to the entreaty by me and PSulli.
Tsuyoshi heard us out; looked at me, looked at Pat; stroked an imaginary beard like Gordon Liu in the second Kill Bill movie.
"Depends on the metagame."
Depends on the metagame?
I will never forget those four words. At the time it smelled like a cop-out, but Tsuyoshi spoke true. Skyhunter would be better in some games and burn in others depending on what kind of deck the opponent was playing.
After hours poring over different Gates builds in the Tournament Practice Room, I eventually fielded a ten-game set. Here are the results: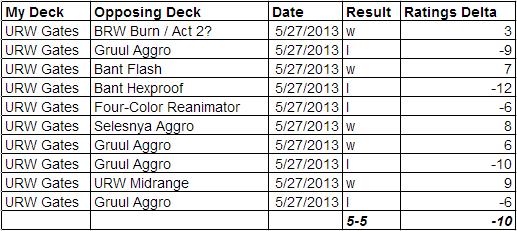 I was tempted to try Gates at #SCGBALT this weekend, but—aside from the exactly even-steven ten-game finish—Gates isn't the best for an open (or an Open) field, at least how I have it set up. Granted, I played against mostly aggressive decks, but as my friend Gabe Carleton-Barnes pointed out (the U/W/R Midrange victim actually), beatdown decks with Burning-Tree Emissary represent essentially the best decks in the field.
In terms of matches proper, I liked how I matched up against the B/W/R / Aristocrats-ish deck. Snapcaster Mage and Warleader's Helix are simple one-to-one trumps with midrange aggressive cards like Searing Spear, and Pillar of Flame was very effective against Blood Artist. If the changing metagame shifts towards no Burning Tree Emissary a la the recent successes of Aaron Barich, that is very good for this kind of strategy.
Most of the wins against aggressive decks were how you might have expected; they got suboptimal (literally "less than the best" not "bad") speed, allowing U/W/R to play like a U/W/R deck with obvious life gain gas building towards midgame advantages. The ones I lost were based on their being faster with Burning Tree Emissarys (usually winning the roll), with my Gates slowing me down being less of a factor but surely still a factor.
Man, that Bant Hexproof deck wanted to lose. I drew zero Snapcaster Mages and zero sweepers in the three. That one stung.
The one that didn't sting but might have stood out was against Four-Color Reanimator. If I had more time before #SCGBALT, I would be tempted to test that; it is currently a fringe strategy but has a lot of the elements I like in decks in general. Unburial Rites (midrange combo)—but adding the dimension of Boros Reckoner + Blasphemous Act and Harvest Pyre to kill the opponent like The Aristocrats or Gerry Thompson style U/W/R Flash. Great different plans, especially for when the opponent is aiming at your graveyard or fatties (and Boros Reckoner is a Top 5 Standard card and Top 1 anti-aggro card anyway).
It was Game 3; he was on the play after a surprise Harvest Pyre in game 1. Yes, that's a Faithless Looting. Yes, that's a Mulch. Argh. Yes, that's a Gate. :( Turn 4 Sire of Insanity, huh?
And I came back.
I actually played it perfectly from just three lands in play against his four lands and 6/4, sandbagging my Think Twices and setting up on his end steps. I got all the way back in but was stuck on two, and he eventually plinked me out with some not-usually-dangerous thing like Lingering Souls or something. Warleader's Helix is essential—but turn 4 Sire of Insanity on the play is almost unbeatable for control. Especially if their third land comes into play tapped.
All that said, I really didn't hate Gates, and I wouldn't mind playing it in a smaller tournament like an FNM.
However... It's like Fujita said. It depends on the metagame. If control comes back in a big and predictable way, it's hard to imagine a stronger strategy.
I'm not even sure how I would go about improving the sideboard against aggro. Maybe add Boros Reckoner? Kind of a tough cast. You probably can't hit it until turn 4, and there are a lot of lands that don't make W/R.
LOVE
MIKE
Postscript
So what am I going to play at #SCGBALT?
Creatures (16)
Lands (23) Basically the deck from last week, but adding two Boros Reckoners to the sideboard over the Izzet Staticasters. I did this once I realized that the deck was already playing Boros Charm main and that there were ample ways to give a Wizard lifelink.
Wish me luck!