Modern Masters will be released this Friday. In this article, I'll talk about its effect on non-rare cubes: Pauper (only commons) and Peasant (only commons and uncommons). In the past, I talked about non-rare cubes and how they are useful for not only a different cube experience but also to make you a better cube designer. Sam Stoddard noted that Modern Masters will be a "real game changer for common/uncommon" cubes. Will it? Let's take a look.
Cards That Went From Uncommon To Common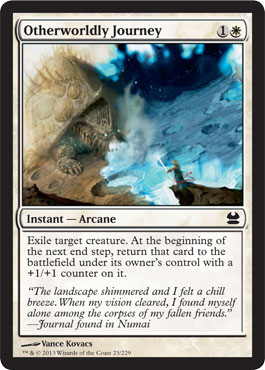 Otherworldly Journey – This will be solid for all kinds of white decks because it will work excellently with creatures with enter the battlefield triggers to save your own creatures and even as a miser's Niveous Wisps to get a blocker out of the way. An easy inclusion.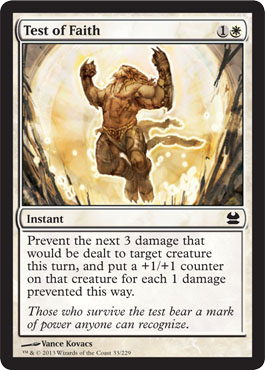 Test of Faith – With this and Otherworldly Journey, white decks will be getting a big boost in Pauper cubes. Much of the premier removal in the format is burn-based, and Test of Faith lets a combat trade turn a creature into something that goes over the top of everything else. Another easy inclusion.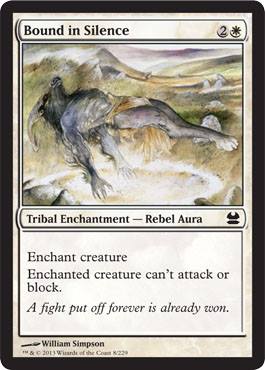 Bound in Silence – There are more than enough marginal three-mana Pacifisms (Recumbent Bliss) and Bound in Silence is worse than those.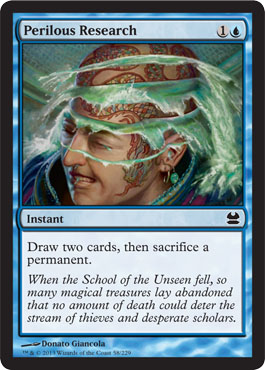 Perilous Research – Perilous Research is a nice complement to the usual counterspells, instant speed bounce spells, and the surprisingly high number of good flash creatures that comprise blue decks in the format. There are some analogues like Library of Lat-Nam and See Beyond in the format for two-mana draw spells, but the ability to draw two cards now (there aren't a lot of instant speed draw options in the format where you get to draw two-plus cards) and the ability to cycle away a permanent that's about to die or is irrelevant. That and it works well with all of the Gravediggers in black. All in all, it should be a solid blue instant.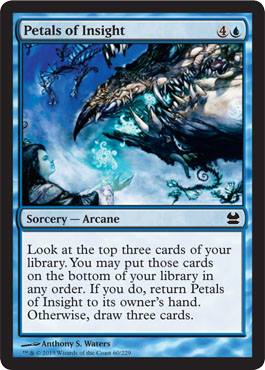 Petals of Insight – Speaking of blue card draw, Petals of Insight should be a nice draw card spell for Pauper. Pauper cubes with Masters Editions have Brilliant Plan, and this one is a pure upgrade to that. It looks to be a nice supplement/better than the similar card Mysteries of the Deep since landfall in control decks isn't hard to hit, especially if you have bouncelands.
Rush of Knowledge is another point of comparison, but I tend to find that being able to draw two-plus cards is when I'm digging for cards and I may not have creatures out when that happens (drawn-out creatures stalls don't tend to happen that often with a Pauper cube; nowhere near as much as in traditional Limited.)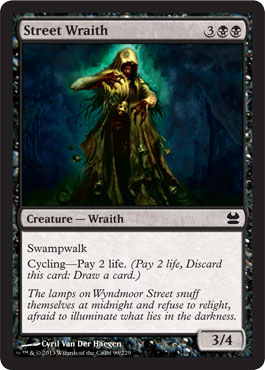 Street Wraith – Although this is a popular card in Constructed graveyard-based strategies, I don't think Street Wraith will be very good in Pauper cubes. It'll mostly be used as a way to cycle and to lower card counts, and while finishers aren't very good, they're not bad enough to the point of playing this guy. There are some arguments that it could see play as a cheap way to enable the reanimation trio of Exhume, Breath of Life and False Defeat, but it can be dealt with pretty easily from non-black decks and the combination of five mana, 3/4 Swampwalker, and guy who can be reanimation fodder still isn't worth it.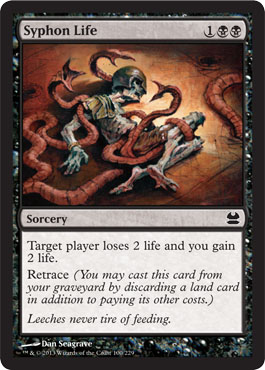 Syphon Life – This provides some inevitability and reach at a cheaper mana cost than buyback spells. It may be harder for aggressive decks to take advantage of this spell due to the relative inefficiency and their low land counts (although they still have ways to cheat that like Borderposts). It'll be a nice supplement for slower black decks of the format, but I could see this being cut if/when better options for black control decks become available.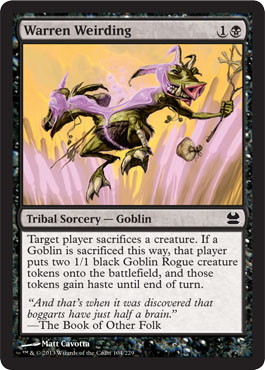 Warren Weirding – Hardly any Pauper cubes are using Cruel Edict, and the ones that did probably replaced it with Geth's Verdict or Devour Flesh. A Cruel Edict with a small chance of drawback/marginal effect if you edict yourself isn't really worth it.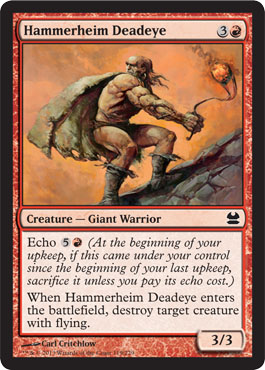 Hammerheim Deadeye – While the removal-on-a-stick effects are closer to Shaper Parasite than Nekrataal, Hammerheim Deadeye is still too narrow to be worth considering for Pauper. Its best value is against blue and white decks since they have the lion's share of fliers in the format, and even against them it isn't very efficient. It isn't good to be played on curve, and unlike Stingscourger its overall mana cost with the increased echo isn't worth it for the decks that want to play it.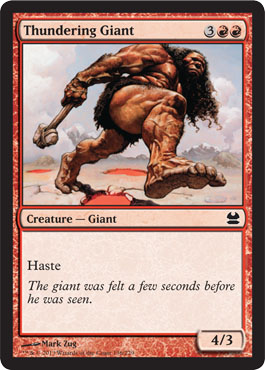 Thundering Giant – Of all of the cards that became commons in Modern Masters, Thundering Giant is the one I'm most uncertain about. Cards like Raging Minotaur and Talruum Minotaur were a disappointment in cubes due to their inefficiency, and it's a question of whether the same thing will happen to Thundering Giant.
The five-mana cost makes Thundering Giant fit in aggressive strategies better, but it seems like he'll be just that because the four toughness makes creatures like Tenement Crasher and Flameborn Hellion better big red finishers. In my Pauper cube update, I'm going to consider bringing in Thundering Giant, but I wouldn't be surprised if it doesn't end up getting in or doesn't last long.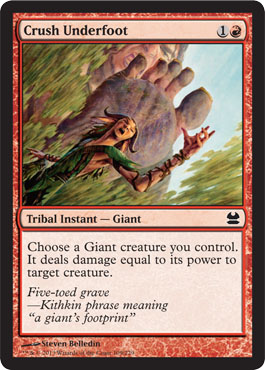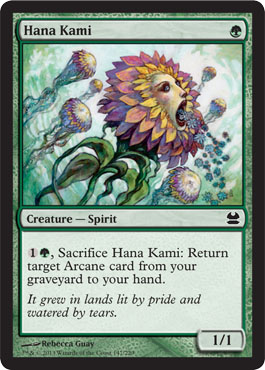 Crush Underfoot and Hana Kami – Both of these are cards suffer greatly because they don't have the required support needed to make them any good, making them easy passes.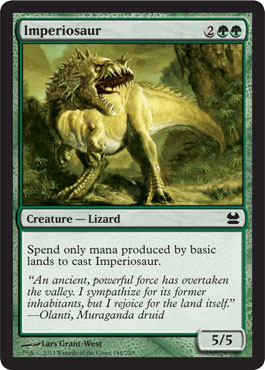 Imperiosaur – One of the most notable things about cutting rares from a cube is that aside from a few exceptions, the quality of big-mana finishers dips very fast. It's different from cubes that have rares, which have plenty of choices and tend to have too many finishers. Combine this with the fact that a good amount of the finishers in Pauper aren't like many Modern finishers that have an immediate game-changing effect or demand an immediate answer and the competition gets much easier.
For example, there are only 125 commons with five-plus power, with suboptimal cards like Okina Nightwatch and non-finishers like Blistering Barrier taking up a big chunk of the count.
Imperiosaur can't be ramped out on turn 3 and can be tempting to dismiss since it doesn't fit into what we consider to be optimal scenario of turn 1 mana elf, turn 3 four-drop. However, this would be a mistake. Getting this thing out on turn 4 is still very good due to general efficiency for the mana cost in the format because it's hard to get power that high for a cost so low. In that way, it can somewhat like Serra Avenger in a "rare" cube, which forces you to play it fair.
Instead of dismissing Imperiosaur because you can't ramp it out on turn 4, note the additional value that you can get from the mana from mana elves/mana rocks on that turn. It's no Blastoderm, but that's a very high bar. I'd much rather have Imperiosaur in my green Pauper decks than other options like Pathbreaker Wurm, Hollowhenge Beast, or Rubbleback Rhino, even with Rumbling Baloth, the common 2GG 4/4 recently spoiled from the M14 Intro Decks on the mothership that will join Imperiosaur in Pauper cubes.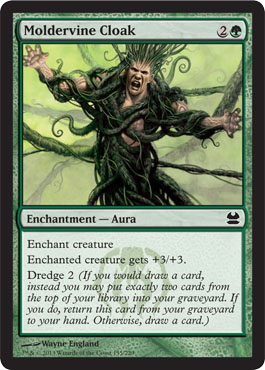 Moldervine Cloak – Although the number and quality of finishers dips hard when going away from rarities, one thing that doesn't dip as hard is removal, particularly in red. Some of the premier removal options like white's Swords to Plowshares / Path to Exile and black's premier removal on a stick like Bone Shredder / Shriekmaw / Nekrataal doesn't transfer over, but a lot of the quality removal stays like a good number red's burn-based removal, Snuff Out, and others. Why mention this?
Moldervine's natural enemy is removal, and one of the main reasons that it was so good in regular Limited formats was the difficulty of getting two-for-oned. However, in Pauper it can get a creature out of range of being killed by burn-based removal, which comprises a high percentage of the premier removal in the format. If you remember, it's much like when it was in Ravnica era Standard when Seal of Fire / Lightning Helix / Char represented one side of the format's removal along with Putrefy / Mortify / Faith's Fetters in the other half (where Cloak was solid against the former but not the latter.)
Also, since there aren't many five-plus power and toughness creatures in the format (or even 4/4s), it can easily go over the top of other creatures if it resolves. If you've Pauper cubed or played versus it in Limited, you'll know just how insane Vulshok Morningstar is since it lets you go over the top of opposing creatures. Moldervine Cloak's ability to do that while being recursive should perform similarly in Pauper and make it a welcome inclusion.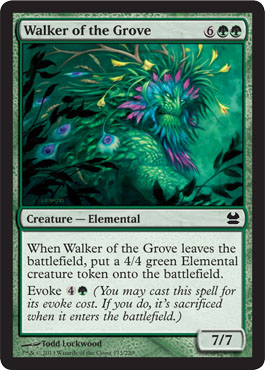 Walker of the Grove – As noted earlier, the finisher suite in Pauper isn't that great; when I started my Pauper cube, I felt that I didn't have enough high-mana finishers, especially in green. I included just about everything not embarrassing at six-plus mana (Havenwood Wurm is surprisingly very good though). Walker of the Grove will likely kick one of them out in many Pauper cubes (like Jungle Weaver or Wirewood Guardian) because it has a flexible casting cost to be a miser's Durkwood Boars or a finisher that actually punishes an opponent for killing it.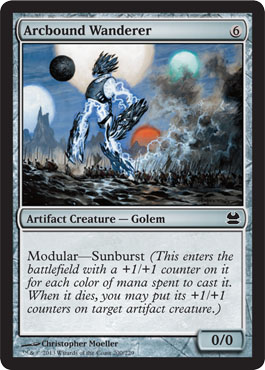 Arcbound Wanderer – Skyreach Manta gives drafters incentives to go greedier and try to go the distance to make it 4/4 or a 5/5 flier. Arcbound Wanderer's best case of being a six-mana 5/5 is something that's par for the course for green, and the low artifact creature count in the format should make the modular ability not matter very much.
Cards That Went From Rare To Uncommon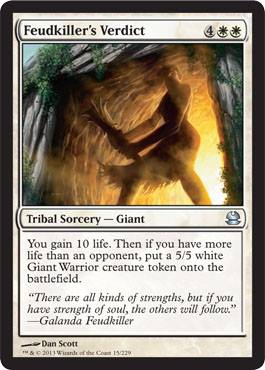 Feudkiller's Verdict – Feudkiller's Verdict looks to be the second best card in the set for Peasant cubes. I've frequently talked about how the finishers in non-rare cubes aren't that great, and Feudkiller's Verdict was making the rounds in cubes with rares for a few years after Lorwyn as a bigger version of Loxodon Hierarch. Since then it's been outclassed in "rare" cubes, partly thanks to the recent creature push, but it's an easy inclusion for Peasant cubes due to the large size of the 5/5 (it'll be able to survive almost all fights that it gets into with creatures) and the overall value with life gain.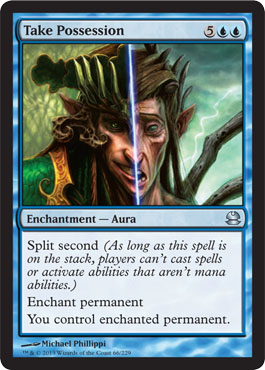 Take Possession – Take Possession isn't really worth it for Peasant cubes. Since the finishers get worse, therefore so does the ceiling on how much mana/tempo you can gain once you steal the permanent. Confiscate and Volition Reins are enough for a Peasant cube to not consider another card that does the same thing, as the extra mana for the split second is nice but mostly gravy and not a deal-breaker to make you want to include all three. Peasant cubes may include Control Magic as well as Persuasion and Mind Control, but that's mainly because Control Magic is bonkers, whereas Confiscate, while good, isn't bonkers enough to make a plus-one-mana version Peasant cube-worthy.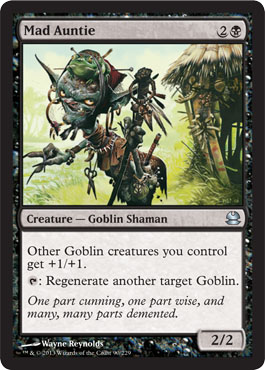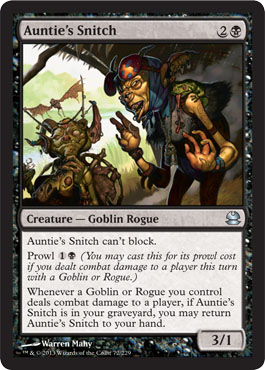 Mad Auntie and Auntie's Snitch – Much like Crush Underfoot, this isn't worth considering unless you're going super super super deep into some tribal shenanigans (and don't do that either.)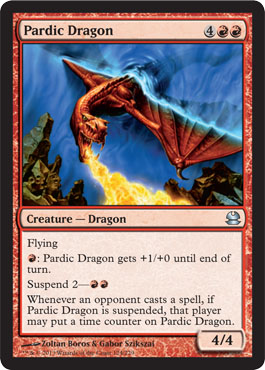 Pardic Dragon – The Commander precons brought us Death by Dragons, which gave Peasant cubes a vanilla 5/5 flier. It trades -1/-1 for the ability to Firebreathe and the ability to not die to bounce spells, but that still isn't terribly efficient. Not many Peasant cubes play Death by Dragons or Volcanic Dragon anymore, and I don't see Pardic Dragon being better than those options.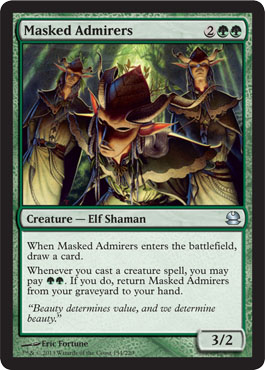 Masked Admirers – While Masked Admirers is on the low end of green four-drops in rare cubes that include it, it works as something which is hard to find in Peasant cubes (relative to "rare" cubes) because it's a recursive threat, which isn't prevalent in the format. I think that alone will push it into Peasant cube-worthiness. That said, its impact is pretty minimal once cast and may take a lot of mana over several turns to see sufficient return on investment. It's easy to say that it's just two mana to recur it and to dismiss just how much of a tempo loss it can be (remember how "easy" it was to pump mana into Skinshifter since it was just one green mana?), but it will still likely be worth it.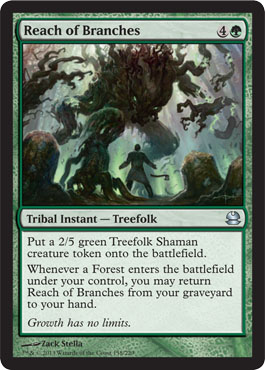 Reach of Branches – This should work best for green decks that are on the 1-3-5 plan (T1 mana elf, T2 mana accelerant a la Cultivate / mana rock, T3 five-drop). While a five-toughness creature blocks and survives creature combat with most things in the format, the overall board impact may be a bit too low to make it into smaller Peasant lists. Like with Thundering Giant in Pauper, I'm on the edge in this evaluation since having an instant speed recursive threat is a very nice to supplement green midrange decks/way to fight versus countermagic decks and it won't be hard to get Forests to retrigger it. But the small impact may make that recursion not matter that much if you do have a bunch of Treefolk. If I had a Peasant cube, I'd lean towards inclusion.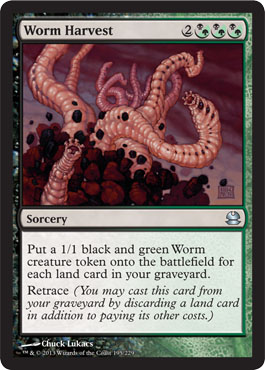 Worm Harvest – The potential is there because it can do a lot and can feed itself due to its retrace. The question is how often that'll come about. It's similar to something like Tilling Treefolk in Pauper. Tilling Treefolk is a card that has high potential in Pauper, but even with some cards like the Onslaught/Urza's Saga cycling lands, there typically isn't enough support to make it work even with the high potential when it works.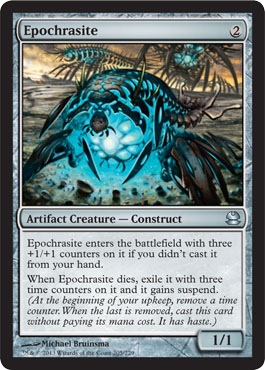 Epochrasite – Scars of Mirrodin block pushed this out of many cubes due to the insane competition, but that competition doesn't exist in Peasant. Its four toughness is actually pretty good because it gets around most of the burn in the format and can take almost anything down in combat (only to come back again). Of all of the changes in rarities, this actually surprised me the most, and it's a very easy Peasant inclusion.
Before I conclude this review, there was some talk about how people thought that Modern Masters would be the closest thing to cube when the set was spoiled and once official spoilers started getting posted. However, this thought seems to have been based on people thinking that the set would be chock-full of format all-stars since this was the prevailing thought before a lot of the Limited fodder was shown.
R&D Member Shawn Main noted that "cubes were definitely on their mind" and that they wanted the set to "feel like a cube," but I don't think that this necessarily means that the set was designed to be a direct cube analog. Instead, I think that the set was designed to be drafted like cube in that it will have a variety of archetypes and themes present that highlight extremely powerful cards rather than each card being an all-star. In other words, I think the holistic overall view that is prevalent in cube design in terms of overall archetype support across varying colors and rarities is what influenced Modern Masters instead of utilizing the best cards in that era to do so.
May all of your opening packs contain Sol Rings!
@UsmanTheRad on Twitter
My blog featuring my Pauper and regular cube lists: I'd Rather Be Cubing
Cube podcast that Anthony Avitollo and I co-host: The Third Power