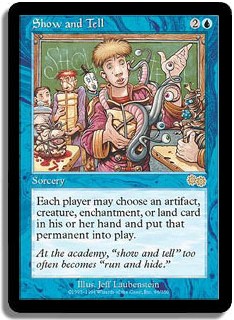 I hate Show and Tell.
I hate it.
I hate how easy it is for people to obviate long, thought-out lines of play and well-laid traps by drawing and casting a three-mana sorcery.
They don't even have to try! They just draw their card that reads "hey, I'm the one you cast to win the game," cast it, and win the game. It's gross. I'm sick of it.
And soon, I hope that it will end. I hope that enough people win with it that Wizards has to ban it.
Why is it too good?
Show and Tell is the most powerful mana producer in Legacy.
Not Dark Ritual.
Not Lion's Eye Diamond.
It adds five or ten or fifteen mana to your mana pool and uncounterably casts your best card. That's what you get for three mana nowadays.
I get the appeal. It's the combo deck in Legacy that is most likely to shift from year to year. As Wizards prints eye-poppingly huge mythic rares, people have to consider their possible impact on a Show and Tell deck. Any Legacy deck that can showcase a Standard mythic rare is good for business. It's good for new players, it's good for the game, and it's good for the broadcast. People understand what happens when the guy on the left brings Emrakul, the Aeons Torn to class. It's a lot harder to track a bunch of dredges flipping over a bunch of stuff and creatures coming back and Zombies getting created. It's harder yet to see all of the floating green mana from Elves, all of the Glimpse of Nature triggers, creatures tapping and untapping and returning and getting replayed…who has the patience to follow that?
"Show and Tell in my Omniscience. Cast Enter the Infinite for free. Win."
Simple, clean, easy. A beautiful thought.
I'll be happy to make more of an argument for its banning once it properly takes over the format, but for now I'll just brief you on the ins and outs of the new deck that put three people in the Top 16 of the SCG Legacy Open in Baltimore:
This deck was created by Jean-Mary Accart, who 9-0ed Grand Prix Strasbourg with his Release the Ants kill. He and his team truly pioneered the deck and should receive all recognition for its development and ultimate success. My conversations with him and Gerry Thompson about this deck have been invaluable.
The deck works like this: you cast Show and Tell, you put an enchantment into play, and you cast Enter the Infinite for free, putting back another Enter the Infinite. You then cast Cunning Wish for free, getting Release the Ants. You use Omniscience to cover your opponent in ants until they die.
It's very satisfying, trust me.
If you want to waste a sideboard slots, you can play Research // Development and Laboratory Maniac, but the only spot where that's better is against Solitary Confinement + Sterling Grove. The places it's worse is everywhere else because you're wasting sideboard slots that could be doing something else. As it turns out, your sideboard slots are precious in this deck. Don't allocate them lightly. I wish I had twenty.
You will note some differences between my list, Keith's list, and Jack's list. Let me explain our common ground first, and then I'll be happy to explain why I disagree with their choices. After that, I'll explain why this deck is the best Show and Tell strategy currently and moving forward.
The core of the deck is as follows.
The mana base consists of three or four City of Traitors and sixteen blue sources, at least six of which are fetchlands and with all of your mana-producing lands being basic Islands. Herein lies the first way that I can see people making mistakes with this deck:
Do not splash. Do not splash. Do not splash. Do not add colors to this deck. Do not cut down on basic blue sources. It will not end well.
This is in part a Dream Halls deck. You have to have four lands in play at the minimum to cast Dream Halls. You will have to hard cast Dream Halls in many situations. Do not open yourself up to Wasteland. This is a major reason why Sneak Attack is not a great Show and Tell deck: its mana is an axis along which it can lose. It plays Volcanic Island, and sometimes that just happens to be the land that it has to play on a turn before it can cast Show and Tell. If the other deck has a Wasteland, it's really bad for the Show and Tell deck.
Every turn that you aren't casting Show and Tell or Dream Halls, you're busy losing. The number of those turns is directly affected by the number of lands you have in play. If you give your opponent an opportunity to affect that number through the way that you build your deck, you're giving every Wasteland wielding opponent a greater chance of victory.
You're also unlikely to be able to cast any nonblue spell via Dream Halls. Since you're going to be starting most of your combo turns with Dream Halls, it makes sense to build your deck in a way that ensures compatibility through Dream Halls.
The reason why you want City of Traitors over Ancient Tomb is that City is painless and doesn't cast anything except Dream Halls or Show and Tell so you can just sandbag it until your combo turn to protect it from Wasteland. The only contradicting case is in sideboarded games where you have Defense Grid, but the broad drawback of Ancient Tomb's life loss is far greater than the potential upside of playing an early Ancient Tomb to get a Defense Grid down. Play City of Traitors.
The next parts of the deck's core are its playsets of Brainstorm, Ponder, and Preordain. If you need some education on why these are good, check out Modern's banned list. Or Vintage's restricted list. Legacy is the last bastion of overpowered one-mana blue cantrips. Enjoy it, because once they go the party is over.
The real meat of the deck is the following:
4 Show and Tell
4 Omniscience
3 Dream Halls
3 Cunning Wish
4 Enter the Infinite
4 Force of Will
3 Pact of Negation
This is how you win. I chose to play only three Dream Halls and three Cunning Wishes because both cards are vastly worse in multiples and neither is necessary to create a winning position. Since I made my case for sideboarding Release the Ants over Research // Development + Laboratory Maniac, I'll also assume one Emrakul, the Aeons Torn main and an Eladamri's Call in the sideboard. For the record, I had a sideboarded Flusterstorm over Eladamri's Call simply because I couldn't find a one before the tournament started. I would make that change before attending your next Legacy event.
Your kill sequence goes like this:
You cast Show and Tell or Dream Halls.
You end up with Dream Halls or Omniscience in play.
You cast Enter the Infinite (or Cunning Wish for Intuition for three copies of Enter the Infinite), putting back a copy of Enter the Infinite.
You cast Omniscience (if necessary).
You Cunning Wish for Release the Ants.
And you kill your opponent one clash at a time.
If they happen to have an Emrakul on top of their deck, cast your Emrakul, take your extra turn, and attack them for fifteen. If that doesn't do it and you're worried about them killing you with a Sneak Attack, Cunning Wish for Rushing River, bounce their Sneak Attack, and Force of Will it on the way back down. Remember, you have no maximum hand size!
The sideboard is where Keith, Jack, and I differ the most, but our intentions are very similar in terms of how we built our Cunning Wish sideboards:
We all agree on Slaughter Pact, Pact of Negation, Trickbind, at least three Leyline of Sanctitys, and Intuition, so never cut those. The applications of almost all of those are plain enough, but I'll touch on Trickbind in just a bit. Let's talk about the differences first.
A major difference between my list and the other two lists is I don't play Firemind's Foresight. In short, I think that it is another example of a wasted sideboard slot. It existed in early versions of the deck's sideboard as a way to kill people with Show and Tell, Dream Halls, Cunning Wish, and two blue cards: put Dream Halls in --> pitch blue card #1 to cast Cunning Wish finding Firemind's Foresight --> pitch blue card #2 to cast Firemind's Foresight, finding a Brainstorm, Impulse, and Intuition --> pitch your Brainstorm to cast Intuition for three copies of Enter the Infinite --> pitch your Impulse to cast Enter the Infinite.
The reason why I dislike it is that it both costs you a sideboard slot and forces you to play a suboptimal maindeck that includes Impulse. I would much rather play Gitaxian Probe than Impulse or a random maindeck Leyline of Sanctity because the value of the information gained is absolutely incredible. Furthermore, if you draw your Impulse your plan doesn't work anymore since Firemind's Foresight has to be a draw three. The apparent appeal is that Foresight also finds Trickbind in sideboarded games, but there's no real reason to side Trickbind in against hate-filled decks.
I dislike the Noxious Revival / Surgical Extraction slot in the other two decklists because in reality it does very little. There are corner cases where each provides value—Noxious Revival can rebuy a Show and Tell against a discard-heavy opponent, Surgical Extraction can be a random beating against a combo player or tag a creature targeted by Reanimate—but that should not be the most value you get from a single sideboard slot. I would rather play Flusterstorm than either of those cards, and Flusterstorm is my sixteenth-best sideboard card.
Rushing River is the best bounce spell because it can bounce two hate permanents with different names. Those situations will come up the most.
Echoing Truth is the next-best bounce spell because it costs two mana and can bounce two Ethersworn Canonists, but it's too narrow to be the only bounce spell you play.
Wipe Away is the worst bounce spell because it costs three mana, only bounces one thing, and its upside (uncounterability) isn't relevant against anything except for Counterbalance. This deck is phenomenal against Counterbalance because you have a million turns to set up, cast Dream Halls, and kill them. As long as you counter their Brainstorm with Counterbalance's trigger on the stack, you'll be fine. You don't need protection from their Counterbalance—you need protection from everything that isn't their Counterbalance.
One bounce spell that I do like that Jack isn't playing is Sapphire Charm.
Sapphire Charm brings us back to the joyous mechanic of phasing. The way phasing works in functional terms is that when you phase out a creature, it leaves play and goes to no zone in particular. It stays there until its owner's next untap step, at which point it comes back and can attack and tap. Almost all of the time, it's a way of bouncing a creature without putting it in its owner's hand. Occasionally, it will cycle. There is one thing that can come up with this, however:
When a creature phases out, all attached equipment goes with it. If the creature doesn't phase back in, the equipment can't come back, so it stays in the "what is this I don't even" zone forever. Not existing is an excellent reason for why a creature might not phase back in.
I'm looking at you, Batterskull Germ token.
Really, though, the vast majority of the time you'll use Sapphire Charm as a way to get out of a double Ethersworn Canonist lock: Charm one on their turn, Pact the other on yours, combo off. That's the goal here. The equipment stuff is useful to know on both sides, but it's not the primary utility.
Eladamri's Call is likely the worst of the sideboard cards, but it is valuable to have against decks with Gaddock Teeg. It is a way to kill through Teeg with access to only one Wish—just Cunning Wish for Call, Call for Emrakul, cast Emrakul, and attack their board away. As I mentioned earlier, I would have cut the Flusterstorm from my sideboard if I had found an Eladamri's Call.
Leyline of Sanctity is the deck's main plan against discard. I would advise aggressively mulliganing for the card in sideboarded games against black decks since almost every hand you keep will be subject to a turn 1 or turn 2 discard spell. Given how slow most black decks are in terms of actually killing you, Leyline is worth three or four cards in protection. It is strictly incorrect to play fewer than four within your 75.
Given how avid I've been about saving sideboard slots, what is my sideboard space upside against someone like Jack who has an extra Force of Will, Firemind's Foresight, and kill card in his sideboard? I get to play three Defense Grid, the best possible card against RUG Delver and counter-heavy U/W control decks. Anyone who has watched a mono-blue combo deck play against RUG Delver knows how tough it is to fight through all of Delver's Spell Pierces, Dazes, and Force of Wills. The advantage created by having very few lands is evident in their midgame draws. Defense Grid exploits that traditional advantage, effectively acting as a one-sided Rule of Law in combo turns. As people adapt their sideboards to fight Show and Tell, Defense Grid is the best way to stay ahead of their Flusterstorms and Red Elemental Blasts.
Finally, Trickbind is where the beauty of this deck comes into play. It is the best anti-hate card I've seen in a combo deck. The beauty of Omni-Tell (or Omni-Clash, or Omni-Halls, or Mono-Blue Show and Tell, or whatever) is that it does not rely upon creatures to win the game. Creatures are unpredictable. They can be killed, or bounced, or stolen, or copied. They are, in a word, unreliable.
Enchantments are different. They cannot be touched by Karakas or Sower of Temptation or Jace's -1. They do exactly what they promise every single time. And every single time, their promise is good enough.
The only permanents that can touch enchantments in Legacy have triggers. It could be Qasali Pridemage; Harmonic Sliver; Aura of Silence; Oblivion Ring; Venser, Shaper Savant; or Detention Sphere, but they all have a trigger.
And boy howdy does Trickbind have something to say about that.
For the low price of one Cunning Wish, Trickbind is accessible and castable via Omniscience. If you have to cast Show and Tell (because you have an Omniscience instead of Dream Halls) and they put in a hate card, you can cast your Cunning Wish for free for Trickbind to stop their bounce/destroy trigger from resolving. From there, you are a lock to win.
These perks are the fundamental reason why this deck is better than Sneak and Show. I have watched very talented players—future Hall of Famers even—cast Show and Tell, resolve it, attack with an Emrakul, connect for fifteen, and lose. Just brick off on draws and lose.
That will never ever happen with this deck. Not once. You draw your entire deck with Enter the Infinite, and unless you horribly missideboarded, you now have what you need to win the game.
This deck, already more reliable than other Show and Tell decks both for mana and kill consistency reasons, will widen the gap after the M14 rules changes go into effect since Sneak and Show is meaningfully affected by this rule while Omni-Tell is not adversely affected at all.
For those of you interested in the history of the deck, you can check out a discussion thread started by its creator, Jean-Mary Accart, here. It has a sideboarding guide (but really, try to figure it out yourself first), a brief history of the deck's development, and a strong discussion of why he chose not to play some common alternatives.
I enjoyed getting to employ a piece of his advice from that thread on Sunday by electing to draw first against Jund in the third game of our match. I knew that I wanted to mulligan to Leyline of Sanctity because his disruption was heavily discard-based. I knew that speed wouldn't matter but that my number of cards would be very relevant. I found Leyline in my six-card hand and killed him on turn 5 using all of my cards through Dream Halls. I would disagree with anyone's advice to draw in game 1, but I can think of several matchups where it is likely correct to draw in sideboarded games.
Good luck in your next Legacy tournament! I hope you win so much that Wizards has to ban this warped monstrosity of a card. If you have any questions about the deck, I'd be happy to discuss them in the comment section or on Twitter.
Until next time,
@drewlevin on Twitter