After many flights around the country and countless hours of playtesting, the season is finally over. Though it had many more ups than downs, I am so glad it is over. In my two decades of Magic playing, I have had the best Magic year of my life, but playing so much definitely takes a toll on you. How all of these people who have been on the Pro Tour constantly over the last five to six do it is beyond me. As Brian Kibler said in an article on pro play, Magic tournaments are a "physical and mental drain."
I did not think that I could be subject to the "Pro Drain." I had developed some rules to avoid burnout:
1. Use my playtesting time effectively.
2. Focus on playing correctly and not results.
3. Eat and drink well whenever I'm playing.
4. Do other things besides play Magic while traveling.
5. If I start tilting, vent for ten minutes then forget it.
6. Dress well (pack those bow ties and suits).
At Pro Tour Gatecrash, I did all of these things religiously, and I ended up performing the best I have in my life. I had a ton of energy through every round—even when I lost. Over the next few Grand Prix, I stuck to my rules, and while I didn't finish every tournament as high as I'd liked, I wasn't drained at all. Here's where the problems started setting in.
For someone who does not have a ton of high finishes at the Pro Tour, finishing ninth gives you an insane boost of confidence. Suddenly, the rules you set up for yourself don't matter anymore because you feel invincible. How can you possibly lose when the whole world is congratulating you on doing well? It's very easy when you don't stick to the plan. I had a hard time accepting it, but my ego had gotten the best of my focus. I had become that guy who thought everything was going to go my way when I didn't deserve it. This loss of focus can happen to someone at any level. I think whenever you start winning a lot, you get that feeling of being indestructible…until you're not.
My feeling of indestructibility carried all the way through the week before Pro Tour Dragon's Maze. I had traveled from Albuquerque to Portland to San Diego to meet up with my team (Raphael Levy, Melissa DeTora, Jeremy Dezani, Timothee Simonot, Julien Stihle, and Raymond Veenis), and I cannot tell you how excited I was. I thought that surrounding myself with really good players would be the solution to my Magic problems. The problem was that for an entire week I broke every rule I had set for myself.
From Monday to Thursday before the Pro Tour, I only drafted ten or so times instead of the 30 times I did before the last Pro Tour. I put in less than twenty total hours of playtesting when the whole point of flying to San Diego was to spend at least forty hours. Even worse, I ate like total crap the entire week (Taco Bell, Burger King, McDonalds, etc.) and went hours on end without drinking water. I loved hanging out with the team, but the point of being there was to get better. Needless to say, by the end of the week not only was I tired and feeling generally gross, but I hadn't put in the time that I know I need to compete against the best players in the world.
At the Pro Tour, I had my fair share of getting unlucky, but I let it pile up mentally and did not let it out. I just built this mound of frustration in my stomach but kept a smile on my face. My first loss piled into four losses, and before I knew it I had been defeated mentally. I decided to play Mono-Red Aggro at this Pro Tour, and in round 6 I was paired against Pro Tour Avacyn Restored champion Alexander Hayne, who was playing Turbo Fog. I knew this wasn't the best matchup for me, and all the bad luck I had during the day had sapped my will to care about the game.
Instead of taking the match seriously, I joked around with Alexander and Sean Plott (Day9) who was seated next to us. I'm sure I made a multitude of misplays because I was 100% defeated before the match even started. If you're getting unlucky throughout the day, playing bad makes it even worse strangely. With my tail between my legs, I left San Diego, but I learned an important lesson I want to share. Magic doesn't care how successful you were in the past; you have to work harder than you ever have if you want to stay successful.
When I look at the numbers from last season*, I'm more convinced of this statement:
12 players went from Platinum to Gold
6 players went from Platinum to Silver
17 players went from Gold to Silver
16 players went from Gold to nothing
51 players who were "on the train" last season downgraded their pro status. That's a scary thing for someone who is trying to take the next step. Only five players who were Silver last season upgraded to Gold or Platinum. Those are pretty harrowing odds.
The next big tournament I will be trekking to is Grand Prix Las Vegas. As of this writing, GP Las Vegas has over 1414 players preregistered and more than a hundred new people signing up every day. With those kinds of numbers, it is shaping up to be the largest Grand Prix ever. I want to start the new pro season strong, but the last time I attended a Grand Prix where there were Las Vegas level distractions, I have no memory of the weekend due to having far too much fun on the aptly named Bourbon Street with Brian Kibler. (I did finish 64th in said tournament though.)
In Las Vegas, not only will pretty much every Magic player on Earth be there, but we will definitely have an enormous amount of distractions going on the entire time. Even if I dodge the multitude of random people handing out stripper tokens on the street [Editor's Note: They have such a large collection.], enjoy the nightlife at a reasonable level, and don't get trampled by the thousands of EDM zombies at the Electronic Daisy Carnival, how can I possibly stay focused? I don't think it's really possible because Grand Prix Las Vegas is pretty much an excuse to party and fit in cracking packs on Modern Masters in between.
Let's say hypothetically I keep things under control when I'm in Las Vegas and focus just on Magic… Yeah right, who are we kidding?
Let's say hypothetically I don't get crunk like a mad man partying until 4:00 AM wandering the streets, singing karaoke badly, and crawl half-dressed into the tournament site Saturday morning. [Editor's Note: Packing my camera as I edit this.] If I wanted to take this tournament seriously and use it to jumpstart my pro season, I would suggest doing a few things:
1. Follow my own rules for Magic trips.
2. Memorize all the cards in Modern Masters.
3. Play in as many Sealed Modern Masters events as you can.
4. Don't party Friday night (or Saturday night if you're in day 2).
I'll be playing in two Sealed Modern Master Grand Prix Trials this weekend as well as six or seven drafts, so I'll have a very good idea about how the format will shape up for next week and will share everything I learn. At first glance, I feel like Faeries and Goblins will be the most important builds in both Sealed and Draft. Rebels don't seem good at all, and plan to lose to multiple people who put together Kiki-Jiki, Mirror Breaker and Pestermite.
All in all, as much as I would love to party so much that I don't remember an entire Magic tournament, I feel like Grand Prix Las Vegas can be a ton of fun without acting a damn fool. After all, winning the tournament will be a much better memory than a weekend of partying.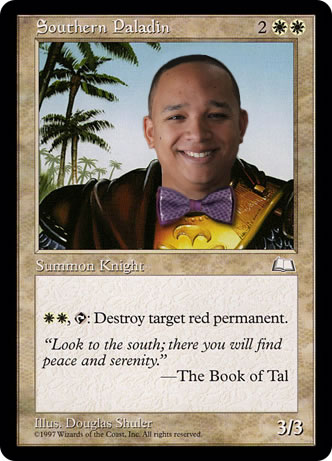 Cheers,
Roberto
@robertjgonzales on Twitter
RobG on Magic Online
* Information obtained from Life on the Grind a blog by Chris Mascioli