Voice of Resurgence has been legal for six weeks now. In that time, it has singlehandedly elevated Naya Aggro not only to tier 1 but to the undisputed top spot in the format. Nothing much surprising went on this past weekend at SCG Standard Open: St. Louis, but it does help make more clear the path the format is on and what we need to do if we are going to beat it.
Sphinx's Revelation had a good weekend, at least compared to recent weeks. Still, as long as there are nearly twice as many Naya Aggro decks as Sphinx's Revelation decks, we're probably better off not calling it a comeback. More interesting is the continued picking up of steam by The Aristocrats.
The Aristocrats can produce a lot of blockers to buy time for relatively unblockable creatures (like Falkenrath Aristocrat and Cartel Aristocrat) to put opponents away. Blasphemous Act adds a powerful dimension to their game plan against creature-heavy strategies, and Boros Reckoner is just a beast. If you want to beat Naya Aggro, one good way to do that is to play The Aristocrats. It has beaten Naya over and over since its inception at Pro Tour Gatecrash and isn't showing any signs of stopping, even with Voice of Resurgence in the mix.
This weekend's champ, Casey Hanford, had to face three Naya Aggro decks in the Top 8 of #SCGSTL, making short work of all three with his The Aristocrats deck. Given the incredible popularity and success of Naya Aggro in recent weeks, I have a feeling we are going to see a lot of The Aristocrats next week. Naya will still be the biggest deck, to be sure, but it may finally have peaked.
Let's take a look at the winner's circle metagame. This metagame breakdown is weighted by finish and gives us an idea of what we have to prepare for and beat if we want to win a tournament this upcoming weekend.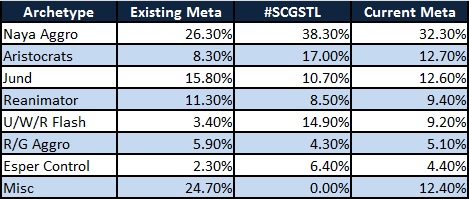 As you can see, Naya is the undisputed big dog of the format. It is fast, consistent, and full of all high-quality cards. With so much raw power, it's difficult to hate out and instead needs to be beaten with superior positioning (such as how The Aristocrats lines up against it).
For weeks there have been three decks on top of the format. While The Aristocrats seems to making a compelling case that it should be the fourth deck in that class, all three of the existing top tier continue to succeed. The big three? Naya, Jund, and Junk Reanimator, none of which is really that different from the others. Junk Reanimator is actually pretty shockingly similar structurally to Naya in that it is full of high-quality cards with positive synergy that lead to a durable and resilient army.
The appearance of R/G Aggro is probably just a blip on the radar, being a part of the Burning-Tree Emissary crew trying to fight back the tide of Voice of Resurgences (or they just don't own $200 worth of them).
As for U/W/R Flash and Esper Control? Is this just variance, or is the format improving for blue? Well, the format has been hating on Sphinx's Revelation for a long time now. It's possible that people are finally slanting their decks more against Naya and less against control. Another factor is that control has long been The Aristocrats' Achilles' heel, and if that strategy continues to amass a following, control may see its niche return.
What should we prepare for this week? Well, let's start with the enemy, Naya Aggro. Of course, it is not that simple, as there are three major strains of Naya Aggro:
Let's take a look at all three. First, a Voice of Resurgence / Strangleroot Geist deck:
Creatures (28)
Lands (22) This is a very straightforward deck. It has a good mana curve, great creatures at every cost, some positive synergy with pumps and double strike, a few tricks to add angles of attack, and tons of anti Supreme Verdict cards (Experiment One, Strangleroot Geist, Voice of Resurgence, Advent of the Wurm, Rancor, and Boros Charm). Seriously, 58% of the maindeck spells in the most popular deck are explicitly anti Supreme Verdict. This is a tough, tough time to be relying on it for your game plan.
For what it's worth, I think 22 lands in a deck with nine three-drops and no mana creatures is a little light, but maybe that's just the way you have to play these decks—count on getting a little screwed a higher percentage of the time and hope your twos bridge you. Still, I think I'd play a 23rd land.
The next approach is that of the slightly bigger Naya Midrange:
Creatures (28)
Planeswalkers (4)
Lands (23)
Spells (5) These two decks share a lot in common. To turn the previous list into this one:
You might be wondering how you can take a deck light on lands and replace a one-drop and a two-drop with a three-drop and a five-drop and still have the mana work. Me too, because this is not realistic. You have a 58% chance of hitting a fourth land by turn 4, which means you have a 42% chance of not hitting a fourth land by turn 4.
This wouldn't be so bad, but this deck cannot meaningfully operate with a light mana draw. Five one-drops and four two-drops (six if you count Selesnya Charm) is not a lot of cheap spells.
How many one-land hands are you keeping with this list? A non-zero number because of Avacyn's Pilgrim, sure, but I'm guessing the vast majority of the 17% of draws with less than two land are mulligans.
How many two-land hands are you keeping? About 29% of opening hands will contain exactly two lands. If you already have to mulligan almost 17% of hands from not having two lands, you probably can't mulligan that many two-landers. Of course, out of those two-land hands, almost 20% will be missing green or white mana, making them pretty dubious keeps.
Let's say you keep a two-land hand containing two different shocklands. Now your colors are perfect. What are your odds you hit a third land by turn three? Just 58% on the play? Those are pretty shaky odds for a deck with 22 cards that cost three or more.
Eric Froehlich's list from Pro Tour Gatecrash was a Burning-Tree Emissary build, and he still played more lands. Just another land or two could go a long way, and if you are worried about flooding, Gavony Township and Kessig Wolf Run are still options.
Anyway, this approach is fine, but I'd don't love it against control nearly as much as the previous list, and it is flat out bad against The Aristocrats. That said, it is certainly decent in the pseudo-mirror and has a bunch of high-quality cards. It is worth noting that this type of Naya is more vulnerable to Aetherling than the other two. It's just a matter of speed. One does not simply answer an Aetherling.
Creatures (36)
Lands (21)
Spells (3) Here we have the other extreme of Naya Aggro, Naya Blitz. Notice how the Human theme is not slavishly adhered to. Flinthoof Boar just hits hard enough to take the hit to Champion of the Parish and Mayor of Avabruck. What's even more interesting is that Voice of Resurgence does not get the same pass. Why?
To start with, Voice of Resurgence can't be cast off Burning-Tree Emissary, but that isn't a deal-breaker in and of itself. After all, we aren't exactly light on ways to ensure that Burning-Tree Emissary gets value. The other half of the equation is that this list is all-in on speed, not caring about resiliency at all. Voice of Resurgence doesn't do as much damage as Flinthoof Boar, Mayor of Avabruck, Lightning Mauler, Firefist Striker (factoring in removing a blocker), or Madcap Skills. If you are looking for value, look elsewhere. This deck is built for speed.
While the first Naya list we saw is very good against control and the second favored against control, this list is actually pretty soft against control. Supreme Verdict can't be the first meaningful spell you play, but if you can play a card on two, a card on three, and then Verdict, you should win the vast majority of the time.
Honestly, there is so much Naya these days that I would make at least two decks in the gauntlet Naya. All three of these decks play out differently from each other, so you can't just play against one and assume the others will play out similarly. I would certainly include the first approach (Strangleroot Geist) and then whichever looks harder for you out of Thundermaw Hellkite and Mayor of Avabruck.
Up next, the Naya-slayer:
Creatures (22)
Planeswalkers (3)
Lands (24)
Spells (11) So far, it looks like the Act II version of The Aristocrats is greatly preferred over the Junk version that Brad Nelson won #SCGBALT with a week ago. Blasphemous Act is a great tool against all the creature decks, Boros Reckoner is just monstrous right now, and Falkenrath Aristocrat's speed is just more valuable than Valroz's ability to take over a board.
Assemble the Legion is a nice advancement, but I imagine Renounce the Guilds will increase in popularity in the weeks to come. Glaring Spotlight as an anti-Hexproof card is cute, though not surprisingly I question if it is the best we can do. It's not like we even have that much targeting removal. Are we really that concerned about making our guys unblockable? Is Paraselene crazy?
Up next, stock Jund. Nothing to see here, but there should be a Jund deck in your testing gauntlet and this is a great example tuned for this past weekend.
Creatures (11)
Planeswalkers (3)
Lands (25)
Spells (21) There are two types of decks:
Those that lose to Olivia.
Those that lose to Aetherling.
Jund certainly falls into the latter camp. It is worth noting the rise of Appetite for Brains. Aetherling is having lots of subtle impact on the format, not the least of which is the increase in use of this particular discard spell. We will probably be seeing more of it in the weeks to come.
Also, a minor point, but Gaze of Granite is pretty nice against Hexproof. It's hard to dedicate much space to fighting Hexproof since it is so little of the field, but it's nice when you can justify sick hosers for it because of utility against more of the field (such as Gaze of Granite against Humans).
Creatures (23)
Planeswalkers (2)
Lands (23)
Spells (12) At different points, Naya, Jund, and Junk Reanimator have all taken turns being the deck to beat in this format. While Junk Reanimator has fallen a bit in the past two months, it is still an important deck to test against. If Jund is a deck that loses to Aetherling, Junk Reanimator is definitely more in the loses to Olivia camp, but don't get it twisted. Olivia can't do it on her own. Olivia moves quickly, but she isn't the fastest pinewood derby car in the race if you know what I mean.
What's really going on with pinewood derby car optimization:
Put all of the added weight in the back and use as dense of material as possible. Whatever weight limit your race uses is fine, but having it in as compact a space as possible is optimal. I recommend making the balance point an inch in front of the rear wheel axle.
Reducing friction is huge, which is primarily with the axles and wheels given the short length of pinewood derby races not adding up to much time for friction due to air. Also double check the rules of the race you are in regarding legalities, but in general a file and sandpaper are the tools to work with here. Additionally, for added value you can use a power drill to spin potential axles to see which ones are the most perfect (getting rid of any that wobble at all). If it is legal in your race, sanding the business side of the wheel improves performance, as does massaging powdered graphite into the wheel edge and polishing the wheel bore with more graphite. Wax paper can be used day of to try to shore up any imperfections discovered too late to fix.
Optimizing the wheels is not just about smoothness, lack of imperfections, and lubrication. Wheel alignment is crucial, with every bit of precision rewarded. An easy way to test this is by measuring your car rolling down a very slight incline for several feet and seeing how far it veers. Settle for nothing less than perfection on this one!
Not punting performance when decorating the car. For instance, the semicircle where the wheel meets the car (the wheel well of sorts) should be sanded to a smooth finish with very fine sandpaper (and not painted). Also, avoid hubcaps at all costs!
Creatures (5)
Planeswalkers (4)
Lands (26) While Naya, Jund, and Junk Reanimator may be the big three, with The Aristocrats making a case to be added to the club, it is worth noting the mild resurgence of control decks. This take on Esper Control ends with Aetherling and Nephalia Drownyard (no surprise), employing a combination of Lingering Souls and planeswalkers as the alternative plans.
Far // Away is obviously excellent, but it is nice to see Warped Physique getting the love it deserves. That card is pretty close to Terminate (and it actually kills Falkenrath Aristocrat, unlike a lot of removal spells).
We have been seeing more and more Oblivion Rings as of late. Why not Detention Sphere? Yes, Oblivion Ring can hit other people's Detention Spheres (unlike Detention Sphere), but it also is not vulnerable to Renounce the Guilds. That said, when we aren't using Renounce the Guilds ourselves, I still prefer Detention Sphere's ability to sweep (particularly tokens).
Just two Sphinx's Revelations? Yes, the format is hostile, but it is just so hard to want to play that second Forbidden Alchemy over a third Sphinx's Revelations. Maybe I am just a degenerate, though.
That's an awful lot of Brains in the sideboard! I'm guessing somebody doesn't want to lose to an Aetherling + Cavern of Souls combo...
Four Rest in Peace? Love it. Gotta keep 'em honest. Remember, this beats Voice of Resurgence (sort of), not just Unburial Rites.
And, of course, the more popular of the blue decks at the moment, U/W/R:
Creatures (13)
Planeswalkers (2)
Lands (24) This week saw an increase in U/W/R decks of the old tempo variety using Geist of Saint Traft and Thundermaw Hellkite. Personally, I'd rather Aetherling, but this approach is totally valid.
Ral Zarek is interesting, helping add to the aggression (as direct damage) or as an accelerator for Thundermaw Hellkite. Where things get really filthy is when you board in Izzet Staticaster (a total mondo-combo with the RZa).
Pillar of Flame is an invaluable tool in this Voice of Resurgence world we live in. In fact, I would play the fourth main instead of a Searing Spear.
Clone is obviously still in large part an answer to cards like Olivia and Geist of Saint Traft. When the legend rule changes next month, be sure to cut them. This is not to say Clones will never see play again, but they will probably have to be a little better. Of course, I wouldn't be surprised to see a three-cost Clone in M14.
Supreme Verdicts in the sideboard? This just isn't the best format for them.
What would I play this weekend? What can I say—I still want to tune Grixis, although I can see an argument for considering Bant Control, as Farseek and Thragtusk are kind of hot. If I went that route, I would try to be somewhat tapout oriented, as Voice of Resurgence is going to be a giant pain. I know that I'm loving Jace, Architect of Thought right now and would play him in whatever deck I was looking at.
As for non-control decks, this is probably another good week for The Aristocrats, as Naya will continue to be huge and a lot of The Aristocrats rough matchups are poorly positioned. It's also probably not a bad week for Jund, though I would not want to be Junk Reanimator or U/W/R Flash. If I were playing Naya, I'd want to be slightly bigger than the other Naya decks, possibly hybridizing two of the lists.
With Modern Masters finally here, that makes M14 the next set on the horizon. On the topic of Modern Masters, it's really interesting how much Wizards is erring on the side of underprinting it to make sure it doesn't completely crash the value of the original cards. I always think back to various Masters Editions on Magic Online and how much people wish they had taken advantage of them at the time. I wonder how people will feel about Modern Masters this time next year or the year after that.
What I do know is that Grand Prix Las Vegas is on pace to be the biggest Magic tournament of all-time. There are already more people registered for GP Vegas than played in GP Providence (and Vegas is still a couple weeks out). My prediction?
Over 3000 competitors. [Editor's Note: I want to take the under because I'm playing for once, but I know you're right.]
This tournament will transcend mere GP and be a cultural phenomenon.
Not a chance I'm missing it, but if for some reason I was not in a position to go, I would be glued to the coverage because it is going to be an epic weekend. It's not just that it's the only Modern Masters GP (although that is the biggest reason). It's not just the World Series of Poker and Electric Daisy Carnival being in town the same weekend. It's not just the beginning of summer, and it's not just that it's Vegas. The Magic community has been building a buzz for this event for quite a while now, and it is going to be the perfect storm of excitement, fun, and interest.
GP Vegas is going to be one for the history books.
As for M14? We don't know a ton beyond that Magic is dying because Clone is no longer usable for its intended functionality as a non-targeting removal spell. [Editor's Note: How can you kill something that keeps dying, Patrick?] There are a couple reprints I want to immediately put focus on, however. First, an oldie but a goodie: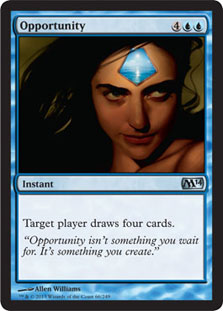 Opportunity is an excellent card drawer and could actually be dangerous in some formats. Of course, Sphinx's Revelation is legal, so perhaps Wizards has more liberty in this area for a while. While I'd rather Sphinx than Opportunity in general, Opportunity has the massive upside of not requiring white mana.
Grixis, baby!
Is this good enough to jam into Grixis? Hells yeah!
One new card that is just a functional reprint is going to be important: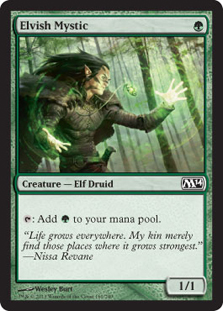 Elvish Mystic is just a Llanowar Elves reprint, but this is noteworthy for a couple reasons. First, for Standard an Elf of any sort is a big game. Avacyn's Pilgrim is decent, but not everyone is white and a lot of people would like eight to ten Elves. Arbor Elf is an option, but if you aren't using a lot of Forests, it can be hard to support with just shocklands.
Elvish Mystic opens up a lot of possible lines of deckbuilding, both as a straight-up better option for some people and as a possible critical mass type of card for people that want to build decks with tons of mana creatures.
As for it having a different name, this is applicable in both Modern and Legacy, although Legacy already has both Fyndhorn Elves and Llanowar Elves and it is rare for even Elves decks to use eight. As for Modern, this is a big game. Being able to play four Llanowar Elves and four Elvish Mystics and four Arbor Elves in addition to Nettle Sentinels and Heritage Druids is hot. Beck // Call is looking pretty spicy...
Ok, I'm out for this week, but join me next week when we dive headfirst into M14! Who is going to benefit the most from the new M14 cards and rules changes? Who is going to escape the endless Naya/Jund/Junk Reanimator metagame? Who is going to be the next Voice of Resurgence?
Who is Tom Guevin?
Patrick Chapin
"The Innovator"