Thanks to my lovely and encouraging wife, the popular adage "go big or go home" escapes my lips at least once a day. Whether it's grabbing a third plate at the buffet, running an extra mile when I work out, or writing out a particularly lengthy article, I'm just not satisfied unless I'm all-in. There's a certain feeling that comes with any completely committed actions, and the payoff is well worth the considerable risk.
I live by this philosophy in Magic, too. When I play Magic in paper, I love to put both forearms down and twist, tapping all my lands in one clumsy motion or putting both palms flat on the table and getting all of my guys sideways at once. There's just something viscerally satisfying in that action, so today I'll be bringing you two tapout control decks that will make you do that in two very different ways.
Ink-Treader Omnifuse
A new, relatively mid-level use mechanic from Dragon's Maze caught my attention: fuse. Namely, this card reached out to me.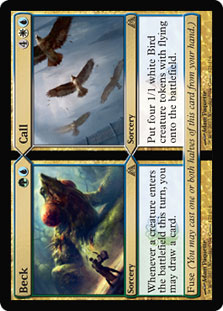 A sorcery speed Sphinx's Revelation that gives you four Birds instead of life? That's a bit bizarre; why not just play Revelation, right? Well, for one, you can't kill someone with a Sphinx's Revelation (usually). The Beck side offers an intriguing, Glimpse of Nature style effect with the added benefit of allowing tokens to trigger the draw as well. I set to work, and after a fairly extensive searching in Standard, I couldn't find anything that does a better job working with Beck than its other half, Call. The natural question arose: is eight mana worth it for a Tidings and a double Lingering Souls?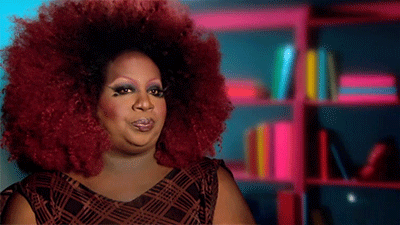 No, I suppose it isn't.
But what if you could cast two in a turn? Beck triggers stack, so if you cast two in one turn, you would draw a total of twelve cards and get your eight 1/1s. Sixteen mana is a lot, and even ten mana is a stretch. Speaking of ten mana...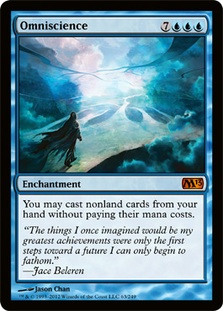 Oh, fuse only cares about being cast from the hand, which Omniscience makes free, so we get to cast both halves at no cost. Where does that leave us?
Creatures (8)
Lands (25)
Spells (27) Creatures
The original plan was to play 36 spells and zero creatures, but let's just say that didn't work out too well. I added eight mana dorks and never looked back. They are also easy to cast with Beck, making each one cantrip late in the game.
Spells
The Unexpected Results / Omniscience pairing has been a known interaction since Gatecrash, so I won't spend much time on it. I will say that nearly any Unexpected Results hit is going to be good. If it's a land, it's just a pricey ramp spell that you don't lose. If it's removal, well, that's removal you didn't need to draw. If it's Omniscience, give yourself a high five. Blast of Genius plays well with Omniscience and hefty fuse cards also, allowing you to Sift and take up to half their life while you're at it. Urban Evolution is also all about the game plan of draw/ramp in case you need to hard cast that Omniscience. Hit it on turn 3 for extra awesome!
Catch // Release, originally a three-of, greatly disappointed me in playtesting. Catch was only good if you could Zealous Conscripts a bloated planeswalker, and Release alone was just abysmal, having minimal board impact and requiring additional resources that you'd lose if you cast it earlier. That means you'll almost always have to pay nine mana for what turns out to be a pretty awkward spell. I kept a single copy in here just for that one moment where you'll hit them where it hurts, and it's also a nine-damage spell on the back of Blast of Genius. At least with Beck // Call, you can cast Call and put up a wall. Mystic Retrieval lets you recover a spell spent early and (often) cast it again for free.
The removal is fairly generic and interchangeable with cards in the sideboard, which we'll get to in a minute.
Lands
You'll find a lot of Forests and green sources for a relatively light green deck. However, you pretty much have to hit ramp and dorks in the early turns if you want to do stuff besides cast Urban Evolution for fun on turn 9 as your opponent smashes your face in. Although I do play an Alchemist's Refuge, I've almost never needed it, and it may get cut for another shockland.
Sideboard
The sideboard contains answers for known archetypes, namely three Rest in Peaces. If your shop is filed with the smell of Unburial Rites, you can even scoot up to four. Counterflux and Plasm Capture are the counterspells of choice for the control matchups. Hitting a planeswalker with Plasm Capture and untapping with eight-plus mana on turn 4 is pretty exciting. Counterflux, still a vastly underrated counterspell in my opinion, can be cast safely into a hail of Dispels, Dissipates, and Syncopates. When you're not paying any mana, you want the best counterspells money can buy, right?
You'll notice two Supreme Verdicts and two Mizzium Mortars to mirror those in the maindeck. Because this deck has the mana base to play both, these can be switched in and out based on the needs of your deck. Midrange/too big for Mortars? Bring in Supreme Verdict. Need an on-time Flame Slash? Add the two Mizzium Mortars. Fighting a 30+ creature deck? Play both! Pithing Needle is a necessity in control environments plagued by the nigh-unstoppable Aetherling, and a single Assemble the Legion acts as a tough-to-target win condition if your mana dorks can safely get it out on turn 3 or 4.
In testing this deck proved to be very consistent, usually opening with land + dork followed by Mizzium Mortars or Farseek + dork and Urban Evolution / Unexpected Results on turn 3. I did hit Omniscience on turn 3 on occasion, but even if you don't I promise you'll get value. I found that a couple Blast of Genius discards were much more likely to kill my shockland-weakened opponents than my Birds, which surprised me.
It fought best against Jund Midrange, where I could often ignore planeswalkers and could cast my hand each turn around Sire of Insanity, and Junk Tokens, which often couldn't deal enough damage to kill me in time. I also got lucky against Junk Reanimator pre-board and achieved Omniscience on turn 3. Aggro decks definitely hurt, namely Junk Aristocrats and B/R Zombies/Sligh. Both were too fast and resistant to my removal, and unless I drew the perfect starter, I'd mulligan into oblivion trying to find disadvantaged removal.
Omnifuse is a midrange hater, but I'm not sure how many real midrange decks are floating around right now, so if you want to try it out, I'd recommend considering adjustments based on the metagame at your shop. Hyperaggro metagames might want to frontload all eight sweepers and consider adding Terminus or even Aetherize, while heavy control metagames might play Counterflux maindeck instead.
The next deck is a bit decadent.
5CC Block Party
A few years ago, Five-Color Control was a legitimate strategy, using Baneslayer Angel and/or big flyers and/or planeswalkers to win the game. Now that we live in a world with above-average mana, why not try to do all the things again?
Planeswalkers are almost game changing when they enter the battlefield, so lots of them entering the battlefield seems like a logically deduced way to win games, right?
Let's have a party.
Creatures (8)
Planeswalkers (18)
Lands (24) Yes, that's a whopping eighteen planeswalkers. More than half of Standard's planeswalkers are represented here. The devil is in the details on this deck; little Lili and Sorin are intentionally the most frequent. Both 'walkers will be quickly killed and/or bled dry by their minus abilities in most matchups. Conversely, one Nicol Bolas, Planeswalker should do it for any game, and Gideon, Champion of Justice; Vraska the Unseen; and Liliana of the Dark Realms each have a tough time dying. Ral Zarek helps with mana fixing, and, well, going ultimate with him basically lets all your planeswalkers go ultimate.
Go big or go home, right?
Garruk, Primal Hunter provides the muscle to protect you as well as a reasonable amount of card draw if you really need it. Jace, Architect of Thought helps you find more planeswalkers and preserves your team's loyalty counters with his plus ability. Tamiyo, the Moon Sage is just about the best U/W/X play after a healthy Supreme Verdict, and although she rarely dies, I really do want a copy of her, so I have two listed.
Arbor Elfs return alongside Thragtusks for this deck's eight creatures. I chose Arbor Elf because it has the potential to fix for some of the more color-intensive planeswalkers. Thragtusk...well, that Beast is still as good as advertised.
The truth is that there's not much to say about this deck; the strategy is pretty obvious. I wanted to highlight it today, though, as I hadn't seen anyone bring up a strategy like this in Standard—maybe for good reason. I didn't get to playtest this one as much because, let's be honest, it's a bit lofty. Eighteen mythic rares make up the maindeck with 33 more rares to boot, and the sideboard consists entirely of rares. If you're Mr. or Ms. Moneybags and you've got a penchant for luxury, feel free to indulge.
Really, though, I do think hosting a Block Party is solid in our current metagame; very few things can answer all the planeswalkers, and the few that can rarely see play. Magmaquake, Planar Cleansing, Merciless Eviction, and perhaps Cyclonic Rift are about it. I imagine this deck would feel very empowering to play, so I encourage anyone with the stock to try it out. Just be sure to bring your diamond-encrusted dice.
Two quick ones today, but I hope one tickles your fancy. In a recent bout of EDH brewing, I might have an odd one or two to share with you next week, but no worries for you Standard junkies; I've got something y'all will like, too! Join me next Tuesday, and until then, don't forget to untap!
- Matt
CaptainShapiro on Magic Online