I have been told on more than one occasion that I am complicated in the way prophesized by Avril Lavigne in one of her more famous songs. [Editor's Note: Chill out. Whatcha yelling for?]
Maybe she's right. Maybe I am.
For the last few weeks, I've been like a high school girl picking out prom dresses. I've been trying to get myself stuck on a deck for Grand Prix Miami because it's in my backyard, being hosted by my employer, and…you know…doing really well at it would be swell.
You know what happens when a seventeen-year-old female tries to pick out a dress? Yeah…good luck with that.
For reference, it took me roughly twenty minutes to pick out my tux, shoes, shirt, and tie. Also, I wore suspenders and looked hella dapper. But I digress. [Editor's Note: You're trying to be cool. You look like a fool to meeeeeeeeeee.]
Recently I've advocated a couple of different decks, most notably Jund and Naya. I've experienced tons of tournament success with Jund, and it's always my go-to in a pinch. Naya is the new kid on the block and has been putting up fantastic results. I've really enjoyed battling with it.
Right now, though…I've been on a different deck. Again.
"You change your mind. Like a girl. Changes clothes." (I'm putting all these references because of my editor's taste in music.) [Editor's Note: Tell me Mark. Why'd you have to go make things so complicated?]
When you sit down to look at the metagame, you need to identify a few key points.
1. How many aggro decks are present?
2. What percentage are midrange strategies?
3. Is control still out there?
4. How can you attack from multiple angles?
I try to think of these things when I sit down to pick a deck, and recently each bullet brought me to the same conclusion: Geist of Saint Traft is really, really good right now.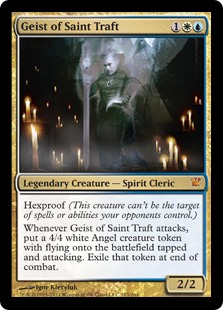 The name invokes a great deal from both sides of the coin: you either think it's one of the best creatures in Standard right now or think it sucks and is unplayable in this format. No one thinks Geist of Saint Traft is "just ok," and if you, do you're "cray."
After examining what decks were performing well on the StarCityGames.com Open Series circuit, I saw one word that scares the living hell out of competitive players: diversity. This is one of the hardest formats to crack because there are tons of decks out there that are doing well. Think Junk Reanimator is the best deck out there? It completely fails to Top 8 the next tournament. Convinced that Naya Blitz can't be stopped? Jund takes down the latest tournament. U/W/R Control is giving your aggro deck fits? No need to fear because Naya just won the whole thing!
What do you do when everything is good? How do you even begin to prepare?
This was the thought that was haunting me for a few nights while I toiled away at multiple two-and eight-man queues on Magic Online, battling with Jund. I was winning way more than I was losing, and I felt like I was starting to connect with an old favorite again. We were beating every matchup that we faced, and things started to finally feel…right…again.
Then I saw it.
Creatures (13)
Planeswalkers (2)
Lands (24) While Jund is the woman I'm married to, U/W/R is my mistress.
After three months together, Jund and I took a break, and I moved on to U/W/R for a few months. Things were great, but a Junk Reanimator deck that I kept seeing slowly ruined the relationship I was fostering with the American standout, so I resolved to put away my Steam Vents and ask my old flame to take me back. Things have been great, but I couldn't get my mind off of the one that got away.
With such a broad pallet of decks to choose from, seeing that Alex was able to nail down a fourth place finish didn't surprise me. His deck is very powerful, very elegant, and extremely punishing.
The deck's power level blew me away. Basically, I won completely unwinnable matches off the back of Geist of Saint Traft and the tons of burn the deck contains. Ral Zarek was also freakishly absurd, and his ability to invalidate Boros Reckoners and Thragtusks when you have a Geist of Saint Traft on the board was crucial in killing my opponent in a surgical and efficient way.
Almost everything about Alex's deck made sense to me, but there were a few things I wanted to change in order to fit my play style a little better.
-1 Thundermaw Hellkite
+1 Aetherling
Those changes to the maindeck might seem contrary to the deck's aggressive stance, but I assure you it is a change I wouldn't go back on. The amount of games that Aetherling can steal against over 50% of the field makes it a must-play in that capacity, and I was glad to see it every time I drew it.
In the sideboard, I changed a single thing.
-1 Turn // Burn
+1 Thundermaw Hellkite
Junk Reanimator isn't a bad matchup, but you don't want to lose any ground in it, either. Thundermaw Hellkite is the best win condition that you can have against them since it provides a substantial clock while murdering all of their Lingering Souls tokens. He plays very well with Restoration Angel, and in multiples your opponent's life total will drop faster than Superman wearing kryptonite leg shackles.
So why this deck? Why now?
Like I said, kids. Geist of Saint Traft.
When everybody out there is trying to do several different things to combat a ton of strategies, essentially wanting to cover an impossible number of bases, you should be concerned with doing the thing that most easily accomplishes one goal: reducing their life to zero and punishing them for every hiccup they have. We used that word earlier:
Punishing.
That's a word you don't hear nearly enough.
I started playing with this build, card for card, and the word "punishing" was about the only thing you could say to an opponent when they stumbled.
Missed an early land drop? Cool. You're dead.
Didn't draw a way to deal with Geist of Saint Traft in the first few turns? Cool. You're dead.
Bad keep? Cool. You're dead.
Do you have any concept of how many "wow, real fair card" comments I've gotten in the last few nights? It's staggering!
Thinking that this deck was where I wanted to be for GP Miami, I figured I'd run it through the paces of a local Modern Masters Win-A-Box tournament that was attended by around 40 people. I was apprehensive at first since I didn't have a ton of experience with this incarnation of the deck, only with its U/W/R control counterpart.
As I sat down across from my first round opponent and fanned out my starting seven, I realized "holy crap."
Swiss
Mono-Red Aggro: 2-0
Reid Duke Bant Control: 2-0
Junk Aristocrats: 2-0
Naya: 2-1
G/R Aggro: 2-0
Top 8
Naya: 2-1
G/W Aggro: 2-0
Finals split with a good friend of mine piloting the Bant deck I 2-0ed earlier in the night.
My games were all terribly easy, and the ones that I lost I felt were very much winnable. If I'd had more experience with the deck, I believe I could have swept each opponent with ease.
What makes this deck awesome right now, you ask?
No one is prepared for it.
Geist of Saint Traft strategies aren't a new thing, but people seem to forget that they exist from time to time and end up getting crushed by it. Sure, Bant Hexproof has been using it for a while, but the "all-in" take leaves him wide open to blowouts and doesn't put him in the same category that a U/W/R deck utilizes him in. With a lot of burn, ways to clear out creatures, and Restoration Angel, you're able to force through a lot of damage very quickly. That's important when your strategy is to end them as quickly as possible.
So if you decide to sleeve this deck up, what kind of strategies do you want to employ?
I'm glad you asked, invisible person who always asks me questions!
R/G Aggro
As one of the premier aggressive decks in the format, it makes up a decent percentage of the matches you can expect to face. This bodes extremely well for U/W/R Geist because the aggro decks out there are your bread and butter. You play burn spells. A lot of them. Your most important creature, Geist, can't be killed by any of their targeted removal, so while you're killing off their board you're also attacking them for six damage a turn, which might prompt them to hold a creature or two back. When you reach that place in the game, you've all but won.
-1 Aetherling
-1 Dissipate
-2 Syncopate
+3 Supreme Verdict
+1 Pillar of Flame
Like it wasn't bad enough for them before, right? Now it's just downright terrifying. Supreme Verdict makes committing multiple creatures to the board awkward, but they can't win any other way. If you can kill a creature or two en route to turn 4, resetting their board can pretty much seal things up. If your follow up is something like a Geist of Saint Traft or a surprise Restoration Angel to eat a hasted threat, the icing has been applied to the cake. Simply concern yourself with keeping your life total high enough to not die to shenanigans and this matchup is about as good as it gets.
Naya Blitz
Like R/G Aggro, this deck can easily succumb to the plethora of removal that you play, only their threat density is far more impactful in the early game, so weathering an early storm is paramount to victory. Luckily, all of your burn is about as cheap as their creatures cost, so there are multiple instances where you can keep up with everything they play and one-for-one them until your bigger and better cards can take over. The trick here, though, is you have more sideboarding options!
-1 Aetherling
-1 Dissipate
-2 Syncopate
-1 Thundermaw Hellkite
-2 Geist of Saint Traft
+3 Izzet Staticaster
+1 Pillar of Flame
+3 Supreme Verdict
Staticaster is a monster against this kind of deck and earns the award for "Freaking Scariest Card to See Multiples Of" if you're the Naya deck. Again, your biggest issue is just surviving the first few turns and using your cards wisely. Azorius Charm lets you circumvent their nut draw with cards like Experiment One and Champion of the Parish by resetting all the counters it can gather on the first few turns, especially if they have multiple Burning-Tree Emissarys. Izzet Staticaster is your best friend against Boros Elite and Mayor of Avabruck. You just want to kill everything, stick a threat, and never let them get out of hand. If you can contain the turn 2-through-4 frenzy, which with a maindeck set up this way should be no problem, it's not terribly difficult to beat them.
Naya Midrange (Edel Naya)
With bigger creatures, this deck has a far more imposing late game than Blitz does and needs to be battled against with more of a cautious rather than a "throw the effing kitchen sink at them" approach, which I'm fond of. Pillar of Flame excels in this matchup because Voice of Resurgence can be very annoying for a Flash-type deck. Getting Domri Rade off the board is very important, and sometimes you'll have to throw away a Geist of Saint Traft in order to accomplish that goal because the ultimate is something you cannot ever hope to beat.
-4 Geist of Saint Traft
-1 Aetherling
-1 Syncopate
-1 Dissipate
-2 Azorius Charm
+3 Supreme Verdict
+1 Thundermaw Hellkite
+2 Clone
+3 Izzet Staticaster
While it might seem bold to take out your Geists, I think it's the right move. Your counters aren't very good against them, and leaving in the one Syncopate is just a hedge against their multiple Thundermaw Hellkites, which you now combat with your own plus Clone. Izzet Staticaster is a good card in that it takes care of mana creatures and can be used to great effect with Turn, essentially negating a lot of advantage they get with Boros Reckoner or Loxodon Smiter.
Jund
This matchup can range from very good to freakishly terrible depending on what build they are running. Owen Turtenwald is advocating fewer Liliana of the Veil, and if that catches on, it's great for U/W/R. If something like John Wallace's winning list from Columbus (viewable here) becomes more of the industry standard, that doesn't bode very well for the Geist deck.
First off, Liliana is a pain in the deck, and unless you have the Warleader's Helix to kill her off when she's at four loyalty, you're going to have a bad time. Often, you'll have to throw a flurry of cards at her to kill her, which can leave you dead to a number of other things. John's three Garruk, Primal Hunters also scare me because the dual threat of a stream of 3/3s or simply drawing a bunch more cards can put the game out of reach for you swiftly.
-3 Pillar of Flame
-1 Searing Spear
+2 Clone
+2 Negate

Next level boarding technique if you suspect Ground Seal:
After board, there is hope because Clone is very strong against Jund. Boarding up into five counterspells that can all be reused with Snapcaster Mage is often good enough against them to stall while your burn and Geists go to work, and if you expect them to bring in two or three Ground Seals, feel free to board Snapcaster out altogether and just focus on countering Thragtusk and burning them to death.
I won't lie. This matchup is hard. Aetherling was added to this deck specifically to combat Jund.
Junk Reanimator
Barring multiple Acidic Slimes, you're actually fairly well suited for this matchup. None of their mana dorks should live long enough to accelerate them, and with them having to play everything at normal speed, your Geist can present a clock that causes them to scramble. A timely Syncopate on their Thragtusk on turn 5 can outright end the game against them while your burn shrinks their window of opportunity to win. The best advice I can give you in this matchup is to not fear being aggressive at all. This is the kind of game where overcoming your fear of losing to a "tough matchup" is actually more important than anything else.
-1 Mizzium Mortars
-3 Searing Spear
-1 Azorius Charm
-1 Warleader's Helix
+1 Thundermaw Hellkite
+2 Clone
+1 Pillar of Flame
+2 Purify the Grave
The tempo you can steal with Purify the Grave is extremely important, and if you have a Geist and they are relying on Unburial Rites, Purify can be a complete and total blowout. You board out several of your burn spells in favor of Pillar of Flame, which takes care of Voice of Resurgence, and creatures better suited for the matchup. Thundermaw Hellkite is awesome for punching through the last few point of damage through their Restoration Angels or Angel of Serenity, whereas Clone has proven itself to be a vital tool for blue decks to combat Angel of Serenity.
The Aristocrats (Acts 1, 2, and Junk)
Now we're talking. Do you enjoy cakewalks?
Your deck is the literal antithesis of theirs, doing everything possible to stymie their plays and give you the win. Whatever they play is almost certain to die due to our wide range of answers. I'm not exaggerating this, either. It's very hard for them to do anything relevant.
-4 Geist of Saint Traft
-1 Aetherling
-1 Dissipate
-2 Syncopate
+1 Thundermaw Hellkite
+3 Izzet Staticaster
+1 Pillar of Flame
+3 Supreme Verdict
You just want to run them out of threats and kill them with a Dragon. They are a Lingering Souls deck, so Hellkite can be backbreaking against them. Supreme Verdict does an outstanding job at cleaning up Reckoners and other problematic or board-cluttering affairs. Staticaster is about as amazing as you'd expect against these decks, essentially crippling a huge portion of their offense. The extra Pillar is great against Voice of Resurgence from Junk and Doomed Traveler in the case of both.
I know there are several other decks I could cover, but we are already at 2,700 words. If you have any questions, please feel free to ask them in the comments, and I'll do my best to field them.
Helpful Hints!
- There are some really neat interactions with Ral Zarek. His +1 ability is particularly insane with Slayers' Stronghold. If you have the mana, you can tap down a blocker and activate the Stronghold twice on multiple creatures, dealing four more damage and giving your creatures the chance to stay back and block.
- The lifelink mode of Azorius Charm, which is often the most overlooked, is exceptional in this deck. Geist of Saint Traft can attack for six damage at a time, and if you couple that with a Snapcaster Mage or a Restoration Angel, you can gain a ton of life against aggro decks and really put them in a deep hole.
- I've found that the Turn side of Turn // Burn gets used more than the Burn side of it. The fact that this is a Snapcaster Mage deck can give you the wiggle room to wreck the board against the aggressive decks. With just a Geist of Saint Traft in play, I've been able to play the Snapcaster flashing back Turn, block a guy and trade, block with Geist and Turn their best creature, and leave them with nothing. You don't always have to hold back for the fuse, and often it is right to just Burn a guy early and Turn a creature later.
- Be very aggressive with Geist of Saint Traft. If you can attack with it on turn 4 and blink it with a Restoration Angel to keep it from dying, that's the right play almost all of the time. Obviously, don't walk your guys into a sweeper if you suspect it, but knowing when to put your foot on the gas and not let up will steal you tons of games because your opponents were just not ready for it.
…
…
…
I hope you enjoyed this. I think I went a little overboard with how much I wrote today, but when you write about one of your favorite color combinations, it's easy to get excited. If you're making the trip to SCG Open Series: Philadelphia, I would strongly consider this deck for your battling pleasure. If this isn't your cup of tea, the Jund list I posted last week has been winning me a hell of a lot of packs on Magic Online.
Good luck to all of you venturing to the city of brotherly love this weekend. What better way to celebrate one of our most historically significant cities than by sleeving up good ol' American Midrange?
Insert your obligatory USA chants here.
Catch ya on the flip-
Mark