This week, I'm writing from lovely Las Vegas, Nevada, where I've finally had a chance to hang my hat after a whirlwind of traveling from Grand Prix Providence, home to New York, and Grand Prix Houston. Grand Prix Providence featured Team Return to Ravnica Block Limited, and Grand Prix Houston was an individual tournament in the same format. Next, I'm eagerly awaiting Grand Prix Las Vegas, which will be a Sealed Deck and Draft tournament played with Modern Masters. Even with all my jumping around, this trip has me feeling relaxed and clear-headed because it's been a unique opportunity to focus all of my attentions on Limited Magic.
Though I've been playing Magic all my life, it's only in recent years that I've really begun to devote myself to Constructed. During my college years, I played endless amounts of Sealed Deck and Draft on Magic Online, and I remember achieving a level of mastery that's been hard to match while splitting my focus evenly between Limited and Constructed. This month for me, though, has featured tons of Draft and Sealed Deck preparation, and I'm beginning to feel like my old self. Today, I'd like to share my experience at Grand Prix Houston, which was a long and challenging weekend that highlighted a huge range of critical lessons for Return to Ravnica Block Limited.
Sealed Deck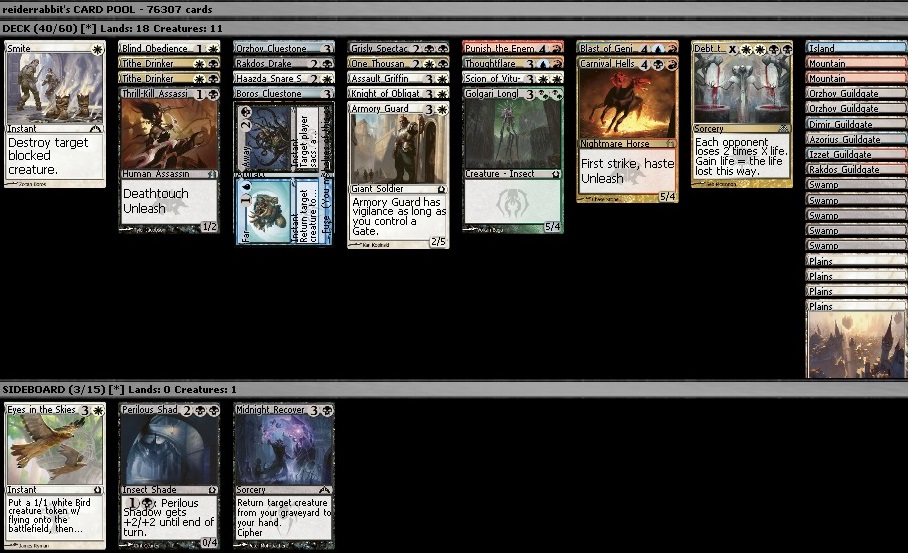 I opened what I can only describe as a generally strong pool of cards. Not pictured are my Advent of the Wurm, Deadbridge Goliath, Spark Trooper (all six of my rares were playable!), and strong pool of commons spread fairly evenly across all five colors and all ten guilds. With no one guild immediately jumping out at me, I started my deckbuilding by taking a look at my favorite guild for Sealed Deck: Orzhov.
Orzhov is the epitome of what I look for in Sealed Deck. It has the best removal in the block, and it has a solid creature base that features efficient defensive creatures and evasion. It has no need to rely on combat tricks or creature enchantments to win a stalled game.
Extort in particular is the perfect mechanic for Sealed Deck. It's great when you're flooded, great in a board stall, and grants incidental life gain to help you claw back from behind, all without costing anything in terms of card advantage. Most importantly, it means that your cards do not become dead in the late game. My pool featured four premium extort cards—two copies of Tithe Drinker, Blind Obedience, and Knight of Obligation—which was a huge draw to Orzhov.
The other thing that was great about the pool I opened was that I had seven Guildgates (Golgari Guildgate not pictured). Having such strong mana fixing offers great flexibility in finding an effective configuration and lets you play with a higher portion of your powerful cards.
So what I built was an Orzhov deck that splashed red for Carnival Hellsteed and Punish the Enemy and played a few blue Guildgates for the chance to fuse the powerful Far // Away. My final decision, then, was whether or not to double splash Blast of Genius and Thoughtflare.
Blast of Genius and Thoughtflare are both incredible cards in Draft and are even better in Sealed Deck. Games go long, they stall out, and a card with such a powerful ability to dig into your deck can often be simply unbeatable. In particular, Sealed decks make the best use of such an effect because while less focused (and less likely to be aggressive) they have a higher concentration of super powerful cards in bomb rares and premium removal, which makes seeing extra cards is quite powerful.
On the other hand, a double splash comes at a tremendous cost and is not a decision to be taken lightly. Splashing Carnival Hellsteed is easy because in a deck that's primarily black I'll basically always have a Swamp by the time I've reached six mana and all I need is one of my (approximately) four sources of red mana. However, double splashing Thoughtflare is more similar to splashing a double red card like Chaos Imps; having to draw two sources of a splash color is quite a tall order.
Though I could easily have four sources of red mana (enough for a red splash alone) and three sources of blue mana (enough for a blue splash alone), I'm now forcing myself to draw two of those mana sources at once, which is far less likely. The problem is intensified by the fact that one of my sources is an Izzet Guildgate, which produces both red and blue but not both at once. There's also the risk of drawing two red sources and zero blue sources and not being able to cast Thoughtflare. Simply put, there's a lot that can go wrong when you double splash.
Another deciding factor was that my Orzhov deck alone was already quite strong. In a weak deck, I'm more likely to make a risky splash because I feel like I need something in order to not be outclassed in the late game. In a stronger deck, though, where I already had extort cards alongside Debt to the Deathless to allow me to compete in the late game, I didn't want to ruin a good thing by decreasing the consistency of my deck.
In the end, I felt that the choice to double splash my Izzet cards was extremely close. I decided to go for it, but I would not fault anyone for going for the more consistent approach and just playing some filler cards in black and white. What I did was add an additional Island and an additional Mountain over what I ordinarily would have played to play the two Izzet cards. When I faced a fast deck, I would sideboard those cards out and stick to the more consistent W/B/R deck.
After three byes and a win in round 4, I was paired against my friend and teammate Andrew Cuneo. In game 1, Blind Obedience was my MVP, saving me at least eleven damage from his Tenement Crasher and Maze Rusher that could not attack immediately despite their aggressive dispositions. Generally speaking, the Blind Obedience forced Andrew into the conservative role since he could not block as easily and could not threaten large counterattacks with haste creatures. Over the course of the day, Blind Obedience was that card that most exceeded my expectations—it's excellent.
Game 2 I mulliganed and got slaughtered in about five turns. Game 3 was the closest and most interesting. I started with two Guildgates and played Blind Obedience on turn 3, and on turn 4 I played Orzhov Cluestone and missed my land drop. At the end of my turn, he fused Wear // Tear to kill both! After such a blowout, I thought I might be done, but thankfully Andrew didn't have one of his blistering Boros draws and the game continued for a while. I got lucky when I needed to get lucky and drew lands when I needed to draw lands to end up winning a close one.
5-0
Round 6: Ben Stark with W/G/B
Ben's deck had a lot of similarities to my own, with strong defense, extort, and a few nice late-game cards. In game 1, though, he had a quick start with Alms Beast and a Gateway Shade with two Guildgates and two Swamps; I quickly found myself chump blocking.
However, I wasn't worried because my hand held a number of powerful cards along with Debt to the Deathless. I just kept extorting, making land drops, and inching closer and closer to the win despite Ben's advantage on the board.
On the crucial turn, Ben attacked me with his Alms Beast and his Gateway Shade, which he had the ability to pump to 7/7; I was at seven, and Ben was at nine. I had eight tapped lands with a hand of Debt to the Deathless (one mana short of lethal) and Smite (but I was tapped out), and I had Tithe Drinker, a bird token, and a 5/4 "leashed" Carnival Hellsteed on the board. Ben had a number of cards in his hand. My initial idea here was to double block Alms Beast with Hellsteed and token and leave Tithe Drinker safely out of combat. However, I reconsidered because certain tricks or combinations of tricks could allow Ben to kill me, which of course I didn't want to risk since I was potentially only one turn away from victory.
Just as one example, Ben could have had Smite to kill his own Alms Beast, which would mean I'd gain zero life and Gateway Shade could kill me. Based on Ben's defensive deck and the fact that I'd hardly been able to attack him all game, I felt Smite was one of the likely cards that he could have been holding all game. I decided to chump both of his creatures, gaining five life for my troubles from Hellsteed blocking Alms Beast. This way, an untapped land would win me the game, or I could hopefully untap with Tither Drinker and Smite to survive next turn, Extort for the last point of damage, and win the next turn no matter what.
Unfortunately, what happened was that I lost two of my creatures in combat, then Ben played Fatal Fumes on Tithe Drinker, and I drew a Dimir Guildgate of all things! Since I was facing a lethal attack and no longer had a creature for Smite, I had to use Debt to the Deathless for a nonlethal amount. After that, I had one draw step for Blast of Genius or Punish the Enemy, but it was not to be and I lost a game that I'd once felt firmly in control of.
Game 2 played out in a somewhat similar way, as Ben put me on the back foot by scavenging onto his Golgari Decoy and forcing me into an awful chump block. However, I held my own with a One Thousand Lashes and again was trying to buy time for Debt to the Deathless. Unfortunately, yet again my back was against the wall and I had to cast Debt for a nonlethal amount, but with the Lashes still ticking down I still had some chance to win the game. Things continued with extorts back and forth, me sometimes chump blocking and Ben sometimes drawing a life gain spell like Centaur Healer or Saruli Gatekeepers, but he held on to his initial lead and beat me.
I was very upset after this match. It would be hard for me to say that I could have or should have beaten Ben Stark, especially since he won the match 2-0, but I wasn't very happy with the way I'd played. Of course, in any game that comes down to one point of life like game 1 did, there are bound to be a lot of "what ifs?" Though I'm not certain at exactly what point I may have gone wrong, I am certain that my conservative play throughout the game led me to be short of winning on the final turn.
5-1
Round 9: Matt Nass with W/B/U
After battling back to 7-1, my final round of the day was a feature match. It was apparent that both Matt and I were nervous to be surrounded by the bright lights and cameras of the coverage team, not to mention the hundreds of eager fans watching from the sidelines. Like me, Matt had a very strong Orzhov deck with lots of extort and removal. I took game 1 by having a much better draw, to put it simply, and Matt returned the favor in game 2.
In game 3, Matt was on the play and mulliganed but started with the nightmare combination of turn 2 Precinct Captain and turn 3 Haazda Snare Squad (not to mention strong follow-ups in the turns after). I had to play extremely carefully with my creatures and precious few removal spells and felt like I was hanging on by just a thread. Finally, a Scion of Vitu-Ghazi provided some breathing room, but soon Matt drew one of his own! He was making large attacks, and I was defending as best I could but was not on the winning side of things.
Finally, the game came down to a Blind Obedience and three creatures against Matt's huge army. To make matters worse, time was ticking down, and I felt obligated to rush through these extremely complicated combat steps while only sparing a second's thought each turn for how I might actually turn things around.
On the critical turn, these conditions finally led me to make a big mistake, and I miscounted the amount of damage I could deal on a counterattack. Matt attacked with everything, and my best play would have been to block in a way where all my creatures would live but I'd be at one life. If I made that play and drew an untapped land, I could unleash a Carnival Hellsteed, play another spell, and extort twice for exactly lethal. Since I had Blind Obedience, there was no risk of Matt playing a blocker after combat.
That was the reality of the situation, but at the time I miscounted and thought that I would be one point of damage short even if I drew the land I needed. Therefore, I used my 1/2 Rakdos Drake to chump block his biggest creature, preserving my life total and perhaps allowing the game to continue a turn or two longer. However, Matt did have a post-combat play that turn: Duskmantle Seer! The two-sided Dark Confidant effect made things interesting, and my only play was to make an all-out attack and put Matt to one, though I was dead to his attack if he flipped a land.
Matt untapped with a lethal attack ready, but he was at one life and I was at six. Matt flipped his top card: Rootborn Defenses. He was dead! But I flipped my top card, and it was the one remaining six-drop in my deck: Blast of Genius! So the game was a draw, and so was the match!
I ended day 1 with a 7-1-1 record, which is a good day by any traditional metric. However, I was somewhat disappointed since I felt my Sealed deck was excellent. I had really gotten everything I wanted and was thrilled that Debt to the Deathless, along with extort and cards like Thoughtflare, allowed me to play with eighteen lands alongside two Cluestones. I had a strong enough late game that I could play a high number of mana sources and not risk getting mana screwed or mana flooded—a real recipe for success in Sealed Deck.
Draft 1
In my first draft of day 2, I again had a deck where Orzhov Cluestone proved to be an MVP. Unfortunately, it was not exactly in the way I'd planned.
Yes, playing Orzhov Cluestone in a RUG deck was not my proudest moment, but my horrendous mana curve made it a necessary evil.
My draft started with Zhur-Taa Druid (from a weak pack), and then I got Armed // Dangerous, Punish the Enemy, and a late Scab-Clan Giant. Unfortunately, things dried up, green and red proved to be heavily drafted, and I could not build the aggressive Gruul deck I'd hoped for. The term "trainwreck draft" was invented for situations like this.
However, there was a saving grace. If I'm forced to have a bad Limited deck, this is what I want it to look like. Despite an awkward mana curve and a lack of bombs and removal, I did have a solid creature base and fatties that could dominate the game; that can often go a long way. What's more is that I had Teleportal and Armed // Dangerous as ways to steal games away from stronger decks.
Round 10: Matt Nass with W/G
Since we shared a 7-1-1 record, it was a guarantee that Mr. Nass and I would be paired in the first round of our draft pod. Matt's deck was substantially better than mine, speaking in an objective sense, but my deck actually matched up remarkably well against it.
Both of us would just play giant ground creatures, the board would stall, and we would wait for me to draw Teleportal or Armed // Dangerous. This is exactly how game 1 played out, and I won. In game 2, I mulliganed to five and swiftly went down to Matt's aggressive draw.
Game 3 fell somewhere between the two, as Matt came out faster but I just needed to hold on until I could assemble Armed // Dangerous with my Ruination Wurm. Unfortunately, I ramped to five mana quickly off of a Zhur-Taa Druid but then missed my sixth mana for a few turns while my board position deteriorated. Finally, it was crunch time, and I needed to set up my lethal attack for the following turn or I would be dead. A sixth mana would allow Ruination Wurm to come down, help me stabilize, and kill Matt the following turn, and any castable creature would be extremely helpful. But for the second time in the tournament when all I needed was a basic land, I drew a Guildgate! I had to chump block with my creatures, and by the next turn it was too late for me to come back.
7-2-1
Round 12: Trey Ballew with W/G/R
I won round 11 and then faced Trey with an aggressive W/G/R deck. In game 1, he played Madcap Skills on a creature, and the only way I could win was to race by casting Teleportal and Armed on my Ruination Wurm (9/8 double strike). I made the play, thinking I had the game against nothing but his untapped Plains, Forest, and Mountain. But sure enough, he tapped them all and played Riot Control! Not the card I expected alongside Madcap Skills in an aggressive Naya deck. Nonetheless, it was good enough for Trey to take game 1.
During sideboarding, Trey made a comment about not liking his deck; perhaps he was short on playables and had no choice but to maindeck the Fog effect. Regardless, I will admit that the card was excellent against my particular deck, and I remember thinking, "Well, this is how my tournament is going to end."
Fortunately, I was able to take the match after two more close games. For what it's worth, Trey's deck didn't seem bad to me at all, featuring Tajic, Blade of the Legion and a number of aggressive Boros creatures.
9-2-1
Draft 2
I went into the second draft pod not sure I could make Top 8 with a 3-0 but determined to do my best. The draft went flawlessly, and suddenly I felt like I had a chance again.
Good old Jund never fails me. I've had very good experiences drafting Golgari in Return to Ravnica block, as there aren't a whole lot of cards in the first two packs that would draw someone into the guild. Typically, if the right cards are opened, you can end up getting passed premium stuff very late. In this case, I opened a Lotleth Troll, second picked a Desecration Demon, pick 5 got a second copy of Lotleth Troll, and the draft continued like that right to the Golgari Longlegs, Sluiceway Scorpion, and Grisly Salvage I got in the last four picks of the draft.
I don't have any remarkable stories from the games of this draft. The deck played out well, and I ended up 2-1, losing to David Bruno in round 14. I got badly mana flooded in a long game 1, and he beat me with an impressive curve of flying creatures from his W/U/R deck in game 2.
So that was Grand Prix Houston for me. I finished 11-3-1, which was good for 24th place. I had a few near misses during the games and felt good about things on the whole. I've very much enjoyed Return to Ravnica Block Limited because the format is rife with possibilities and it truly feels like no two matches are the same. Hopefully, the same will hold true with Modern Masters as I try my hand in Grand Prix Las Vegas this weekend!