When we last left off, I had built my initial deck, which looked like this:
Creatures (14)
Lands (22) I'll be honest: I'm not sure what to expect from this deck. On one hand, I played the deck a small amount pre-Gatecrash. I like the deck enough to pick it back up for FNM Hero, but it struggles against Standard's best cards: Restoration Angel and Thragtusk. Somehow, Restoration Angel hasn't been seeing a ton of play lately (I honestly have no clue why), but Thragtusk is still around. To complicate things, the upgrades in my deck are minor, while the rest of the format has become much more powerful. Cards like Boros Reckoner and Voice of Resurgence are big deals, and the decks in current Standard are much better than the ones six months ago.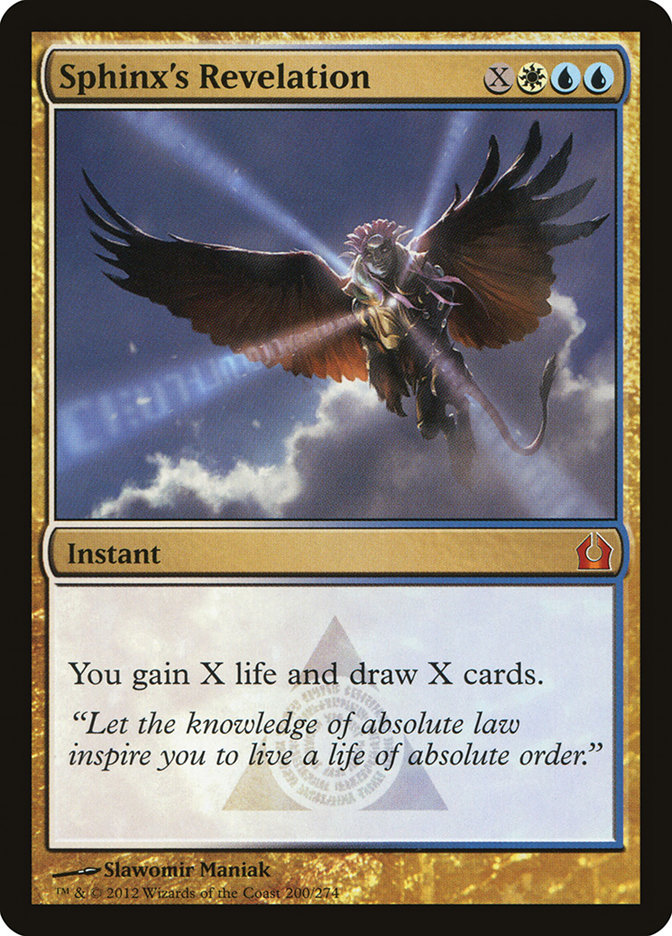 Take a look at Sphinx's Revelation. Six months ago, it was the best card in Standard. Now, it is a liability. Baby Revelations (three or less) are fairly weak, but you don't often have the time to wait. The threats you face are faster and stronger. FNM Hero aside, I firmly believe that Sphinx's Revelation is close to unplayable in Standard right now. If you're looking to spend a large amount of mana, I cannot recommend Aetherling enough. You can cast Revelation and not win the game. I feel much better about my chances of winning a game if I play an Aetherling with a mana up over a Sphinx's Revelation for four.
Back to FNM Hero, my U/R deck has no pedigree to speak of. The core of my deck has been around for a while and hasn't seen any tournament success. I feel that if this deck were truly capable of tournament success, enough people would've looked at it and figured out how to make it good. I know that I have quite an uphill battle. On the other hand, this is something that doesn't really exist in Standard at the moment: an aggressive-leaning creature deck that is capable of reloading. I think that this is going to be my greatest asset.
Much like the Delver decks from last year, Thought Scour usage is going to be important. I can use it in conjunction with Delver of Secrets to clear a card I don't want after looking during my upkeep. I also really want to be able to make at least one Drake token the turn Talrand, Sky Summoner comes down. If I have Goblin Electromancer, then Thought Scour is less important to save because many of my spells start to cast one mana.
The card drawing is also fairly important for me. Like I said in my last article, it will be difficult to keep up with the card-advantage cards played by the top decks in Standard like Thragtusk, Huntmaster of the Fells, Angel of Serenity, Snapcaster Mage, and planeswalkers. I'm going to need a healthy combination of Think Twice, Desperate Ravings, and Thoughtflare to compete.
Regarding Snapcaster Mage, I don't think I would play it if it were inexpensive. I want my deck to be full of must-kill threats. I want to be able to force my opponent to use a removal spell on any creature I play. Snapcaster Mage does not fit that bill. In addition, many of my spells get worse with Snapcaster Mage. Think Twice and Desperate Ravings don't work well, and Turn // Burn and Mizzium Mortars lose their keywords. I don't think Snapcaster Mage would be good enough to take a precious creature slot in the deck even if I could afford it.
Let's get to the games! While I normally don't like doing play-by-play reports, that is because most of the decks I talk about have seen plenty of play and the thousandth match of a particular deck gets boring. However, this is probably not a deck on many people's radar.
After assembling the deck, I headed down to Two-Headed Games/Illuminaudi NKY just south of the Ohio border in Northern Kentucky. While the drive is not ideal (driving across the bridge downtown during rush hour is no fun), this store is quickly becoming one of my favorites. The storeowners are great people that have clearly put a ton of effort into making their store a clean, friendly place to sling some spells. In addition, their prize payouts are pretty reasonable for a FNM Hero. This tournament in particular was five rounds with a payout to Top 8 based on Swiss standings. Given that there are generally very few intentional draws at a FNM, a 3-2 record can often sneak into Top 8 and get their entry fee back.
Current Budget: $22.02 - $5 entry fee = $17.02
Round 1: B/W Extort
I played against a gentleman with a B/W deck based around the Vizkopa Guildmage + Exquisite Blood combo. He also had quite a bit of extort and cards like One Thousand Lashes to deal me incremental damage.
In the first game, I was slow out of the gates, and my life total was quite precarious to the point where I considered killing my own creature to get the One Thousand Lashes out of play. However, I was able to untap with a bunch of mana and Guttersnipe and Goblin Electromancer in play. A flurry of spells later and I was able to finish off my opponent just in time. The second game was much easier. He was not able to setup anything to deal me damage, and a Delver of Secrets did most of the work.
1-0
Round 2: The Aristocrats: Act 2
I played against the Executive Producer himself, John Douglass, this round. Game 1 I was very outclassed. None of my creatures stuck, and I was under an avalanche of pressure before I could reload. Lingering Souls is a tough card for me to use removal spells on. The second game was very close. The key "play" was my turn 1 Delver of Secrets flipping on turn 2. Because JD's black source was an Isolated Chapel, he never had the opportunity to kill the Insectile Aberration with a Tragic Slip. I was simply able to keep the rest of the board clear until the Delver had done his job.
Game 3 was a heartbreaker. The key play was me casting Desperate Ravings with one other card in hand. I drew an Electrickery that would clear his Lingering Souls, leaving me with only a Falkenrath Aristocrat to deal with while I had a reasonable board pressuring him as well. Unfortunately, the die roll told me to discard said Electrickery, and the Lingering Souls tokens did me in.
1-1
Round 3: Chapin-esque Grixis
I was very happy to play this sort of game because if I struggled here I might have to rethink the core of my strategy. In theory, my initial creatures would all die to their plethora of removal. However, I could draw more cards than they could by a good margin, and I could eventually use Goblin Electromancer and/or Delver of Secrets to gain some serious tempo on a key turn or two and overwhelm them. The counterspells out of the sideboard would be instrumental in executing this sort of plan.
The games played out better than I could have hoped. I was able to punish a minor stumble from my opponent in a big way. My opponent did not have double blue but had plenty of blue cards, including Dissipate. Snapcaster Mage was tough for me to handle, but the rest of the matchup was fairly easy. I won in two games.
2-1
Wait, what?
Apparently, a player at this store has a very similar deck as his pet deck that he plays frequently. I was happy to hear this, as it somewhat validated my deck choice even though our versions were different. My opponent did not have Delver of Secrets or as much card drawing, but the basic premise was there.
Unfortunately for me, the games were a letdown. For the first time, my budget mana base came back to bite me. Twice. In both games I lost, I failed to draw a red source. Definitely a letdown and something I need to do my best to avoid in the future. However, playing the mirror match with my FNM Hero deck was comical.
2-2
Round 5: No Show
A weird way to end my first tournament. I'd watched the end of the previous round, and a guy conceded after he'd won his game because he had to go home. He forgot to drop, and I was the paired against him for this round. I prefer to play Magic, however.
3-2
As it turns out, my 3-2 was good enough for exactly 8th place. This gave me my $5 back, leaving me exactly where I started. I was happy that my deck was competitive and that some flaws in my deck were fixable.
Current Budget: $17.02 + $5 (8th place finish) = $22.02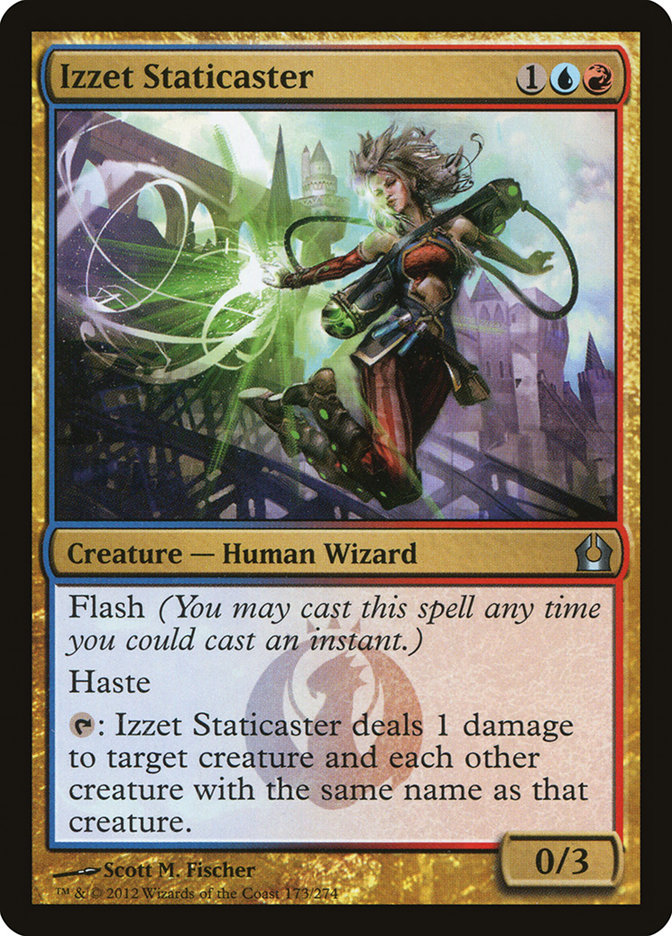 First, I absolutely wanted Izzet Staticaster. I'm not sure why I made the oversight in the first place, but this card can be crippling in the right matchups. I'll start them in the board, but they are one of the best cards possible against both Naya Humans and most versions of The Aristocrats.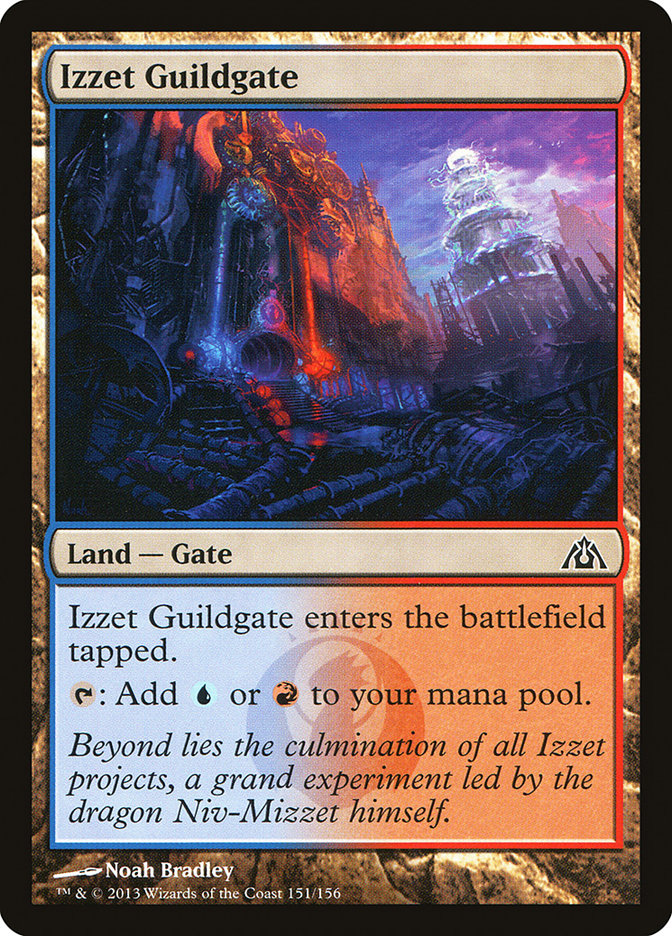 Second, I wanted to up the Guildgate count. They weren't that bad, even with quite a few one-drops in the deck. I could generally find a way to stay in games with a Guildgate, and the tempo loss wasn't extreme. Not having a color cost me a match, and I wanted to do everything I could to fix this. I bought four Steam Vents and left myself with minimal wiggle room for a reason. Getting color screwed was an awful feeling, especially when my budget prevented an ideal mana base.
It's important to make sure that changes to your deck aren't made in reaction to one errant result. If you fall on the wrong side of variance once, don't overreact. If you build your deck to handle the rare occurrence that happens once in every twenty games, you might struggle in the other nineteen games. It's important to have some basic theory behind the decisions you make.
In this case, Izzet Staticaster was just an oversight that a loss to a popular deck helped expose. With the Guildgate change, it's clear to see that I don't have enough sources of each color to hit both with certainty. I may have to mulligan more aggressively until I can afford Sulfur Falls. It may also be that I will still want some Guildgates once I build up to Sulfur Falls. In the meantime, I want to up the Guildgate count to four.
Regardless, I was eager to play again. The next Friday, I made my way up to a local shop. Game Swap in Mason, OH was the game store of choice. I like playing at Game Swap, as many of my friends also play there and it's well kept, but it might not be the best place for a FNM Hero. The players at this store are generally stronger, although some of them prefer to draft. Additionally, the payouts are generally a bit top heavy. The Top 4 players generally get $44 credit each, and the other Top 8 players only get anything if there is a bunch of people.
My biggest gripe about the store is that tournaments can often run longer than needed, as store employees are often juggling a bunch of different events and aren't always attentive to getting the next round started. This is not typically a problem for tournaments that are not FNM, but FNM is somewhat important to me!
Nonetheless, I play here quite often, and this is where I ended up for this particular edition of FNM Hero. Despite what I'd learned earlier, I decided not to change my deck based on my rule that I had to play any card I acquired for at least two tournaments. So my deck remained unchanged for this tournament.
Current Budget: $22.02 - $5 Tournament Entry = $17.02
Round 1: The Aristocrats: Act 2
Ah yes, the rematch with John Douglass. When we last fought, I dropped a tough three-game match that hinged on a close Desperate Ravings discard. This time, however, it was JD's turn to feel the bad side of variance. Both of his openings were decent, but eventually he succumbed to severe flooding.
1-0
Sadly, that would be the highlight of my night.
Round 2: Junk Zombies
I'm not sure what was going on this match, but I got beat pretty good. After my opponent played a turn 1 Dryad Militant, the last card I expected to hit play on turn 3 was a Geralf's Messenger, but that's exactly what happened. I did not draw enough Pillar of Flames to deal with his Geralf's Messengers, and his Gravecrawlers were also fairly indestructible.
1-1
Round 3: R/G Aggro
Another round, another argument for speeding up my defensive measures. I simply got run over without Pillar of Flame. This tournament happened around the time when Dragon's Maze was really making its presence felt and aggressive decks started taking over Standard. I have not reacted to this at this point, specifically with Pillar of Flame. Pillar is fantastic in my deck and against the rest of decks in Standard. I need to increase the amount of removal in my deck for sure.
1-2
Round 4: Jund
Basically, another color screw. This time, I failed to draw a red source, stranding Desperate Ravings and Goblin Electromancers until it was far too late. In the second game, I drew Skullcrack, but it was terribly ineffective. I'm not a burn deck, and with cards like Skullcrack in my hand, I couldn't effectively mount an attack that was better than Thragtusk.
1-3, drop
While this tournament did not go well in the slightest, I did learn a few things. First, I need to add Pillar of Flame to my maindeck. Combined with Izzet Staticaster in the sideboard, this should really help the aggressive matchups. Let's face it: my creatures aren't very well suited for aggressive matchups. They take a bit longer to do their thing and are pretty terrible in combat. I need my spells to do the heavy lifting. Second, Skullcrack can leave the sideboard. It just does nothing.
So I'm down to $17.02 in my budget, but the deck has played reasonably well. My biggest fear—the fear of building something that doesn't work—is now over. I build plenty of decks, and they don't always work the way I want them to in my head. Normally, I can build a failed deck and am no worse for it. I can move on pretty easily. With FNM Hero, I don't have that luxury. I'd have to take a serious hit and risk failure in order to switch decks. In addition, I have not built my deck optimally, so there is room for improvement in my basic framework.
With all of this in mind, I look forward to my next installment two weeks from now!
My current balance and inventory can be found here.