GP Yawnfest
I don't want to talk much about Grand Prix Detroit this week . . . because it was boring. The Top 8 featured six Jund decks (Jund, Diet Jund, Vanilla Jund), Melira Pod, and Affinity, with Melira Pod winning its third Grand Prix. Jund rose to the top, and Pod knocked it out—a familiar pattern at this point.
We're bored with you, Melira Pod.
I think it's time to start looking at shaking things up. Theros probably isn't going to do that, but a few different things could. It makes no sense to keep Wild Nacatl in timeout while Deathrite Shaman roams free, especially when they both provide different deckbuilding incentives and would compete against one another. Deathrite Shaman has no rival in the format—it's the best at what it does, and what it does is better than everything that isn't degenerate.
I love my spell-laden Snapcaster Mage decks as much as the next guy, as I proved last week, but I'm not silly enough to think that what I'm doing is actually better than what Jund and Pod are doing. It's not that they aren't beatable—they're very beatable—but the margins you concede to get game against them leave you too vulnerable to the remainder of the field.
So give us more options! After all, if what we have now isn't enough to create the format diversity we all crave, unbanning powerful cards is the most intuitive way to add decks to the format. It worked out fine with Valakut, didn't it?
My favorite idea for Modern is a rotating banned list. It would be difficult to maintain, requiring Wizards to remain familiar with the format at all times, but the idea of an Eternal format with constantly changing enemies sounds very appealing. I'd love to know what it's like to live in a world without Tron or Melira Pod or Twin or Jund or whatever for a few months at a time. It would create variety and shouldn't destabilize card value much more significantly than the cycling of PTQ seasons.
A similar system worked for quite some time in the Yu-Gi-Oh! card game when I played it competitively, and it kept things fresh and interesting in a game that generally had twenty identical cards per deck by changing which cards they were every few months.
Anyway, I was hoping Detroit would give me a sweet deck to talk about, but it failed me. So I'm going to turn back to a familiar source: Legacy!
Smells Fishy
It's always tempting to try to port Legacy decks into Modern. The changing nature of Magic design has turned Legacy mostly into decks filled with creatures from Modern sets backed by spells from older ones. The mana bases are pretty easy to replicate—after all, Watery Grave isn't that much worse than Underground Sea, especially when everyone else is bound by the same restriction. Your fetch land selection makes packing basics less easy, but so what?
Creatures are the iconic aspect of most Magic decks, especially in Modern, so seeing a Legacy deck with a Modern-legal creature base naturally gets the gears turning. However, most of these projects are doomed to failure—they're too reliant on spells that have no reasonable facsimile in Modern. The most frequent culprit is Brainstorm, but there are many, many more. The incredible difference between Legacy's U/R Delver and Modern's U/R Faeries should illustrate that point . . . but I'm not here to talk about that deck.
I want to talk about Merfolk.
Creatures (21)
Lands (20)
Spells (19) There are a lot of slightly different Merfolk builds out there, but I chose this one because Ben is both very good at Magic and has played a lot of Merfolk in his day. Take a look at the deck and you'll realize that the creature base is 100% Modern legal, as is Aether Vial—that's the entire core of the archetype!
Your losses are Force of Will and Daze, which become less necessary as you transition from a format with turn 2 kills to one that has games playing out much, much longer. That said, these cards are basically irreplaceable—nothing in Modern can protect you while you're tapped out nearly as well, which means you'll be more reliant on Aether Vial and cheap spells following the transition.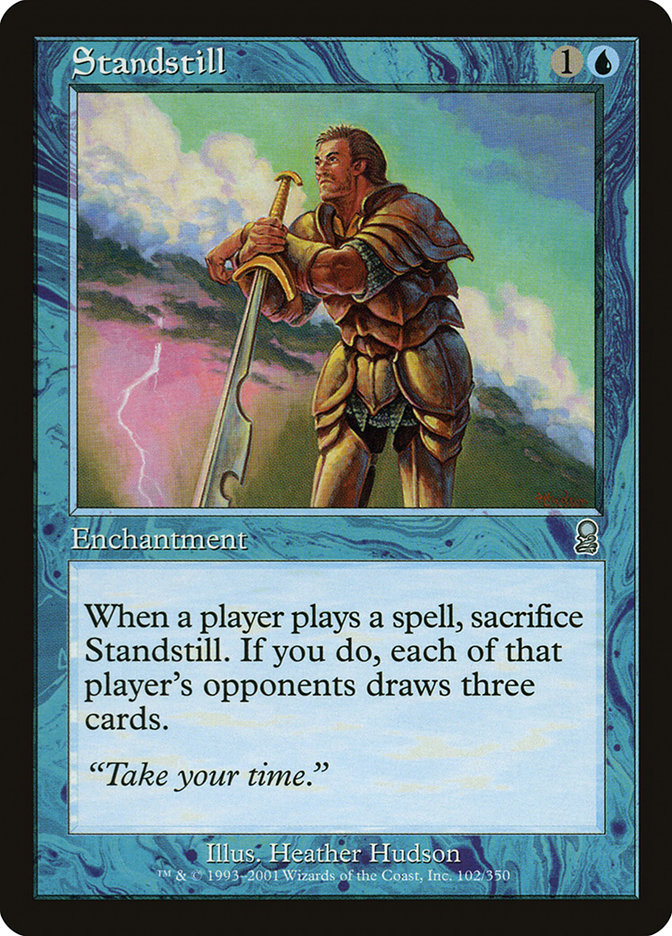 Standstill is another major loss, but amusingly I think Standstill is just not as good in Modern as it is in Legacy. Modern features a much higher percentage of man lands and Deathrite Shamans, making turn 2 Standstill not quite the same threat. Sure, land a Vial and you'll be golden . . . but when you don't, the ensuing staring contest could easily favor the other player!
Wasteland is a big one. It might seem intuitive to go for Tectonic Edge, but Wasteland serves a very different role—it's there to actively disrupt the opponent and prevent them from casting relevant spells. Most Modern decks can cast a number of good spells against Merfolk before exposing themselves to Tectonic Edge, and losing your fourth land so that you can tap out for Supreme Verdict is obviously an equitable trade . . . for the Verdict player. Tectonic Edge is mostly a tool against man lands in the Modern format—that's why it shows up in so many control and midrange strategies. It takes a lot of work to make Edge a viable form of mana disruption.
It would be pretty silly to assume that you could just replace those cards with some similar Modern-legal stuff and call it a day.
Why?
Because the formats are different.
When no one is trying to combo kill you in the early games, you don't need so many counterspells. When they're trying to attack you to death, you'll find relying completely on Dismember leads to a lot of fast losses. That's not to say that the cards aren't good, but you have to change how the deck reacts to its opponents. Fortunately, Merfolk is still a relatively strong linear strategy. Its goal will always be to assert itself as "the beatdown" because that's how it wins.
I've seen Merfolk popping up more and more often on Magic Online lately, with one particular player experiencing a fair amount of success recently in Premier and Daily Events alike. Here's his list:
Creatures (26)
Lands (20) First off, he added more creatures to the deck. Phantasmal Image has left the building, his velocity and clone status affected by the slower nature of Modern and the new legend rule. Instead, we've got Coralhelm Commander—the very Merfolk that held Master of the Pearl Trident's slot in Legacy prior to Magic 2013—and Cosi's Trickster!
Cosi's Trickster may have been something of a joke when Zendikar came out, but in Modern it's actually a pretty real beater. In addition to the standard complement of fetch lands you see everywhere, many decks are heavy on additional shuffling effects; Expedition Map, Sylvan Scrying, Birthing Pod, and Chord of Calling are all major players in two of the format's top decks.
I'm not saying you should try the Trickster in your Faeries deck, but it shouldn't be too unusual to get two triggers per game, making it a slow Nacatl in a deck packed with Lords and primed to go beatdown.
Why add creatures? Because when you don't need as many reactive cards, like counterspells, you should be aiming to enhance your proactive angles of attack. Lightning Bolt is a format-defining card in Modern, and you don't want your opponents to just open on Bolt and Snapcaster Mage and start reaching for the match slip. More creatures means more pressure.
For that reason, I'm surprised to see CLYDE cut down on Mutavaults. After all, the color-intensive creature base functioned just fine on twelve Islands in Legacy . . . But once you look at CLYDE's spells, all becomes clear.
The four Aether Vials and pair of Spell Pierces aren't very surprising, as those cards are insane and efficient, respectively. Vapor Snag replaces Dismember and increases in quantity, a more effective change against the likes of Kitchen Finks and a card capable of disrupting Modern's various unfair strategies slightly more efficiently while remaining a useful offensive card—Wurmcoil Engine, anyone? We all learned the power of Snag's single point of life during the days of U/W Delver, and players tend to effectively start on sixteen in Modern by cracking two fetches and needing one untapped shock land on average.
Yeah, I pulled those numbers out of thin air, but they're probably not far from the truth . . .
The reason CLYDE needs all those Islands? His playset of Deprives! Deprive is obviously an aggressively costed counterspell, but it has an even more aggressive drawback. When CLYDE doesn't have access to Aether Vial, holding open Deprive and making a threat in the same turn will be quite difficult. This is a pretty fair argument for mixing some Dismembers into the spells, but Merfolk would rather be putting creatures into play while holding up a counterspell than killing one.
One issue is that land drops are much more valuable to this Merfolk variant than the Legacy one. First off, you don't have free spells that interact with the opponent—Deprive and Vapor Snag are cheap, but they aren't free. Second, the inclusion of Coralhelm Commander means that one of your Merfolk actively incentivizes a mana investment. This can lead to some pretty transparent situations, but at least Deprive doesn't offer your opponents much room to play around it.
It just counters their spell, if their spell is good.
There are some other options for this slot. Spellstutter Sprite has been seeing more and more play in Modern, even in decks not dedicated to Faeries, and access to Mutavault makes the Sprite much stronger. Without equipment to carry I find this idea less exciting, but when you do successfully Sprite a Lightning Bolt or Terminate, it's quite the blowout!
Remand is easier on your mana but significantly less permanent. It's not great against cheap removal spells—most Bolt wielders can simply fire it again—and decks with a lot of mana accelerants excel against the card as well. Deprive has to be better against decks like Tron, Twin, and Scapeshift, where you're really just hoping to run them out of plays that matter rather than slow them by a turn because what they do when they get their spell tends to lock it up on the spot.
Moving on to CLYDE's sideboard. I've often picked my decks in Modern based on their sideboard options because I am usually interested in attacking a specific set of decks and every color has some very specific tools. Merfolk has a number of useful options that aren't as good in other decks due to the unique nature of Merfolk itself.
First off, Spreading Seas. Spreading Seas is an incredible weapon against Tron, functioning as a Ghost Quarter that costs one more mana but draws a card. Spreading Seas has seen play in other Modern decks, but the U/W/R decks are actually often going to be better off using Sowing Salt—it's too easy for Tron to replace the lost piece against Spreading Seas when you're not creating pressure. The upsides don't end there, though, because Merfolk is a deck capable of using opposing Islands. Islandwalk lets you skitter past Wurmcoil Engines on the turn that they land, which can make or break a game!
Spreading Seas isn't just a weapon against Tron, though that's where it's best. You can also use it against greedy mana bases, like Ajundi and the occasional U/W/R opponent, if you so desire.
As a blue deck that doesn't use Snapcaster Mage, Merfolk is perfectly positioned for Relic of Progenitus. The Relic restricts the power of Deathrite Shaman and Tarmogoyf, has significant influence against Scavenging Ooze and Kitchen Finks, and is an outright obstacle to graveyard-based combo decks in the format. Being able to main or sideboard Relic of Progenitus is in and of itself a reason to favor certain Modern decks, and it's one of the reasons that G/R Tron has continued to experience so much success in the format.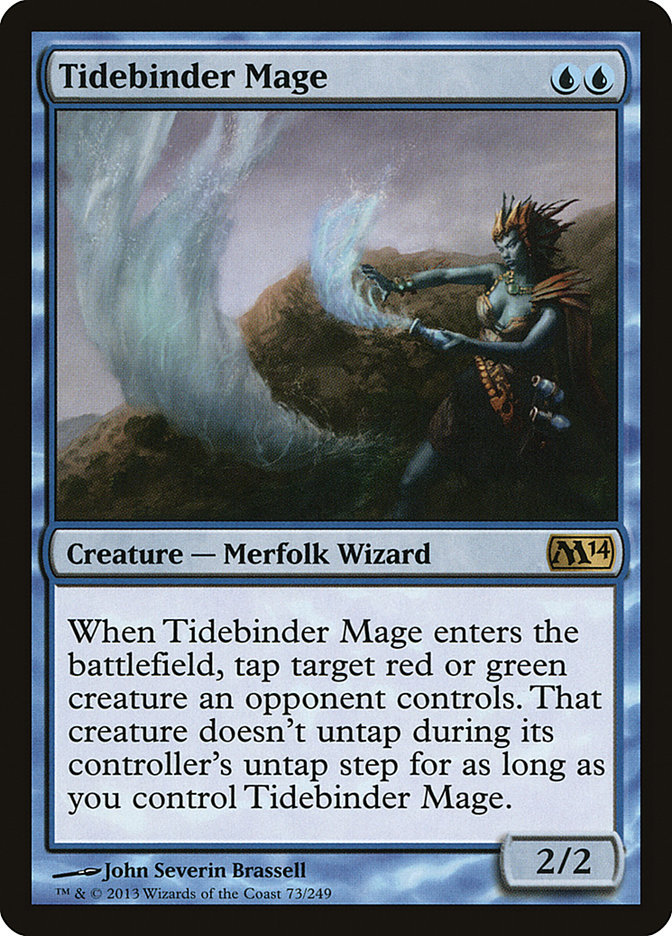 Lastly, Tidebinder Mage. Yeah, I know I'm reaching here, but I love this little guy! When I first saw the Mage spoiled for Magic 2014, I really hoped that he would catch on. He's a major lightning rod for, ahem, Lightning Bolt, which is actually desirable in a deck like Merfolk. Any Bolt aimed at Tidebinder Mage can't zap one of your lords, and they only have so many Bolts! You'll still get a little bit of a tempo boost while trading by locking their guy down for a turn more often than not, and Merfolk is a deck that loves to capitalize on tempo. I wouldn't be surprised to see this card going up to three or four following last weekend's Grand Prix.
New Cards?
Theros doesn't look like a set that will have major Modern impact, but there are a couple of cards worth looking at for Merfolk. Merfolk is a deck capable of showcasing the devotion mechanic thanks to the high number of colored mana symbols among its casting costs, and that means that Thassa, God of the Sea is at least worth a look.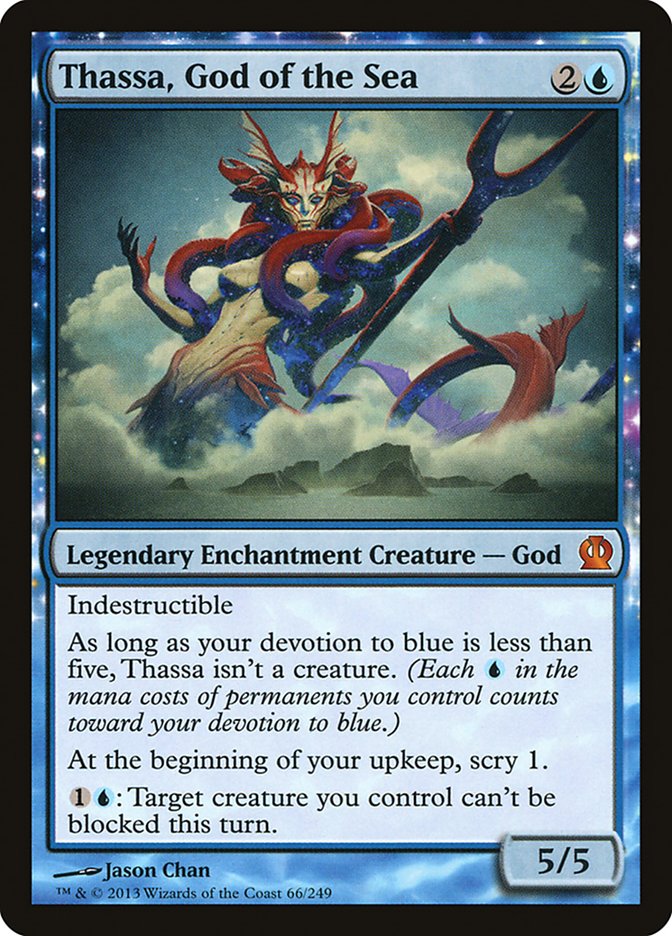 Thassa needs a pair of lords alongside her in order to transform into a 5/5 beater. That's not too difficult for Merfolk to muster, and a three-mana indestructible 5/5 is no slouch on the battlefield. Her upkeep trigger is a handy way to avoid flooding in the late game, as Merfolk really never needs more than four lands in play, and the unblockable ability could be useful.
I think Thassa might have a place as a sideboard card in some slower, attrition-based matchups. She increases your spell density and dies to very little, so theoretically that makes her a form of significant pressure in a longer game. I could see Thassa becoming a two-of in the sideboard, although she could just as easily never make it to the big show.
I'm more interested in Master of Waves. As a lord for Mutavault that can create a tiny token army when he comes into play, the Master caught my eye.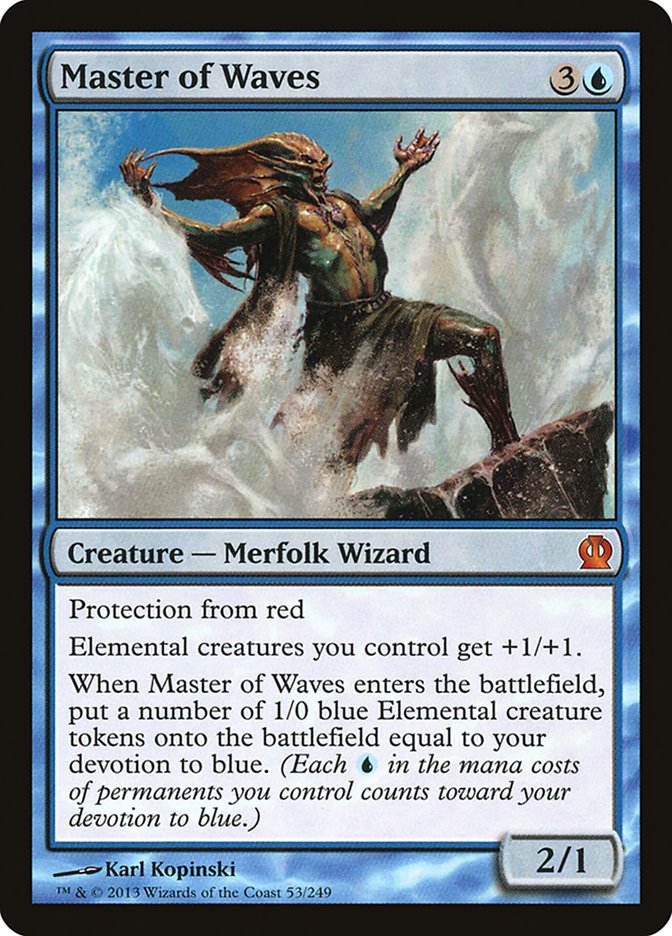 It's true that he's pretty expensive at four mana and leaves you with nothing when he dies . . . but how many cards in a Jund deck actually kill him? Think about it . . .
Hint: Maelstrom Pulse . . . which kills his tokens anyway. That's the only one! Master of Waves literally can't be touched by any of the other removal spells in Reid Duke's 75, with the exception of Liliana's ability to kill one of his friends.
If making a tiny army of Elemental horsies is actually a worthwhile endeavor at four mana against Jund, then I could see the Master finding a very real home. The recent diversification of Jund into flavors without red is obviously bad for him, but Reid's run into the finals of Grand Prix Detroit may bring more players back into the fold.
I've always liked Merfolk as a deck—something about an aggressive tribal tempo strategy hits my Timmy brain and my Spike brain both at the same time. CLYDE's success has encouraged me to add it to my Magic Online arsenal, and it might be worth considering for you guys, too.