With M14 Limited, I felt like I was about to put together a clear view of what made the format unique or how it was different from other Limited sets, and in doing so I was able to figure out the driving forces of the format, which made it easy to focus on what mattered and offered a significant edge. Today, I'm going to use what I learned about analyzing Limited formats as a whole from that and try to apply it to Theros. The goal is predict the pacing of the format and what kinds of things will be important before playing any games in order to be prepared for the Prerelease and other early Limited events.
I suspect I'll learn better and have to adjust some of this after actually playing with the set, but it should still be useful early and maybe it will be fun to see how close I got later.
The big questions I have in mind are:
How fast is the format? The main factors here are how much evasion there is and how good it is and how likely creatures are to trade (high power, low toughness) over leading to board stalls (low power, high toughness).
How good is the removal? It's important to distinguish between instant and sorcery speed removal, as they make different kinds of cards good in Limited, but this can tell us a lot about how good trying to assemble a synergistic board is or how good non-bestow enchant creatures are and also how good expensive creatures are. It's bad to pay a lot of mana for a huge creature if it's just going to die to a cheap removal spell, but if paying for a big creature takes it out of range of most removal, like burn spells and -x/-x effects, it can be a lot more valuable.
What are the key numbers in the format? Sometimes certain points of power or toughness are particularly important. In Zendikar, for example, three toughness was very important because of Burst Lightning and Disfigure. This made Vampire Nighthawk much better than it would be in most formats. In Return to Ravnica, three power was very important, as was four toughness, in order to be able to beat a Centaur token in a fight. In M14, three toughness and five toughness were important but four wasn't, which made Giant Spider very bad. This is because most early creatures had two power, most late creatures had four, and very few creatures had three.
Another set of numbers that can be important is casting cost. In some formats, there are particular casting costs that are hard to get or very plentiful, and you need to adjust priorities accordingly. The most striking example is probably before most readers were playing. In Onslaught, there were very few two-mana creatures, and they were very important because the morph mechanic meant that there were limitless three-mana creatures and a two-mana creature could usually trade with one (any face down morph). This meant that horrible two-power two-mana creatures became much higher picks than they normally would be.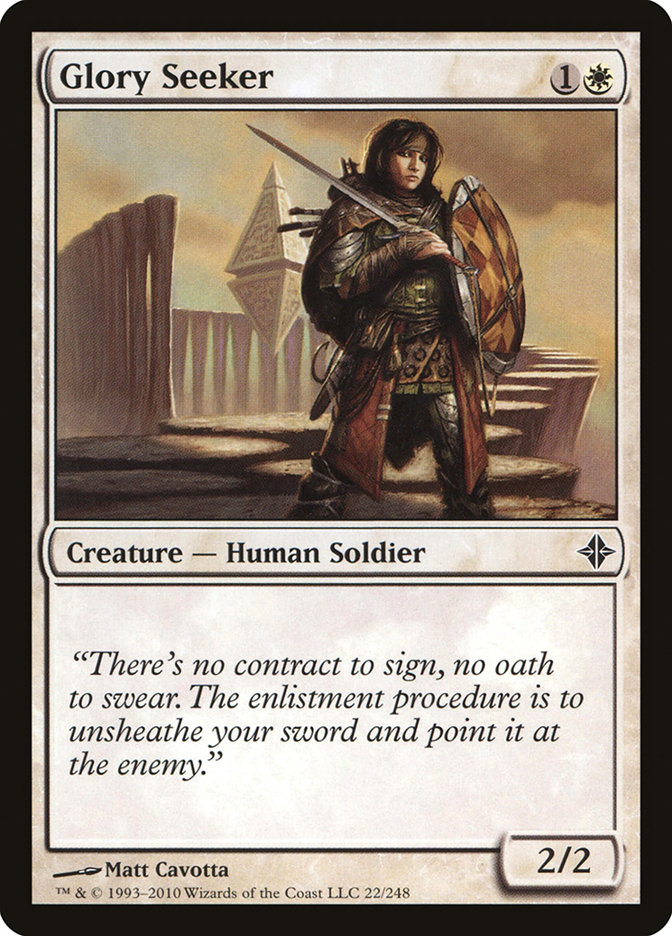 The stone nuts . . . in Onslaught.
Without getting into the cards themselves, it seems likely to me that this format is going to be on the more aggressive side. The reason that I can guess this without looking closely at the individual cards is that I think monstrosity pushes people to just try to end the game, as it will be harder to play control if it means giving your opponent gigantic game-ending threats that you won't be able to deal with some portion of the time.
Obviously, sometimes it will be you that has the monstrous creature, but the point is that these will break stalemates and end games. This will create a cap on how long the game can go, which will likely push people to try to go under that cap.
Also, bestow is a mechanic that's likely to end games. It essentially allows two small creatures to team up to beat a big creature, making it harder to lock up the board. Building big threats is a great way to end the game if they don't get killed, and here you don't get punished too much if they do get killed. Basically, I think this will end up functioning somewhat similarly to soulbond in terms of how it leads to rewarding attacking creatures—bestowed creatures will obviously also be good on defense, but once you have a creature that big, you'll generally get more value out of attacking with it.
Furthermore, the heroic creatures encourage playing with tricks and make getting hit by a trick more of a problem. Tricks are better on offense than defense because it's easier to have mana up on your turn than on your opponent's. Let's say you play a heroic creature, I play a creature, and then you attack. On the surface, I can trade, and in most sets I probably would. But here if I block and you have a trick, in addition to losing my creature yours will be bigger for the rest of the game, so I'll either take it, which will make the game end faster, or walk into the trick, which will make the game end faster by letting you get further ahead.
So the bias that I'm taking into my analysis is that attacking will be desirable because of monstrous and supported because of bestow and heroic. The exact numbers on the cards will have to be heavily skewed toward defense to change that, but let's see what we can guess about how things will play out based on the cards.
I think at first it's best to ignore colors and just look at curves across the format since you don't know what colors your opponents will be playing and you'll be able to pair as appropriate to build the best curve.
For this entire analysis, I'll be looking at commons and uncommons and ignoring rares and mythics. This is due to the relative significance of each of these cards on Limited. I've found ignoring uncommons to be a mistake. Uncommons are generally more powerful and come up often enough that it's rare that a game won't be substantially impacted by them, making just looking at commons not realistic. At the same time, worrying about particular rares at this point is just distracting.
The options at one mana: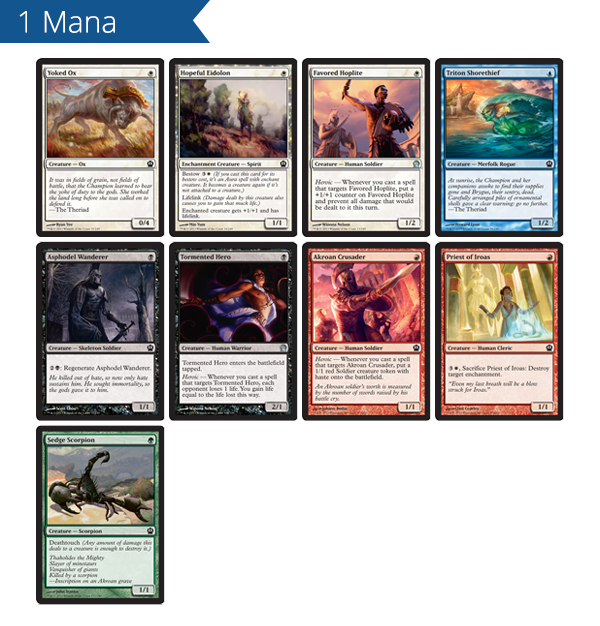 Of these, I think Triton Shorethief and Asphodel Wanderer will be mostly unplayable. The others mostly won't be terribly exciting. Tormented Hero is the best of them, but exactly how good it is depends on how many two- and three-mana creatures have three-plus toughness. At a glance, I'd say people will have a one-mana play more often than in M14, for example, but it won't be at all important to have a one-drop—the one-drops here are pretty normal.
At two mana: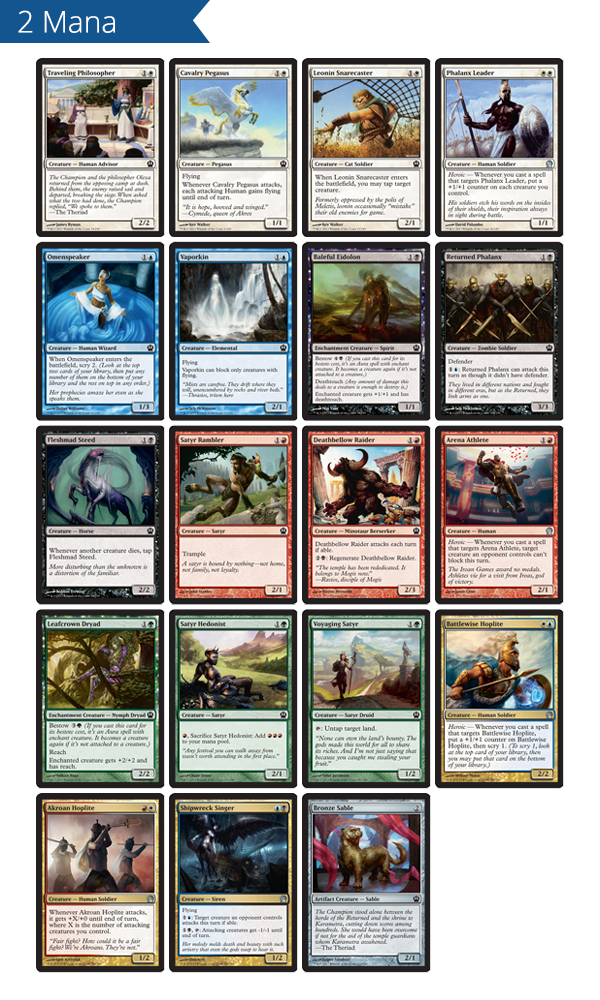 First of all, there are no three-power two-drops, and the only three-toughness two-drop that can block regularly is Omenspeaker. That's a really good start for 2/1s, especially Tormented Hero. Also, a lot of two-mana creatures only have one toughness. That fact combined with the fact that none of them have three power means that Omenspeaker, who would be pretty good in most sets just on the power of scry 2 is likely awesome, here, where the body will stack up favorably or acceptably with most other two-drops. All of this creates a tension where the prevalence of one-mana 2/1s means that 1/x blockers are good but that means that the 2/1s aren't great. On the other hand, tricks and enchantments let them stay relevant later, and again, being aggressive is good, so they'll probably still see play. But let's look at how things stack up as the game progresses.
At three mana we have: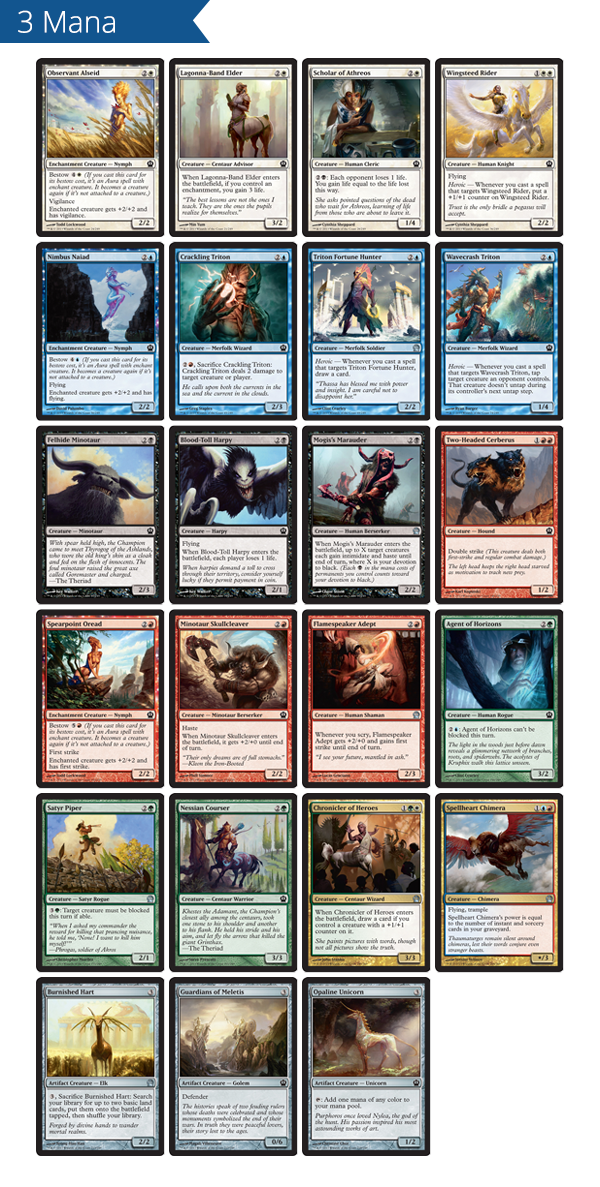 First of all, the casting costs in this set are very easy; there is a lot more 2C than 1CC, which means devotion isn't easy to get. I don't think there are enough rewards for devotion to make working to seek out 1CCs worthwhile most of the time, but it's worth noting that you're usually only getting one devotion for your three-drops.
As for the numbers, white and blue each have a Horned Turtle (1/4 creature for 2C), and outside of green there's only one three-power creature for three mana. Three toughness is looking very good for creatures in combat, which again says good things about Omenspeaker but also means that the 2/3s with minimal abilities might be a little better than they look. Agent of Horizons looks excellent and Nessian Courser is outstanding against cheap creatures, but we still need to see how it stacks up against later plays.
The air often has its own metagame, as fliers generally have to fight against other fliers, and so far it looks relatively sparse. Flying appears to be a relatively rare/expensive ability in this set, with only two common two-mana fliers and three common three-mana fliers. All of the two- and three-mana fliers are 2/2 or smaller, which means more expensive fliers with bigger numbers won't be stopped by cheaper fliers.
At four mana we have: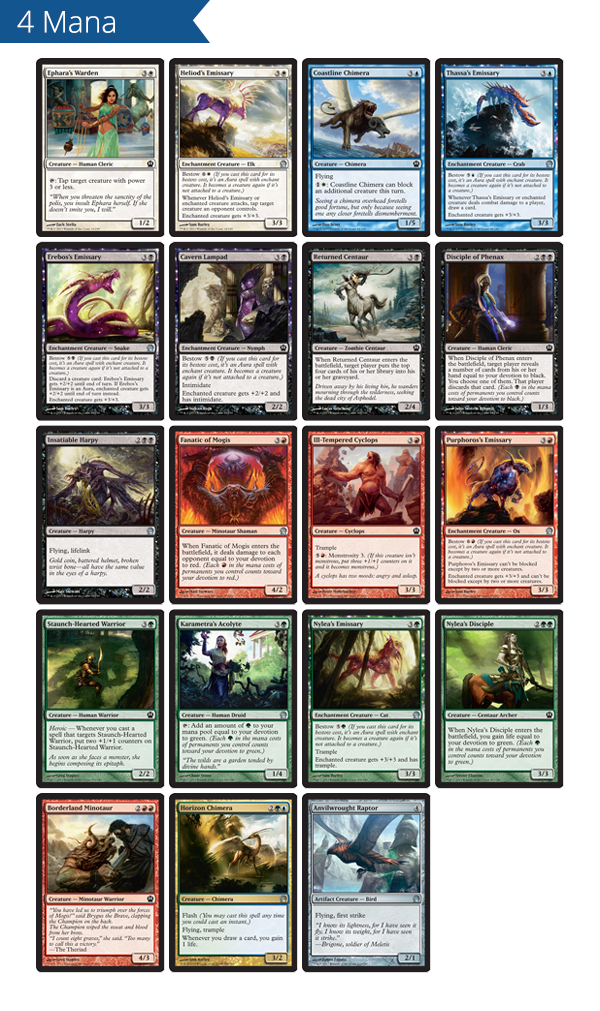 Most four-mana creatures are 3/3, and only three creatures have four or more toughness. There are a few important two-toughness creatures, notably Horizon Chimera, but for the most part, it looks like Lightning Strike is usually going to kill a four-mana creature and Magma Spray won't. Magma Spray is still good against most two-mana creatures, but it's not clear which will be a better card in Limited. Nessian Courser still looks excellent, as it will almost always just trade for a four-drop, but if that's what your opponent has to do, it's easy for you to get a lot of value out of a trick.
As for the air metagame, white interestingly doesn't have a four-mana flier. Blue only has a defensive flier, though it dominates the air, and black has a weak flier. All of this looks outstanding for Vaporkin, who will attack unimpeded or trade up unless the opponent has exactly Coastline Chimera or Anvilwrought Raptor (which looks terrible but might be good given how it stacks up to other fliers; still, it gets dominated at just one more mana).
It's worth noting at this point that with so few fliers and so few creatures with four power that Yoked Ox looks relatively well positioned for what it is.
At five mana we have: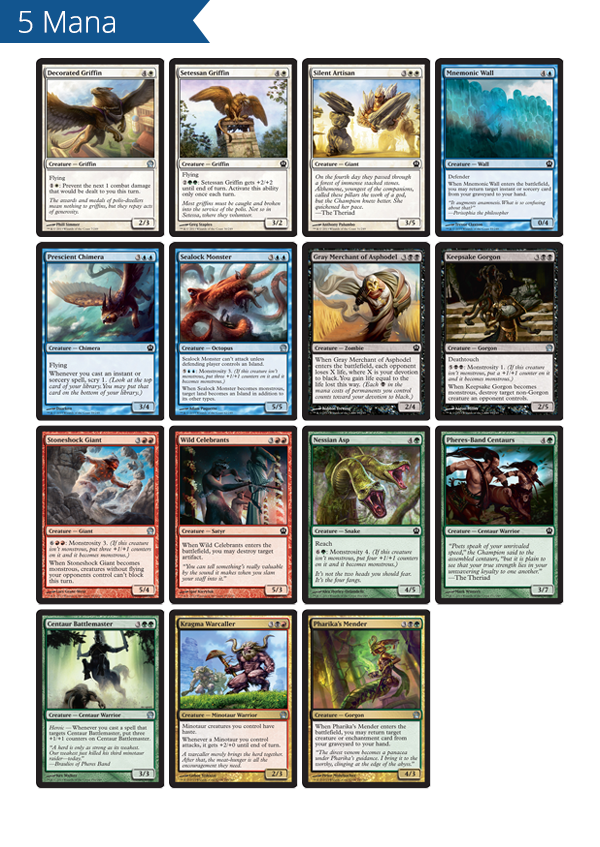 Five mana is where the big fliers and monstrosity creatures come in. Prescient Chimera is a particularly impressive common, as it both dominates the sky and holds off almost every creature that costs four or less. Nessian Asp is another creature that just seems to dominate everything.
At six mana: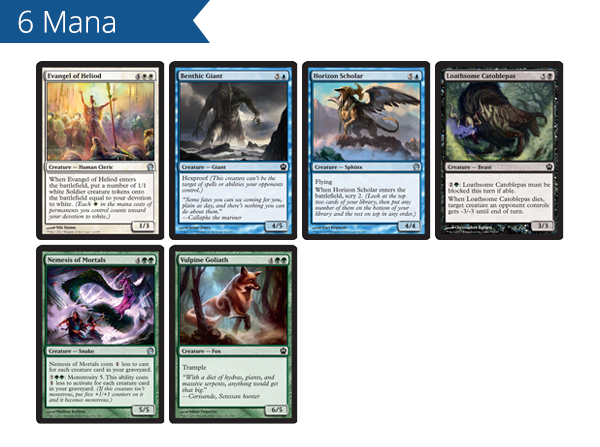 Benthic Giant seems like it should probably be pretty good as an excellent target for bestow. In general, it seems we get what we pay for at six mana, but it remains to be seen how often that's too late. Also, while these numbers trump all the smaller creatures, remember that at five and six mana you may often want to be bestowing, and your six-drop often won't hold off an opponent's smaller creature + bestow.
As for spells, I'll look at a few types. First, tricks:
In white, we have Battlewise Valor, Dauntless Onslaught, and Gods Willing. In blue, we have Lost in a Labyrinth and Triton Tactics. In black, we have Boon of Erebos and Cutthroat Maneuver. In red, we have Coordinated Assault and Titan's Strength. And in green, we have Defend the Hearth, Feral Invocation, and Savage Surge.
Every white and green pump spell gives exactly +2/+2; the only pump spell that gives more than two power is Titan's Strength. The only pump spells that gives a combat ability is Coordinated Assault (lifelink doesn't change combat; it just gains life). What this means is that we don't have an assortment of tricks the way we did in Return to Ravnica. There will be few tricks, and they'll be relatively easy to play around because they mostly do the same thing.
As for removal, I'm going to count enchantment removal due to the enchantment creatures.
White:
Last Breath
Divine Verdict
Glare of Heresy
Ray of Dissolution
Vanquish the Foul
There's no Pacifism, Arrest, or Oblivion Ring. Last Breath only kills small creatures; Divine Verdict is easy to play around; and Vanquish the Foil is an uncommon, a sorcery, and absurdly expensive, but we may be this desperate. It's interesting to imagine wishing this hard for Smite the Monstrous.
Blue:
Griptide
Sea God's Revenge
Voyage's End
Bouncing a creature in response to bestow won't counter the bestowing creature, but it will still be a pretty good tempo play given how much mana they invested in bestowing. Given how expensive and conditional white's removal looks, bouncing might be among the better answers available. Still, here we don't see any Sensory Deprivation, Claustrophobia, or even Dehydration. This certainly isn't M14.
Black:
Dark Betrayal
Lash of the Whip
Pharika's Cure
Sip of Hemlock
Viper's Kiss
Again, we have cheap answers to small creatures and extremely expensive answers beyond that. We can't even get hard removal for five mana or instant removal for six. Sip of Hemlock is no Assassin's Strike.
Red:
Boulderfall
Lightning Strike
Magma Jet
Rage of Purphoros
Spark Jolt
Lightning Strike looks to be the best common in the set based on how desperate we are for removal. Red at least looks to have a fairly normal assortment of red removal.
Green:
Artisan's Sorrow
Fade Into Antiquity
Hunt the Hunter
Time to Feed
Time to Feed is among the best removal in the format, which is saying a lot about how bad the removal is.
Gold:
Overall, the best takeaway I have so far is this: don't try to play control. Be proactive. You can play big creatures, but you can't just sit around. Blocking is difficult and ultimately not great as a primary game plan, although creatures that are good at blocking seem like a fine way to curve out. This means that card draw will be relatively weak and games will mostly be about tempo, power, and board presence.
This set looks to me like it will play out similarly to Avacyn Restored, maybe even Zendikar, and nothing like M14.
Now let's see how long it takes me to revise that position.
Thanks for reading,
Sam
@samuelhblack on Twitter
twitch.tv/samuelhblack