Legacy
Legacy Open

RUG & U/W/R Delver
A triumphant return for RUG Delver?
Delver of Secrets took a very short trip from "printed in Innistrad" to "defining pillar and staple of the Legacy format." The blue one-drop has been both common in Premier Event Top 8s and varied in the decks to which it has contributed. Insectile Aberrations have raced in U/R Price of Progress decks, reminisced about Standard dominance arm in arm with Stoneforge Mystics, and most recently gobbled up a lot of press next to True-Name Nemesis and the breakout Grand Prix win of onetime Player of the Year Owen Turtenwald.
The new U/W/R Delver deck in recent weeks has largely supplanted steady Legacy Delver home RUG Delver in the public mind; even longtime RUG Delver standout (and multiple Legacy Open RUG Delver winner) Jacob Wilson posted his most recent Top 8 with U/W/R Delver.
So last Saturday I was sitting around a Brooklyn PTQ with Chris Pikula, talking about his Legacy fandom of Delver decks in general and Wilson in specific. Chris mentioned that Jacob was probably going to go [back] to RUG Delver despite some recent success with U/W/R Delver.
Come Monday I texted the Meddling Mage (noting Jacob's first-place finish at the Open in Las Vegas with U/W/R Delver) that it looked like he was wrong . . .
But it turns out that Jacob had just lent his RUG Delver cards to fellow Legacy Open Top 8 competitor (and reigning World Champion) Shahar Shenhar! It is in fact entirely possible that the returning success of three RUG Delver decks in the Legacy Open Top 8 might be understating the archetype! RUG Delver looks to be both [still] a viable choice and in the right hands potentially dominant.
Creatures (12)
Lands (18)
Spells (30) Today's RUG Delver lists all seem to be within a few cards of one another maindeck.
In terms of mana base, they all seem to run three Tropical Islands and three Volcanic Islands as well as four Wastelands. The balance of these decks' land bases is sac duals (most commonly Scalding Tarn and Misty Rainforest), but the specifics hardly matter. Shahar Shenhar played Flooded Strand in place of Misty Rainforest; the ability to hit either Island or Forest is irrelevant since all six dual lands are Islands. You only actually have to be able to hit Island. Polluted Delta would be fine for instance.
The aforementioned Owen Turtenwald I think correctly argues that the optimal RUG Delver list will actually play Wooded Foothills. The reason is that Wooded Foothills is a very weak signal to Stifle on the first turn but can actually access both Tropical Island (Forest) and Volcanic Island (Mountain) as easily as a "blue" sac dual. Given the statement the archetype is determined to make on the metagame, a small edge like Wooded Foothills may prove valuable to the cagey RUG Delver mage.
Some notes on RUG Delver as it stands:
It's all about mana denial. There have been multiple builds with more burn cards, maindeck Scavenging Oozes, and even Green Sun's Zeniths, but the hive mind seems to have chosen the soul-crushing combination of Wasteland and Stifle (which punishes opposing sac duals). As I said earlier, the RUG Delver decks from the Legacy Open in Las Vegas Top 8 were all within a few cards of each other main.
Fire // Ice looks to be the settled flex card of choice. There is generally about one slot in RUG Delver that can go to Dismember, Chain Lightning, or even Tarfire / Seal of Fire as a flexible Tarmogoyf booster. That spot was occupied by Fire // Ice in all three decks played by Ricky Sidher, Vinnie Gorman, and Shenhar in Las Vegas. The "Fire" side of Fire // Ice gives you some useful text against decks like Elves (a Top 8 finisher in this event), and the "Ice" side can give you some additional mana denial, if short term.
RUG Delver decks are not yet adapted to True-Name Nemesis. Both Sidher and Gorman played two copies of Legacy's newest It! Girl! in their sideboards, with the World Champion sporting one copy in his sideboard. Intuitively, if True-Name Nemesis is really as good in Legacy as many adherents, pundits, and their decks seem to think, we can probably speculate that it will graduate to a two-of (or greater) in some future stock version of the RUG Delver maindeck (as it has already in U/W/R Delver and Merfolk). As it stands, successful RUG Delver players have not disrupted the rock-solid Stifle RUG shell to accommodate the unblockable 3/1, though True-Name Nemesis in some number probably solves one of RUG Delver's most persistent challenges—having all of its small number of small drops dealt with.
Creatures (10)
Lands (20)
Spells (30) For his part, the Legacy Open winner in Las Vegas made only small changes to his recent Top 8 deck, simply removing a maindeck Meddling Mage and massaging the seating arrangements on Spell Pierce, Swords to Plowshares, and Gitaxian Probe main.
U/W/R Delver is in many ways "THE" deck of Legacy at the moment; yet another Open win is just fuel to the fire.
This deck has multiple great offensive plans.
It can drop a turn 1 Delver of Secrets and either luck its way into an Insectile Aberration to clock or set up with Brainstorm and Ponder.
It can play the Stoneblade game with [turn 2] Stoneforge Mystic into the usual suspects of Batterskull and "other." Wilson played Umezawa's Jitte main, eschewing any Sword preference, but leaving his options open with a Sword of Feast and Famine in the sideboard.
Of course, True-Name Nemesis gives aggro-control a route to inevitability it didn't always have. Barring a Supreme Verdict, True-Name Nemesis basically puts the opponent on notice: you, sir, are on a clock. This is particularly valuable in a deck with Lightning Bolt.
After board Jacob set his deck up to be able to fight Storm (Ethersworn Canonist) and even potentially take the edge off of a Bloodbraid Elf. Rest in Peace is a great hoser of both combo decks and Tarmogoyfs. Plus there are any number of redundancies or tweaks for games where he would not want Force of Will, his dedicated creature elimination, or Daze.
With a low—but tightly functional—land count, essentially forty cards that most players can get behind including an eight-pack of the most defining threat creatures of the last couple of years of Standard Magic, and fast answers to both creatures and combo decks, U/W/R Delver is the kind of deck that lots and lots of players can get behind. It's flexible, feature rich, and almost completely devoid of controversial or "bad" cards!
Look for this strategy to grow and then maintain its popularity for some years.
Jund & Punishing Jund
Jund made strong showings in both the Legacy Open (as noted above) and among Invitational Top 8 competitors in that tournament's multi-format structure in Las Vegas. These were the decks chosen by the Invitational's most successful competitors:
Legacy Portion of the Invitational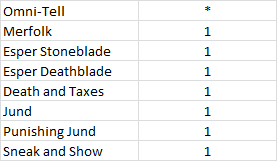 Thea Steele piloted "Jund," while Erik Smith (and Legacy Open Top 8 competitors Bob Hunsaker and Cory Teran) played the Punishing Jund version.
Creatures (15)
Planeswalkers (4)
Lands (24)
Spells (17) Creatures (15)
Planeswalkers (4)
Lands (23)
Spells (18) The big difference between most Punishing Jund decks relative to regular Jund decks is Punishing Fire over Lightning Bolt. Now obviously Lightning Bolt is one of the best red cards of all time, but Punishing Fire is a substantial source of card advantage—at least when you can aim against the opponents of your choice.
In order to accommodate Punishing Fire, the Jund decks of this ilk play Grove of the Burnwillows and thus have to modify their land bases. Unlike Thea, Erik did not play a basic Mountain for instance.
Because Punishing Fire is generally speaking a wildly inferior Lightning Bolt (twice the CMC for two damage instead of three), it's important for these decks to be able to defend Grove of the Burnwillows. Smith played a maindeck Life from the Loam to defend his, but of course there is a natural synergy there with Wasteland.
Here are some things that Punishing Fire and/or Grove of the Burnwillows can offer that you might have missed:
Because of its Cursed Scroll like combo tool, Punishing Jund can almost by definition do more stuff than traditional Jund . . . but that doesn't mean that it necessarily wins more. Punishing Jund can give up value to Deathrite Shaman for instance and is a weaker pure racer against combo decks. There are tradeoffs to everything.
Imperial Painter
A powerful strategy but one that is almost necessarily less popular in Legacy is Imperial Painter:
Creatures (18)
Planeswalkers (2)
Lands (20)
Spells (20) Imperial Recruiter, a necessity for this deck, is about $300 apiece . . . and hard to get one's hands on.
But how else is your mono-red combo deck going to tutor up Painter's Servant or Goblin Welder?
Imperial Painter has a straightforward two-card combo but lots of crossover synergy, allowing it to do other things with little incremental cost.
| | | |
| --- | --- | --- |
| | + | |
Everything's blue!
Activate Grindstone!
You're dead.
Because Painter's Servant can make everything blue, Pyroblast and Red Elemental Blast are great in this deck even if you haven't drawn Grindstone yet. You can counter or destroy anything. Plus because some of the most common cards in Legacy are Brainstorm, Force of Will, and the like in blue decks, you simply have a deep set of super efficient answer cards.
As a fast Blood Moon / Magus of the Moon deck (turn 1 Ancient Tomb + Simian Spirit Guide), this deck can acquire quite a few free wins. It is only one color itself and essentially immune to Blood Moon effects. There are numerous allegedly fair fights to be won with Chandra, Pyromaster or Goblin Welder.
This deck can theoretically win on the first turn but requires more work than most combo decks. Consider:
Play and tap City of Traitors for two, play Painter's Servant.
Exile Simian Spirit Guide for R, play Grindstone.
Exile the remaining three Simian Spirit Guides for RRR, activate Grindstone presumably for the kill.
Merfolk
Creatures (29)
Lands (20)
Spells (11) Invitational finalist Gregory Hatch chose to battle the Legacy rounds with Merfolk. This successful Merfolk deck is quite a bit different from some Merfolk decks of times past.
Perhaps taking a cue from Standard's dominant deck, Hatch's Legacy Merfolk is essentially a blue StOmPy deck with very light permission. This is an attack deck coming out with Cosi's Trickster on turn 1 and then loading up with more and more and more Merfolk lords to buff any and all attackers.
Lord of Atlantis buffs everything.
Master of the Pearl Trident is like a better Lord of Atlantis.
Merrow Reejerey is more of the same, and Phantasmal Image can grow up to be whatever you want (but will probably be buffing its teammates).
The difference maker here is True-Name Nemesis. Holy four-of!
As a three-drop, True-Name Nemesis raises the Merfolk curve a mite but in return gives Merfolk a nearly unstoppable attacker. Good in a great many decks, True-Name Nemesis in Merfolk is bigger than anywhere else.
This Merfolk wants to get its guys out and potentially attack with extra Merfolk in the form of Mutavaults, so it lacks some staples like Wasteland.
Omni-Tell
Creatures (1)
Planeswalkers (1)
Lands (20)
Spells (38) Invitational winner Max Brown did his Legacy damage with a new version of Omni-Tell. Instead of a straight blue deck with Cunning Wish, Brown used red for Burning Wish.
Adding Burning Wish gave Brown the opportunity to break the Rule of Four on Show and Tell and stow a copy of Enter the Infinite in his sideboard.
There are various ways to close out a game with this deck, from something as simple as Lotus Petal + City of Traitors on turn 1 for Show and Tell into Emrakul, the Aeons Torn to drawing your entire deck.
The baseline combo is Omniscience + Enter the Infinite; get Omniscience onto the battlefield (probably via Show and Tell) and you get to cast Enter the Infinite for free. Think about . . .
There are multiple Volcanic Island combo decks to choose from in Legacy. This deck's edge over, say, Sneak and Show is that it doesn't explicitly need a creature in play to win (ergo is then less vulnerable to a card like Karakas).
Legacy showed us lots of twists and turns in Las Vegas, with welcome additions to the format as well as some returns by old favorites. For its part, Standard did not disappoint. While many decks were familiar in both the Standard portion of the Invitational and the Standard Open (especially Mono-Black Devotion) in Las Vegas, major innovations were to be found in both beatdown and control decks.
Standard
Here is how last weekend's Standard tournaments shook out:
Standard Portion of the Invitational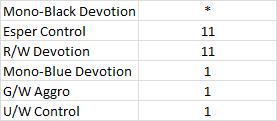 Standard Open

R/W Devotion
The R/W Devotion strategy has come to this:
Creatures (26)
Planeswalkers (1)
Lands (25) A powerhouse beatdown deck that exploits both speed and long-game battlecruiser potential, R/W Devotion works to build red pips on the battlefield and then cash them in with Nykthos, Shrine to Nyx and Fanatic of Mogis.
R/W Devotion can get classic fast red deck draws with hasty two-drops like Ash Zealot or ride a snowball effect of explosive pip acquisition on Burning-Tree Emissary (if not from turn 2). Boros Reckoner is not only one of the strongest defensive creatures in Standard but also a three-pip machine that really sets up the pins for Fanatic of Mogis to knock down in a turn or two.
There is just so much power in this deck. Stormbreath Dragon; Chandra, Pyromaster; Purphoros, God of the Forge; Hammer of Purphoros . . . any of these cards can potentially take a game over itself.
Assemble the Legion out of the R/W sideboard is one of the best threats against Mono-Black Devotion, while the white splash's Chained to the Rocks helps the deck deal with red-resistant creatures like Master of Waves; Desecration Demon; or Thassa, God of the Sea. Though Thea's deck focused on the attack and mana development, her sideboard could provide a ton of flexibility in Boros Charm and Warleader's Helix—everything from the ability to defend her position to the ability to face the opponent for four.
G/W Aggro
Creatures (28)
Lands (23) Prior to Pro Tour Theros, G/W Aggro was one of the pillars of the Standard format. There were multiple styles of G/W Aggro, and they set the tone for the new environment in a violent flurry of Boon Satyrs and one-mana white instants that resisted removal and discouraged blocking.
Then Mono-Blue Devotion happened.
Mono-Blue Devotion loved facing the G/W decks of the day. It just raced G/W easily.
G/W was supposed to be the attack deck, but how was it supposed to keep pace with:
Cloudfin Raptor --> Tidebinder Mage --> Thassa, God of the Sea --> [anything]?
Shrout's new G/W deck draws a line in the sand. As long as Mono-Blue Devotion is a key player in the metagame, this deck looks like it can compete.
The creatures might not be as high impact offensively as some previous builds, but the three slot of Banisher Priest, Mistcutter Hydra, and Skylasher seem like a truly dirty dozen.
Adding these kinds of creatures rather than focusing only on what is the most effective in an offensive vacuum is helping to give G/W the context it needs to compete given the shape of the metagame. Even with this tuning, Shrout's version has heavy hitters in Advent of the Wurm and much of its mid to high end intact.
The danger in making very "meta" choices is that you need some cooperation from the rest of the field to be successful. This deck has cards that are super strong against Mono-Blue Devotion, but how good is Banisher Priest against, say, a Sphinx's Revelation deck?
Worse yet, what if innovation is built into some of that end of the metagame?
U/W/R Control
Planeswalkers (4)
Lands (26) The last deck I want to talk about this week is Steven Phillips's Open finalist U/W/R Control deck.
To date, Esper has been the three-color Sphinx's Revelation deck of choice, but straight U/W has been successful in recent weeks. I think U/W/R is more an innovation out of U/W than a statement that red is better than black.
This is an Elixir of Immortality deck. One of the advantages Steven got from his red mana was Counterflux. In this deck you can cover your Elixir of Immortality with a Counterflux, which can be a substantial edge in a quasi-mirror.
Though Phillips spent a fair amount of space on his red mana, he didn't go crazy with the red spells. Just an extra Counterflux in the side, one Shock, and a Wear // Tear. The Wear // Tear is a potential bomb, but the Shock can help in an important way—speed up the defense of a deck reliant on cards like Supreme Verdict to stay alive against rush.
Invitational weekend has come and gone, but not without getting our collective minds going. Even with the dominance of Black and Blue Devotion, there is a ton of decks you can play in Standard. Legacy is somehow even more open to variety and change.
Viva.
Viva las decklists!
LOVE
MIKE