Legacy is my second favorite format in Magic (behind only Cube), and part of that is because of its diversity. There are easily ten to fifteen decks that I feel could take down a tournament, but many of them play out very differently from one another. Decks in this format cover the entire spectrum from aggro (Affinity/Burn) and aggro-control (Delver) to control (Miracles) and aggro-combo (Elves) to combo (Sneak and Show, Storm), and some might even classify Ad Nauseam Tendrils (ANT) as a sort of combo-control deck. So if you want to win an SCG Legacy Open, you certainly aren't limited to playing three or four decks like some of the recent Standard formats. You can actually play whatever fits your playstyle!
For me personally, I play everything. The idea of playing the same deck week in and week out bores me to tears. When deciding what I was going to play at the Open Series in Nashville, I knew I would stick with the U/W Control deck I had won a PTQ with a month ago in Standard, but I just wasn't sure what I would play for Legacy. The last Open Series I played in Columbus, I tried out Death and Taxes, which I piloted to an x-2 finish, just short of "getting there." My losses with that deck seemed to be due to drawing Plains, Plains, Plains off the top while my opponent played Ponder, Brainstorm, fetch Brainstorm to essentially draw whatever they wanted. Not playing Brainstorm and leaving myself at the mercy of my draw steps left a sour taste in my mouth.
I knew I wanted to be on the Brain train, but that still left roughly a million options. Fortunately (or unfortunately depending on how you look at it), card availability made this decision much easier for me since my friend with a Legacy collection decided on playing Miracles and only has one set of Force of Wills. There's really only one reasonable Brainstorm but not Force of Will deck that I'm willing to play, so I was set on running ANT. I also felt like I had something to prove with it since I played it in Indianapolis earlier this year and punted my way out of Top 8 contention in round 6 to ruin my then 100% Top 8 record with the deck.
The decklist I registered on Sunday was fairly typical for the archetype, as there is really only one flexible maindeck slot in the deck. It would have been a Grim Tutor if I'd had the option, but unable to find access to one, I registered a third Preordain instead. My other considerations were the fourth Cabal Therapy in the main or a Sensei's Divining Top like I've seen many Storm players adopting. I haven't played with the Top myself, but I feel like it's too much of a mana investment for the effect. And it not being a spell can be relevant on some of the awkward Past in Flames you go through sometimes.
Lands (15) For the sideboard, I wanted to stick with the Dark Confidant plan that I'd run previously since it's nigh unbeatable in the discard spell combo mirrors (mainly Storm mirrors but also things like Tin Fins) and can also be useful to grind games out against blue decks that are unlikely to have post-board removal for it. Against blue decks with Lightning Bolt, you leave them out because they're unlikely to have enough of a board for you to bring all their Bolts out. Abrupt Decay and Echoing Truth you have to bring in in some amount nearly every matchup since you don't want to be kold to permanent-based hate like Meddling Mage, Leyline of Sanctity, or Ethersworn Canonist. The rest of the board is fairly self-explanatory:
Now that I've discussed my list and how I got there, we can talk about how the deck plays a little bit. ANT is a tricky beast. I could easily write an entire article much bigger than this one on just how to play it, but I'll just go over a few things:
Brainstorming
Conventional Legacy wisdom tells you to wait on your Brainstorms until you can get the most value possible. With this ANT deck, it's almost the exact opposite.
Seriously, jam them!
A good portion of the time that Brainstorm resolves you will just win the game on the spot. There's hardly a realistic hand you can have where drawing the three best cards off the top doesn't make you win immediately. This is not a hard and fast rule, as there will obviously be times you would rather Ponder first (example: you're on one land with little action), but always know that your Brainstorm might just win you the game and play accordingly.
Sideboarding
You can't ever board out too many cards with this deck because it needs a critical mass of its mana spells. As I mentioned earlier, unless you're positive your opponent doesn't have any permanent that hinders your ability to combo them, you need to bring in some amount of Abrupt Decays or bounce spells.
So how do you actually sideboard with this deck then?
Well, for starters, I think I brought out the Preordains every match. It's the worst of the blue cards and the most expendable card in the deck. Duress is the other prime candidate to be cut in any nonblue matchup and can probably be trimmed in some amount even against decks with Force of Will. Some people would be tempted to cut Gitaxian Probe, but I honestly don't know that I ever boarded one out. It's probably the best card in Legacy.
The tournament itself started off well for me. My first experience with Force of Will came when I battled against Deathblade for a 4-0 record after three rounds of goldfishing. Game 1 I resolved a very awkward Ad Nauseam that left me dead on board to his Deathrite Shaman, and game 2 was looking very rough when he had Liliana of the Veil and Jace, the Mind Sculptor in play against my two lands, Defense Grid, and one card in hand.
Knowing I had a Cabal Ritual in hand, my opponent's Surgical Extraction on said rituals was about to spell certain doom for me, except he waited until my draw step to attempt the Surgical and was unable to pay for Defense Grid. I drew Cabal Therapy for the turn and named the only card he had shown me, and some rituals and a tutor later I was able to get him with the Past in Flames kill. Game 3 the Dark Confidant plan really shined, as I was able to grind him down with some discard spells and resolve the broken 2/1. A few turns later that advantage was translated into many copies of Syphon Life.
The next round I played against Deathblade again, but this time variance hit me pretty hard. My opponent mulled to five the first game, and I Cabal Therapyed all of his relevant spells. But about seven or eight turns of casting blue cantrips later, I had still failed to find spells that do anything but make mana, and we were off to our respective sideboards.
Game 2 lasted all of one turn (thanks Gitaxian Probe!) so I was on the draw for the deciding game, which was featured on SCGLive. Gitaxian Probe showed me he had no interaction in hand for the first turn but had some Brainstorms to dig with. I decide to go for Ad Nauseam, forcing him to hit one of his four Force of Wills in three draws out the 53 cards left in his deck. I'm no statistics expert so I'm not sure the exact odds on this, but they are certainly not very high. Well, as we all saw on camera, he hit his out, and I died.
I defeated Shardless BUG and U/R Delver over the next two rounds to set up a probable "win and draw in" for round 8. Winning the die roll and having no idea what my opponent was on, I went all in on turn 1 without a Gitaxian Probe.
Please don't have Force? He didn't.
I sideboarded nothing, as he was still a mystery and didn't appear to board anything in himself. The ten Goblins that entered play on his turn one told me that he was on Belcher. I played a Ponder to dig for action and began my next turn at nine life. From there, I began turn 2 with a Brainstorm. I put some dead cards on top that Preordain scryed to the bottom and drew: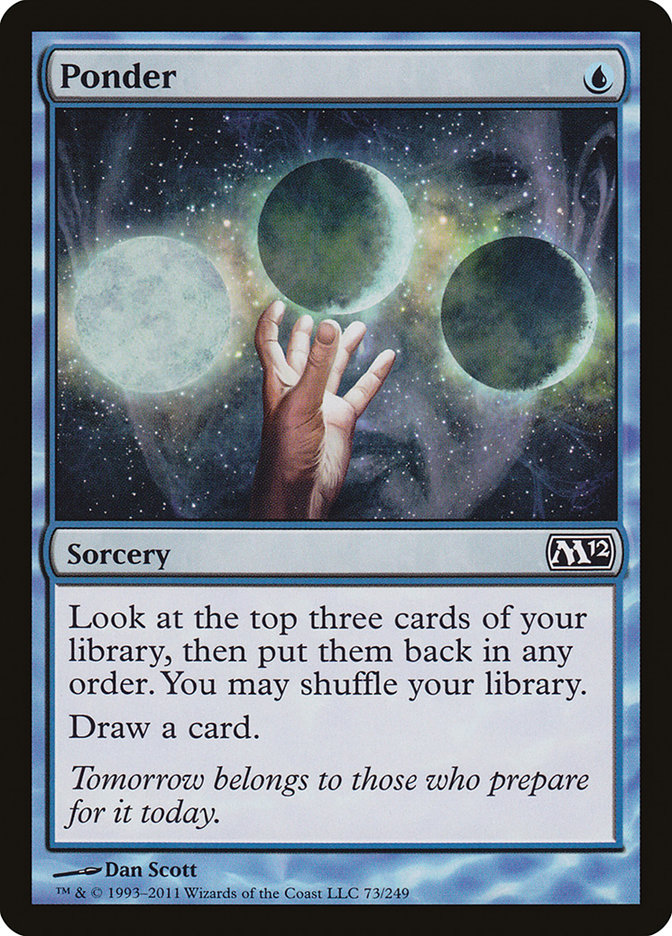 At this point, I was on very few outs. I could use all the three Lotus Petals I had along with a Lion's Eye Diamond to Infernal Tutor for something, but it wasn't yet enough for Tendrils to be lethal. There were no rituals for Past in Flames in my graveyard, and Ad Nauseam from nine life with three Lotus Petals used is a very low-percentage play.
I had to use a Lotus Petal to Ponder.
Duresses and Therapys sure didn't help, so it was time to shuffle! After a dramatic shuffle and cut, a Dark Ritual somehow found its way into my hand off the top, and that's game boys! I got to tutor for Tendrils of Agony for exactly ten spells, and with pretty good tiebreakers, I was almost certainly in Top 8.
Despite not playing it out, round 9 was actually pretty tense. I was paired with notable good guy Andrew Tenjum, and we decided to take the draw, knowing that if everything went poorly one of us might end up in ninth. It all came down to the High Tide versus Deathblade match that was on camera, with High Tide having bad enough breakers that she was basically assuring our safety with a win. As excruciating as it is to watch a match of High Tide, we actually suffered through it, and eventually (hours later probably) the good guys won.
In the Top 8, I quickly dispatched my U/W/R Delver opponent (Meddling Mage naming Tendrils did not help his cause), and I moved on to my first combo mirror of the tournament. The Sneak and Show matchup with this deck can be a little rough I think, as last time I had played this matchup I was dispatched by Hall of Famer Huey Jensen. My run at a fourth trophy was cut short here when Dylan Jones had turn 2 Griselbrand on the play in games 1 and 3.
Game 3 I could've played out my Lion's Eye Diamond to be able to pay for Spell Pierce and resolve my Cabal Therapy at the cost of the rest of my hand, and in retrospect that was definitely the play I should've made. My odds of winning at that point would certainly still be quite low, but it would've been better than the alternative of letting a turn 2 Griselbrand hit play.
It wasn't all bad. I got to leave the Music City $1,300 and 14 Open Series Points richer, which puts me in a tie for fifteenth place on the SCG Players' Championship Leaderboard.
Moving forward, I expect ANT to occupy roughly the same space in the metagame that it has. It gets among the most free wins in the format by demanding very specific answers on the first couple turns of the game and can grind through any amount of hate given enough time. That said, it's difficult to play, and I think this negatively impacts the overall results that it puts up. I'm fairly sure it's the most difficult Constructed deck I have piloted, and I continue to learn things every time I play it. Don't let that scare you though. Goldfish it until you are familiar with the interactions of the deck, and your good buddy Gitaxian Probe will help you know what to play around.
With PTQ grinding no longer necessary for me this season, you should be seeing me at most Open Series in the Midwest trying to get myself to the SCG Players' Championship. I've got a lot of points to make up, but that just means I've got more large storms to brew.