I'd just finished game 1 with a victory when the ten-minute warning was given. "Look, Kevin," I said, "if you win this next game and then we're unable to finish the match and we draw, I'm not sure that I'll ever play in another tournament again!" I said it half-jokingly but half-seriously. You may recall two weeks back when I recounted my adventures at Grand Prix Richmond, where I went an astoundingly surreal 1-2-4 on the weekend.
Here I was at Friday Night Magic playing a game of Standard with a fairly aggressive deck, and it took way too long to finish the first victory. I'd like to think I'd played reasonably fast, but I was starting to really worry about things. Was I getting too old for Magic? Was my brain just not fast enough anymore? I didn't think that was the case, and the game was a lot of back and forth, with me playing G/W Monsters and Kevin playing a heavily tempo-oriented G/U Flash deck.
My return to Standard had been way overdue, and I was itching to play something fun. For much of the past couple months I'd been mostly salivating over the prospects of playing Domri Rade alongside Courser of Kruphix. Longtime readers will know I'm a total sucker for synergy, especially when both cards are really good on their own. The problem of course was that lots of other people were itching to play Domri Rade alongside Courser of Kruphix as well, so G/R Monsters wasn't exactly a deck that was off the beaten path. For my return to Standard, I wanted to play something powerful, but I didn't want all my opponents to immediately know the contents of my deck and didn't relish the possibility of slogging through mirror matches.
I have a strong urge to play rogue decks, so I went back to the drawing board but didn't stray too far. I knew I wanted to play Courser of Kruphix, and G/R was out. What other green deck could I play? Reaper of the Wilds' scry ability is an obviously nice pairing with Courser, but I refuse to play G/B until we get our scry land. Kiora, the Crashing Wave is intriguing, but I'm still working on acquiring my playset so G/U is in a holding pattern. That left G/W.
Sadly, I didn't really see anything in green and white that synergizes well with Courser of Kruphix, but I decided that would be okay—this would give me a chance to see how Courser stands up on its own as a powerful card. Besides, I'd wanted to play a deck with both Voice of Resurgence and Fleecemane Lion, so here was my shot.
As I pulled together possible cards for the deck, I took a long hard look at Elvish Mystic and Sylvan Caryatid. G/R Monsters has a lot of stuff to dump mana into so the extra mana producers do good work there, but outside of Polukranos, World Eater I wasn't sure how mana hungry G/W would be. I didn't even think I could afford to run Mutavault to help with mana flood since Voice of Resurgence and Fleecemane Lion (and Selesnya Charm to take down Desecration Demon) are so demanding of colored mana in the early game.
Instead of running mana creatures, I decided to keep my mana requirements a little bit lower and just play threat creatures up and down the mana curve. This should give me some built-in resistance to Thoughtseize since presumably every card in my hand except land will be something my opponent won't want to see played—if I recall correctly, an early iteration of G/R Monsters eschewed mana creatures for just this reason. The more mana creatures you play that can't be threats on their own, the closer your deck becomes a combo deck that can be effectively attacked with Thoughtseize.
So what to do on turn 1—Dryad Militant? Experiment One? Soldier of the Pantheon? Wasteland Viper? I decided to go with Experiment One because I liked that he could give me some additional resistance to mass removal assuming I could get two +1/+1 counters on him regularly. Since so many of my creatures are quite large, I didn't figure that would be a problem.
Up until right before the tournament, I had three copies of Gods Willing as a way to protect my individual beaters and figured the scry would be nice with Courser of Kruphix, but then I had a flash of inspiration. First was a copy of Bow of Nylea, which offers a Swiss Army knife of flexible activated abilities, but in particular I liked the possibility of attacking with Polukranos, World Eater; the Bow giving him deathtouch; and then going monstrous and being able to take down multiple creatures with just a single point of damage each (see, I told you I'm a sucker for synergy).
I also decided I try running a couple copies of Gift of Immortality. This is a card I had immediately latched on to when Theros came out, and I had given my roommate Chuck the skeleton of an idea for a W/B Humans deck featuring Xathrid Necromancer and Gift of Immortality. Chuck has been working on the deck ever since and has had a decent measure of success with it at local tournaments. Since I was playing Voice of Resurgence, I felt emboldened to run some Auras since if your opponent tries to two for one you with removal when you cast Gift of Immortality, Voice will give you an extra token for the trouble. But then I started thinking of casting Gift of Immortality on Voice of Resurgence—wow! That's just filthy. How's that Desecration Demon working out for you Mono-Black Devotion?
All right, so here's what I brought to battle:
Creatures (27)
Lands (24)
Spells (9) I was in a little bit of a quandary at the five-mana slot. G/R has Xenagos, God of Revels and Stormbreath Dragon—yeah, both really high-quality picks! In G/W neither Scion of Vitu-Ghazi nor Karametra, God of Harvests really measure up. Kalonian Hydra was a thought, but I didn't think I had enough dudes that put +1/+1 counters on themselves to make Kalonian Hydra really backbreaking.
So I decided on Archangel of Thune. Even though the body isn't really all that spectacular to begin with, I figured between Voice of Resurgence; Fleecemane Lion; Loxodon Smiter; Courser of Kruphix; and Polukranos, World Eater, by the time I'm ready to cast Archangel, I've probably run my opponent out of removal spells, and if it gets to attack once or twice, it really puts the game away. I've even got some supplemental life gain with Courser of Kruphix and Bow of Nylea. Archangel of Thune was yet another card I'd not yet had a chance to play, so in it went.
I was originally going to run Elspeth, Sun's Champion in the maindeck, but the fact that I had cut all my mana acceleration scared me away. What if I ran into one of those R/W Burn decks running around?
Okay, back to round 1.
As I shuffled up for game 2, I eyeballed the clock and said a little prayer inside. I'm not really a superstitious guy, but something about Magic tends to stir my inner caveman. I start to see patterns in things, looking for signs from the gods about whether or not I have their favor. Grand Prix Richmond had certainly shaken me up a bit, and I needed something to break my way, a fortunate turn to indicate my curse had been lifted. My first hand of zero land pricked the small hairs on the back of my neck, and I could feel the fight or flight instinct clutching at my gut. We had less than ten minutes to finish the match.
My next hand wasn't perfect, but it would do:
My opponent had a slow hand, and my Experiment One slipped in for a few pings. Sadly, the third land I drew was another Forest, so I played Courser of Kruphix and revealed another Loxodon Smiter. The next turn I drew the Smiter . . . and revealed a Temple of Plenty! I played the Temple, scryed the card to the bottom, and revealed Polukranos, World Eater.
Meanwhile, Kevin had stalled on three lands (including a Mutavault) and not much else in play, and I was guessing he must have counterspells, bounce, or cards that cost four or more. I drew the Polukranos, revealed Temple Garden, and gladly paid the two life to put it into play untapped. I played Fleecemane Lion and then jammed Loxodon Smiter, glad the big man couldn't be countered. Kevin drew, sighed, and passed the turn. I now had a 4/4 Experiment One, Courser of Kruphix, Fleecemane Lion, and Loxodon Smiter. Since I had five mana to go monstrous in response to removal, I just kept Polukranos, World Eater and the other cards in my hand and pressed the advantage. The game was over shortly thereafter.
I did it! I broke the curse with a sweep of round 1!
Round 2 I got paired against Mono-Black Devotion. Game 1 he started to go all in on Pack Rat (not a terribly bad idea considering I couldn't be running Bile Blight), but after he chewed through my first two creatures (Experiment One and Fleecemane Lion), I got a Voice of Resurgence down enchanted with Gift of Immortality. Although he didn't put a Desecration Demon in play to make things really silly, the combo was good enough to stall out his Rat army and buy me time to draw into Courser of Kruphix and Archangel of Thune. Soon my growing army of giant monsters ran him over. Game 2 he had a double Thoughtseize opening hand, and I chuckled to myself as he removed two of my fistful of threats and started the game at sixteen life. I then began dropping large monster after large monster, padding my life with Courser while I ran him over.
Round 3 was a bit of a nail biter. My opponent was playing R/W Burn. He and I both felt I had the advantage here since all my creatures have large back ends (he dubbed it "Sir-Mix-A-Lot.dec"), and game 1 seemed to play out that way as my big creatures pounded away and soaked up burn spells to keep him from dying. Still, I finished the game at a precarious three life and promptly boarded in the Unflinching Courage and an extra Bow of Nylea. Game 2 was rough; he drew three copies of Chained to the Rocks for my first three threats, and I got munched on by Chandra's Phoenix and Stormbreath Dragon.
The last game was a rough one as well. I got a slow start and took a lot of early damage from Boros Reckoner before gaining some life back with Courser of Kruphix and smashing back so we were both in the single digits. I then played Archangel of Thune, figuring that would be enough to put the game away. He played Stormbreath Dragon, which randomly has protection from white! I drew Arbor Colossus and played it, though I still only had five lands in play. I grit my teeth, worrying about him drawing a clutch Chained to the Rocks, but it came back to my turn. Courser of Kruphix gave me two chances at a sixth land, but as I drew a Bow of Nylea off the top, the next card was not a land. I still had the Bow though.
My opponent was at seven life, so I played the Bow and then attacked with both Archangel of Thune and Arbor Colossus. If he didn't block the Colossus, I could add a +1/+1 counter to it and kill him, so I got to "monstrous" that Stormbreath Dragon dead anyway. Angel gave me a much needed padding to my life total (up to seven), and I passed the turn. During my end step, my opponent hit me with the last card in his hand, Magma Jet, taking me to five, and got to scry 2, digging for something to finish me off (Boros Reckoner was basically a seal of two or three points of damage). To my relief, he put both cards on the bottom of his deck, untapped, drew . . .
And extended the hand—victory was mine!
Since only eight people had mustered out for Friday Night Magic, three rounds was it. I was the last undefeated, so I got to claim first place and a chunk of store credit. Sure, it was a tiny tournament, but I'd played my own deck and won, cleansing my competitive palate and hopefully breaking the funky curse that had weighed on my soul since GP Richmond.
Maybe it was the sleeves I used?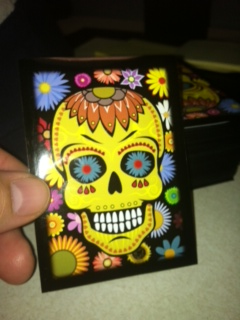 A little voodoo might have been just what the witchdoctor ordered.
I certainly enjoyed the deck and really enjoyed playing a pile of individually powerful cards. In particular I thought Courser of Kruphix really was amazing—I've read that some folks have been less than impressed with Courser in other Monsters deck, but I think it's because their threat density is already so diluted with mana creatures. Courser increases the odds of being able to play a land just about every turn, which simultaneously increases the odds of drawing gas each turn. It's not card advantage per se, but it's almost like a green Thassa, God of the Sea with a pseudo-scry each turn, that gains you life, and is always a creature.
Gift of Orzhova was pretty sweet when I drew it, but it doesn't exactly work with Advent of the Wurm. Thankfully my hand didn't get cluttered with that nombo, but I have no doubt if the tournament had more rounds it might have cost me a game. Going forward I'll probably cut the Gifts and move the amazing Elspeth, Sun's Champion to the maindeck. Courser and the scry lands let me reliably hit my lands each turn after turn 3, and a turn 6 Elspeth is perfectly fine.
What do you think of G/W Monsters?
Facebook = Bennie Smith, Writer
Twitter = @blairwitchgreen
Email = starcitygeezer@gmail.com
Twitch = http://www.twitch.tv/blairwitchgreen
Blog = my fantasy and horror fiction writing
Complete Commander website = completecommander.com
Game of Thrones Ascent = friend request
New to Commander?
If you're just curious about the format, building your first deck, or trying to take your Commander deck up a notch, here are some handy links:
My current Commander decks (and links to decklists):
Previous Commander decks currently on hiatus: