Pro Tour Khans of Tarkir is on the horizon, but I'm still working on Modern! After all, these decks aren't going to check themselves off the bucket list. When it comes to brewing, sometimes I hone in one idea until I'm confident I've exhausted all possibilities. One might call it an obsession.
My recent obsession?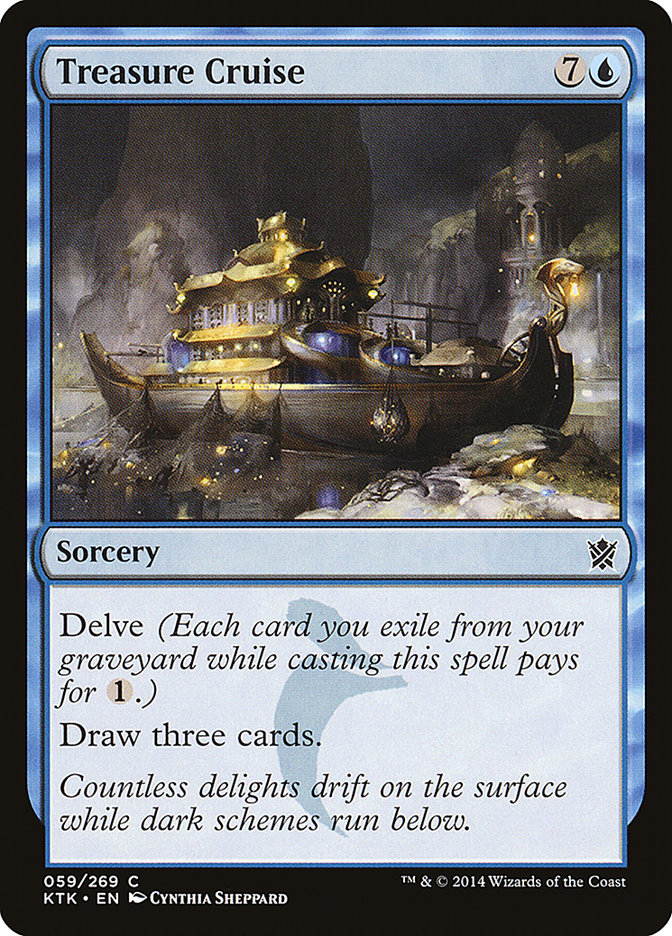 Creatures (3)
Lands (25)
Spells (32) Why I Want To Try It
This deck has a ton of velocity and a reasonable amount of interaction for fighting other combo decks. It's powerful, a ton of fun, and relatively difficult to hate out.
Why I Think It Could Be Good
Rumor has it that this deck is a U/R combo deck that is actually pretty good against the B/G decks. With access to Dig Through Time and/or Treasure Cruise, I could see that matchup getting even better. It's not the fastest combo deck on the block, but it can win on turn 4 if you want to play acceleration. It doesn't really matter though because you have enough counterspells that they are rarely going to kill you on turn 4.
Other Options For The Deck
Through the Breach is a possibility for any deck containing Emrakul, the Aeons Torn and red mana. There are a lot of options between what filtering spells you use, what interaction you use, and how much removal you play. Basically, this deck can be tailor made to fight your metagame.
Sultai Midrange
Creatures (12)
Planeswalkers (2)
Lands (22)
Spells (24) Why I Want To Try It
Dark Confidant is not good (right now).
Almost everyone is proactive which makes paying life for drawing cards not really where you want to be. Bob is best in a format that is creature-light, either filled with combo or control decks. There might not be a ton of Zoo around, but the other decks try to get you dead just as quickly.
This deck has a small card advantage engine with Snapcaster Mage, allowing you to grind out opposing decks. Not being pigeon-holed into playing Dark Confidant interests me greatly.
Why I Think It Could Be Good
So I get to play a Shardless Sultai-style deck in Modern? I haven't been very good at picking a deck and sticking with it for Modern. U/W Tron was the closest thing I had for a go-to deck, but that was probably just because I was performing well above how I was supposed to be considering all the holes the deck had. I'd like to find a deck that is both fun for me and also quite good, and maybe this is it.
Other Options For The Deck
There are roughly infinite options for the various B/G decks of the format. What removal, disruption, threats, splash color, and sideboard options are all plentiful. If you read the metagame correctly, you can be wielding a very powerful weapon. It's just a matter of getting it right.
Creatures (7)
Lands (20) Why I Want To Try It
Point blank, Goryo's Vengeance is the most powerful card currently legal in Modern.
Why I Think It Could Be Good
In a vacuum, I think Treasure Cruise merits a rebuilding of this archetype, and I think my first pass looks nice.
Glimpse the Unthinkable can do a lot of things, namely Entomb a Griselbrand, double Entomb a Griselbrand and Unburial Rites, give you a Goryo's Vengeance to flashback with Snapcaster Mage, and it even powers Treasure Cruise.
Ultimately, this deck is really good at finding what it needs, but sometimes you can't find a copy of your four-of that is necessary to win the game. Generally, you'll be a favorite to find a Griselbrand, but unlike most decks, you literally need one to win the game. Attempting to beat down with Snapcaster Mages, Lightning Bolts, and Soul Spikes has been tried and doesn't work particularly well.
Thought Scour and Treasure Cruise work well together, and you see even more cards than you used to. It should be noted that Faithless Looting functions like Dark Ritual pre-Treasure Cruise and Brainstorm post-Treasure Cruise.
Other Options For The Deck
Certainly there are classic options available, such as the versions also playing Through the Breach and Emrakul, the Aeons Torn, but this is cleaner. Other options include Breaking//Entering, Serum Visions, Borborygmos Enraged, and maindeck Thoughtseize.
Burn
Creatures (12)
Lands (20) Why I Want To Try It
Even since Eidolon of the Great Revel was printed, I've been seriously considering playing Burn in Modern and Legacy. Those decks were already close to being top tier, and I think Eidolon might push them over the edge. Treasure Cruise gives it another boost, similarly to what Eidolon did. The previously linear Burn deck now attacks you on different angles!
Why I Think It Could Be Good
People aren't truly prepared for Burn. It requires a lot of slots to hate out that would much likely be better served as slots dedicating to hating out popular decks. If the Jeskai Ascendancy combo is big, Eidolon of the Great Revel is a gigantic beating against them. If B/G is popular, enjoy your long waits in between rounds.
Other Options For The Deck
With Treasure Cruise in the deck, should we be trying to swap Goblin Guides for Delver of Secrets?
U/R Delver
Creatures (11)
Lands (19)
Spells (30) Why I Want To Try It
This deck was fringe, but Treasure Cruise is a huge upgrade. Delver of Secrets was kind to me during its tenure in Standard and hasn't really been good in Modern. Young Pyromancer is one of my favorite cards that I've never played a real tournament with.
Why I Think It Could Be Good
Treasure Cruise gives you a way to fight B/G which was previously a difficult matchup. It should also let you play the control role against decks like Affinity, where you previously had to try and race. It also stocks you up on counterspells against combo decks.
Basically, Treasure Cruise gives you the option to play multiple different roles which U/R Delver never had the opportunity to do in the past. In that sense, it feels closer to the power level of U/W Delver during Standard when compared to the other decks in the format.
Other Options For The Deck
As Ryan Forsberg pointed out to me, if you're Cruising, you might as well try to kill them. While I can appreciate utilizing Treasure Cruise in the fairest way possible, Ryan had a point, and his decklist looked damn good.
When he started boasting about turn 3 kills, I was even more intrigued.
Creatures (12)
Lands (17)
Spells (31) If this deck plays out as well as it looks on paper, we might have the real heir to the Nivmagus Elemental deck, except this one might actually be capable of winning. We were already talking about a miser's Assault Strobe potentially being in the deck for turns with Monastery Swiftspear, so what if we just cut Delver for Nivmagus outright? Perhaps I'm biased towards going that path because I'm trying to make fetch happen.
Creatures (12)
Lands (17) Why I Want To Try It
The whole situation is weird. At Pro Tour Return to Ravnica, I took a gamble that didn't pay off, but I wasn't sure I was wrong. There's an opportunity cost to play Modern tournaments because I only get to play in so many per year. My methodology has always been to perfect decks through repetition, but with Modern, I'm rarely able to get in the reps I need. Because of that, I'm left with a stack of half-tuned decks that I'll probably never get the chance to perfect.
If there were more tournaments, maybe I'd be able to get this deck out of my system and figure out if it's actually good or bad.
Why I Think It Could Be Good
It's one of the fastest decks currently legal in Modern. It's weak to a combination of very specific things but tends to be good against the portion of the field you would label as "random decks."
It's a deck that focuses on playing a lot of cheap spells in the early game and could have always used an Ancestral Recall. Now it has one, and maybe that changes things.
Other Options For The Deck
Are we all in on Tainted Striking people? Do we Ground Rift? Does Treasure Cruise mean that Monastery Swiftspear is just better than Nivmagus Elemental, that Nivmagus just got even better, or that we're supposed to play both?
Creatures (7)
Lands (24)
Spells (29) Why I Want To Try It
Scapeshift is a combo control deck with a ton of velocity and a one-card combo. When it's built correctly, it's smooth and elegant. I've always liked Scapeshift in certain metagames, but the ones with a lot of fast decks or decks with disruption can be difficult to navigate through. I think it's possible to beat some of the hard matchups, but not all of them, so it's always nice to have in my back pocket as a potential choice.
Why I Think It Could Be Good
If the format is turn 5 decks, Scapeshift is king. If the format is full of turn 4 decks, Scapeshift has to draw well or be well-prepared against those decks to have a shot. It's easy to prepare to beat something like Splinter Twin, but can you beat Twin, Storm, and Affinity? Not so much. B/G can be a tough matchup also, and the things you need to beat each of those decks individually doesn't have much overlap, if any, between the others. If you pick the right battles, it's easy to come out on top.
Other Options For The Deck
Dig Through Time gives you a great way to fight Twin, Storm, and B/G since it fights through disruption or finds ways to disrupt them without tapping you out.
Gifts Ungiven into Unburial Rites is another cute way to sidestep some of the battles and is capable of KOing several decks with just an Elesh Norn, Grand Cenobite. You can also build your deck in such a way that Gifts Ungiven, with a package of Scapeshift / Snapcaster Mage / Noxious Revival, can tutor for Scapeshift.
There is no shortage of options here and that's not even considering the brute force G/R Scapeshift decks.
Blue Moon
Creatures (5)
Lands (22)
Spells (33) Why I Want To Try It
It has blue cards. The Modern blue cards are all really sweet, but it always needed something to tie it all together. Without an Ancestral Vision, Jace, or Brainstorm, these blue decks all ran afoul of drawing the wrong portion of your deck. They were more similar to midrange decks in that sense, but Treasure Cruise or Dig Through Time could change that.
Why I Think It Could Be Good
I've talked a lot about how cards like Goryo's Vengeance are powerful or the Nivmagus deck is powerful, but Blood Moon is another one of those cards that is just really, really good. The return of the Onslaught fetchlands probably mean that your opponents will have their correct basic land more often, but that's fine. Blood Moon was never meant to lock them, only buy time. You still have Spreading Seas to hit their basics anyway.
With a true draw engine, this deck actually has some chops going into the midgame without landing a Blood Moon. You can now go toe to toe.
Other Options For The Deck
Honestly, Blue Moon's options are somewhat limited. The deck is trying to accomplish one thing and do that thing the best that it possibly can. Additionally, there don't seem to be many sideways strategies you could try to implement, such as Gifts Ungiven, that would actually help the deck against its bad matchups. I think you reconfigure some stuff to add Treasure Cruise or Dig Through Time and go from there.
***
These decks are all sweet in a vacuum, but what changes once everyone has access to Treasure Cruise? A lot of these decks seem viable in my eyes because they have Treasure Cruise which would tip things in their favor if all the other decks stayed the same. However, that's going to be the case, and I'm curious to see how people will adapt. In the meantime, I'm going to be trying to find the strategy that is either the best Treasure Cruise deck or the one with the strategic superiority in the mirror match.
First things first, I'm going to be putting Griselbrand into play.