The past two weekends brought a great deal of enjoyment as I attended the Open Series in New Jersey followed by my first attempt to qualify for Pro Tour Fate Reforged, where I lost in the Top 4. But with enjoyment, some disappointment followed. It started two weeks ago when I let you choose my deck for the Standard Open in New Jersey.
I was ecstatic with the positive response from all of you, followed your guidance, and ended up playing Esper Control, which won the vote by less than 1%. I put together the deck late Friday night and showed up to the site early to pick up the rest of the cards I was missing. I was excited to play and was very confident in the deck:
Creatures (3)
Planeswalkers (6)
Lands (26) The deck performed excellently for me and could have easily been 6-0 going into the seventh round. However, my play was subpar and two costly mistakes left me with a 4-2 record putting me out of top 8 contention. The first mistake is a mistake that many of us make, which is becoming too greedy when there's no need to be. I was already in a winning position against a Jeskai opponent and was resolving a Dig Through Time, my favorite card to come out of Khans of Tarkir. I had seven lands in play at twelve life with a hand of Dissolve, End Hostilities, and Resolute Archangel. My top seven cards yielded a decent amount of choices and I decided to go with Thoughtseize and Hero's Downfall while passing up on a land. I untapped and drew a Jace's Ingenuity.
Even though it doesn't look like it, I was in a rough spot. If I had taken a land over the Hero's Downfall, I would have been able to play my eighth land and Thoughtseize my opponent, which would have cleared the way for Resolute Archangel to resolve. Instead, I played Thoughtseize, and in response was targeted by Stoke the Flames. I let that resolve, but then was targeted by Stoke the Flames again, which I Dissolved. Once Thoughtseize resolved, I went down to six life and saw a hand of Dissolve and two copies of Magma Jet. I took the Dissolve.
On my opponent's upkeep, he played a Magma Jet, scryed into a third copy of Stoke the Flames, and killed me. I guess I wasn't expecting that much burn from my opponent and was thinking that either A) I didn't need to take an eighth land there since I could have easily drawn a land for the turn as it is my most common draw or B) I was thinking that I didn't want to pass up on a spot removal spell such as Hero's Downfall in fear of an Elspeth, Sun's Champion or Sarkhan, the Dragonspeaker. My thought process was reasonable, but the safest play was definitely taking the land and putting myself back at twnety life.
That was my first mistake and cost me the round. I was disappointed but knew that I was still in Top 8 contention so I had to try and focus. I found myself with a 4-1 record and paired up against a Mardu Midrange deck. We split the first two games but once again I found myself making a costly error in the third game which cost me the match. Here's the situation: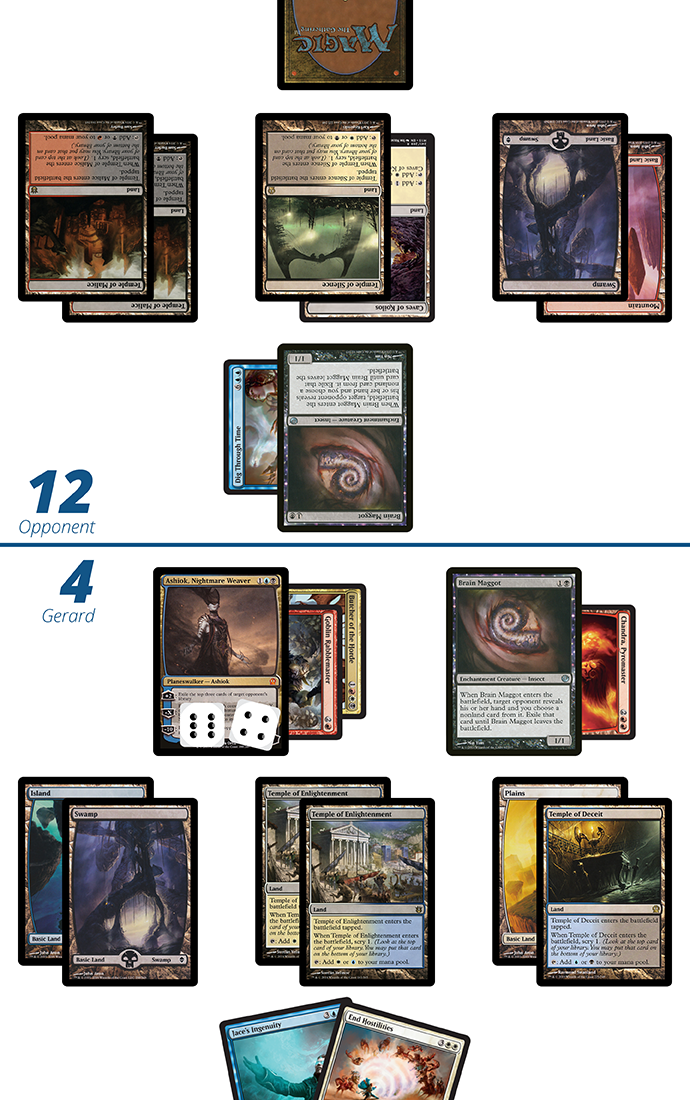 On the previous turn, my opponent played a Despise and saw my hand of End Hostilities and Dissolve. He then tapped out to bestow a Herald of Torment onto his Brain Maggot. At that point, my thought was that his last card in hand must be really good if he was willing to bestow his Herald of Torment into the Dissolve he just saw. Since he had access to both Brain Maggot and Thoughtseize in his deck, I thought it would just make sense for him to wait a turn and hope to draw into a discard spell so he would be able to clear the Dissolve and win with the Herald of Torment once the coast was clear. There's also the chance that I tap out for something and he has a window to cast the Herald of Torment when my guard was down. With all these factors, I was convinced his last card was a game-winner, but I was very wrong.
Being at four life, I countered the Herald of Torment with the Dissolve. On my turn I drew a Jace's Ingenuity, and since I was under the impression that his last card was a game winner, I cast it in hopes of hitting a Thoughtseize so I would be able to hit his last card. Sure enough, I drew into a Thoughtseize, played it, went to two life, and saw the following: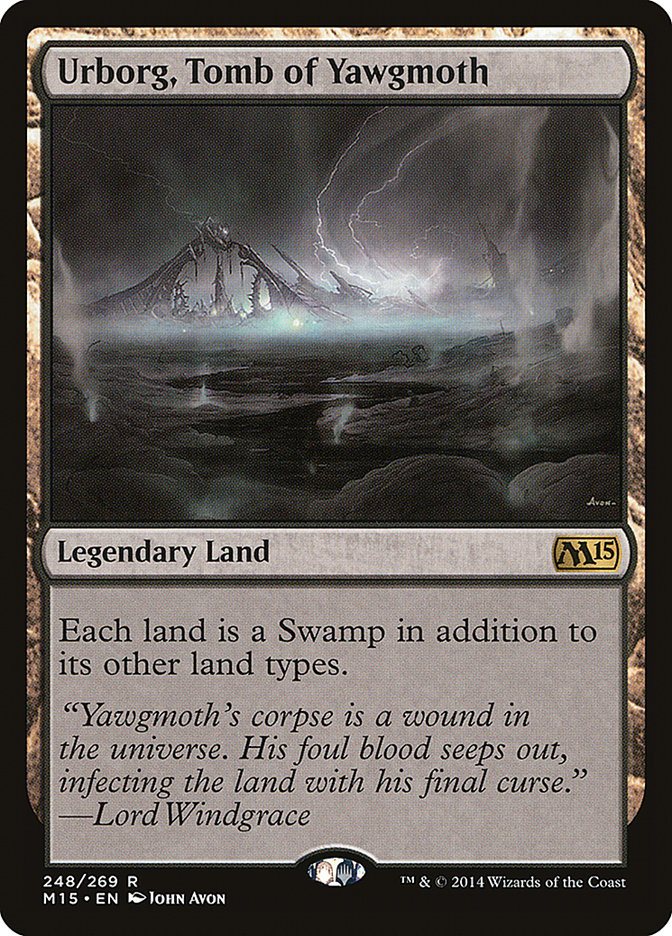 I passed with End Hostilities still in grip after putting a Butcher of the Horde into play with Ashiok. He drew a Hero's Downfall and cast it on my Brain Maggot, getting back his Chandra, Pyromaster, which he then played to activate and make the Butcher not block and me go down to one life. Being on one final life point and not being able to block, he finished me off with his Brain Maggot.
Do you guys see where I messed up? Take a second and look it over because it's all there.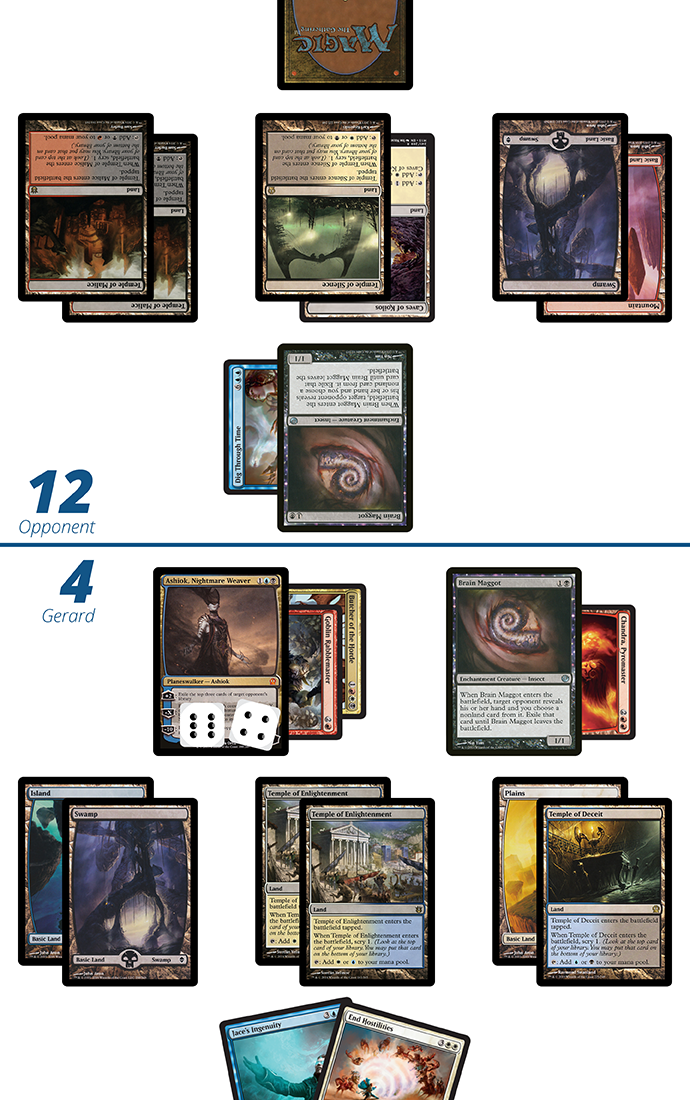 What I should have done after drawing the
Jace's Ingenuity
for my turn was cast
End Hostilities
. This would give him back his Chandra and me my Dig Through Time. From here, I'd activate Ashiok's ultimate, forcing my opponent to lose his hand while I'd still have access to the Ingenuity and
Dig Through Time
. I'd still be at four life but with him having no board and no cards, I think if the game progressed I'd easily be able to find my copy of Resolute
Archangel
and reset my life to twenty. It isn't certain I'd win the game, but I'd be in a very good position to win the game moving forward has I chosen to play it this way.
After seeing the correct line of play I should have taken, I was overcome with frustration over the situation because now I was out of Top 8 contention. I went walking around the convention center thinking about how I could have won and was furious at myself. But then it hit me: the fact that I was able to find the game-losing mistake in my match was almost as good as winning because it was a learning experience.
Without being able to learn and grow in Magic, you will never get any better. It was a humble moment for me, as I was able to put aside the fact I lost and was able to move forward on how I could improve my game. Decks like Esper are full of so many complex decisions that no one player will ever always make the right play, so learning to lose and learning from your losses is something that should go hand in hand with a deck like this. The more I lose, the more I'll learn, and the more I'll get better with the deck. So remember to always try to learn from your mistakes and not stay mad about them for too long.
Feeling more determined and wanting to win Autumn States this upcoming weekend, I set out ways to try and tweak what I already considered a good deck. After some more games under my belt, my new Esper list is very close to the one above that I played a couple of weeks back, but with a few changes.
In the maindeck, I decided to shave the two copies of Prognostic Sphinx. While we've seen its raw power during Pro Tour Journey into Nyx, Prognostic Sphinx really isn't a necessity in this type of deck. We are looking to win with Planeswalkers than with creatures, especially since Prognostic Sphinx is not a combo with End Hostilities (no creature really is). While scrying is nice and allows you to shift through your deck, there are already enough ways to get to the cards you need with Dig Through Time. The clock from the Sphinx can also be really slow, so as a win condition, sometimes it just can't close out a game in time. Perhaps if the metagame becomes more established and certain decks rise to the top the Sphinx will find a spot, but for now, it hits the bench.
To replace the two copies of Prognostic Sphinx, I decided to put in two copies of Despise. Thoughtseize was very good for me in the matches I played, and I wanted to find a way to mimic the effect without getting too far away from what we want. Although there are more restrictions on this card than Thoughtseize, most times your opponent is going to have a creature or a Planeswalker in hand anyway, so it is going to be doing the same thing as Thoughtseize a large percentage of the time. There is also a decent upside here by not having to pay an additional two life for our fifth and sixth discard spell, which helps lots in the aggressive matches.
Another small change I made going forward is the addition of a third Dig Through Time over a copy of Jace's ingenuity. As you all know, Dig Through Time is my favorite card to come out of Khans of Tarkir and it certainly didn't disappoint. It was so good that I even played one in my Legacy deck that I Top 8'ed with on Sunday in New Jersey. In a deck like Esper, we're consistently filling up our graveyard because we our reacting and answering our opponents' spells. Because it's so easy to fill our graveyard, it isn't unlikely to cast Dig Through Time for its UU alternate casting cost. Once you do that, you'll see just how powerful the card really is. It gives us the perfect reach we need for finding our win conditions and situational cards which is just much better than a second copy of Jace's Ingenuity.
Looking at the sideboard, there were also a couple changes I wanted to make. Because the Despises got moved to the maindeck, I decided I wanted to add additional copies of Drown in Sorrow to the sideboard. Esper is a slight underdog game one against most aggressive decks, so we want to have a strong plan for games two and three, and right now these seem like the perfect early-midgame card to brick the aggressive decks that are around.
Negate also got cut for two copies of Disdainful Stroke. Overall, I wasn't very impressed with Negate, and looking back at most of the situations, Disdainful Stroke would have been great, especially against the Abzan Midrange decks. It is still able to counter many of the things that Negate can while opening itself up to have a higher range of spells it can counter that Negate isn't able to.
The last change I made to the sideboard was cutting the single copy of Empty the Pits for a copy of Deicide. Gearing up for a new metagame, I thought Deicide might be a good card to have a copy of with all the Gods being potential candidates for decks, but more importantly to help combat the rise of Eidolon of Blossoms. It can also kill Courser of Kruphix, Brain Maggot, or Banishing Light, three cards I expect to see a lot of play moving forward.
So with those changes to the deck, we end up with the following:
Creatures (1)
Planeswalkers (6)
Lands (26)
Spells (27) A few quick notes:
Last Breath is in here to kill two of Standard's most popular creatures right now, Courser of Kruphix and Goblin Rabblemaster. Giving your opponent four life in a deck like this is not an issue because we plan on winning the long game, so don't worry about padding their life total.
End Hostilities is a necessary evil for our deck. If you can make it to turn 5, you should get good value with it against the aggressive decks. Also, against midrange decks, the fact it is able to wipe away Sylvan Caryatids and some other random fatties makes the card quite useful.
Remember to use your discard when appropriate. I can't tell you how many times I see people use their discard spell at the wrong time or not hold out enough while having them. My mistake I fleshed out earlier in the article was a prime example of using a discard spell at the wrong time which cost me the game. You are losing value by not maximizing the impact of your spells, so be careful to try and not blow them or use them when they are ineffective.
With the absence of Abrupt Decay in the format, playing Ashiok, Nightmare Weaver on turn 3 is quite safe. I see some people waiting or try to hold out until they have established control of the game, but the truth is that some decks will just crumble to it. An active Ashiok with lots of reactive permission to back it up can make for a brutal game for your opponent.
As far as sideboarding goes, things are pretty straight forward. Against the aggressive decks the first cards to come out most of the time are Dissolves, some number of Thoughtseizes, and a slight trimming on any expensive spells like Utter End or Jace's ingenuity. These will often be replaced by Nyx-Fleece Rams, Drown in Sorrow, and Brimaz, King of Oreskos. In the slower matchups you will often cut some of your creature removal and add in Liliana Vess.
Esper is the deck I plan on taking with me this weekend to Autumn States in New Jersey. The changes will hopefully come into play and help me put up a better performance than my previous attempt. Remember to take your time and always think through your plays. Magic is a game with lots of decisions to make and if the slightest one is wrong it can cost you your entire match. Go over your games after they are done, win or lose; and see if there was anything you could have done differently. Learning will lead to winning and a deck like this has lots to learn so it won't come to any one person right away. You truly need to get a feel for how things need to play out and that is all part of the process.
So now that I've told you what I'm playing at Autumn States, is anyone bringing Esper too? If you are, let me what differs from your list and why!