Impossible Commander #5 - The Akuta Problem
Is Akuta, Born of Ash an impossible commander?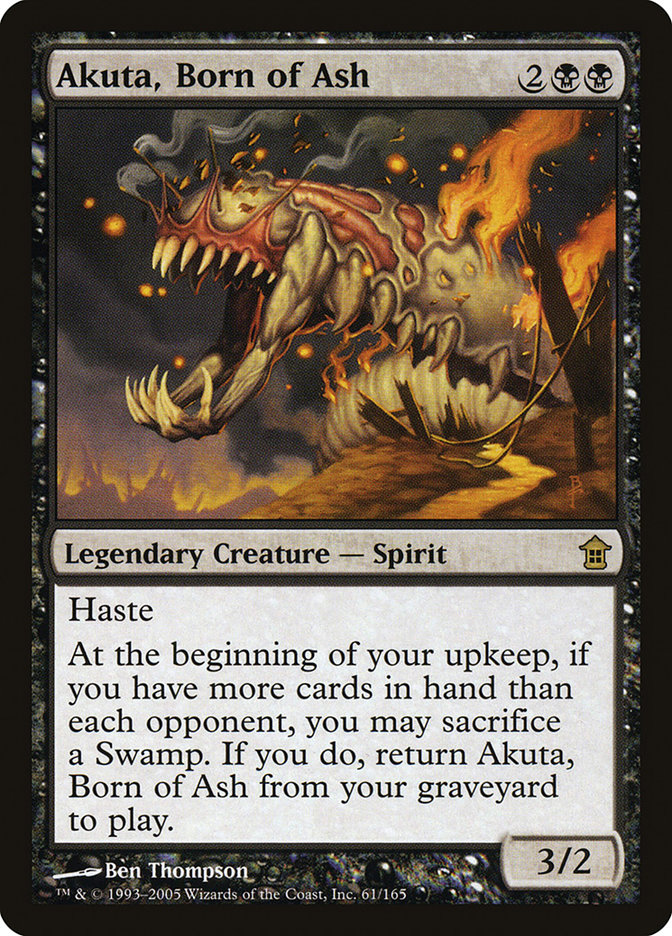 We have a handful of legendary creatures in Magic that are really difficult, if not impossible, to build a deck around. I love the challenge of trying to unlock these guys in my column, so I began this Impossible Commander series.
How does Akuta rate? Let's drill into Akuta and discuss how crappy this Commander is.
First of all, for your four mana investment, you yield an astounding 3/2 body. With haste. And that's it. There is no fear/intimidate or flying or trample or anything --just the simple haste that a lot of self-animation folks have had ever since Nether Shadow hit the streets. Now, haste isn't the worst ability Commander has ever seen or anything, and it can bring out the occasional attack on an empty field, but it's not like Akuta is going to put serious haste-fear into opponents. The only other thing Akuta can do is self-recur from your graveyard. During your upkeep. It requires you to both sacrifice a Swamp and to have the most cards in hand (no opponent can have more). In a format where people constantly stock their hands with more stuff than a 7th grader's vacation suitcase, it's a bit annoying to be forced to have more just to have the honor of sacrificing a Swamp in order to recur your commander from your graveyard (again, all during your upkeep) in order to get a 3/2 hasted body onto the battlefield which is outclassed in size by virtually everything.
That's the problem with Akuta, Born of Ash. Might as well be Akuta, Born of Suck. Sired of Suck. Raised in Suck. Ruler of Suck.
So what can you do to unearth a decent Akuta deck?
Luckily, Black is an adequate color to support Akuta. Discarding should be a decent way of forcing my opponents to have fewer cards in the grip than me. So, Akuta begins by not being the worst commander for a discard-oriented deck. There are many better options, but Akuta has some value there. Now, if all I did was build a nice, mono-black discard deck, Akuta would still be trash. All it would do is recur when killed for no mana from the 'yard more easily. As a creature it would be outclassed very easily. But that's not a bad place to begin.
Another interesting aspect of Akuta is the haste. Akuta has to swing seven times at someone unopposed in order to kill them with commander damage. Want to know how Akuta won't suck? If our good spirit is the only creature in play! So, let's blow up the board. Unlike discard, this theme isn't as strong in black as I'd like. I love to play ten Wrath of God variants. Again, this is a decent place to stick Akuta. Sweep the board a bunch, recur Akuta, and hit hasted; and if you hit enough times, someone will fall. Akuta wouldn't be the worst choice in black for a mono-black control deck.
Akuta also would like some sacrifice outlets. Might as well kill Akuta to get full utility out of that recursion ability. So Akuta would not suck as the Commander on record of a deck that runs your typical mono-black sacrifice/recursion engines like Nether Shadow, Reassembling Skeleton, or Brood of Cockroaches alongside stuff like Attrition and Blasting Station.
We also need to hit our Swamp drops since Akuta requires their sacrifice. A deck that runs a lot of ways to fetch and play Swamps would really help out, so that we won't feel lost as the sacrifices mount.
In order to make Akuta not suck, I need all of those things. Mass removal, sacrifice engines, Swamp-centric themes, discarding, mass card drawing, and reanimation. Are you ready for a confused, but very interesting deck?
Creatures (22)
Planeswalkers (4)
Lands (37) One of the things Akuta needs to smash is equipment. If you want to go the long game and win with commander damage, then both Lashwrithe and Bonehoard can provide some power. Either via Swamps or dead bodies, each will make a big Akuta any time you bring yours out. Since Akuta's resurrection is mana-free, you'll have the mana to spare to equip these. For similar reasons, we have Quietus Spike to crack someone open, and the Whispersilk Cloak to hit when the way is barred via creatures or cards like Maze of Ith.
We have to sacrifice Swamps to bring Akuta back. How do we ensure that we have enough to keep going? Crucible of Worlds is an obvious choice, but what's next? I like the highly unappreciated Lodestone Bauble. Most of you won't know what it does without looking. Check it out! It's a zero drop artifact that costs one mana to sac, stocks some basics on top of your library, and you can draw one immediately. It does good work slowing down your foes. When you are in a color that doesn't have a lot of extra land playing going on, cards like this are useful for restocking the Swamps. Sometimes people forget about Liliana's Shade. It combines the useful "Shade pump" mechanic with tutoring for a Swamp, so it feeds the Akuta Machine. Walking Atlas is pretty keen too, for the same reason (churning out extra Swamps from hand to table).
Since this is a mono-black deck, we have a lot of the obvious players, such as Cabal Coffers and company. Instead of pushing lands that pump Swamps (such as Caged Sun) I instead pushed things that either trigger when lands (Swamps) arrive or for running them. For example, guys like Korlash and the original Ob Nixilis are strong here. I'm already adding in additional ways to fetch Swamps, so I might as well get landfall triggers from Ob. Liliana of the Dark Realms can both fetch your key lands and use them for nefarious purposes. This stuff adds a strong element of synergy to the Swamp fetching we are already doing to make Akuta work.
Another element of the Akuta deck is forcing discarding. People hoard cards, so we need to "encourage" them to play down. This is a great place for Liliana's Spectre and other "all opponents discard" effects, like Cackling Fiend or Scythe Specter. We can harness the power of Liliana Vess or Liliana of the Veil and other friends to fuel Waste Not and the Megrim duo that includes Liliana's Caress. Take a gander at the nastiness of Cabal Conditioning. I know the power of this card from Type 4, where you draft a deck that uses no mana or lands, but can play one spell a turn regardless of mana. This is amazing, often blowing through a lot of hands. (If you want to have more cards than your foes, another tactic is to draw a bunch of cards. This is the place for Underworld Connections, Phyrexian Arena, Syphon Mind, Necropotence, and such.)
Sacrificing? Don't worry! From Bloodghast to Krovikan Horror, we have a few self-recursion folks to bring back into play. We can fetch the fun with Buried Alive or Entomb. Note that those cards can pull out Akuta if it's been tucked via removal like Hallowed Burial. We can also grab stuff like Filth or Stinkweed Imp while Sewer Nemesis can fill that 'yard with fun stuff. On the other side, cards like Malevolent Awakening, Altar of Dementia, and Sadistic Hypnotist fit in as outlets for sacrificing our lads. (And Akuta!) Don't forget Dictate of Erebos in all of this!
The next element is blowing stuff up! Don't worry, a few cards are included, such as In Garruk's Wake, Damnation, Hellfire, and Mutilate. We can destroy the world and then bring back Akuta for another round on the Ferris Wheel.
After that we flesh out the deck with things like mana rocks, card drawing, defense, and more. There are a few fun interactions in here (such as Corpse Dance and Bottle Gnomes) that I'll leave to you. Otherwise, that's it for the fun stuff. We can call it a deck...
And there you have it. Impossible Commander no more!


What's next? Who do you want to see?


Appendix - Previous Impossible Commanders
IC1 - Mannichi, the Fevered Dream. It's in the wrong color to support it, so what can you do with it? Find out here!
IC2 - Brothers Yamazaki. What do you do with that sort of card? You could build a Two-Headed Giant deck around it!
IC3 - Hazduhr the Abbot. Fresh from the brokenly good stylings of Homelands is this wonder. We built a deck with just cards published through 1995, and then updated it, just in case you wanted that.
IC4 - Starke of Rath. After a clearly delusional decision to feature a three mana mono-red Commander in just the fourth entry in this series, Starke enters a chaos-driven deck that you'll hate or love. Maybe both.