Second.
That's the place I finished at the Pro Tour, and for a little while, it is essentially what I am. I am second place. Such a great finish, yet not quite ideal. Obviously a fantastic finish on paper, but it is not the ultimate goal. Second place just doesn't provide that momentary and indescribable sense of completion and victory we chase after (before almost immediately setting sights on the next tournament). It's so easy to just remember that final match and forget the rest without manually reminding yourself you did great. Someone please tell me the right mix of disappointment and happiness I should be feeling here and input it directly into my brain.
Maybe you've heard of the idea behind silver medallists not being as pleased with their finishes as bronze medallists. It makes sense in a weird kind of way. When you're focused on what you missed out on, you're less likely to be happy with what you have. Apparently I should be feeling 43% sadness, 14% contempt, 29% nothing, and 100% of a big ol' fake grin.
Honestly, I had the depression vs happiness inner conflict that lasted about five minutes before happiness easily won out for the most part.
But I'm getting a little ahead of myself. We can get in our pajamas and talk about our feelings a little later. Let's get down to business ( to defeat the khans) with my preparation for the event and then talk about how I would be looking to build Jeskai decks in the near future.
Preparation
My preparation was to venture out deep into the Canadian wilderness two weeks before the Pro Tour and search for a large flat rock upon which I would meditate until the image of a deck was delivered to me by my spirit animal. I am now confident in this being a winning strategy in the long term. Try it at home, kids.
For those of you that believe the above statement, skip this section and continue reading, for everyone else, here's what really happened:
It seemed like the obviously powerful cards and strategies that did well at the first Open Series events would be hard to beat. Abzan, Jeskai, and Green Devotion were powerful and should see plenty of play. My idea about the best deck in the format basically went through three basic phases while testing. The first was thinking Green Devotion decks were clearly the best, then thinking Jeskai decks were clearly the best, then thinking Ascendancy Combo was clearly the best. I haven't fully left this final stage, although now I am much more willing to accept it might not be.
Going the lone wolf route can have advantages and disadvantages. One of the first hurdles you'll run into is that you can't actually play Magic by yourself. The week before the Pro Tour is not really enough time to get extensive testing in through Magic Online alone. You need at least one good wingman (or wingmate) that you can discuss Magic and test games with. My brother, Dean, was my rock (or roc) as usual. I was able to jam games and get a good understanding about the format when I had a batch of decks I wanted to try out. Dean is an excellent combo player and alerted me to how much potential Ascendancy Combo had as well. Testing with just another person can be very efficient.
On the other hand, your ideas will be more inbred. You'll take more risks in deck selection, make more assumptions, and fail harder when you do fail without the safety net of a team. It's unlikely for a team to all play a terrible deck ,but it also might be less likely for them to play an excellent one if they are focused on having a solid deck and less likely to take a big risk.
It is great to essentially embody the dream of being able to qualify for and do well at the Pro Tour without the manpower and experience the superteams have. It doesn't hurt that I am someone who eats, sleeps, breathes, and writes Magic, but I'm also kind of proof of concept that anyone can succeed with dedication. There will always be a phase of bumping your head against the wall at every level you are at, but if you keep bumping away you'll eventually breakthrough.
I settled on Jeskai Aggro despite thinking Ascendancy Combo could be the best deck since I had already practiced with it a bunch, it was my style, it was powerful, and the deck was just asking to have more Dig Through Times added, which I would happily oblige. Here's the list I eventually settled on:
Creatures (9)
Planeswalkers (2)
Lands (25)
Spells (24) As you can see, I decided to expand my range and play a deck featuring blue, white, and red. The deck's greatest strengths are its solid basic proactive gameplan, wiggle room to make smart plays, the ability to shift from aggro to control, and Mantis Rider.
Some of the choices may look a little odd. The single copy of Seeker of the Way is great to draw in your opening hand but you don't want to really draw many of him in the lategame. He is also not strong in the control plan so having fewer you have to sideboard out is necessary. Anger of the Gods maindeck can be very awkward when you're trying to burn them out, but it can catch an opponent by surprise and helps open up more slots in the sideboard since it is good in the control plan.
The idea of a transformational control sideboard is what really pushed me over the edge on wanting to play the deck. I had the idea of taking out all my creatures and siding in a bunch of removal and counterspells and then eventually winning through a hopefully unanswerable Keranos, God of Storms or sheer card advantage. Being able to tightly pack a control deck into my sideboard like an emergency parachute was very appealing. I also am starting to follow a trend of playing sneaky Jeskai decks that try to catch my opponent off guard by doing something they don't expect me to be doing. Information about what your opponent's plan is is very important. By tricking your opponent into thinking you're on an aggro plan when your plan is really to be a control deck, it can essentially win the match (getting them to sideboard in Bile Blights that have no targets for example). The control deck I could turn into wasn't a particularly powerful one, but it turns out even a weak control deck can win if your opponent is sideboarding like you're an aggro deck and they have a bunch of dead cards in their deck.
An added bonus of having a transformational control sideboard was that it added another heaping pile of confusion as to what these Jeskai decks should actually be named. I don't think Jeskai Wins is a very good name for the deck, since having "Jeskai Wins Pro Tour Khans of Tarkir" displayed prominently anywhere is confusing. Fortunately, as far as crises go having awkward names for decks isn't a very big one, and it's fun to watch.
Here are my thoughts on the other decks in the format and how to sideboard against them. I'll tell you my control sideboard plan, but remember you can always stay aggro, or do something in between, and the best way to know what to do is from experience and what you've seen from your opponent.
VS U/B Control
Out:
In:
Blue was the cool kids color for so long, but now after eating their vegetables and working out non-stop the green creatures have emerged to give noogies to everyone who gets in their way.
In my experience, U/B Control decks look amazing on paper but underperform. It just feels like a good chunk of games you curl into a ball and die if your opponent does anything and some of the games where you start strong you still end up losing since you're end game can fizzle easier without Sphinx's Revelation. The answers are just not capable of dealing with everything this format can throw at you.
This matchup plays very straightforwardly. Burn them out as quick as you can. Bring in some counters, but still play aggressively and make them have it.
VS Ascendancy Combo
Out:
In:
My fear of Ascendancy Combo was a large contributor towards the maindeck Anger of the Gods as well. When I first tested against it, the deck just comboed off instantly five times in a row, and I thought I'd be forced to play Ascendancy Combo because it was so good. Then it would massively fizzle five times in a row. Then easily combo again. Then fizzle. Obviously there were some consistency issues. I didn't want to be caught unprepared since if there was a great way to build the deck, I expected the teams to find it. I may have gone a teensy bit overboard on the hate.
As for how to play the match, just relax and wait, play safe and make sure not to tap out if they have a mana accelerant in play. If they are siding in creatures like Savage Knuckleblade, you want Stoke the Flames to deal with them. Postboard, they're a wounded dog and should be easy to handle, but they are still incredibly dangerous and a simple mistake can leave you dead.
VS Green Devotion
Out:
In:
The control plan can be risky here since Green Devotion can have incredibly hard to deal with cards for control like Genesis Hydra or Nissa, Worldwaker. Hope they brought in Nylea's Disciples and other answers to your burn plan.
VS Abzan Midrange
Out:
In:
Fear the rhino. Respect the rhino. Siege Rhino is very powerful against... well, everything really. The Abzan decks all look like a dart board and shots of tequila were involved during deck construction but were consistently great.
It did not feel like I was on the winning side of any Siege Rhino matchups. I did not respect the rhino enough. I wanted to be forcing the action but it felt like I had the tough decisions and was playing the guessing games on the back foot.
An early Siege Rhino when you don't already have an active Mantis Rider or Goblin Rabblemaster is very close to game over. You are sometimes virtually three for one-ing yourself if you're inclined to kill a Siege Rhino or Courser of Kruphix with burn, as you can imagine that isn't usually a winning strategy, and trying to race all that lifegain is no picnic either.
Creatures in the Abzan decks have big butts. It felt like they were taunting me, just daring me to trying and blast them with burn spells: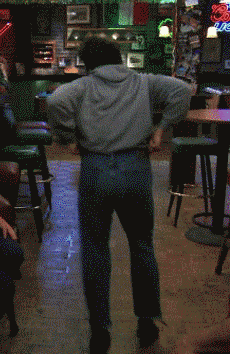 It felt like every creature had entered a house of mirrors and their butts had been expanded. Their butts are so very large even a bolt of lightning isn't enough. I will have nightmares of those big butts.
I think it's right to often go the aggro route even against bigger Abzan decks since it is so hard to kill their creatures.
VS Abzan Aggro
Out:
In:
This matchup seems more manageable than bigger Abzan, but Siege Rhino is still a card. The control plan is pretty miserable here since they clock you hard with gigantic creatures.
VS Jeskai Aggro
Out:
In:
The first test is often who blinks first. If one person tries to cast a Mantis Rider or Goblin Rabblemaster, only to have it burnt and answered by an opposing Mantis Rider or Goblin Rabblemaster, it is very hard to come back. Play patiently, but don't get too far behind on life or it will be too hard to race if it comes to that.
The Future of Jeskai Aggro
With the likely upsurge of rhinos coming, it might be a good time for Jeskai Aggro to lay low and wait.
I feel my specific version, especially the sideboard control aspect, was a one-time strategy. The control decks in the format have not proven themselves strong enough to resist any sort of real hate or preparation. Now that the plan is a known entity it should be weakened significantly. I was barely scraping out wins when I did side into the control deck and there are plenty of cards that overall are as decent against the aggro and control versions.
On the plus side, like the Abzan decks, Jeskai is very customizable. So which direction should Jeskai decks head?
Creatures (5)
Planeswalkers (3)
Lands (25)
Spells (27) There is potentially room for a dedicated control version in the future, but it does face an uphill battle. At least Suspension Field and Banishing Light don't trade too poorly with Siege Rhino. Mantis Rider is powerful enough to fit into virtually any Jeskai deck.
Creatures (13)
Planeswalkers (2)
Lands (25)
Spells (20) Is Hushwing Gryff the hero we deserve? Quite possibly. It acts as an extra threat and almost like a pseudo burn spell that shuts off the drain from Siege Rhino among other things. Fliers are still excellent in the format, and I think this is exactly the direction you want to take the deck if you're looking to beat down Siege Rhino decks.
The Pro Tour
The tense quiet of the feature match area.
This is why I play.
The worries that had assailed me on the plane ride over were forgotten.
Huey starts by playing a Swamp and Thoughtseizes me. I get my first look at one of the decks, likely the best deck, that The Pantheon brewed up. I lay out my hand as my mind races. Is he on U/B Control? Is there some sort of amazing Mono-Black Midrange deck? There's no way he's on Mono-Black aggro... right?
This is that moment everyone watching at home has been waiting for, just like I used to. Brand new decks on camera. Pro Tour decks. And I'm right in the thick of it. Of course, I'm not thinking about that right now. Right now, I'm trying to figure out which decks play turn 1 Swamp, Thoughtseize as I play a Temple and look at the Anger of the Gods on top of my library.
It's on.
To Be Continued...