Kevin Jones has more StarCityGames.com Invitational invites than he knows what to do with. The third ranked player on the Players' Championship leaderboard has climbed his way up the charts thanks to his dedication and performance at Invitational Qualifiers. With four Super IQ wins, an Elite IQ win, an IQ win, and more IQ Top 8s than he can count, it comes as no surprise his friends call him the "IQ Master."
His IQ results and consistent work on the Open Series this year catapulted him up the leaderboard and made him a name to know for the race to the Players' Championship. While his name continued to rise on the leaderboard, his face remained relatively unknown. That was until he took the New Jersey Standard Open by storm three weeks ago, winning his first Open Series trophy with Jeskai Aggro in a fresh Standard format after the release of Khans of Tarkir.
Jones won rounds nine and ten in front of thousands on SCGLive to lock up his fourth Open Series Top 8. By taking down the whole thing, he notched a marquee win to his name and familiarized his face with Open Series followers while simultaneously adding 20 points to his total. The tournament was a fitting introduction to a player we'll be seeing more of later this year as Jones has virtually locked up his spot in the Players' Championship.
"It was very important to win and to attach a good finish to my name after winning a bunch of IQs and cashing a ton of Opens," Jones said. "People were starting to be like 'Kevin Jones, who's that?' They don't look through the standings to see who drew into 27th place. It was nice to come home with a trophy after playing all these weekends and have something I can point to."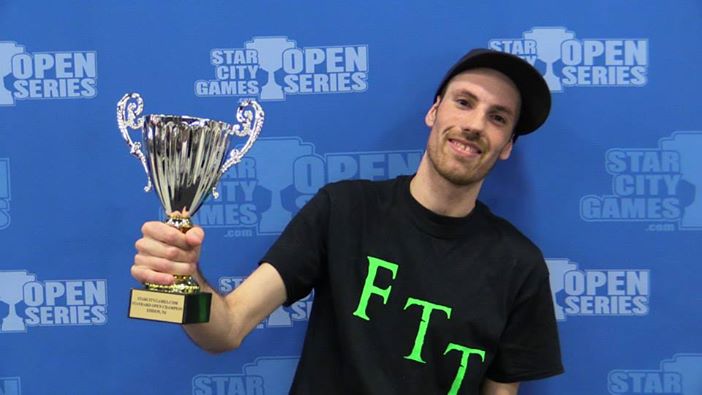 Kevin Jones shows off his #SCGNJ Standard Open trophy.
For the Kingston, NY resident, his Open win wasn't enough. Jones, still hungry for more Open Series points, won the StarCityGames.com Autumn State Championships in Connecticut this past weekend with the same deck he popularized in New Jersey, securing ten more points. Moving forward, Jones has new adjustments for Jeskai Aggro to implement this weekend as the Open Series hits Worcester, MA.
Since his breakout win in New Jersey, the blue, white, and red aggressive deck with plenty of burn and a transformational sideboard has taken off. Three players, including runner-up Shaun McLaren, piloted a version of Jeskai Aggro at Pro Tour Khans of Tarkir. Jones' build of the deck in Week 1 of the new Standard format showcased Khans of Tarkir cards Mantis Rider, Seeker of the Way, Dig Through Time, Sarkhan, the Dragonspeaker, and Jeskai Charm. His winning deck looked clean, but the final product took weeks to iron out.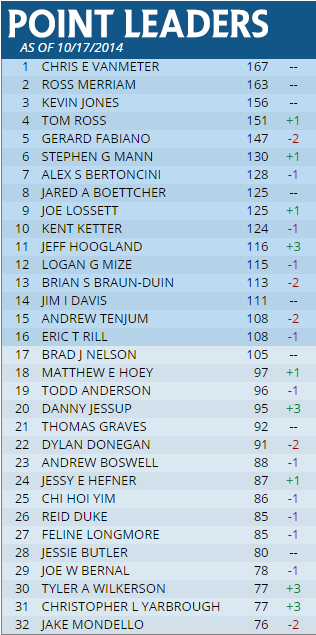 His first testing session with Khans of Tarkir Standard pitted the prototype against Temur Monsters and the two-drop creature of choice was Phyrexian Revoker. After not dropping a game to the Monsters deck he moved on to other matchups where he quickly found out Revoker wasn't the answer. While great at shutting down mana accelerants like Sylvan Caryatid and Elvish Mystic, Revoker didn't pull its weight in other matchups. After tweaking his initial build, Jones watched a VS video with Brian Braun-Duin and Chris VanMeter, where VanMeter piloted a Jeskai Burn deck.
Jones used a lot of the ideas from the video for his sideboard plan and tried out a couple card drawing spells. After determining Jace's Ingenuity wasn't right, Jones wound up on Dig Through Time. From there, he looked for another way to draw cards while filling his graveyard to fuel delve. Jones' answer to his puzzle was an overlooked Theros rare.
"Jace's Ingenuity was just too slow and I really liked Dig Trough Time, but I was worried about being able to cast it for two mana," Jones said. "I decided on Steam Augury, which everyone laughed at, but thought it was good and went with it. All my spells are redundant, so I usually end up with two useful spells while helping out Dig at the same time."
The next step was finding the correct replacement for Phyrexian Revoker at the two slot. His testing team settled on Seeker of the Way after connecting the synergy with the prowess creature with the plethora of burn available to them. Seeker of the Way gave the deck options and allowed the deck to race while gaining chunks of life with not only Seeker of the Way, but also Jeskai Charm. What he eventually settled on was a flexible tempo deck that could play both ways.
Jeskai Aggro wasn't Jones' first success with a tempo-oriented strategy either. Jones' Modern deck of choice is Temur Twin, a deck crafted by Modern specialist Patrick Dickman for Pro Tour Born of the Gods. Jones has put in work with it on the IQ circuit, including two Premier IQ Top 8s. Fellow New Yorker, Anthony Lowry, coined Jones the "IQ Master" and is familiar with his playstyle and growing success.
"He's basically the Tom Ross of tempo decks, as he's really mastered his craft and playstyle and is just scratching the surface on maximizing it," Lowry said. "We call Kevin the "IQ master" because of how consistently well he fares in those events. I've known him since I started playing competitively, and I don't think I've ever had a more formidable rival. Every time we've battled, it's been an incredible learning experience, and he's one of the only players I'm actively improving from nowadays."
While Jones has been a machine on the IQ grind and it has certainly led his push to the Players' Championship, the weekend of the Season One Invitational was a big boost to his cause. Jones finished 27th in the Season One Invitational in Charlotte and made the Top 8 of the Legacy Open that Sunday. Coincidentally, it was that morning he saw the Season Two points standings and realized he was in the Top 10, meaning the Players' Championship was a real possibility.
Flash forward to today and many IQs later, Jones is in prime position to compete for his share of the $50,000 prize pool at the Players' Championship. All the work and dedication not only has him in line for an at-large berth to the 16-player tournament at the end of the year, but he's still live for the Season Four points winner as well.
"It wasn't until I Top 8ed the Legacy Open and saw where I stood on the leaderboard that I said to myself 'I can do this,'" Jones said. "I committed at that point and had a bunch of Top 32s and 64s and was hanging in there, keeping pace with everyone. Now, I feel validated. All the effort I put in doesn't look ridiculous or in vain at this point. I spent a lot of time, money, and effort to get here and will have something to show for it at the end of the year, and that's a really good feeling."
Jones plans to play in the Opens in Worcester and Richmond, VA, along with plenty of IQs in between, but his focus is also on the Players' Championship. His first concern is how to prepare for such a special tournament, where the field is so small and familiar with everyone. Jones main testing partners are James Rynkiewicz, who Jones labels as one of the best Legacy players in the world, and Open Series traveling buddy, Lloyd Kurth, who has a Legacy Open title to his name.
"The format for the Players' Championship is so unique, I'm not really sure what to do yet. I definitely have started thinking about it the past couple weeks," Jones said. "I know a few people who will be or are qualified, but I don't know if I want to work with a couple people in a 16-person event, because it'd be like working with 20 percent of the field. Now that it looks like I am going to be playing in it, it's time to think about this stuff."